Pre-saves can completely change the game for any artist. They're music links that help drive attention ahead of release day and get your name out there. Not only that, but they can place you within Spotify's editorial playlists.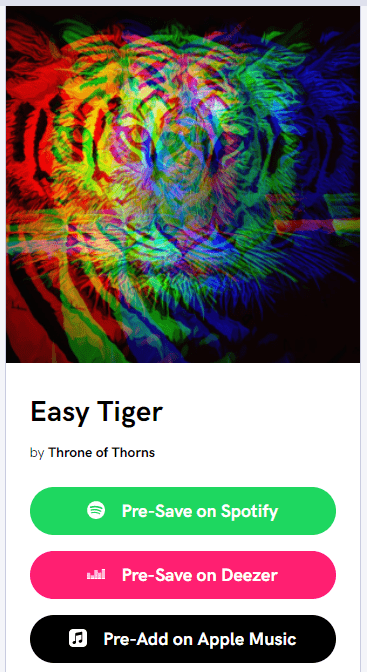 What is a Pre-save?
A Pre-save is essentially a digital pre-order. Remember the days when you'd sign up to receive your favourite artist's CD, tape or vinyl before anyone else? Or, you'd wait for hours in the awfully long queue to get your hands on one of the first copies sold in your area. Well, a Pre-save is a similar idea, but without the effort. You can have access to your favourite artists tracks, right from your smartphone. The best part is, it doesn't have to cost either yourself, or the artist.
As an artist you can make a Pre-save easily. Spotify, Deezer and Apple Music all allow Pre-saves. So, you can create a link that has all three stores under one URL. Your fans can head to your link and save your release. When it goes live, it will automatically be placed into their library. On release day they don't need to go searching for it. They'll already have it ready to be played. They work on behalf of the artist and the fanbase. It cuts out the pressure of reminding your fans on the day of your release how to access it. You don't need to share links to all streaming platforms as your fans can find them for themselves.
How to create a Pre-save
Creating a Pre-save couldn't be easier. We've kept the process as simple as possible. It doesn't take long to do, but the results are really worthwhile. Not only is it a quick thing to set up, it also saves time when promoting your release ahead of launch day. To start, you need to make sure you've signed up to PUSH.fm – this is a quick process to do. You'll receive an email to confirm your account. However, if you run into any issues, please drop [email protected] an email, and we'll sort it out straight away.
Once your account is ready, you can start creating. Check out how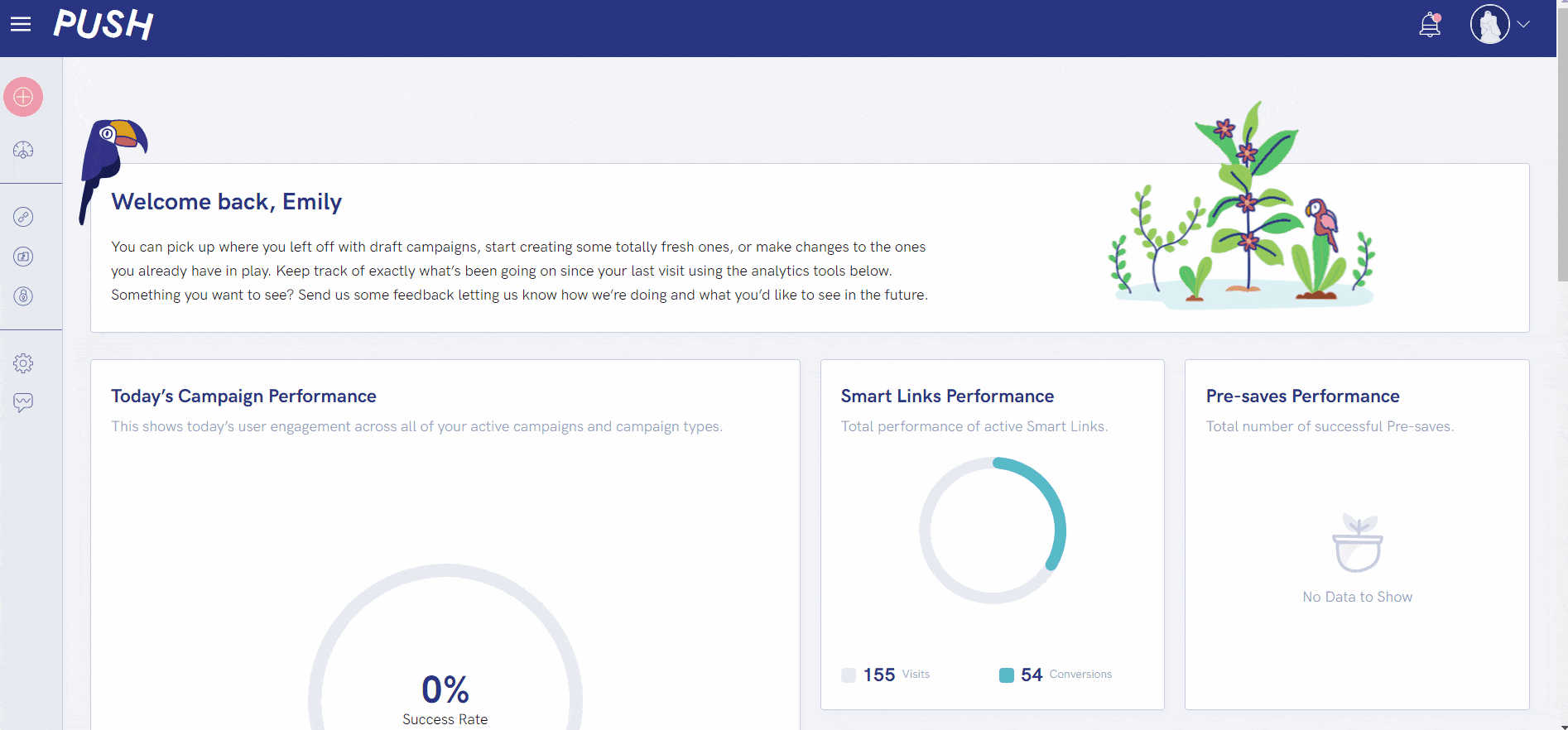 You'll find yourself on your dashboard when you first log in. Head to the plus symbol in the top left-hand corner. There you'll see our different features. Simply select Pre-save.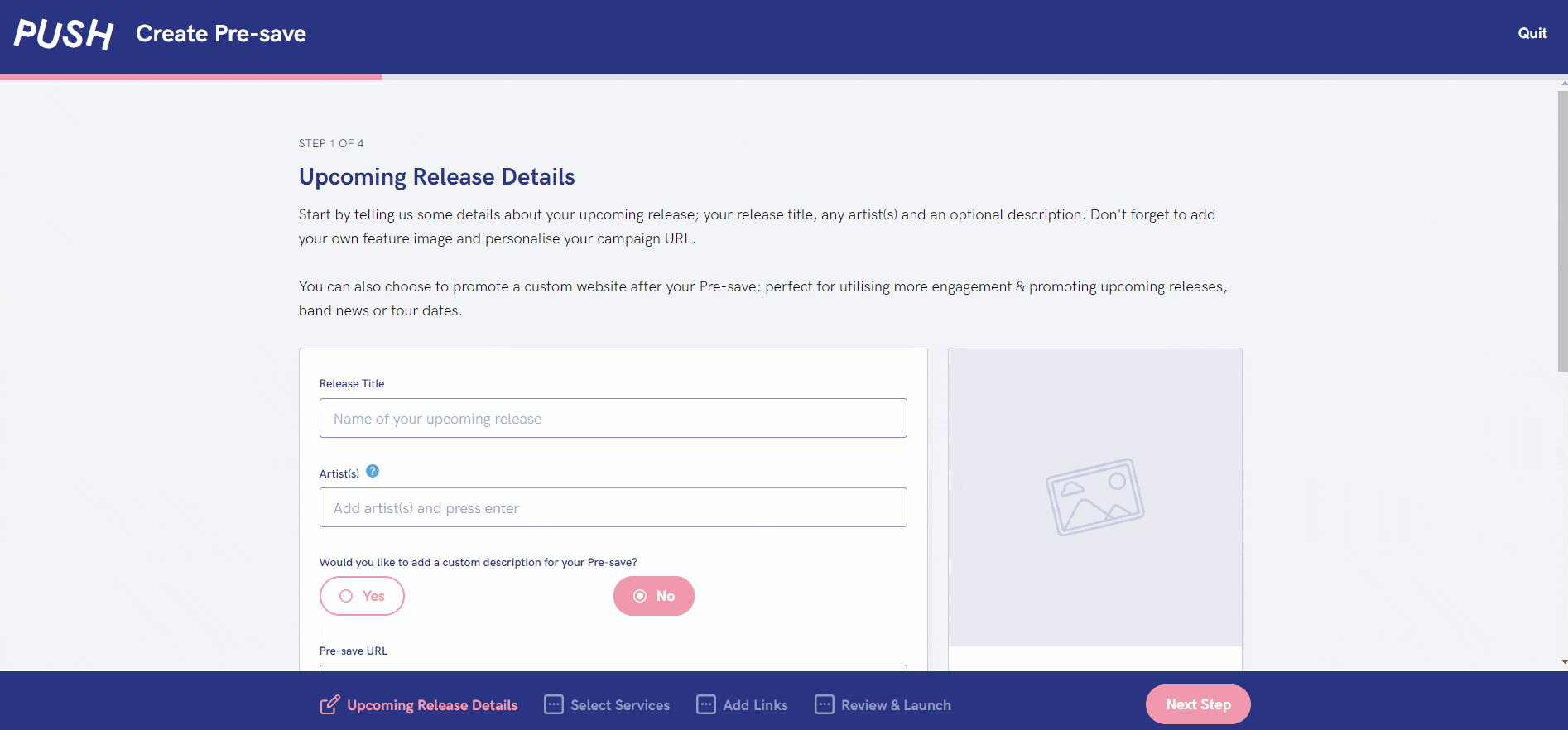 Next you'll need to start inputting your information. Write in the name of your release, along with your artist name. After, you'll want to personalise your URL. Make sure you pick something that's catchy and represents your release. We'd advise simply naming it after your release title. Select your artwork, you might want to include the same artwork as your release. Or perhaps you want to pick something else, so this remains a surprise on the day.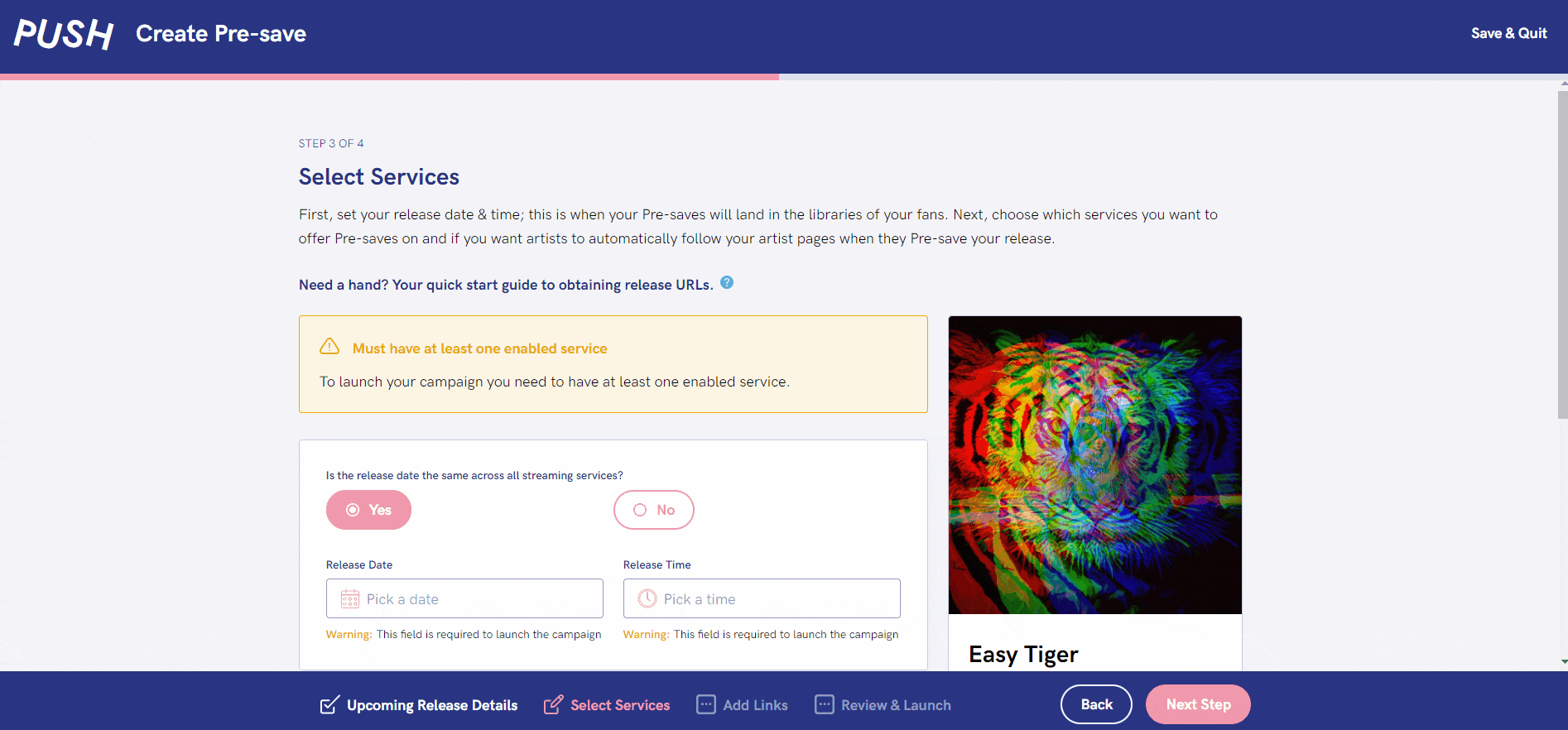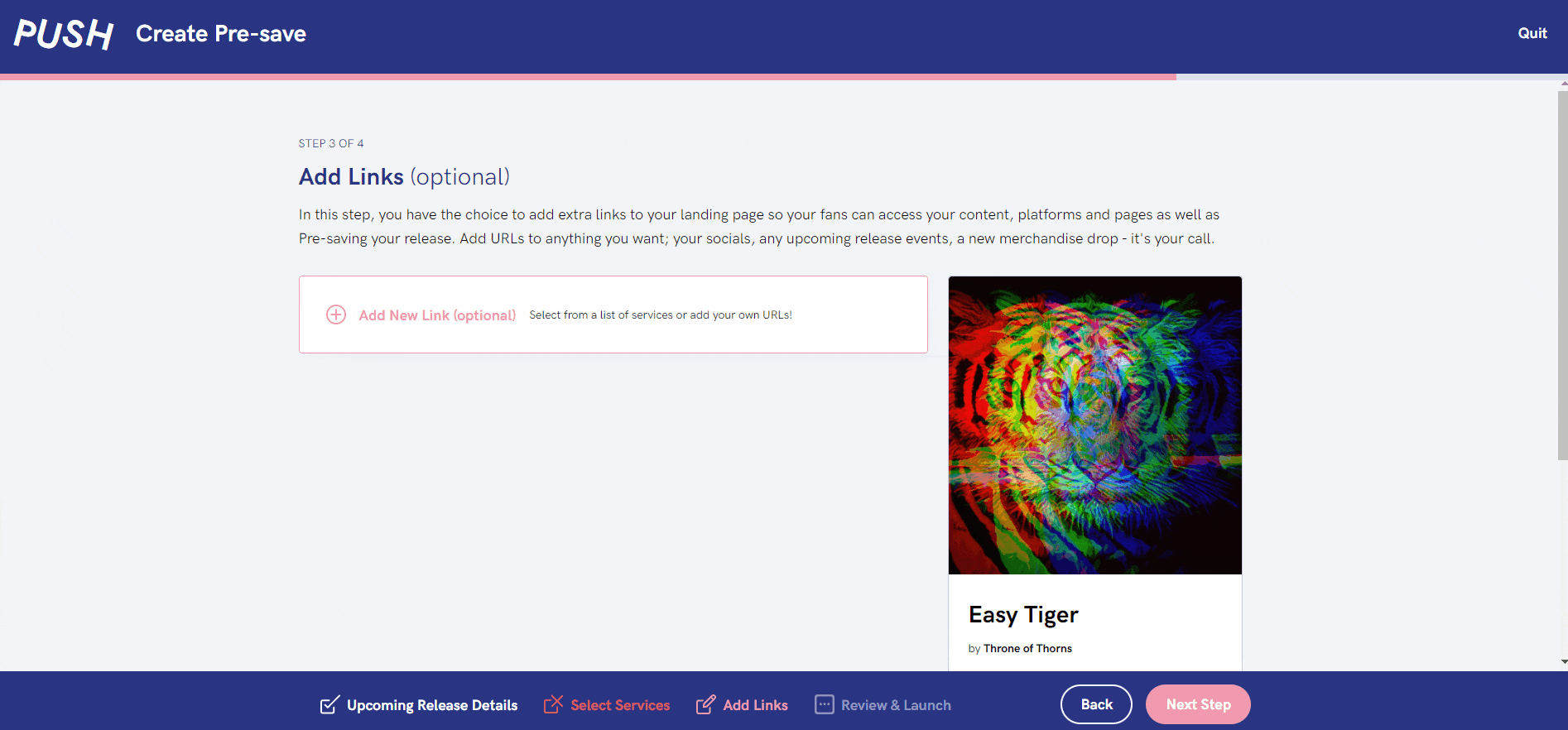 After this you can decide if you want to add other stores. Perhaps you want to add your social media accounts into your Pre-save. That way not only will you have your music saved ahead of time, but also, you could gain followers. These will appear at the bottom of your link as you can see from our example.
If you're happy with how your Pre-save looks, then you can go to the final stage. Here you'll be required to give your Pre-save link a title. This one is for your eyes only, so it doesn't have to be the same as your release title. If it helps you to call it something else, you can do that. Once it looks good to go, launch it! You can go back and edit it at any point prior to release day.
How much does a Pre-save cost?
We have two types of plans. One is a completely free, no strings attached plan. The other is a Premium Plan that offers you more but still at a low price.

Here is a breakdown of our plans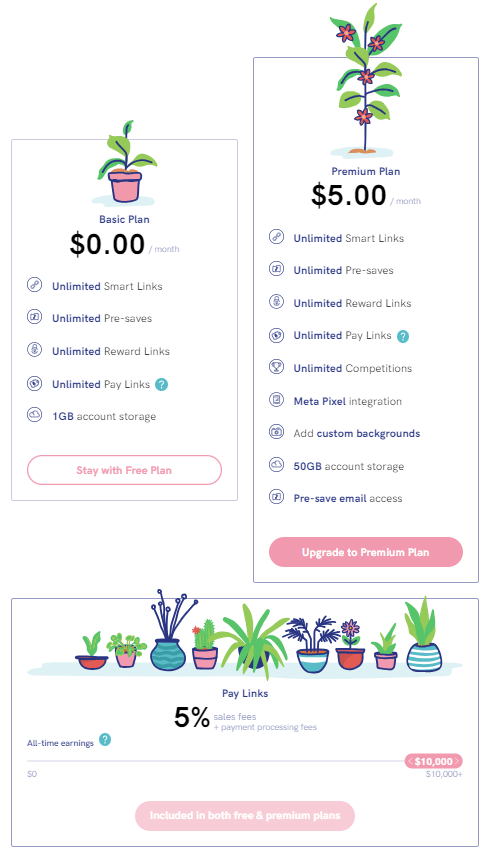 As you can see above, we offer unlimited access to Smart Links, Pre-saves and Reward Links on both of our plans. Our free plan users get to create the same amount of links as our Premium users. However, the difference is, the storage limit. If you're on our free plan, you get 1GB of storage. This will give you a large amount of space to create multiple links. You might find you'll never run out of room.
However, if you're a label, manager, or if you simply have a lot of content to host – you may need to upgrade to our Premium Plan. This gets you even more storage. You can have up to 50GB of space within our site. It's unlikely you'll need more than this as the links won't take up a huge amount of room. The other great feature that comes with our paid plan is Facebook Pixel. This allows you to closely monitor your audience and learn more about your fanbase.
Why should you use a Pre-save?
Using a Pre-save has multiple benefits. We have mentioned some throughout, however let's dive a little deeper. By creating a Pre-save, you're getting ahead of the game. You could even beat your competition. You're showing your audience and those who don't yet know about your music that you mean business. They allow you to promote your music before your release date. Yes, without them, you can tell your fanbase when they can expect to see your music within stores, but it relies a lot on them remembering on the day.
Instagram's algorithm isn't always kind. In fact, a lot of social media stores no longer post in a chronological order. This means, it doesn't really matter when you post if your content isn't up to the algorithms standards. You need to tick certain boxes to be shown across explore pages. One of the ways to do this is by posting regularly. On the lead up to your release date, you might be posting more often to remind people to put the date in their diaries. However, if you posted a Pre-save link when marketing your new release, you'd be able to generate saves. This means even if those people don't see your posts again on social media platforms, they've still go your music ready for release day.
Another reason you really should create a Pre-save is because this goes in favour on Spotify. You're far more likely to get featured on Spotify's editorial playlists. Getting yourself a spot on Spotify's playlists means you're guaranteed to gain more listeners. Without it, you're trying to reach as many people as you can and encourage them to give your music a go. Spotify can do this for you. By being on their radar, you'll be played to anyone interested in their editorial playlists. This could result in people choosing to sign up for your next Pre-saves because they loved what they heard.
Who can use a PUSH.fm Pre-save?
Absolutely any artist. It doesn't matter how big or small you are. If this is your first release, start early. Get your name out there and start as you mean to go on. Anyone can sign up to PUSH. We offer a range of features which are good for all types of creators. So, if you're a manager, and you have more than just an artist on your books. Or, if you're an artist who also has other creative avenues, we can suit all your needs.
Those who can use a Pre-save however, are more limited. Pre-saves are only for music releases and therefore our other creatives won't be able to use them. Of course, you'll have access to them if ever you do need them. But, the Pre-save feature is for music artists. This is due to the entire concept of what a Pre-save is. Across every platform offering them, they are for music only. They're specifically designed with the three stores that offer Pre-saves in mind.
Where should you share your Pre-saves?
Everywhere. We could have stopped at that, because it's true, you should share them everywhere. Any social media platform should contain your Pre-save link. You can place them into your bio. Social media platforms like Instagram only allow one link within your bio. This is a great place to put your Pre-save. You can include the three stores where your followers are able to save your music all under one URL.
Make sure you're regularly sharing your links. If you're tweeting about your music, add your Pre-save link into the message. On Facebook, create posts encouraging your followers to save your music. Also add them into your bios. Put them everywhere you can. The more places that contain your Pre-save links, the more saves you'll get ahead of release day. This spirals because the more saves you get, the more listeners you'll get when your release does go live. Even if people forget about the release date, streaming stores will add them into their playlists. So, your music will be listened to, even if people aren't searching for it.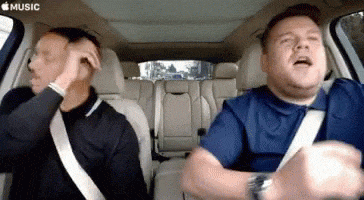 Why choose PUSH.fm for your Pre-saves?
PUSH.fm gives you multiple options. You can upgrade and downgrade at any point. There are no contracts, so you don't have to worry if you want to opt out for a while. We want to see all of our users succeed. That's why we aim to respond to our emails within such a short space of time. We don't want you to have to wait to have your questions answered. If they're important to you, then they're also important to us. PUSH was designed for creators. That's where we feel we differ from many of our competitors. We aren't interested in charging people a large amount to use our features. This is why we have made sure our free plan is the best it can be.
We believe compared to many of our competitors, we stand out. A lot won't offer a free plan, and if they do, you will be heavily restricted. It's our aim to make marketing tools accessible to all artists. Just because you're new to the industry does not mean you should have to miss out. Our tools can be used by any artist, despite how long they have been releasing music. You don't need a particular skill set to use them. Also, we offer a feature where your Pre-save can be turned into a Smart Link on release day. Obviously when your release has gone live, a Pre-save is no longer valid. Our system can automatically create a Smart Link. It will hold all of your store links and anyone clicking on your Pre-save will be directed there instead.
Non-optional for artists
You can't be an artist without a Pre-save. Well, you could, but you're less likely to get as many listeners. If you want to expand, you need to use Pre-saves. They'll help you stand out compared to your competition. If you want to grow as an artist, a Pre-save is what you need. As mentioned within this article, there are many benefits. Getting your music onto a playlist created by Spotify could be the game changer. It only takes the right person to listen to your music. Before you know it, your music could have gone viral.
If people like your tracks, they'll share them with friends or family. This acts as a domino effect. More and more people liking your music, means more people sharing it. Your marketing could start to do the work for itself. Not only that, but as previously said, your marketing becomes easier. It's easier to share a link and tell people to save your music, than it is trying to drive the sales up before the track is live. Listeners will know they'll be the first to hear it on release day. It saves them a job of searching for your music. You can relax knowing your music will be streamed.
Pre-saves come with their own analytics you can monitor. You'll be able to see exactly how your Pre-save is working for your music. If you think it could have done better, you'll know what to change ahead of your next Pre-save. It helps you to learn how to improve as you grow as an artist. Especially in the beginning, it can be difficult to know what changes to make. You might think your marketing is spot on. However, it could be that you're not posting at the right times, or to the right places. If that's the case, how will anyone see your Pre-save you've been advertising.
Updated with new pricing tier on 14th September 2023. No other information has been altered.