If you've run a Pre-save campaign before, you can learn a whole load from looking at their performance; a perfect source of insights for planning future marketing campaigns.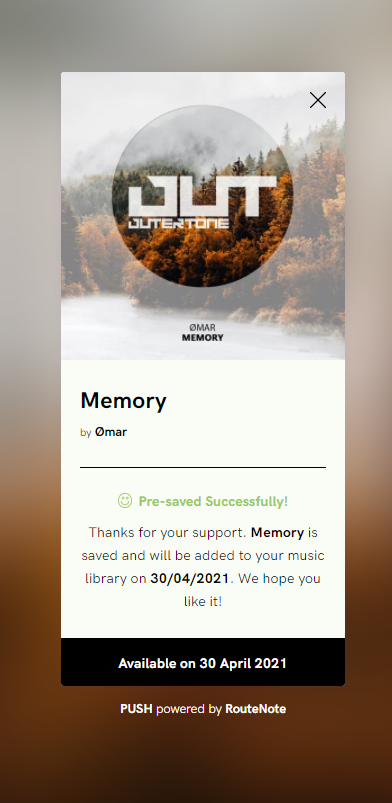 🎧
What are Pre-saves?
Pre-saves are the new go-to tool for independent artists when releasing new music. They are the digital equivalent of a Pre-order; when your fans Pre-save your upcoming release, it will be automatically added to their library the minute it goes live.
This tool means that you can lock-in listeners, guarantee streams and boost interest for your upcoming release – all before it's even gone live!
When your song is finally released, you'll be able to see how many people visited your Pre-save URL, and who followed through and Pre-saved your release.
If you want to make your first Pre-save, check out our article, how to create a Pre-save for free on PUSH.fm.

Past Pre-save performance
So you've run a Pre-save campaign, did it flourish or did it flop? Either outcome is a prime opportunity to learn and use what you learnt in future promotional plans.
Below we'll list some possible outcomes of your Pre-save campaign and how you can use the insights in upcoming campaigns and releases:
High success rate

The more people who Pre-saved your release after vising your link, the higher your success rate. This is also known as a high conversion rate.
A high success rate means that either:
Your fans are well engaged – you've got a loyal audience who love your music and are keen to hear any new offerings.
You've got a strong marketing game – your promotional efforts for this new release have paid off and it shows!
Or, both! Whatever you're doing… carry on doing it. Your audience is engaged and interacting with any new offerings you're giving them which is a great place to be as an independent musician.
Why not say thank you to your loyal fans and reward them using our Content Unlock tool?
Low success rate

A low success rate means that out of the people who visited your Pre-save link, not many people converted and Pre-saved your release. There's plenty of reasons why this could've happened, such as:
Your Pre-save link wasn't engaging enough – next time, try using more eye-catching imagery or trying a new Pre-save description. PUSH supports GIFs so you can add a moving image to your link to help increase engagement.
Your fans aren't sure what a Pre-save is – it's likely certain fans may not know what a Pre-save is and therefore could be put off by the authorisation pop-ups that appear when you authorise the Pre-save.
When posting your Pre-save consider providing a description of what your link is and quick step-by-step, so your fans know what they need to do to Pre-save your upcoming release.
Preferred platforms aren't available – PUSH offers Pre-saves on Spotify, Apple Music & Deezer. If you've missed out any of these platforms in your Pre-saves, there's a chance that you've missed out some of your fans preferred streaming platforms.
If your new music is being released on Spotify, Apple Music and Deezer then there's no reason why you shouldn't be offering Pre-saves on all of these platforms.
One platform rules
No matter whether your Pre-save campaign was successful or unsuccessful, pay close attention to the breakdown of which services your fans are Pre-saving your release on.
You might have preconceived ideas of which platforms the majority of your fan base listen to your music. However, if you check your Pre-save breakdown and find your preconceived beliefs are wrong, it's time to change up your marketing strategy.
For example, you might think the majority of your fan base listen to you on Spotify. However, if you check your Pre-save stats and find there's the majority of Pre-saves are on Deezer then it's time to pay more attention to your promotional efforts on that platform.
Make sure you've signed up to all of the 'for artists' tools for each platform, and you're always including links to said platform in your Fan Links too.
Low number of visits
Your previous Pre-save campaigns might have received low numbers of visits. This could be because:
Your audience was small
Because your fans weren't very engaged and didn't want to click on the link.
Consider employing different marketing tactics to boost engagement and grow your audiences on social media. You could also consider running a well-informed ad campaign to reach new fans and grow your audience.
---
PUSH users can access PUSH's toolbox of tools, including Pre-saves, totally free of charge. Head over to PUSH.fm to make an account and get started.