Feature.fm offers free smart links to independent musicians artists but there are some great alternatives that offer much more customisation possibilities and analytics access.

Smart links
Smart links are the go-to tool for promoting new music releases. They bundle up links to a release on multiple platforms, into one sharable, landing page. This landing page is shared via a short URL which also gives you insights whenever your fans interact with it.
This removes the need to copy and paste countless links to your release on different platforms into a messy social post or bio link.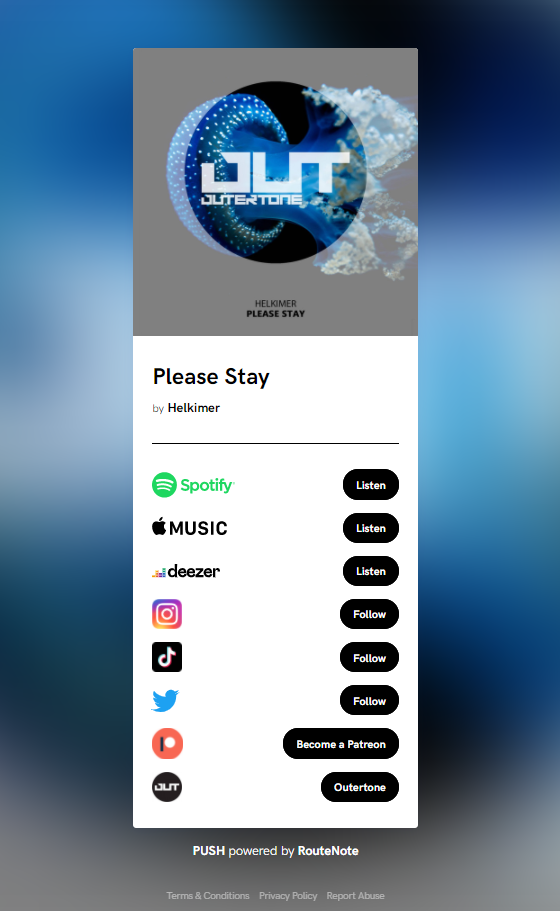 PUSH.fm calls their smart links Fan Links. Fan Links are customisable landing pages and can be tailored for a huge variety of uses; not just music. You can add your own image, description, any URL you want, URL logos and button text.
Along with extensive customisation opportunities, PUSH offers in-depth analytics that you can toggle by day, week, month or year.
As a free user, you can make up to 30 Fan Links free of charge. Along with this you can access their other marketing tools; Pre-saves and Content Unlocks.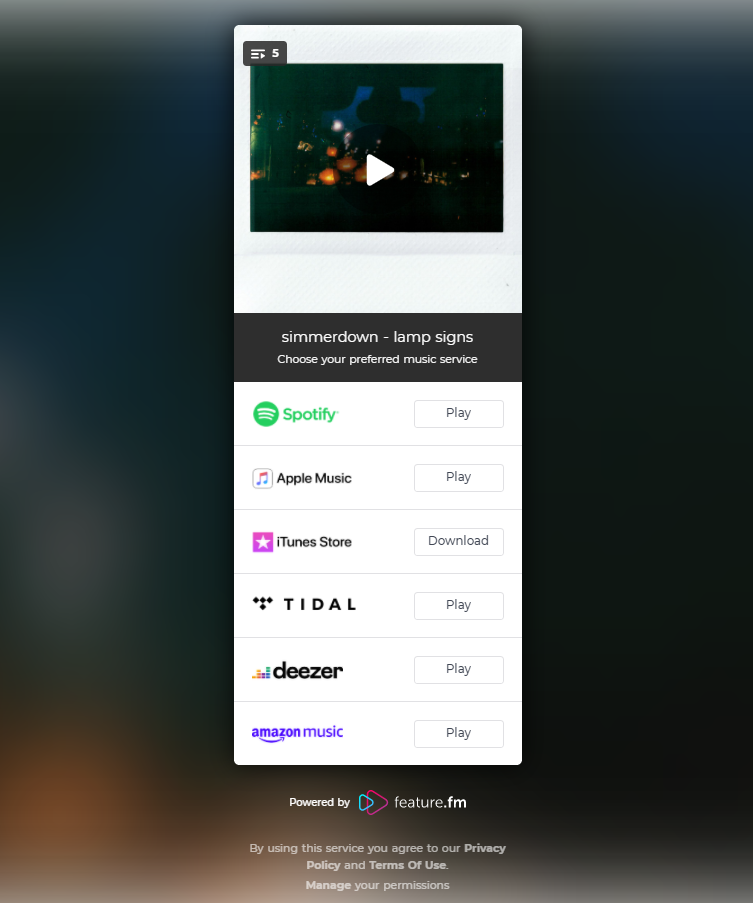 Feature.fm and PUSH have similar layouts; both showing a variety of links to various platforms. They also offer an audio preview option, meaning fans can listen to a taster of your song before they choose to click through your link.
Each time your fans interact with your links you'll gain insights, however these are limited to only 7 days for free users.
Free users can make unlimited smart links, however aren't offered comprehensive access to their other tools, i.e. the only other tool available to free users is their Spotify Pre-save.

Customisation
Customisation allows you to tailor your link to suit you and your fan's exact needs. Here's what each offers:
PUSH.fm
Re-order your links – choose which link you want your fans to see first.

Add your own feature image – add a custom image to your link – PUSH supports GIFs too!

No URL limit – add as many links to as many platforms/content as you want.

Add any URL you want – there's no pre-defined list to the types of URLs you can add – add your socials, merch store, your website – the list is endless.

Choose custom button text – choose what your buttons say to suit your URL destination.

Pick link name and author(s) – name your link and your brand/business/author name.

Add your own logos – if you don't fancy our pre-loaded logos, add your own!

Choose your PUSH.fm URL – choose an ending for your push.fm/link/_____ URL so your users know what they're clicking on.
Feature.fm
Pre-defined list of supported platforms – choose from a list of supported platforms.
⌨ Choose a feature.fm URL – pick your own ffm.to/____ URL.
📸 Add your own feature image – add a custom image, although unfortunately GIFs are not supported.
📝 Add link title and description – name your link and write a description to tell your fans about what it contains.

Add an audio preview – so fans can hear a snippet of your new song!

Choose how your link appears on socials – make sure your link looks good when shared on social media.

Analytics
PUSH.fm
PUSH offers a wide range of analytics, such as visits, conversions and success rate. All of these analytics can be viewed in any time frame, from a day to a year.
The dashboard offers an overview of all your campaign's performances, whilst you can choose to look at individual campaign's performances in closer detail too.
Feature.fm
Feature.fm offers some cool insights, including views, unique viewers, song previews and location data. These insights however, are limited to the past 7 days for free users. If wanting to view stats before that, you have to upgrade to their paid plan.

Paid plans
PUSH.fm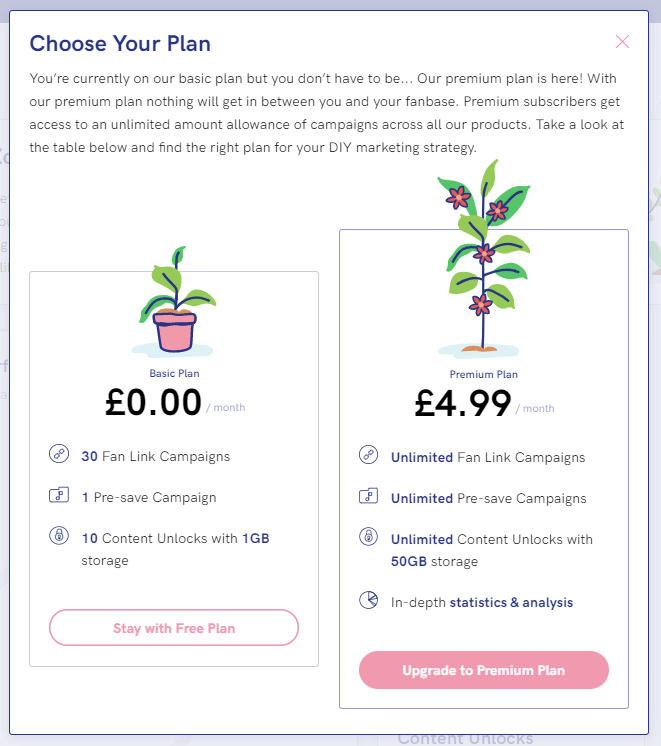 PUSH offers a paid plan, at £4.99 a month. This plan means you can make unlimited Fan Links, and also unlock unlimited numbers of their other tools; Pre-saves and Content Unlocks (with up to 50GB storage).
Feature.fm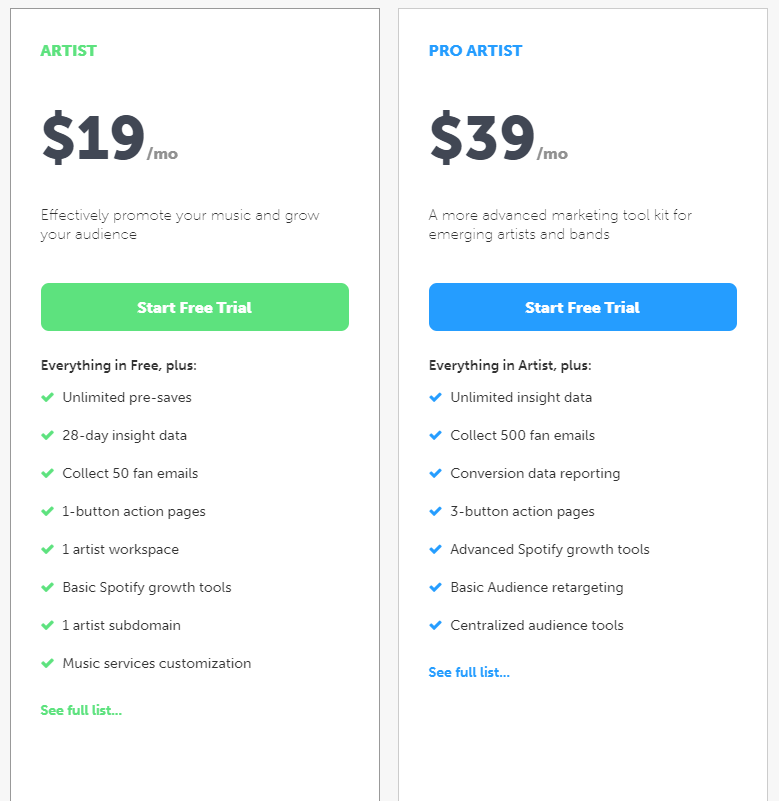 Feature.fm offer multiple paid plans, with their cheapest artist plan starting at $19 a month.
This plan gives you the option to collect 50 fan emails, create unlimited Pre-saves and unlock tools similar to PUSH's Content Unlocks.