It can be difficult getting your tracks on Spotify's editorial playlists as an independent musician. But by using Spotify for Artists, you can pitch your new releases directly to Spotify.

What is Spotify for Artists?
Spotify for Artists is a tool developed by Spotify, for the independent artists and labels that distribute music to them. This invaluable tool allows artists to access in-depth analytics, a range of customisation options and pitching opportunities.
Once you've verified your Spotify artist profile, you can gain access to Spotify for Artists and unlock a wealth of essential features:
🧩 Add your own images – customise your header and profile image.
📖 Edit your biography – tell your fans about you and provide some links to your socials.

Include tour dates – add gig dates and links so your listeners know where and when you're playing.
📊 View in-depth data & statistics – get the lowdown on your audience and how your fans are listening to your music.
🍬 Use artist pick – feature either a playlist, album or song on your profile – for example your new release or a playlist of your favourite songs.
🌱 Submit to playlists – read on to find out more about this handy tool…

What are editorial playlists?
Spotify's editorial playlists are a range of themed playlists that are curated by their editorial team. Spotify's editorial team are a group of musical experts and specialists, who's jobs are to hand-pick songs to appear on Spotify's playlists.
Some of the biggest editorial playlists you might have heard of include Today's Top Hits & Chill Hits.

How can I get my music on them?
Before Spotify for Artists was developed, most independent artists had to either find ways of approaching this editorial team directly. which was incredibly difficult, or to just hope their music was picked up by the team either through luck/good performance.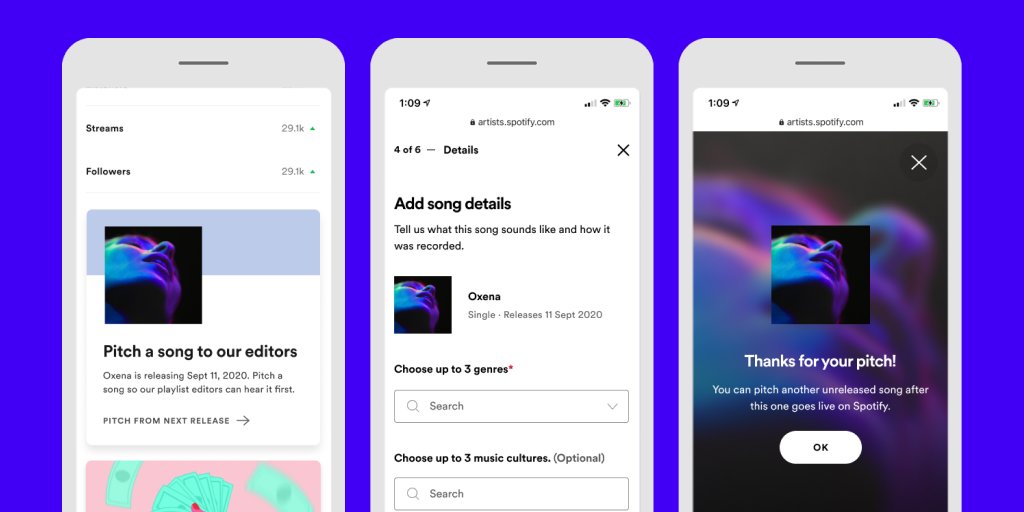 Now you can pitch your music directly to the team easily through Spotify for Artists.
First, get your Spotify artist profile verified. You'll need an existing Spotify profile for this, meaning you'll have to have sent music to Spotify before through a music distributor.


Due to demand, it can sometimes take 4+ weeks for Spotify to approve your verification so make sure you plan ahead.

Once verified, you'll need to upload your new release to your music distributor and set a release date in the future. Try and aim for at least 3 weeks as this allows enough time for any delays.
A couple of days after your release has been approved by your distributor, it will appear on your Spotify for Artists page. Once it appears an option will appear saying pitch this release.
During the pitching process you'll be asked a variety of questions about your release. These specifications such as instrumentation and genre, along with a description about you and your release.
Once finishes, click submit and you're all done! You'll have to sit and wait to find out if your pitch has been successful after release day.
Unfortunately pitching doesn't guarantee any spots on Spotify's editorial playlists but it increases your chances massively. Pitching also means your release will be included on release radar so your followers can easily find out about your new music.
---
Have you every pitched a release using Spotify for Artists? Let us know if it was successful for you in the comments!