Spotify's huge scope of playlists allow listeners to easily find new musical treasures and discover trending artists. But what types of playlists are there and how are they made?
There are 3 main types of playlists you can find on Spotify; editorial playlists, algorithmic playlists, and finally, user-generated playlists. Knowing the differences between these valuable discovery tools is key for any independent artist or label.
🔎
Editorial playlists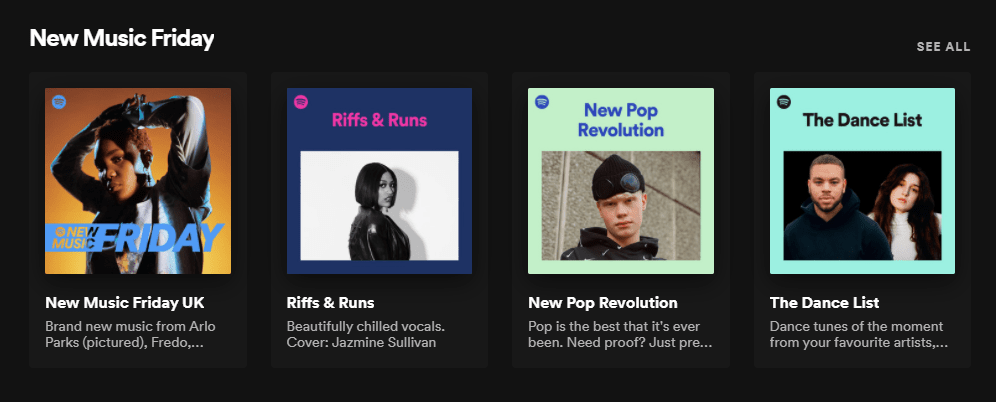 Spotify's editorial playlists are curated by their Editorial team. This a team of music experts and genre specialists, specifically hired by Spotify to hand-select songs to appear on Spotify's own playlists.
There are thousands of these playlists, each with a large following. One of Spotify's largest editorial playlists is Today's Top Hits which has amassed over 27 million followers! Each playlist created by Spotify will have a Spotify logo in the top left hand corner of the cover image so they're easy to identify.
As an independent artist or label, you can pitch tracks to be considered for these editorial playlists using Spotify for Artists.
🧮
Algorithmic playlists

Algorithmic playlists are, you guessed it, curated by algorithms. They are also known as 'personalised playlists' and include Spotify's Discover Weekly, Release Radar and Daily Mix playlists.
These carefully designed algorithms take into account:
👩‍🎤 Which artists you follow.
🎧 Your listening history.
📚 Your other playlists and library.
📣 Which music you've shared.
⏭ Which tracks you've skip.
🙉 Listening habits of people with similar musical tastes.
Once the algorithm has done it's thing, it'll spit out a carefully curated playlist entirely made to suit your musical tastes!
🧑
Listener playlists

Any Spotify user or listener can make a listener playlist (also known as user-generated playlists). They can be set to either 'public' or 'private', meaning your guilty Spice Girls playlist can stay hidden.
You can gain a good understanding of how your fans interact with your music by looking at the playlists your music appears on. You can see what sort of moods and contexts your fans are listening to your music in, and what other artists they connect to.
Brands, businesses and public personalities can also make listener playlists. These playlists are perfect for showcasing any values or personalities behind a brand.
---
You can boost your chances of appearing on algorithmic and editorial playlists by pitching your releases through Spotify for Artists. Find out how to register with Spotify for Artists and start pitching your music here.