Behind the scenes PUSH has been having a little makeover. Our aim is to provide the best tools we possibly can to all creators, businesses and brands. With these tools we want you to be able to promote yourselves and your work. That's why we've made some changes. Introducing the new and improved Smart Links, Pre-saves and Reward Links…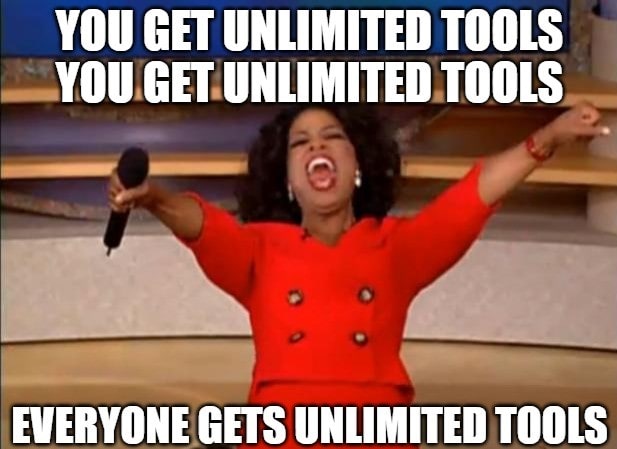 If Oprah said it then it must be true. We totally didn't make this meme to try and be relatable…Seriously though, our tools are unlimited to all users. We have 2 pricing plans, both include unlimited access to Smart Links, Reward Links and Pre-saves. This is because we want everyone to be able to promote their work at a high quality without adding restrictions. It might sound too good to be true, but there really is no catch. That's why we have so many happy users who have found PUSH.fm has made it possible for them to market themselves in more ways than before. So, what's new?
Smart Links
Once known as Fan Links, however now we've expanded them even further. The idea behind a Fan Link was originally favoured by music artists, from independent musicians to record labels. While this is still a much loved feature of ours, we decided to expand our market and tailor our links to a varied market. Of course, anyone was able to use Fan Links as they were previously, but we felt we could add more. We wanted to design multiple templates that would speak for themselves. Drum roll please…
Above is your new view. When you head to your toolbar on the left-hand side of your PUSH account, you will see the Smart Links option. Click that, and you will be taken to your Smart Link library. Don't fret, none of your current links will be affected by our changes. However, the changes come when you go to create a link for yourself. You'll be presented with the page above. As you can see it gives you template options. So, if you're planning an event you could select the template based around that. Or, if you're wanting to make a link just for your social media bio, you could follow that template.
The bio link template could be used by anyone. Think about it, whether you're an influencer, blog writer or all around creative, you could make a link designed to be placed into your social media bio. The options are endless and there is no one size fits all. You can pick which ever template you like. There's no need to feel you must fit into a certain category which is why we have really thought through our template options. We wanted to ensure they will meet the needs of all creatives. You can even now create your own custom link. This is completely different to the other templates for one main reason – it doesn't require any text. Whereas all the others require a title, and you're likely to insert a bio, custom links don't ask for this. You could simply have an image and your links.
Overview
So, how will you be able to tell them apart? Can you create different links for different things? Don't worry, we're here to clear everything up! The answer is yes you absolutely can have different links and use various templates depending on your needs for each task. Perhaps you have an event running, but you also want to promote your website and social media accounts. You can do a bio link and an event link if you want to. The choice is yours as all decisions remain the same as they were when we only had Fan Links. It's completely up to you! We aren't going to make you pick a template and stick to it for all of your future content. You'll get the same options each time you go to create a Smart Link.
You don't need to worry about telling them apart from each other. It might be that you've used the same artwork across multiple links. The great news is, each link will have its own tag. At the bottom of each link you will see the relevant tag. So, if you have an event link it will say event as a small button on your link. This way you can tell all of your Smart Links apart without even having to click on them. It gives you the flexibility to manage multiple content from one account. Perhaps you're a manager, and you want to cover all of your clients under one account. Unlike some of our competitors, with PUSH you can manage it all from the same place. You don't need to create a new account for each brand or individual.
Pre-saves
Our Pre-save feature has had a mini upgrade. We haven't made any major fixes because as the saying goes if something isn't broke, don't fix it. However, we have added a new option for you to include. You're now able to promote yourself through your Pre-save. Rather than just focusing on promoting your new upcoming track, you can also promote who you are and what you do. There is now an option to add links at the bottom of your Pre-save. Your Pre-save will appear in the same way as before will all of the buttons to Deezer, Apple Music and Spotify, allowing your fans to save your music ahead of time.
Now, underneath these saving options, you will be able to place your social media accounts, website links or even a teaser YouTube video for your latest music. All you need to do to access this feature is head to the Add Links page in the creation process. Then you will see the option appear to add your service URL. This could be anything you want to promote. It could be your social media account where you promote yourself and your content. Again you can customise the button text if you want it to say something different to the provided options.
Reward Links
Our previous Content Unlock have had a name change. They're now known as Reward Links. Think about it, both you and your fans are being rewarded for accessing these links. If they complete the tasks set to them, they will gain something from it. They still work in the same way as before, however they've just had a bit of a makeover. With Reward Links you can add various streaming platform URLs and also your favourite social media platforms. Your fans will have to complete a set amount of tasks in order to be able to access the hidden content.
How many they must complete is your choice. Our Reward Link creation tool will walk you through the process, reminding you about your various options along the way. If you want to set certain social actions as a requirement, you have the option to do this. You might decide they can choose any task to complete out of the options you've given. Or, it might be you're focused on growing your social media accounts, so these aren't optional. If they want to access the reward, they must follow you on Instagram for example.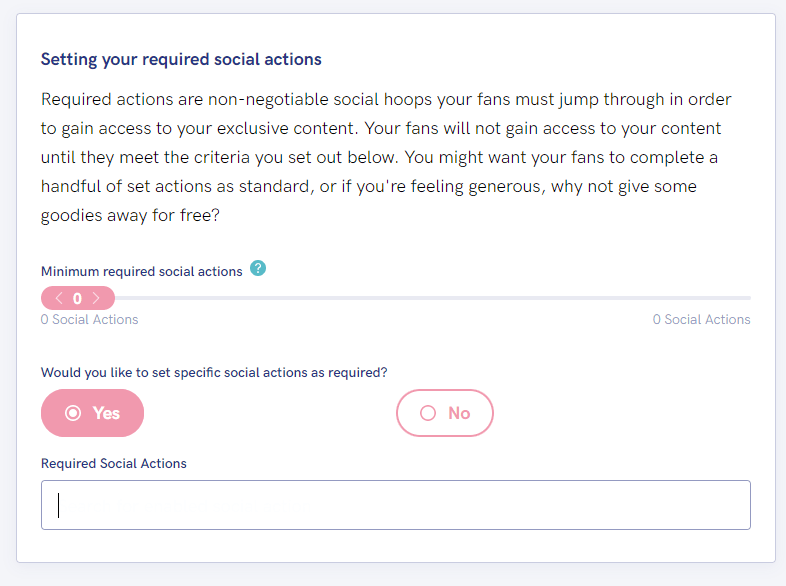 PUSH Tip: You can also add custom links at the bottom of your Reward Links too. Promote your social media accounts or recent music videos.
Facebook Pixel
Last, but by no means least, we have our final new feature. We've added the option to include Facebook Pixel within your various links. This will give you the ability to track your visitors and redirect them through Facebook Ad Manager. Facebook Pixel allows you to understand more about your audience and ensure your adverts are targeted towards the right people. In turn this could help you drive more sales. The more individuals relevant to your work who are seeing the content you produce, the better.
The Pixel will log each time someone takes a certain action on your website. So, by adding your Pixel code to your Reward Links and Smart Links, you can monitor actions that are taken in greater detail. It's important to note, the Facebook Pixel integration is a premium feature. If this is something you are interested in adding to your links, you will need to upgrade your account. This costs just $5 a month. Being able to see more in depth statistics about your viewers could pay off massively in the long run.