Smart Links can be used by anyone who has multiple links to promote. They act as a digital housing tool for all of your URLs. PUSH.fm have a variety of Smart Link templates to satisfy creatives and brands from all industries. Whether you need to plan an event, promote a new music release, or set up a link in your bio, we have the tools to help you do this.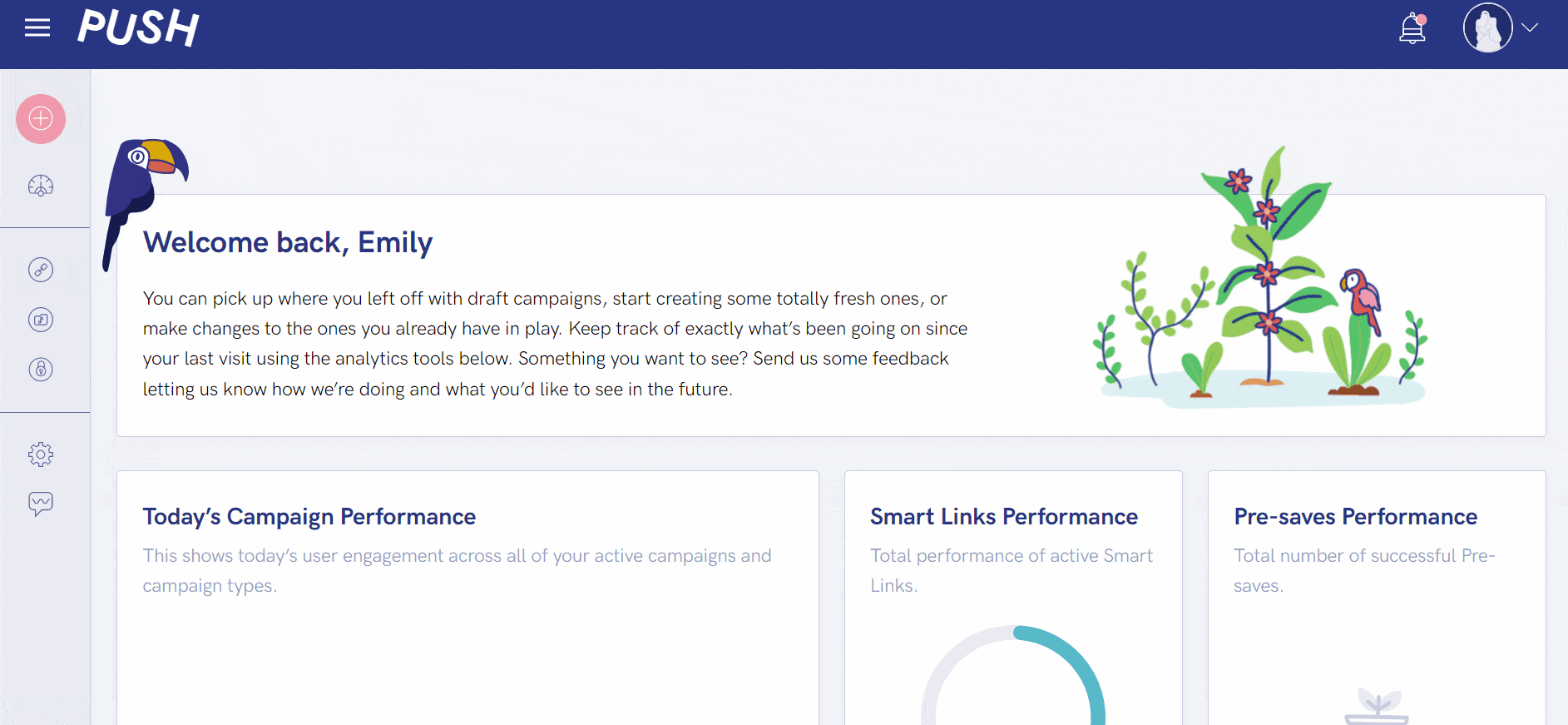 PUSH have recently undergone a makeover. We've expanded our Smart Links further than before. Now, we have multiple template options to suit everyone. When creating a Smart Link you can choose from the following options; Fan Link, Podcast Link, Event Link, Live Stream Link, E-commerce Link, Bio Link or a Custom Link. Depending on what you want to promote will help you decide which template to select. Each option has its own requirements. So, what do they look like?
Fan Link
Our Fan Links are still a much loved feature here at PUSH. We haven't replaced them, instead they have just become part of a wider expansion. Fan Links are designed for musicians. Anyone who wants to promote various music store links. You might be an independent artist who has distributed your work to multiple streaming platforms. A Fan Link is a way of housing all of your links under one customisable URL. The process remains the same as before. We love our Fan Link builder and didn't want to remove the features we've worked hard on.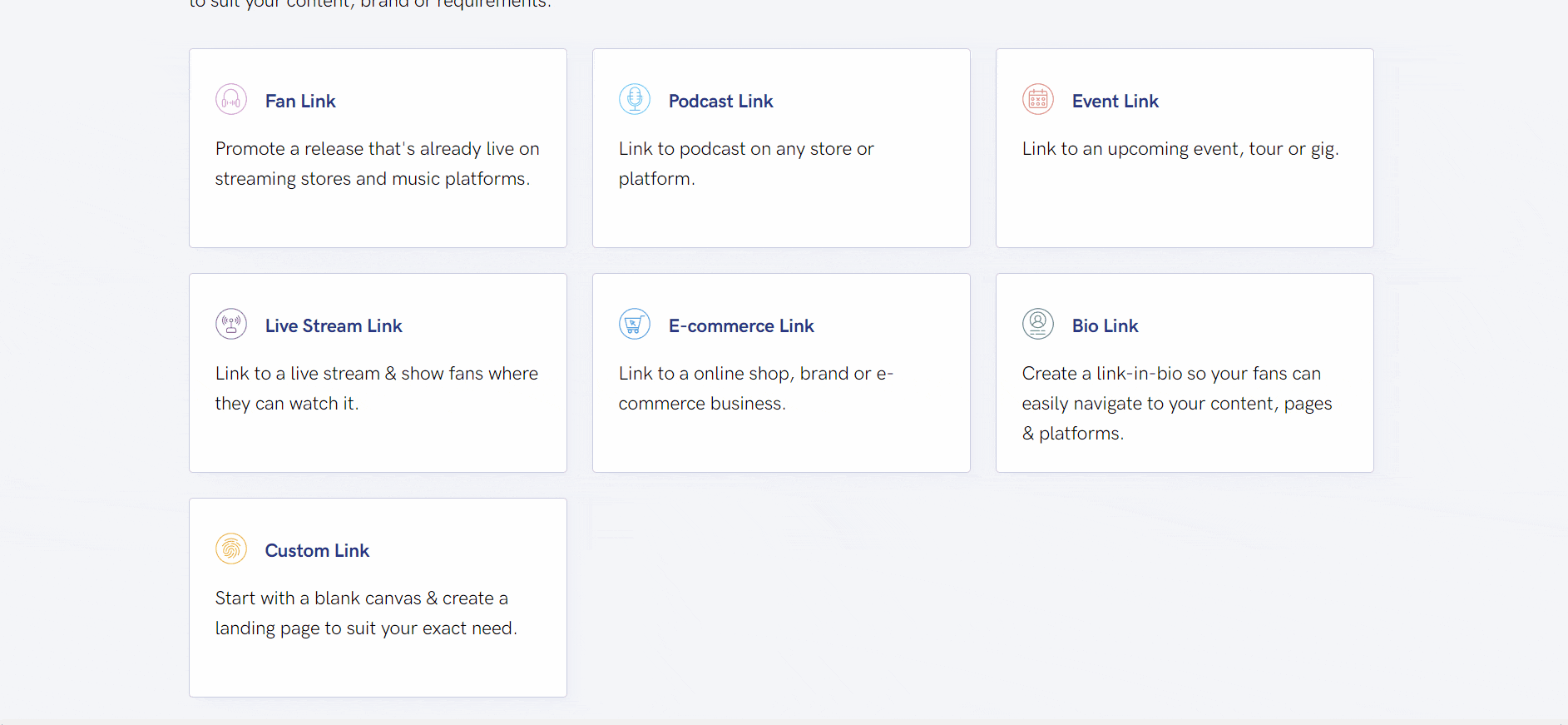 You can see above the Fan Link creation process. You'll need to input one of your store links and our auto lookup tool will find all other store links available that match. Then you can add your release name, the artist information and a description for your fans to read. There's an option to customise your URL if you wish. You could place your release title at the end of your link, so your fans know they've come to the right place. Add in your artwork and edit any parts of your metadata as you wish. If you've created a Fan Link through us before, you'll know exactly what you're doing. However, if not, we have heaps of helpful articles for you!
Podcast Link
Use our Smart Link service to create a Podcast Link. Perhaps you create podcasts on a regular basis, and you want your listeners to be able to find all of your previous work via one link. You will need to input your Spotify link first, from there you'll then be able to add links to other stores. You'll find the option to add your artwork. This is important because without it, how will your fans know it's you? Artwork captures the attention of a potential listener, so make sure you think carefully about what image you'll use.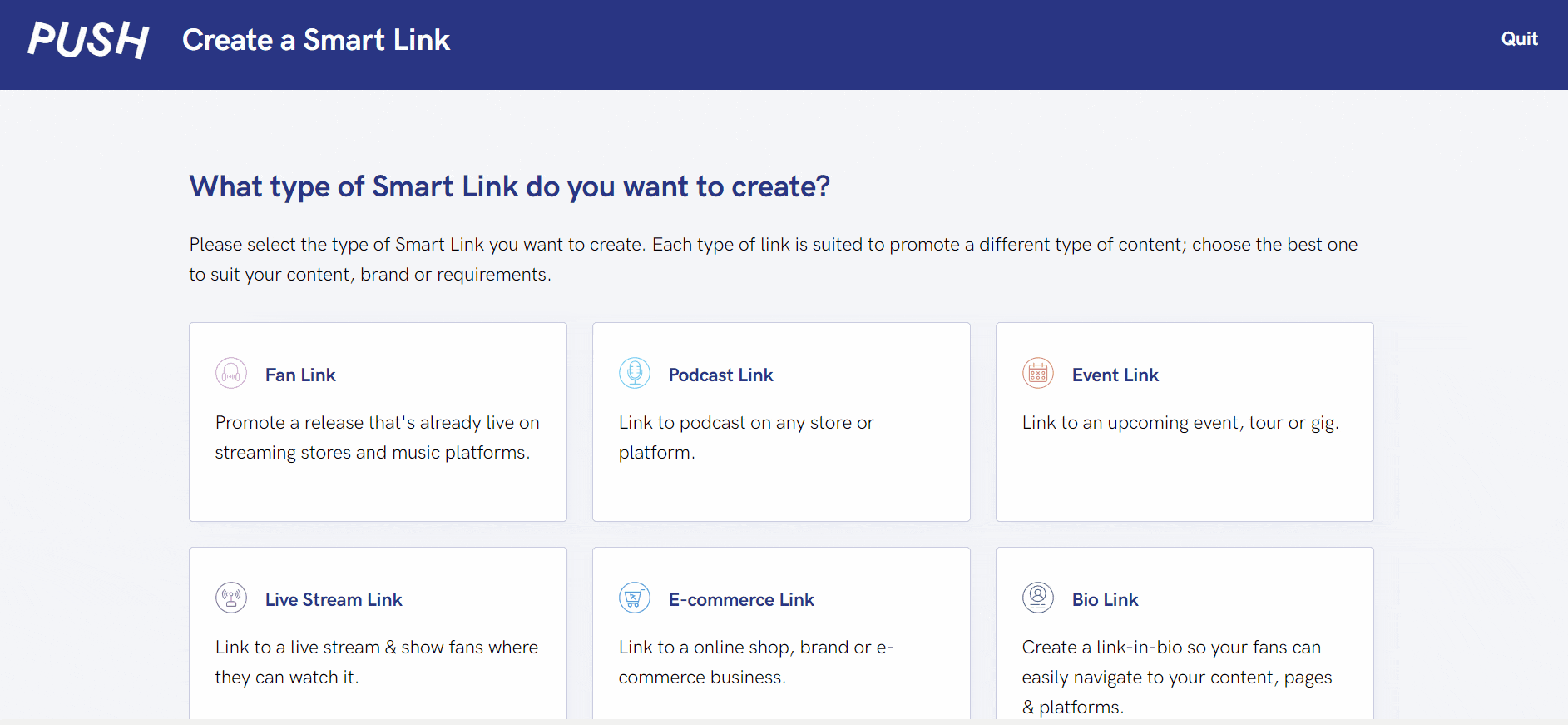 Each step has been explained for you so you will be able to create Podcast Links without any stress. It's up to you which links you add into this. You can include your social media accounts as extra links if you wish. Remember the idea behind Smart Links is that you can promote yourself easily. You should consider which accounts you want people to see. The more promotion, the better. You're far more likely to grow listeners if they can get to know who you are behind the microphone.
Event Link
You can now create an even specific Smart Link. Before, this was an option through our Fan Links. However, now we have refined this feature to make it tailored towards events specifically. Planning an event can be difficult. There's so much that goes into it. This is why creating one URL that houses all of your links could be a game changer. You can place your website, social media accounts and even a link to buy tickets to the event into one Smart Link. That way, anyone wanting to check your previous events to see what they can expect, will be able to find the relevant information through your URL.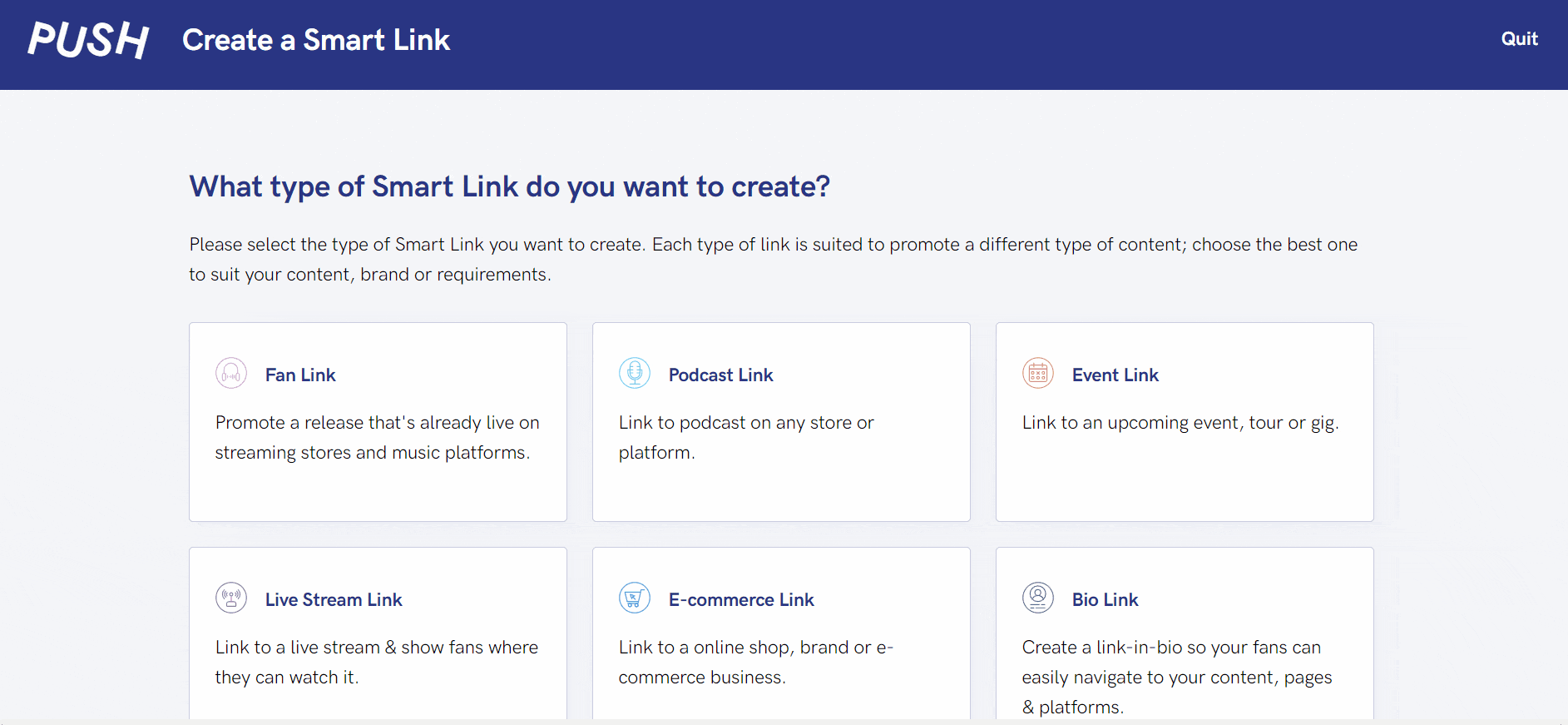 When creating yourself an Event Link, you'll need to add the title of your event. That's pretty important, otherwise how will anyone know what they're looking at? You have the chance to add a description to explain and help sell your event. Make sure you customise your URL, so it's catchy. You want people to click on your link knowing they're being taken to the right place. For example, having a link that says push.fm/pushparty tells you exactly what we're planning. Whereas if we were to stick with the computer generated one, no one would know what to expect.
Live Stream Link
Are you someone who often goes live across various platforms? Why not make things a little easier for yourself by setting the link up ahead of time. You can end up loosing out on viewers because of poor organisation. Often people like to have the link to hand, so they know exactly where they have to click at a certain time to find your stream. Without this, there can be breaks in communication and some fans may find it difficult to locate your current stream link. This means they could end up missing a lot of your stream, which in turn means you miss out. It's also helpful for you to be able to promote your stream beforehand. This could massively boost your numbers. The more people who know about it, the more who will watch.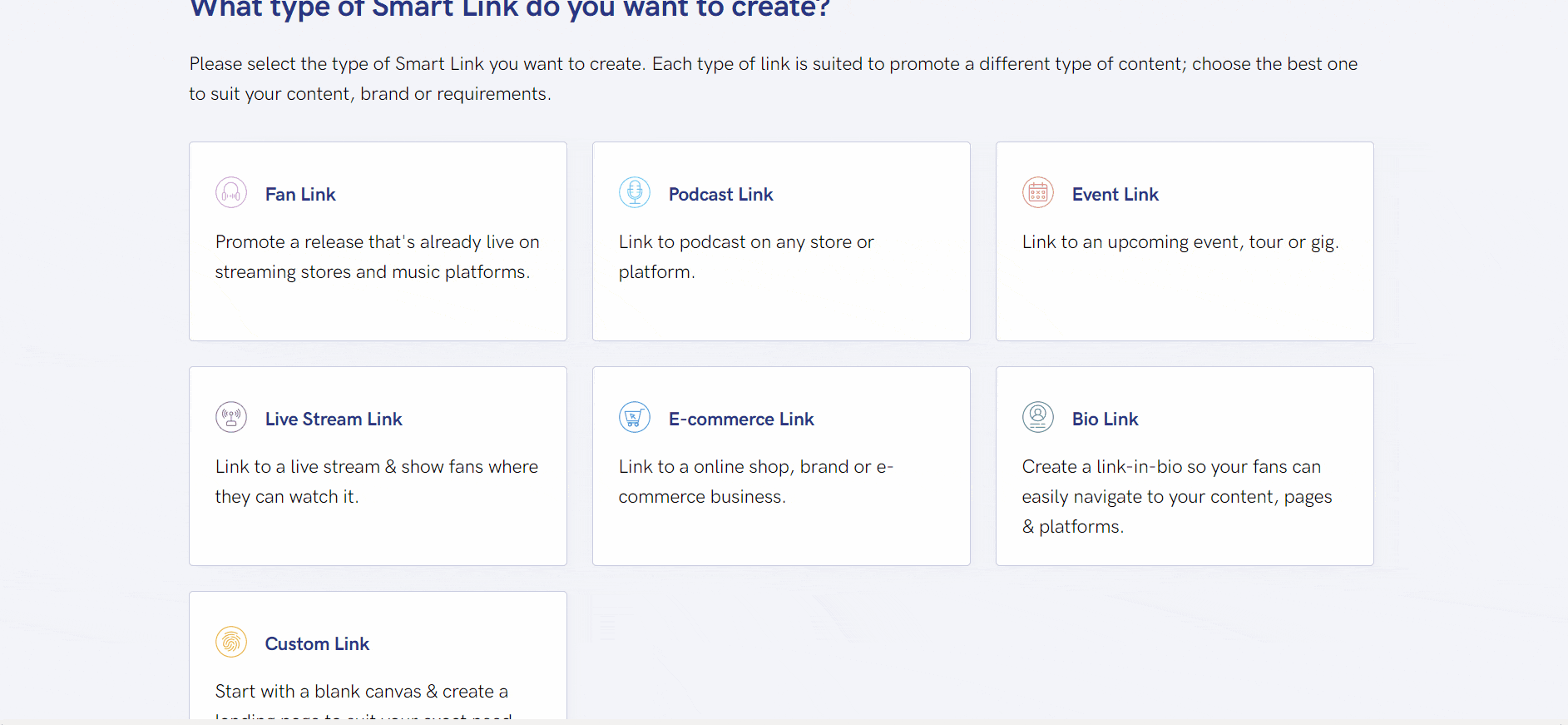 Creating a Live Stream Link is really easy! You need to add the stream title, an image and a description, so you can let your fans know it's really you and what to expect from your new stream. Then you can start adding links. Add the relevant links to where your live stream will be available. Once this is done, and you have double-checked it, you can launch your link. Share this across all of your social platforms to let everyone know not to miss out!
E-commerce Link
This one is for all brands or small businesses out there. Do you ever want to share your store to your social media accounts, but you're stuck knowing how? Social media platforms like Instagram only allow one link within your bio. So, if you're wanting to share your other social platforms along with your website, you will need to create a Smart Link. You can place every website where your products can be purchased into one customised URL. It might be that you sell via Etsy and also Facebook, while you use Instagram as a promotional tool. Make sure you include all of your relevant links within one place so you don't miss out on sales.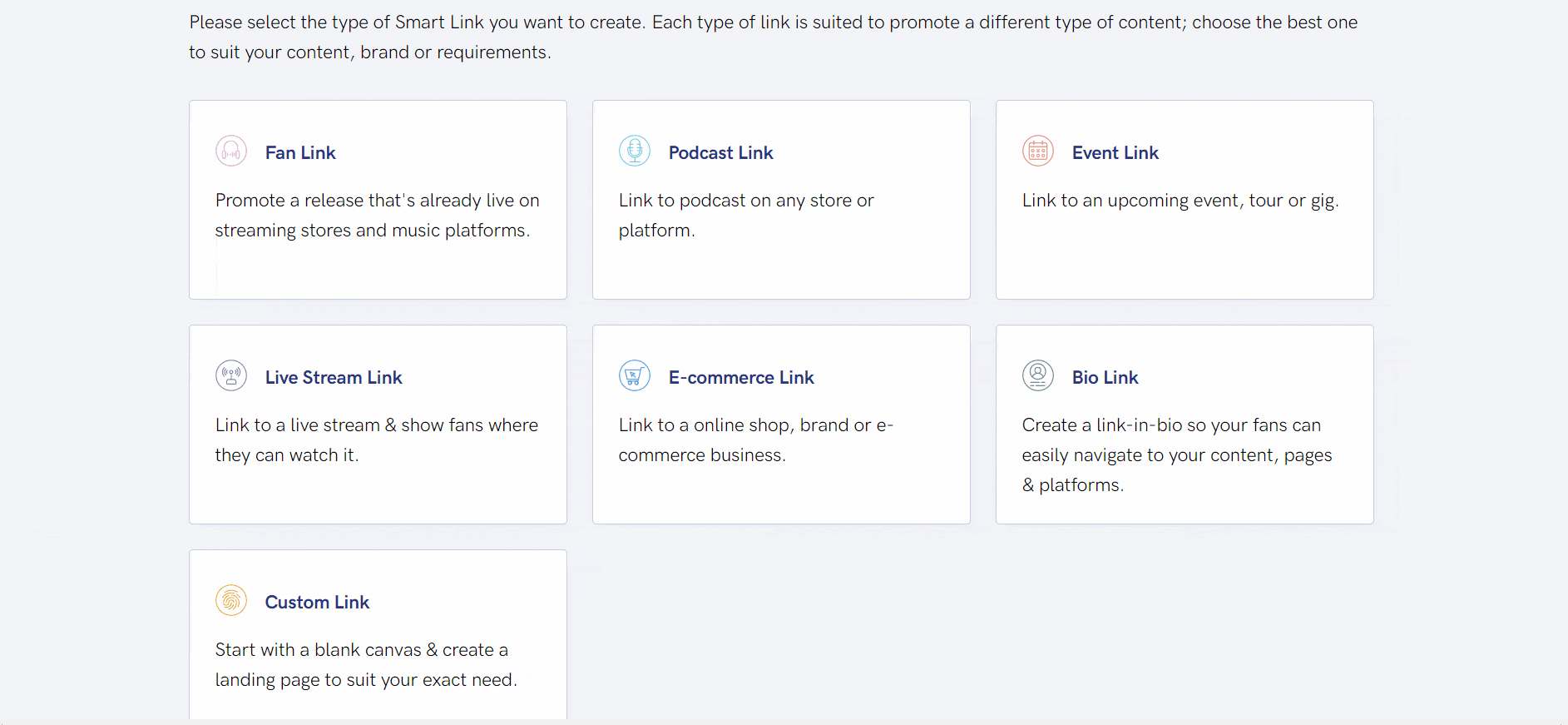 The creation of an E-commerce Link is really straight forward. You'll need to add your brand or business name so everyone viewing the link knows who you are. It helps with brand consistency. Also make sure you add a description, this could be telling people about your brand views, what you stand for and why people should choose you. Then add yourself an image. Maybe this will be your logo, or even a product you specialise in. Once you have completed this section, you can start adding your links. If we don't have a store as an option, feel free to add your own under the Add New Link section.
Bio Link
As mentioned previously, you can only have one link within your bio. This is why creating a Bio Link gets around this issue. You can easily add all of your links to one URL and keep everything in one place. Anyone visiting your social media accounts will be able to locate your Bio Link. They'll then be able to find any other social media account you have or URL you want to share. It might be that you're an influencer, and you want to promote causes you feel passionate about. You could add any link to a specific cause within your Bio Link.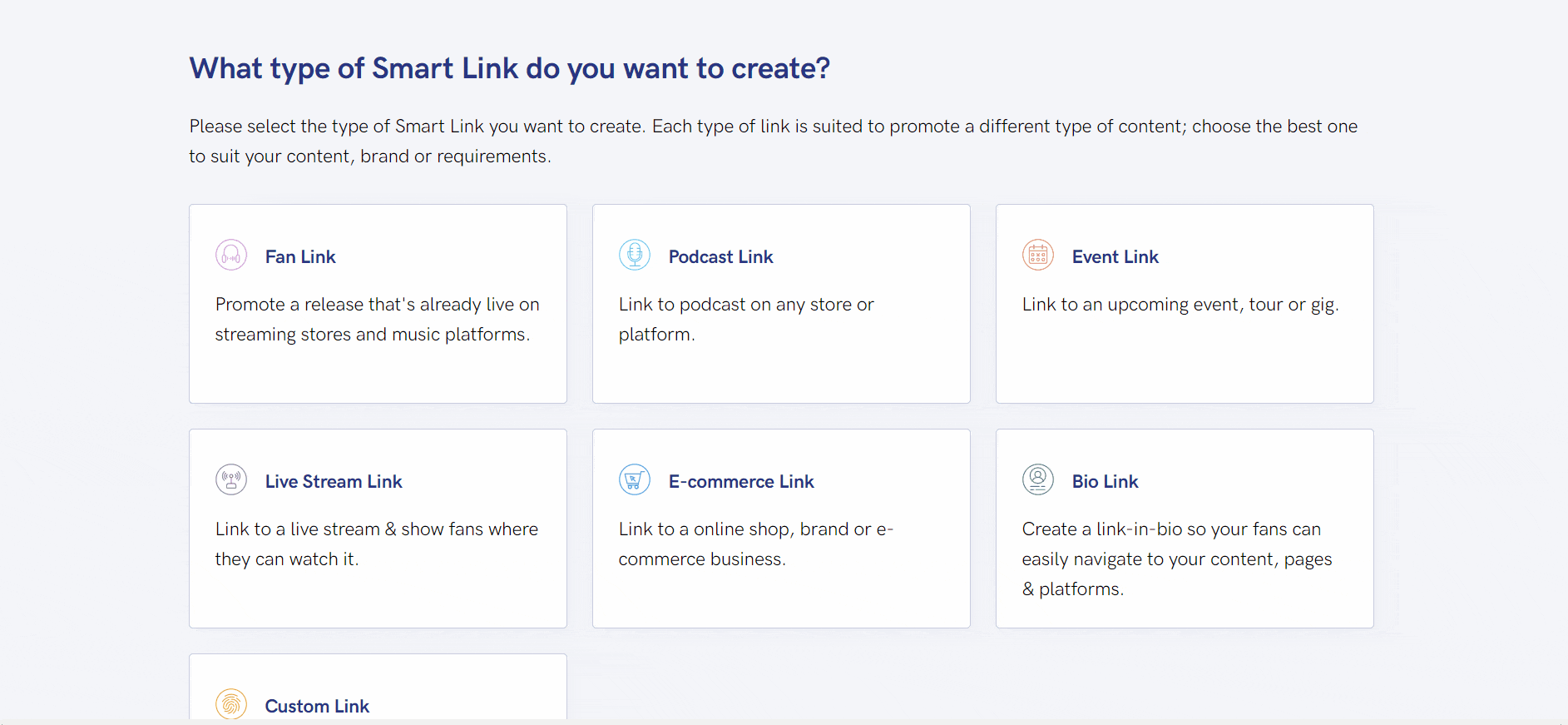 Bio Links are really popular. Many influencers and creators use them to display their various social platforms. Perhaps you create YouTube videos and also have a large Instagram following. You might want to place these links under one URL, so your fans can follow you on every avenue. Just like other links, you'll need to give it a title and put who the author is. Then you can add your artwork, which can be changed at any point. So, if you're an influencer, you might want to regularly update this artwork to keep everything relevant.
Custom Link
Last, but not least, we have our Custom Link option. This is quite unique, because you get complete control over what you include and what you don't. This is the only Smart Link that does not require text. If you want to add artwork and your links with no written message, you can do so. You do not need to add a title or description. Of course, you still have the option to, but a Custom Link allows you to be more flexible. We've essentially stripped our Smart Links back, so this is as basic as they can be. Giving you a blank canvas to start something for yourself.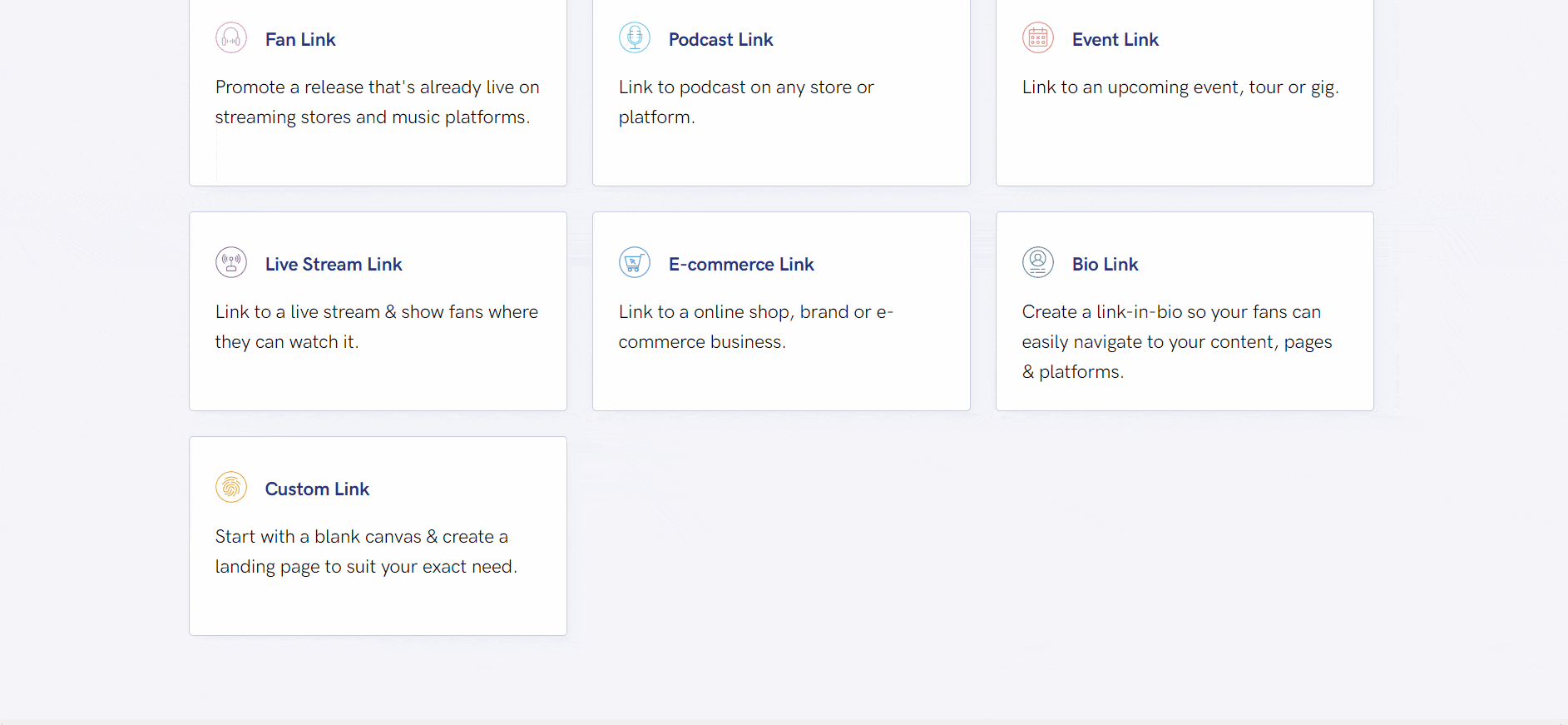 Have fun with your Custom Link. Make it as unique to you as you want. It could be used in the same way as any of our other links if you wish. However, this choice allows you to make every decision for yourself. You aren't required to include certain details. We wanted to include a Custom Link so that our users have the freedom to create something that is different. You may not fit into one of the other templates we have on offer, so you might decide a Custom Link is the best option for you.