We've added even more ways to tailor your landing page. You can now add your own description to your links; tell your audience about you, your Fan Link and the wonderful contents contained within.
We've shaken up our Fan Links and added even more opportunities to tell your fans your story. You can now choose to add a link title, your author/brand name(s) and a personalised description to your landing page. You don't have to use all of these fields either, pick and choose which ones suit your needs.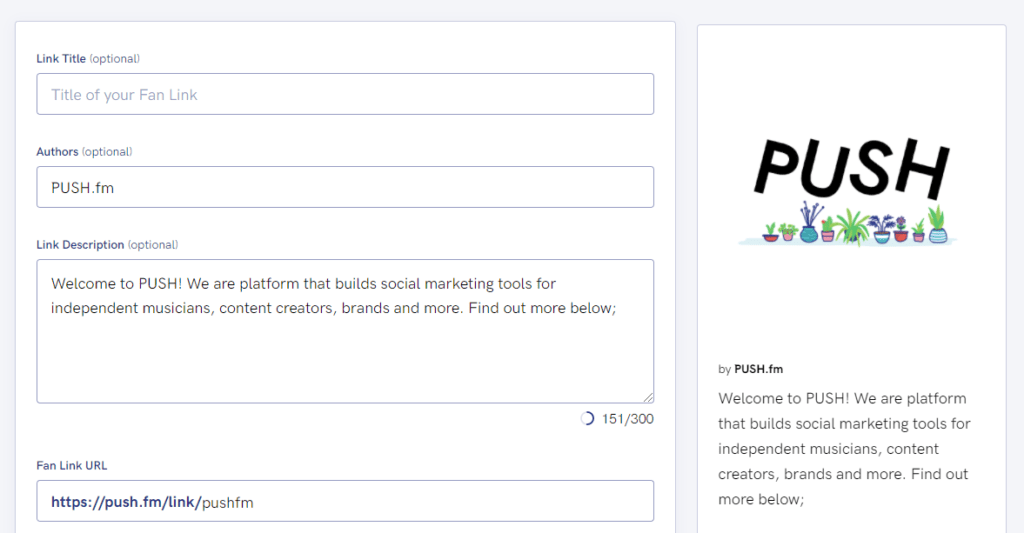 Link title
Your link title is the first piece of information your audience will see when they navigate to your landing page. Link titles work perfectly for links promoting certain pieces of work, such as music releases, product drops and podcast episodes or series.
Link titles are less useful when it comes to link-in-bio style landing pages as you'll often only need to use the author field:
Author(s)
Essential for telling your audience your brand name, artist alias or creator name. Simply type in the name or names you want to display, click enter and they'll appear in the preview on the right hand side of your screen.
Again, if you'd rather not include an author or brand name, simply leave it blank.
Description
Your description is a space where you can tell your fans exactly what you're about. You can put whatever style of text you want; trying using it to:
Tell your audience your story – create a relationship with anyone who visits your link by telling them the story behind your brand or the content you've linked in your Fan Link.
Provide information about what your link contains – stick with simple and to the point, especially if your fan base might not be familiar with smart links or Fan Links.
Simply offer a welcome message – if using your Fan Link as a hub for your social platforms and personal sites, why not offer a warm welcoming message thanking them for visiting your landing page.
---
We know visuals often triumph over words, but the textual content of your Fan Links is still paramount to getting your brand's tone of voice across and communicating your personality with your audience.