Fan Links, also known as smart links, aren't just reserved for musicians. If you have an event coming up, they are perfect for bundling up event pages, ticket links, press releases and more!
We created our Fan Links to be as versatile as possible. You can pimp them out to suit any kind of content and make them work for any individual, brand or business. Events and gigs are just another example of what you can promote using Fan Links.

What are Fan Links?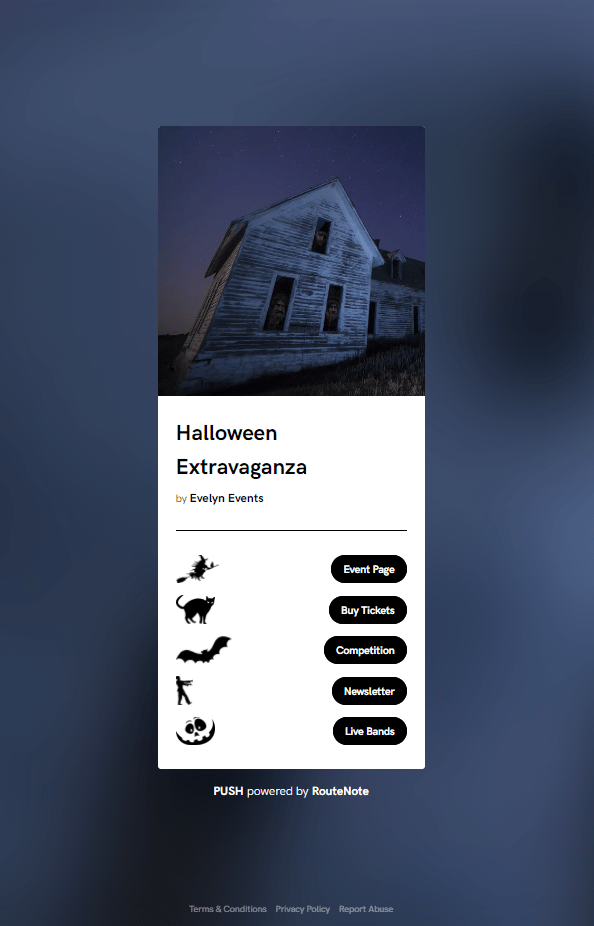 Fan Links, also known as Smart Links, are sharable micro-websites that contain multiple links in one place. These links are shared via a short, personalised URL; removing the need to copy and paste countless individual links and messy social media posts.
These links also generate analytics and insights each time anyone interacts with them too; perfect for planning future marketing campaigns.
Best of all, using PUSH.fm you can make up to 30 active Fan Links totally free of charge. If you're wanting more, simply pay £4.99 a month and unlock unlimited campaigns.

What can I customise?
Obviously each individual, brand or business will have a different aesthetic and motive for their link, which is why we made Fan Links completely customisable. You can:
Add your own feature image – we support JPG, PNG, SVG and GIF so you can make your link as eye-catching as you want.

Choose your button text – each URL you include will have a different action associated with it so you can add your own text to your buttons to reflect this.

Add custom logos – visually pimp out your URLs and choose from our list of pre-loaded store logos or add your own!

Customise your URL – add a custom URL ending so your link is easily identifiable.

Change link title & add your name – let your audience know what your link is and the name of your brand/business or alias.

What URLs can I include?
Absolutely
anything
you
want.
We don't have any limits or limited lists of supported platforms so you can include anything you want. When promoting an event or gig, why not include links to:
🎭 Event pages
Facebook events/Ents24/Bandsintown etc.
🎟 Ticket sites
🎸 Social media
Links to socials for the venues/performers/acts/promoters.
🤡 Websites
Links to sites for the venues/performers/acts/promoters.

🎶 Playlists
If putting on music-themed events.
💻 Live streams
📔 Press releases/articles
📽 Trailers/videos
🏆 Competitions
✉ Mailing lists
As long as it has a URL, you can include it!
---
To find out how to make your first Fan Link, check out our step-by-step guide.