These all-in-one landing pages are mutually beneficial for both content creators and fans; they can streamline the promotion of your new release, fresh launch, social pages and more. By using PUSH.fm, you can make up to 30 beautiful Smart Links for free, and if you find yourself limited, you can upgrade to our premium plan and create an unlimited number of Smart Links.
Find out how to make your first Smart Link below:
---
1. Create, or log in to your PUSH.fm account, and on the left hand side, navigate to Create New Campaign and then select Smart Link.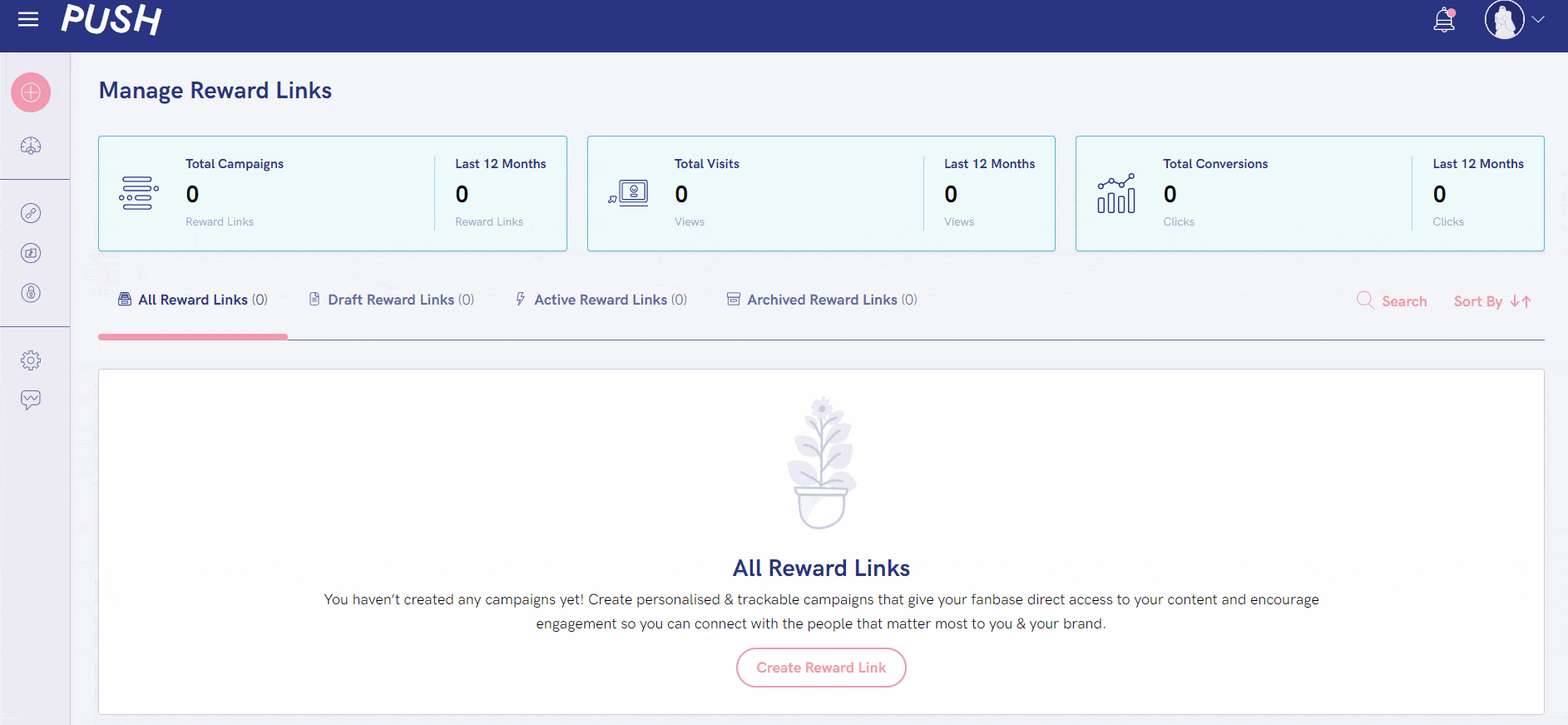 ---
2. Start making your Smart Link by choosing a template option that suits you. In this blog we'll walk you through our trusty Fan Link process. However, it's the same idea for each template, just slightly different.

⚙ If you're a musician using a streaming link, PUSH will automatically detect any other stores your release is on and add these to your link, which you can choose to keep, remove or edit to suit you. If no stores are automatically detected, don't worry, you can add these in later. Once you've put your first URL or UPC in, click Next Step.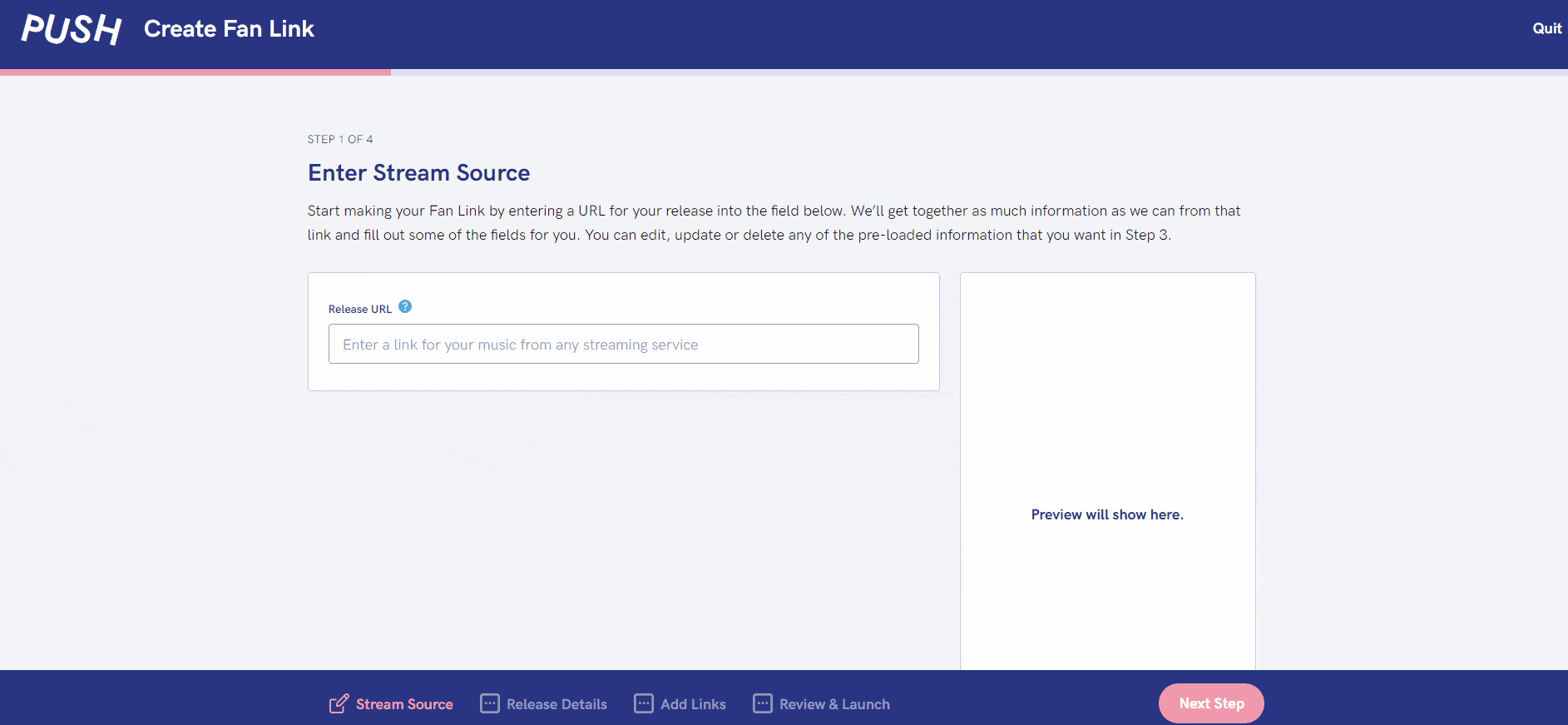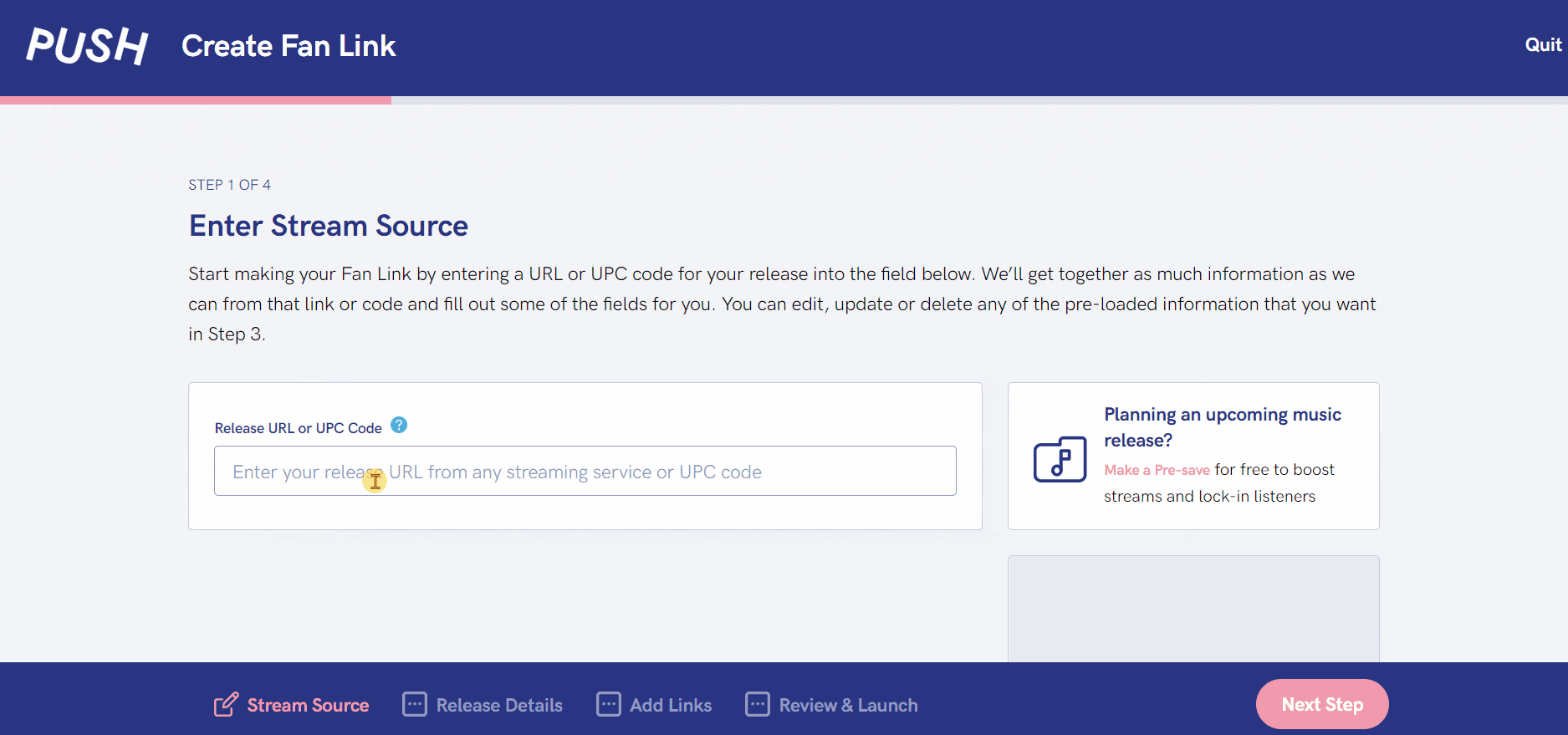 3. Next, you can enter the basic details about the campaign. If you're promoting a music release and your release was automatically picked up on stores, the basic details and artwork will be automatically generated for you in accordance to how your release appears on stores.

✍ You can customise your link by entering your own metadata, your own short URL and uploading your own artwork (we support JPEG, PNG and GIFs too). Once done, click Next Step.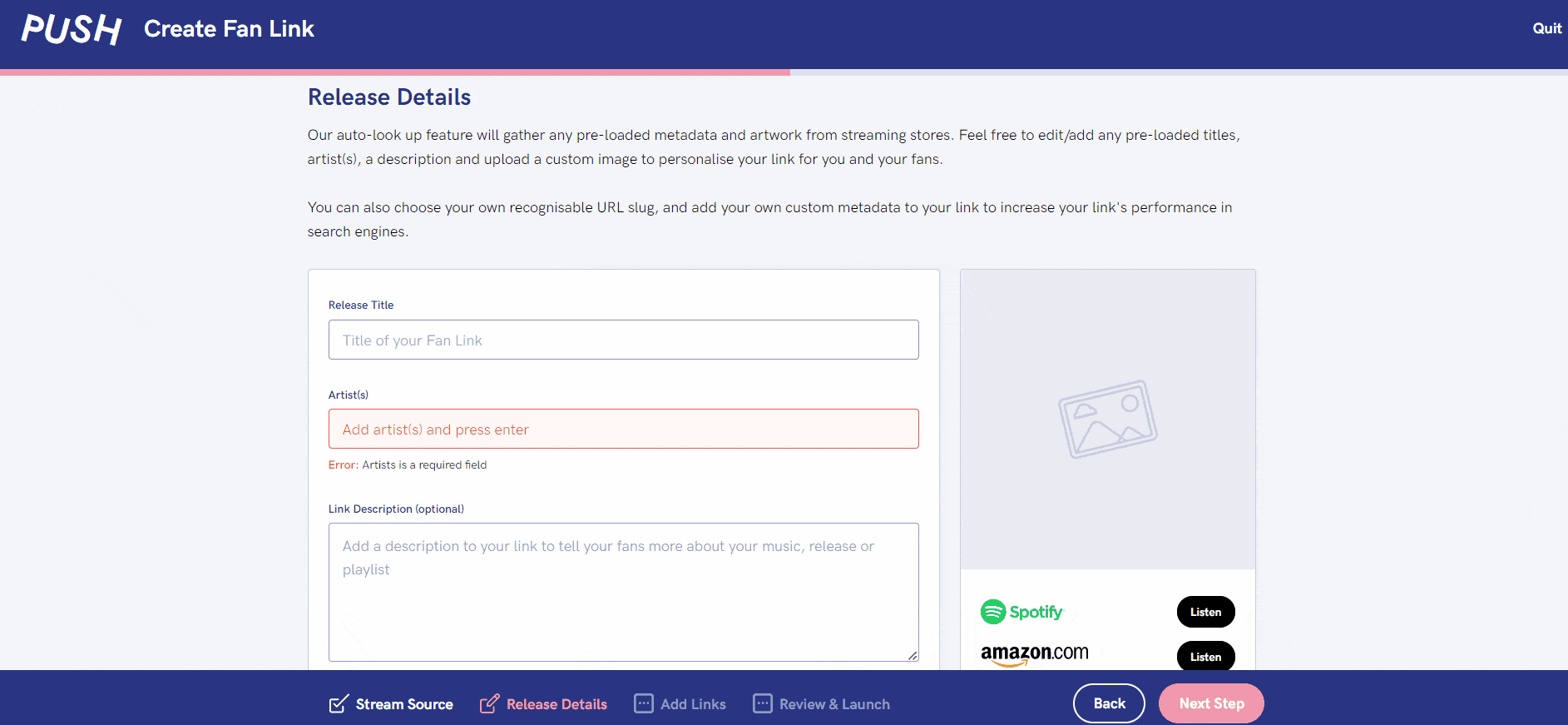 ---
4. Here you can select which platforms and services you want to appear in your Smart Link, as well as being able to add your own.

Each service/platform link can be customised to suit your needs; from the service name and logo to the action text you want displayed in the buttons. You can enter any kind of link to appear on your landing page to suit you and your fans' needs… the customisation is endless!

👍 Once satisfied with your links, click Next Step.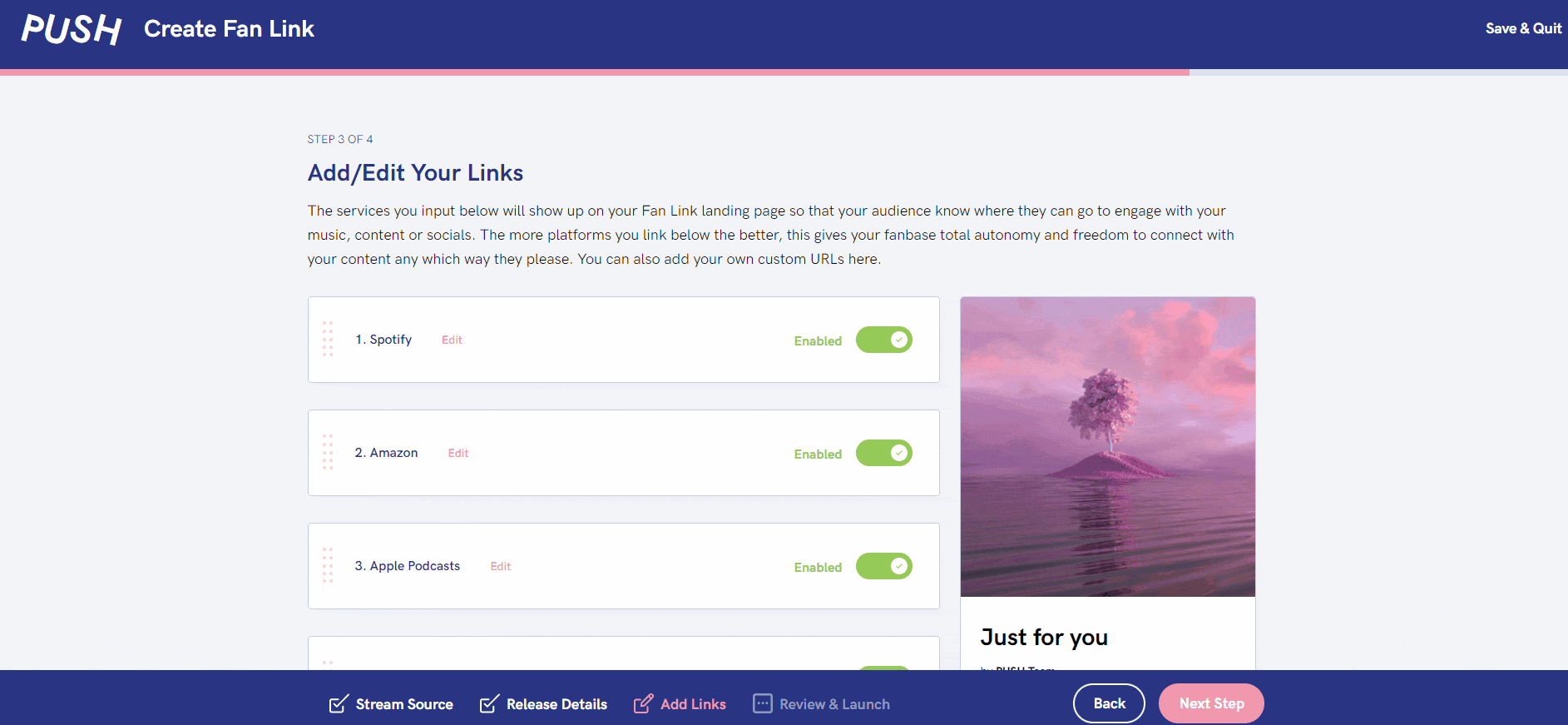 ---
5. Once you've settled on the links you want to include in your Smart Link and how it looks, you can give your campaign a name so you can easily distinguish how it's performing. Only you will be able to see this name and will not be visible to your fans.

🚀 If you're happy with how everything looks, click on Launch Campaign to publish your Smart Link.

Your campaign will show up in the Smart Link section of your account, where you can see all your Smart Links (including draft, active and archived links). From here you can view and share your Smart Links, see key performance statistics of each, and edit/delete your campaigns by going into the menu '⋮' on the right.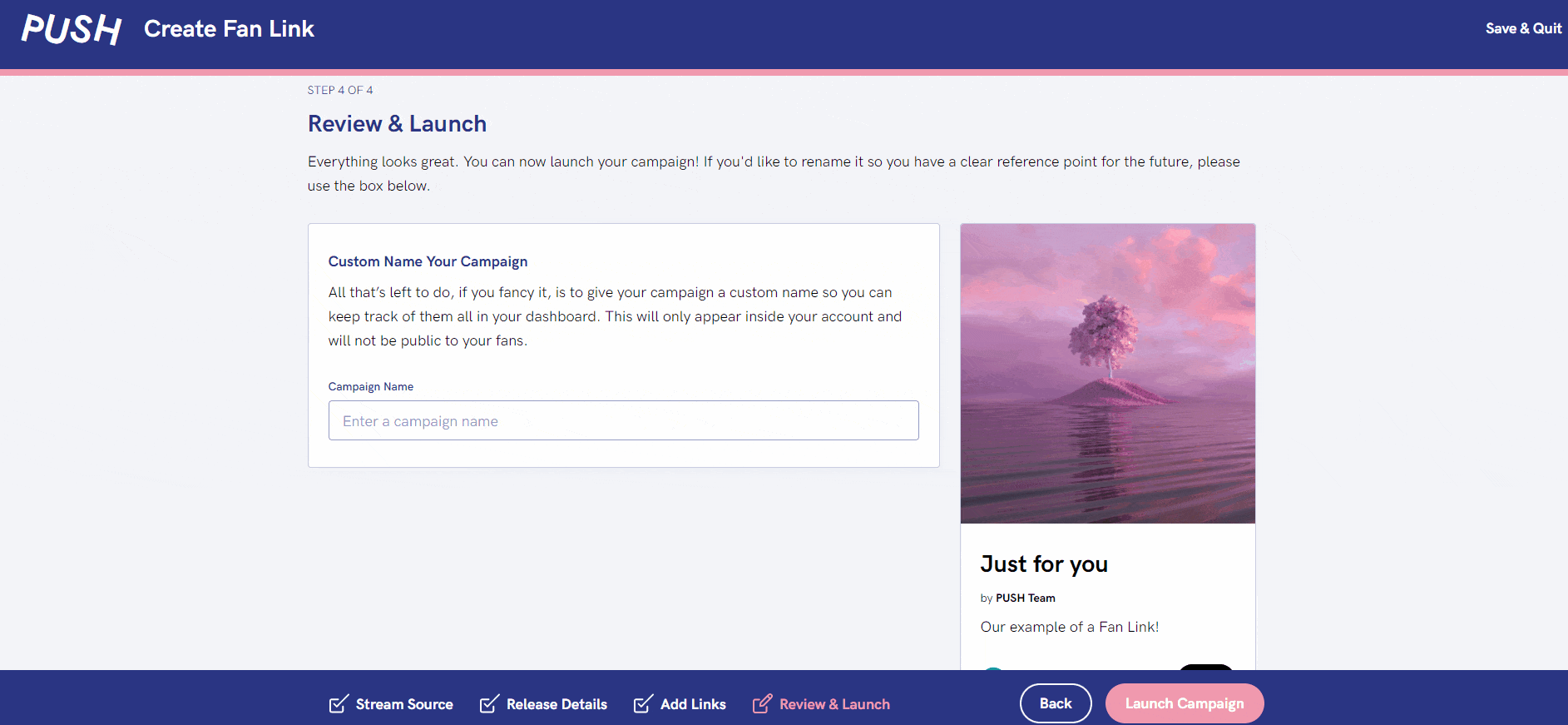 ---
6. By opening the URL of your Smart Link, you can view the landing page as if you were a fan.

📣 Once you've given your Smart Link a little test to make sure all the links work, you can start sharing it far and wide with your audience and fans!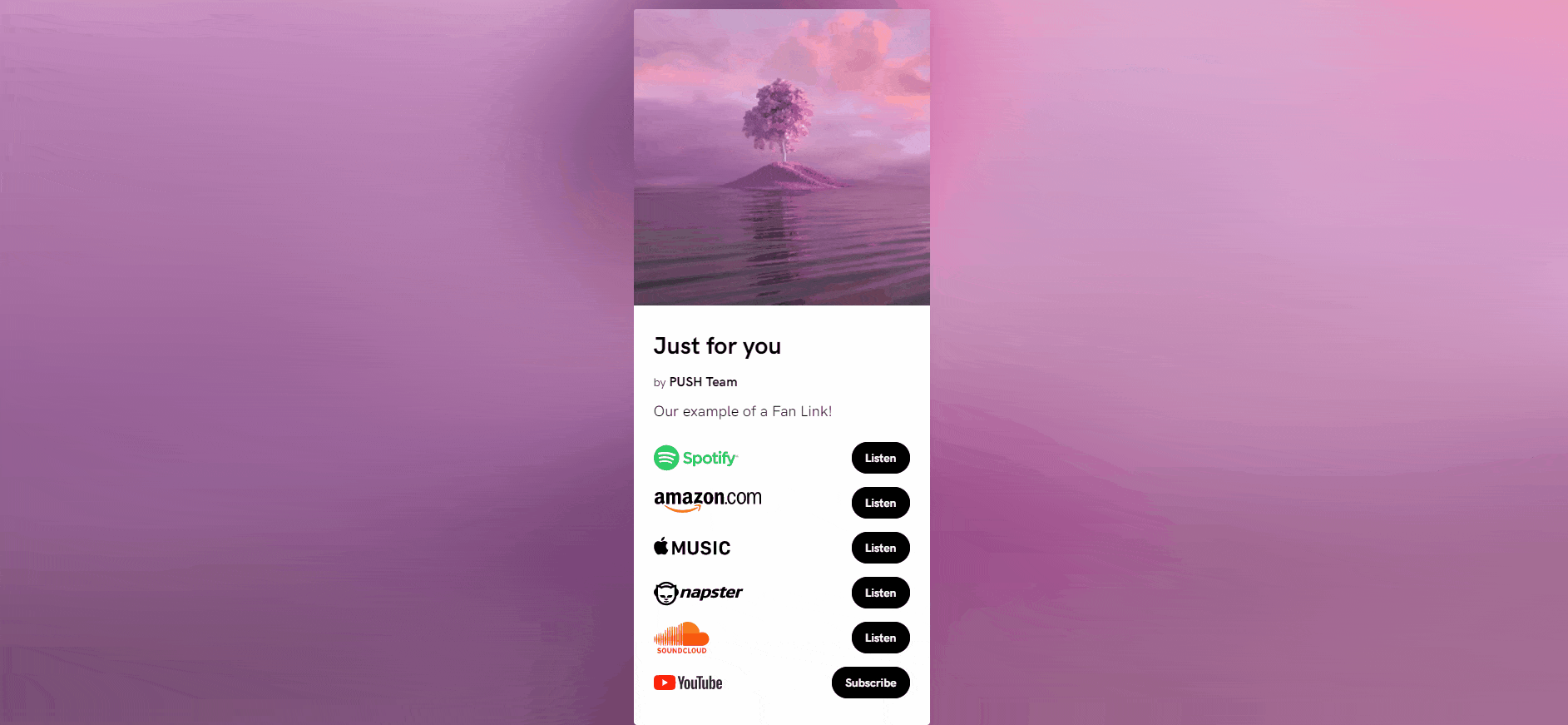 ---
If you're unsure, read up on exactly what Smart Links are before heading to PUSH.fm to create your free account and make your first Smart Link now!