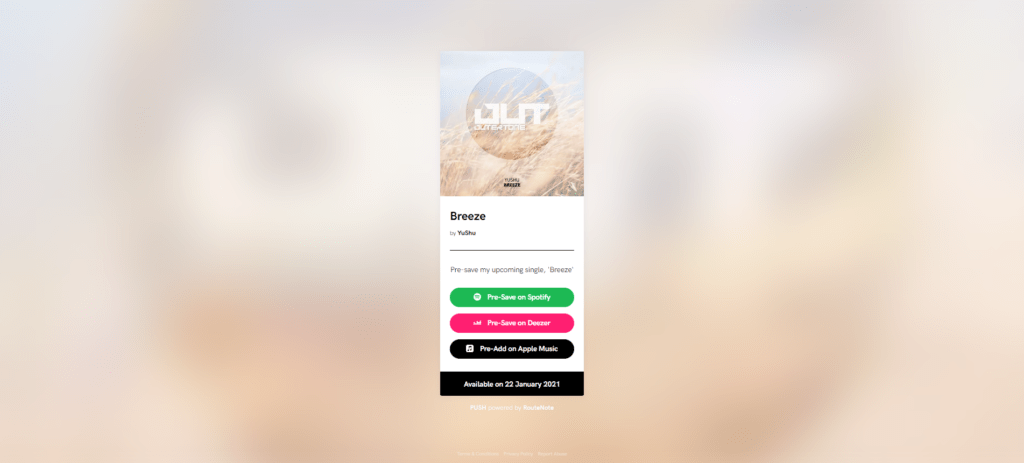 Pre-saves aren't anything to be sniffed at. They can take an upcoming release from a mediocre success to the next big thing!
Pre-saves should be at the top of your music marketing list. They guarantee you streams, listeners and valuable engagement before your release has even gone live. As well as locking in listeners, posting about your Pre-saves acts as great promotion giving friendly reminders to your fans.

What are they?
Pre-saves are digital versions of pre-orders, allowing your fans to pre-save your upcoming releases so they land in their libraries on release day. Then, on release day, your fans are ready to stream, share and add your new music to their playlists.

How do they work?
As an artist/musician, you'll start by making your Pre-save campaign. Make sure you've left a good chunk of time before release day – the longer the better!

For more details on how to make a Pre-save campaign on PUSH.fm, check out our How To.
Once you've made your Pre-save campaign, you can share it on your socials and in your bios. The more people that see it and engage with it, the better!
When your fans click on your Pre-save link, they'll need to choose which platform they want to Pre-save your release on. Once a platform has been selected, they'll be prompted with an authorisation page from the platform with certain required permissions needed to complete the Pre-save.

Once they've been approved.. voila! On release day, your new release will now automatically land in their library.

Why are they so valuable?
A well run Pre-save campaign means lots of guaranteed listeners and streams on release day.
And, in short, good performance on release day will increase your chances of landing a spot on an editorial playlist.
Editorial playlists are huge discovery tools for listeners, and having your music included in one is considered a goal of many independent musicians. They can take your monthly listeners from the tens to the thousands overnight.
---
So what are you waiting for? Head over to PUSH.fm to make your first Pre-save totally free of charge. PUSH currently offers Pre-saves on Spotify, Deezer & Apple Music.

And if you've already used your allowance up, either consider connecting a RouteNote account to boost your allowance. Or, sign up to our premium plan for only £4.99 a month, and unlock unlimited Pre-save campaigns!