There's no right or wrong answer for this ever-debated question, however it's worth knowing the perks and personalities of each programme.
"Which is better? Logic Pro or Ableton?" – The question asked by the majority of music producers across the internet. Each DAW (Digital Audio Workspace) has it's own unique selling point that makes it so attractive to it's loyal group of users.
We've put together a quick and to-the-point comparison of each; their focuses, flourishes and flops.
Ableton Live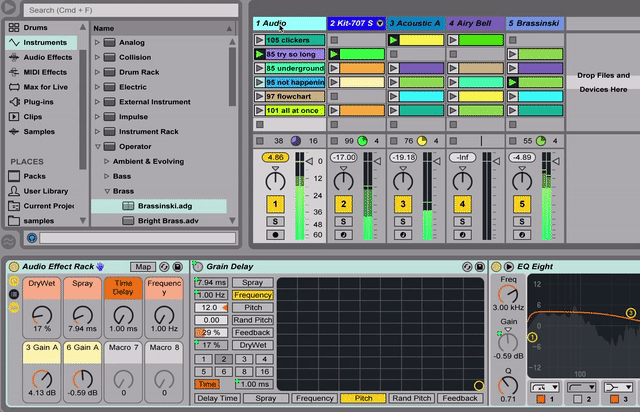 Ableton first arrived onto the production scene in 2001 as a new answer to electronic music production. It stood out because it could be used as a live performance tool just as much as a studio one.
Ableton Live has just released it's most recent update; Ableton Live 11 – boasting new virtual instruments, updated workflow features and more creative tools for producers.
What we love
Incredibly intuitive interface – it's unique interface allows for a super creative workflow. Adding effects, automation and experimenting is incredibly quick and easy using Ableton. It's built-in file explorer is also an incredibly beneficial tool for producers working with samples and pre-recorded audio.
Both studio and live use – it can be used both in the studio for producing, mixing and writing and as a live instrument in it's own right.
Huge variety of FX – As well as a bunch of cool virtual instruments, Ableton hosts a wealth of powerful and creative effects. These effects, both for audio and MIDI, are perfect for adding variation and interest to your songs.
What we don't love
Slightly more susceptible to lag – Through our own experience, Ableton can be slightly more prone to lag when recording audio. However, lag can be reduced by making sure unused tracks are frozen and CPU is kept low.
Higher price tag – Ableton is slightly more costly compared to Logic which may not be affordable for some independent producers and musicians; Live 11 Standard currently costs £319.
Logic Pro X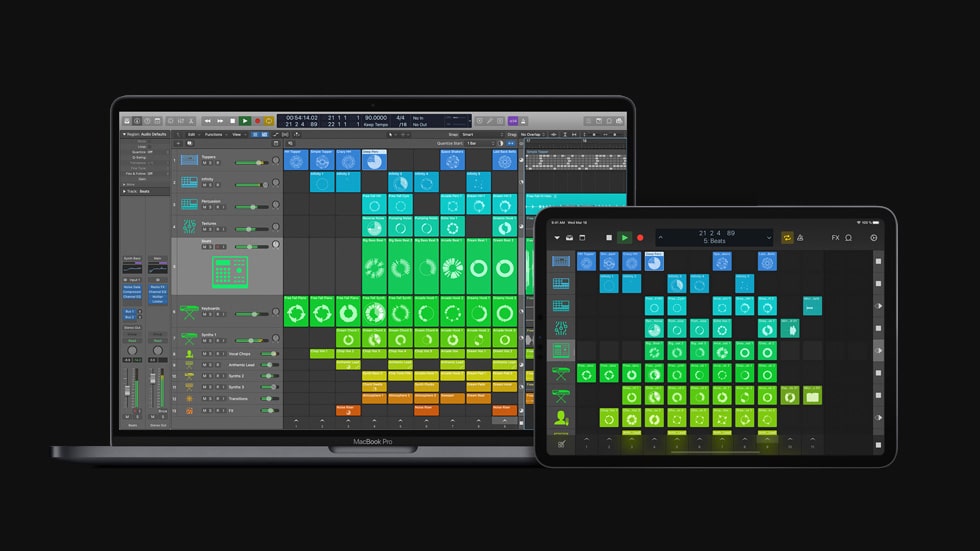 What we love
Affordable price point – Logic Pro is currently priced at £199.99, which is over 1/3 cheaper than Ableton Live 11 Standard. This is a great option for fledgling independent producers that don't want to shell out for their first DAW.
Powerful audio recording – Logic is perfect for recording audio into. It has some incredibly powerful, useful and professional-quality plug ins too, to ensure your recorded audio sounds the best it can be.
Beautiful sounding virtual instruments – their built-in, virtual instruments are second to none and sound very close to the real thing. There are loads of parameters you can change within each studio instrument to make it sound just the way you want.
What we don't love
Previously less extensive creative features – before it's recent update, Logic was lacking in creative features that Ableton so prides itself on. Creatively using and editing samples/loops often required lengthy and complex processes. However it's new update has supplied producers with new bunch of creative tools for both sample and MIDI orientated workflows.
Linear workflows – This isn't necessarily a bad thing as some music makers will prefer more linear ways of working. However, Logic's interface and functions are aguably less intuitive and require more foresight when it comes to music production.
Conclusion
If you're a producer who opens their DAW rarely knowing what they'll end up producing, Ableton seems like the go-to. It's intuitive workflows and processes allow for more experimentation, happy accidents and creative trial and error.
Because of it's mighty MIDI effects and amazing sampler instrument. we'd also recommend Ableton to producers who prefer to work with pre-recorded audio and MIDI.
Logic is much more geared towards producers who want to record their own audio. Due to its more linear workflows, it'll also suit producers who know what their song will sound like before they've even made it.
If you're still undecided or want to try-before-you-buy, both Ableton and Logic offer free trials so you can get to know which one you prefer hands on.