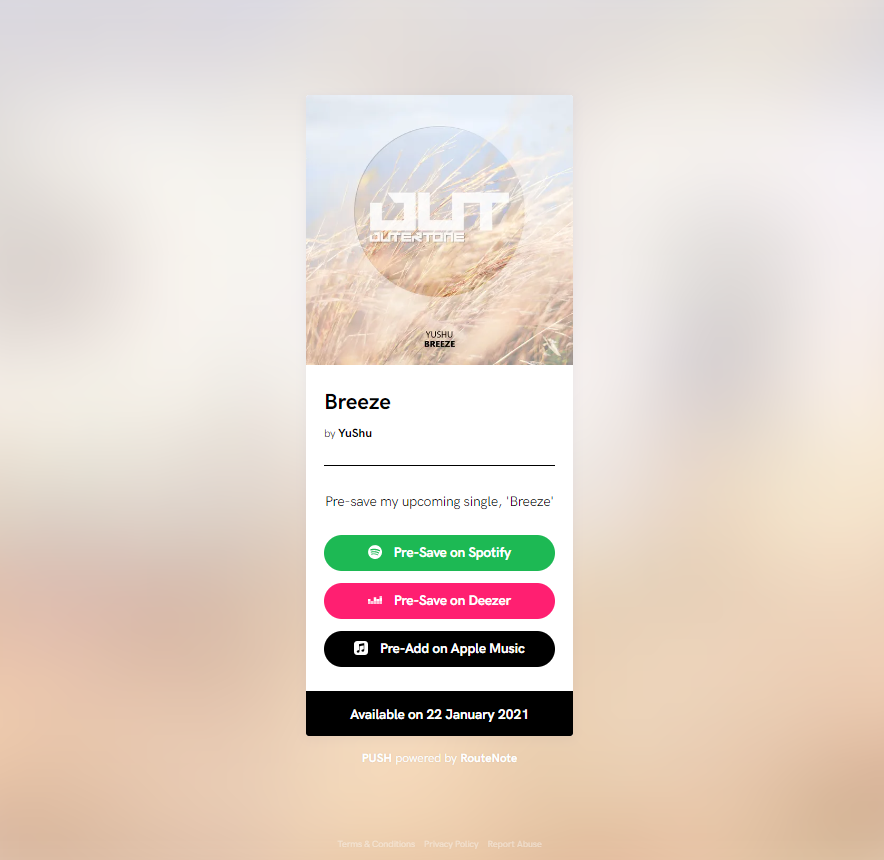 Pre-saves should be your go-to when planning pre-release marketing plans. Read on to find out how they can step up your music marketing game and help PUSH your new releases harder.
I know we go on about it, but Pre-saves really are the bees knees of music marketing tools. They lock in listeners and are perfect at boosting the chances of musical success for independent artists and labels.
Get our lowdown on what they are, when you can use them and exactly why they're such valuable tools for independent music makers.

What are Pre-saves?
Pre-saves are the digital sibling of pre-orders. Before streaming and digital downloads, you could pre-order CDs and vinyl so you'd receive them come release day.
Pre-saves allow the same process to happen, but digitally. When you Pre-save a release on a streaming platform, the release will automatically appear in your library on release day. You can then stream, share and playlist them to your heart's content.
PUSH.fm currently offers Pre-saves on Spotify, Deezer and Apple Music.

When can I use them?
If you're wanting fans to pre-save a release, your release must have a sales start date in the future. We recommend allowing at least 2 weeks for you to run a successful Pre-save campaign.
Pre-saves run after release day still work, however they instead act as a 'save' instead and the release will land in users' libraries instantly. There's nothing wrong with running 'save' campaigns once your release is live, but you lose all benefits of promoting your release before it goes live.

Why should I use them?
There's a whole host of reasons why you should be incorporating Pre-saves into your promotional plans. They can help you:
Get playlisted – playlist curators look for strong release day performance when deciding on content to add to stores' playlists. Running an effective Pre-save campaign can boost those valuable saves, streams and interactions thus increasing your chances of being spotted and your music playlisted!
Guarantee listeners and streams – when fans Pre-save your release, you're essentially guaranteed that they'll listen to your track on release day. The more people who Pre-save your release, the more listeners and streams you'll get – simple.
Boost followers – when creating your Pre-save campaign, you can select whether you want your fans to follow you when they authorize the Pre-save. This gives you followers and guaranteed listeners at the same time – two birds, one stone
Creates post content – your Pre-save campaigns make perfect content to post about on your socials.
Top Tip – every time you post about your upcoming release, include the URL of your Pre-save! This helps boost exposure of your campaign and increasing those valuable Pre-saves.
Create momentum – Posting about your Pre-save campaign creates momentum and discussion about your upcoming release. It gives little updates into when your release is going live whilst acting as a super promotional tool.

How do I make a Pre-save campaign?
We've put together a handy how-to guide that gives you step by step instructions. Check it out here.

How much do they cost?
You can create Pre-save campaigns completely free of charge using PUSH.fm. As a free user, you are entitled to one active Pre-save, which suits most independent artists and musicians.
Because we're partnered with music distribution company RouteNote, you can unlock 4 more active Pre-saves when you connect your RouteNote account!
If you feel you might be limited, especially if you're an independent label, you can sign up to our paid plan for only £4.99! This includes unlimited Pre-saves, Fan Links and Content Unlocks.