We like to think PUSH is the gift that keeps on giving… No longer do you need to wait until your Pre-save has ended before you start the Smart Link creation. Instead, PUSH can do this for you automatically! With just one click during the Pre-save process, you can find yourself a shiny Smart Link created when your Pre-save has come to an end.
What is a Pre-save?
A Pre-save is essentially a digital pre-order. You can promote your Pre-save links ahead of your release date and then when it goes live, your fans will have access to it straight away. Pre-saves are free to create through PUSH, but help drive attention to your latest music drop. When your fans access your Pre-save, the release will be placed into their albums as soon as it is available. This means they don't have to search for it, and you don't have to continue to promote various links.
When you send your music to streaming stores, it's unlikely you'll just pick one. If you were to promote every store link often, it would be never ending. With a Pre-save link, your fans can save it ahead of time on their preferred store. This way you don't have to send out Apple Music links one minute and Deezer the next. Instead, you just send your one URL, and they can access which ever store they need to save your music ahead of time.
What is a Smart Link?
Smart Links are digital housing systems for all of your links. They keep everything relevant under one URL. When you release music to various stores, it can be tricky keeping all of your links in one place. That's where Smart Links come in. With PUSH.fm you can choose from our various templates depending on your requirements. You might select a Fan Link or a Bio Link. These can then be place into your social media bios and your fans will be able to access all links required from there.
You can combine social media links with streaming store URLs and place them all under one easy accessible Smart Link. This could help drive people to listen to your music. It's all easily accessible and looks presentable. With PUSH.fm you can customise your URL to make it memorable. You can also change up your logos to be personalised to your artist image. Everything is customisable, so you really can make your Smart Link tailored to you.
PUSH.fm's automated Smart Links
We've now added a new feature (yes another one)… Now, PUSH is able to create you an automated Smart Link once your Pre-save has run its course. All you have to do is click the button for an automatic Smart Link creation. Then, when your Pre-save goes live, so will your Smart Link. It really is that easy. Our auto-lookup tool will source all your streaming links and place them into your very own Fan Link. A Fan Link is simply a music style Smart Link. We have multiple templates for various types of links. For streaming stores and promoting your latest tracks you'll need a Fan Link.

When creating your Pre-save, you'll be required to input a streaming source. Our lookup tool will then find the other stores your release will be present on. Underneath your release details on the first page, you'll see the option to have a Fan Link automatically generated. Click yes if this is something you want PUSH to produce for you. On the day your release goes live, a new link will be created housing all your streaming URLs. The artwork generated will be that from your release. You can however then head into your PUSH account and edit your Smart Link. If you want to customise it once it's live, you can do so.
You'll still have the same level of control and customisation options as you would creating your own Smart Link. However, this way, you lose half of the hassle. You can't create a Fan Link until your music is live within stores. So, by having one automatically generated for you, you save yourself a job on release day. It's simply a seamless swap between the two. The best part? Well, when people click your Pre-save link on release day, the button will automatically change too. It will no longer say Save, instead it will have a button that takes you to your new Fan Link. All other URLs in place, for example your social media accounts will still be available, however, you'll no longer be able to click Spotify, Deezer or Apple Music and Pre-save the release.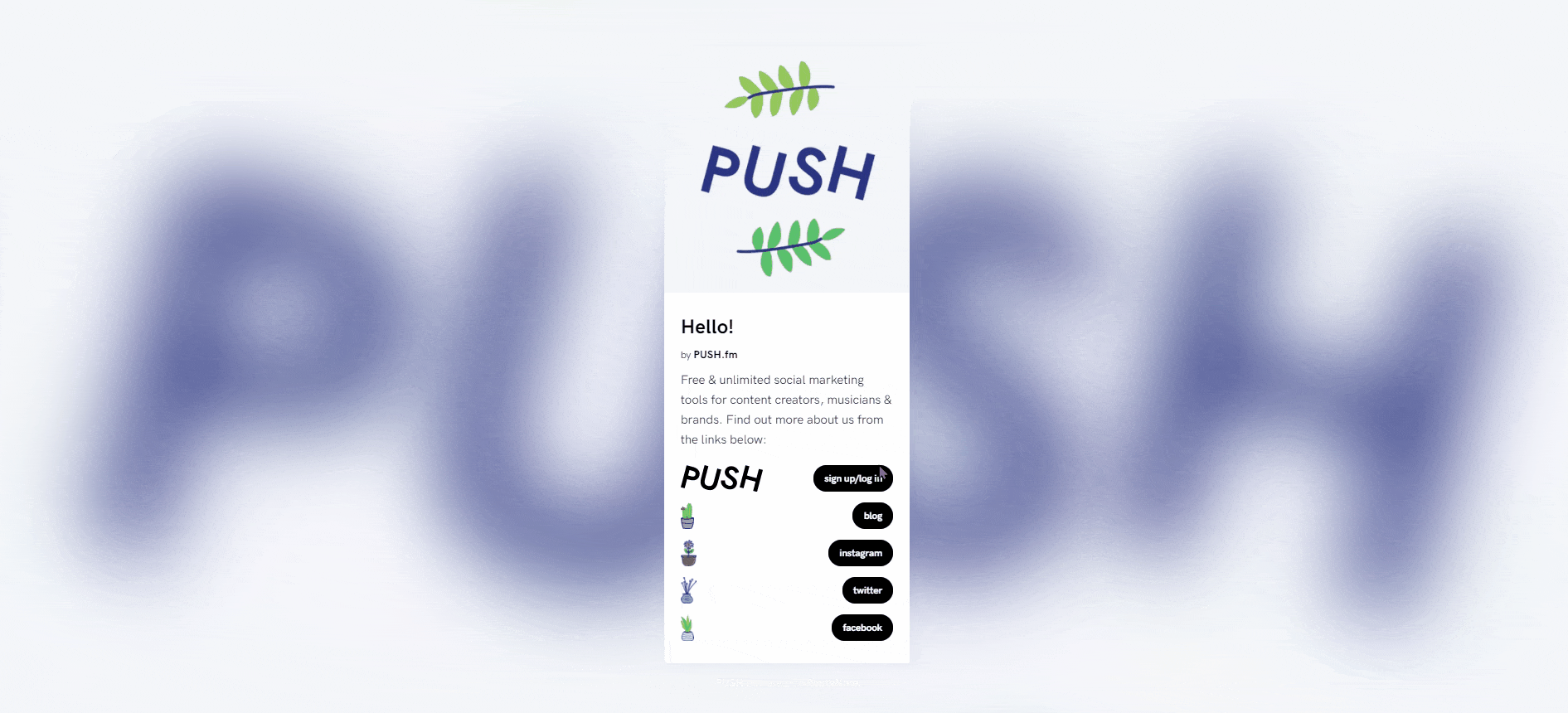 Check out our recent articles