Reward Links offer benefits for both you and your audience. You set tasks that must be completed for your fans to access the reward. They help you gain followers, listeners and interest. How many tasks must be completed is chosen by you too.
What is a Reward Link?
A Reward Link is a digital campaign that enables fans to be rewarded for interaction. You set tasks such as follow me on Twitter or follow my Spotify. They have to complete these tasks and once they have, they'll be able to access the digital file or download you have hidden. It's your choice how many tasks you set. You might decide to add 5 options but only require 2 to be completed. Which 2 is then your audience's choice.
By allowing them choice, it involves everyone. Having tasks such as follow my Apple Music account is super helpful if you're trying to grow that artist page. However, those with a Spotify account then can't join in. It's unlikely anyone wants to create multiple accounts just to see the digital reward. That's why we'd always suggest adding options. Also, it might be that your audience already follow you on their Instagram for example. So, adding in options means they can follow you from another social account if they have one.
They're a campaign for everyone. Once the task(s) have been completed, your audience can instantly access their reward. This might be a discount code to your website. Perhaps it's a behind the scenes video from a recent event. Whatever you want to allow people to access digitally you can turn into a reward. These work in multiple ways. It could be a file to download, a link to follow or even a hidden message. The choice is yours!
How to create a Reward Link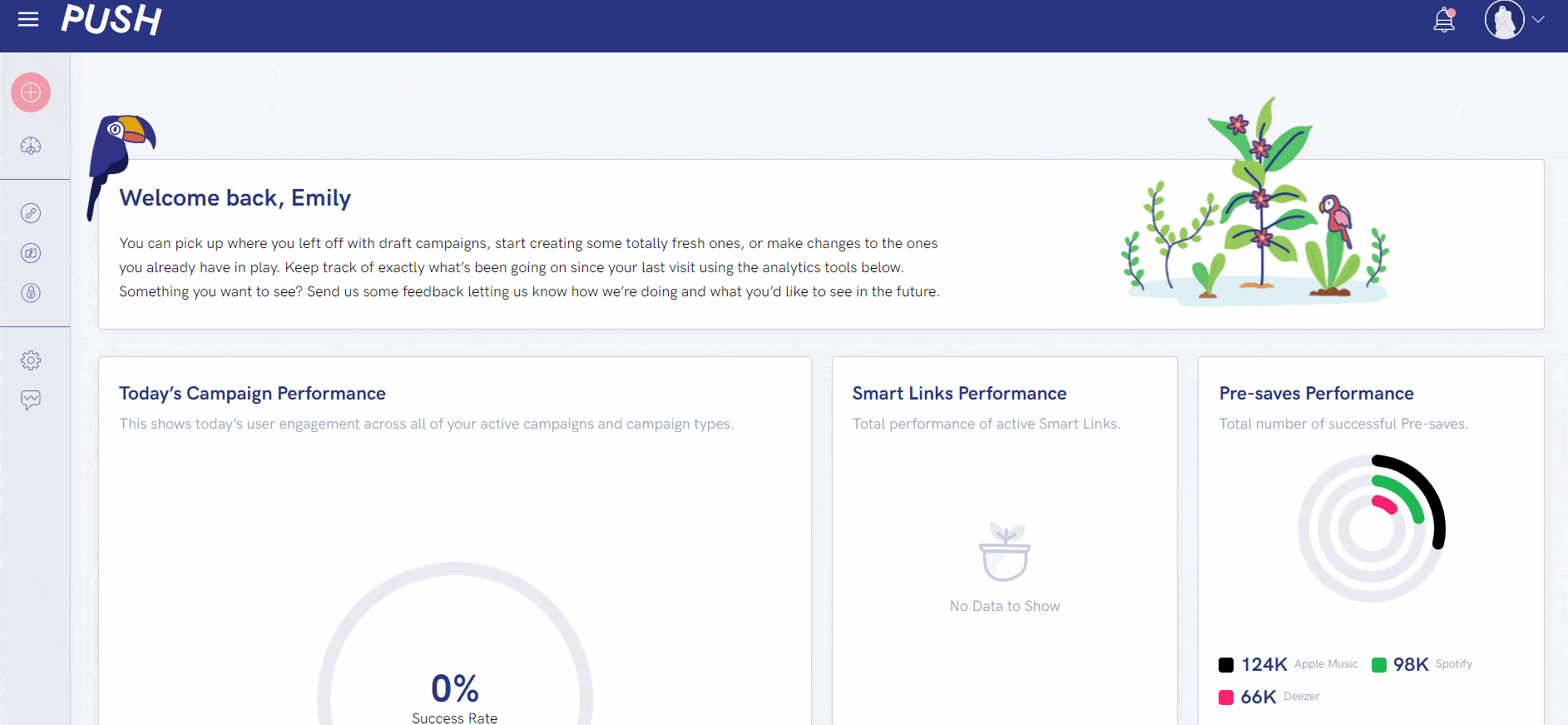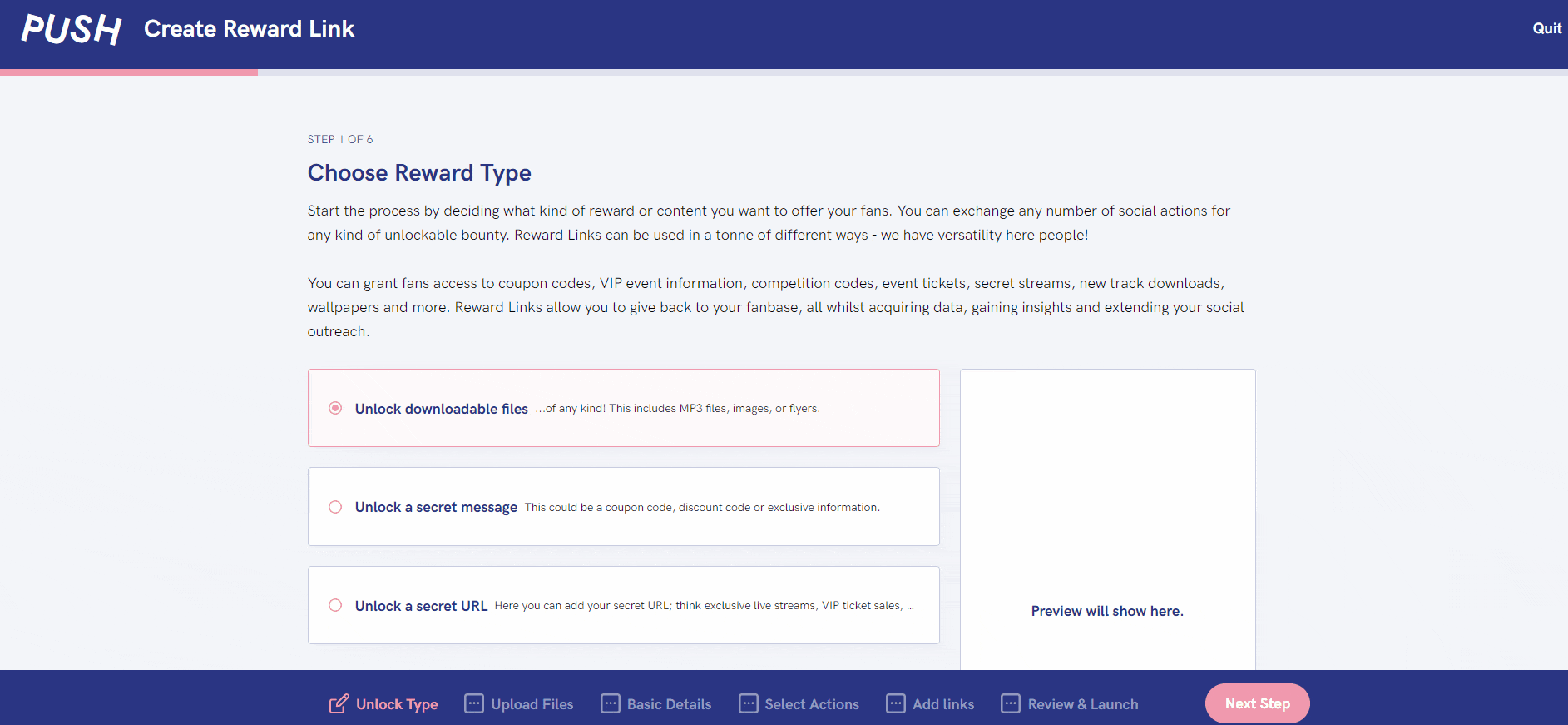 Select which type of Reward Link you want to make. Do you want your audience to be able to download a file, unlock a secret message or head to a secret URL? Consider what they'll receive at the end of it and make your selection.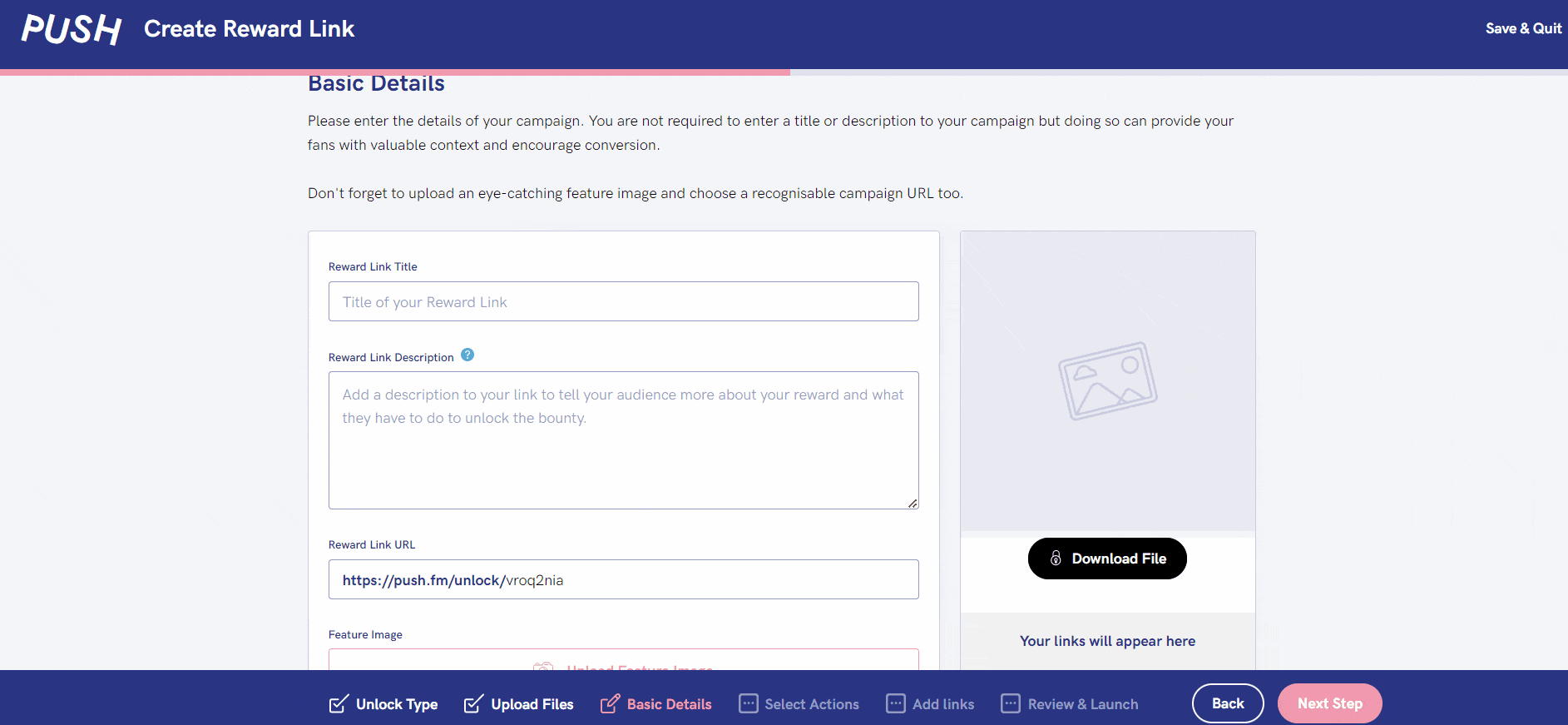 You'll need to add your secret file, message or URL on the second page under Upload Files. Then head to Basic Details where you'll set your Reward Link up the same as all other links.
Add an image that speaks for you. Include a Reward Link title as this will be the first thing your audience see. Include a description if you wish. This part is optional. Don't forget to change your URL though, make it personal.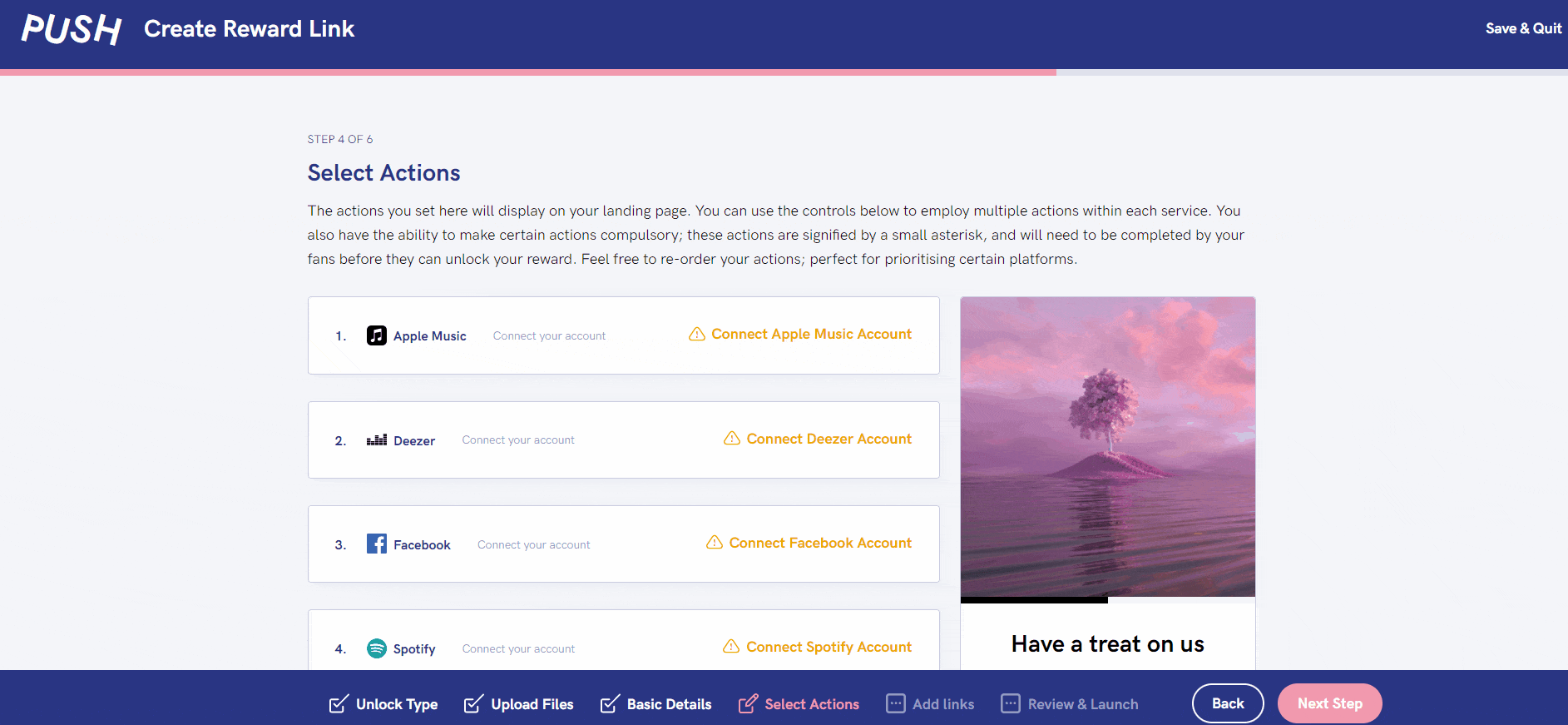 This is where you decide what tasks you're going to set. Attach any accounts you require your audience to follow here. Then state at the bottom how many tasks must be completed. You have the option to make some tasks mandatory. So, if your sole focus is YouTube, you can make this compulsory.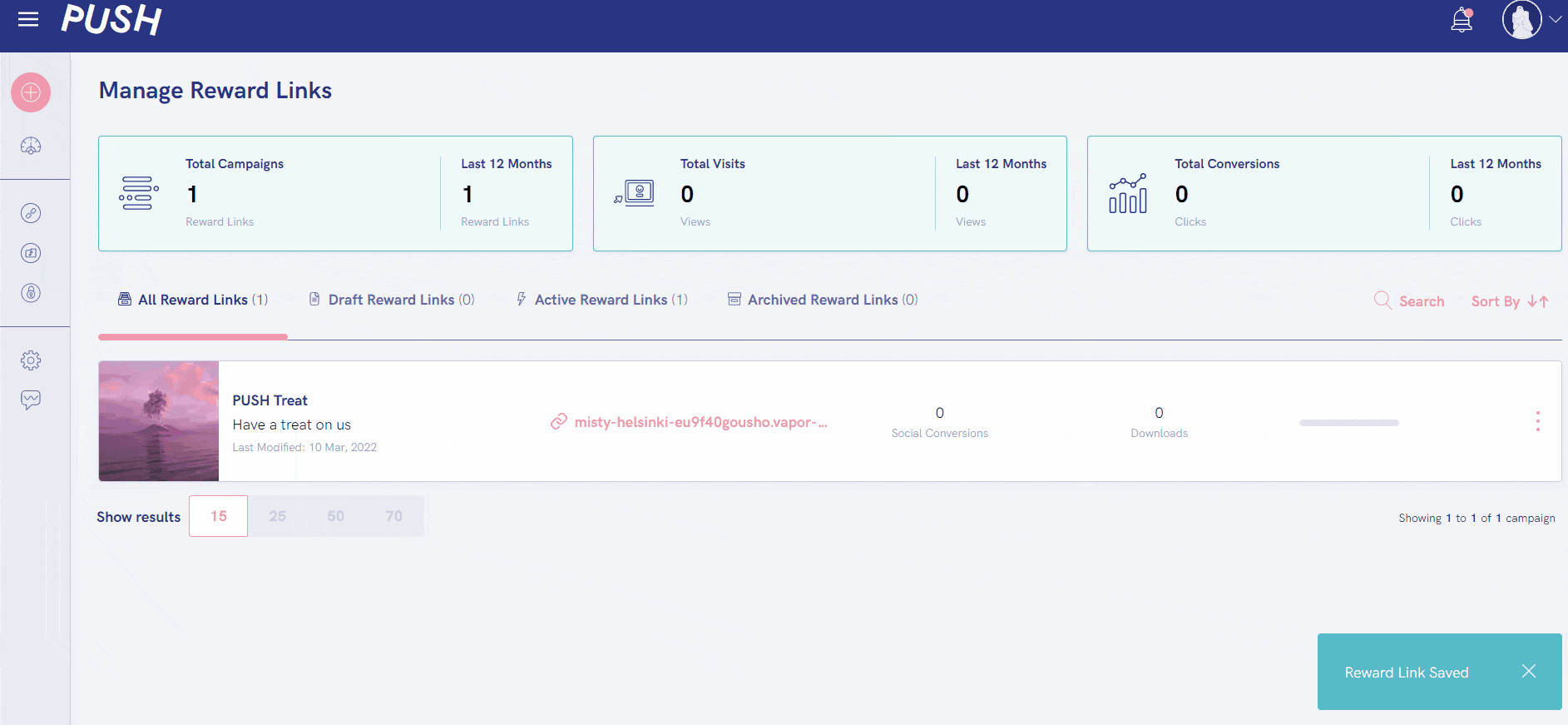 Once everything looks right with your Reward Link, you can publish it. You'll need to give your link a title, but this will only be visible to you. Your link will be active immediately so ensure it's correct before publishing.
How much do they cost?
We have two plans. One is a free plan and the other is our Premium option which has more features to offer. Our free plan will always remain that. No catch and no hidden extras. We're continuing to expand both our plans regularly, but our Premium plan has had some exciting additions added along the way.
Here's the breakdown of our plans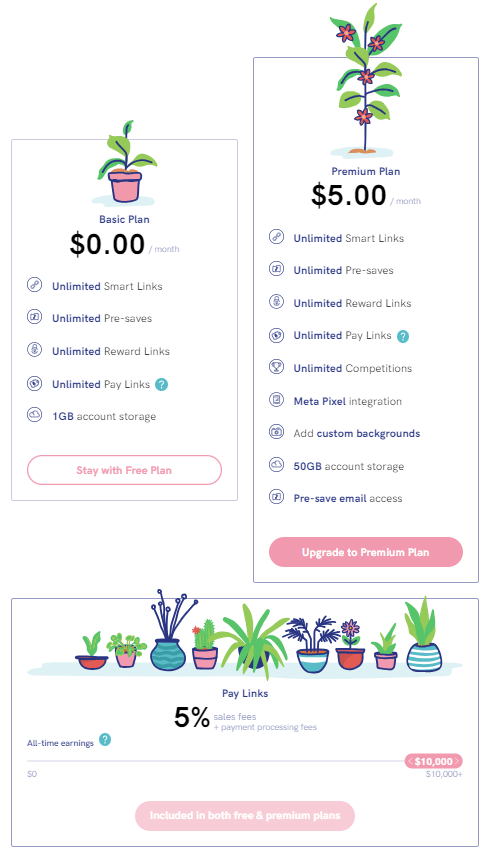 You'll notice both plans offer unlimited Smart Links, Pre-saves and Reward Links. These options will always be available to anyone using PUSH. However, our Reward Links only have 1GB of storage with our free plan. This is because often Reward Links take up the most space. There are large files being uploaded and supported through our platform. To access 50GB of storage, you can upgrade for just $5 a month.
Along with this you'll also get access to Facebook Pixel and Competitions. Facebook Pixel will allow you to track your audience. When they're visiting and what they're interacting with. This will help you boost your future campaigns. Competitions let you create contests which your audience can enter for free. Again, similar to Reward Links, you set the tasks – however this time there's one winner. You choose your winner and send them their prize.
Why should you use Reward Links?
Reward Links are brilliant marketing tools because they benefit everyone involved. If you're wanting to boost your numbers, this is a great way to do it. Instead of cheating the system and buying Instagram followers, you can earn them yourself. You're encouraging people to follow you, without having to break any rules. People have an incentive to follow you. Both you and they get rewarded. They're brilliant for all types of creatives. Small businesses can use them to grow their social accounts.
Growing your socials then boosts the amount of traffic to your account. The more people seeing your work, means you'll get more people choosing to purchase from you. It's the same for artists, YouTubers, musicians. Anyone who wants to grow their accounts can do so this way. The best part is while requesting your audience follow you – they get rewarded. If they're a fan of your work, they could end up with a secret discount code or file. Think of creators you love, if they were handing out freebies, you'd be right in there, wouldn't you?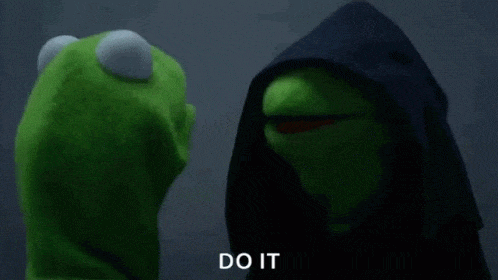 Who can use a PUSH.fm Reward Link?
Anyone can get involved with Reward Links. You don't need to be a huge business to benefit from this feature. Even if you're just starting out and turning a hobby into something more, you could set up a Reward Link. If you have a digital file to offer an audience, you can create a Reward Link. As mentioned, we have two types of plan. This is to ensure everyone can use our features. We don't want to limit our marketing tools to those who can afford a subscription. PUSH believe all creatives should have access to the tools they need.
There will be limits on the free plan as to how many you can create of course. This is due to the 1GB of storage available. However, if you need more, you can upgrade at any time. This is quick and easy to do, so it's hassle free. From there you can make as many Reward Links as you want to. Sharing your Reward Link everywhere you can, could bring in far more interest than you'd imagine. People love free things. So, you might end up with more people following you than you'd expected.
Where should you share your Reward Links?
You should be sharing your Reward Links everywhere you can. Share your links across all social media platforms. The more you share, the more you gain. If you're present on a platform, share your Reward Link there. You can add it into emails too. As a small business you might send emails with your latest news. This helps keep your name at the forefront of your audience's minds. When sending these emails, add in your Reward Link. You may find your emails get read by more people as there's an incentive within.
This then means the information you've been wanting to get across will be read. Social media platforms such as TikTok or Instagram are a great place to add your Reward Links to secure more interest. They only allow one link within your bio, so why not add one that will help you grow? Share your links in your Instagram stories, and within social posts too. Any time you're discussing your brand, or work, add in the Reward Link. You can keep this running for a select amount of time. Perhaps ahead of a new launch or release.
Once you feel you've gained enough from it – archive the link, so it can't be accessed. You can then make another ahead of your next launch. This allows you to grab your audience's attention. If they want to access the reward, they need to act fast. This method especially works when the reward is related to your launch. It helps gain attraction. Ask everyone you know to share your Reward Link. Get your audience involved with the sharing of it too. The more people sharing it, the wider it will spread.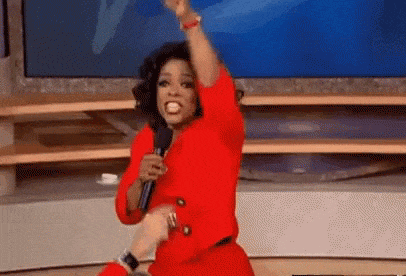 Why choose PUSH.fm?
At PUSH, we value the opinions of content creators and small businesses. We understand what they both want and need from a marketing company. Our tools are designed with creators in mind. Whether you're new to the world of marketing, or have been involved for quite some time – our tools are there to help you grow. All levels are able to gain from our features. We hope people will sign up with us and then continue to use our tools as they develop through their journey. The reason the majority of our tools are free is because we feel you shouldn't have to pay out to access useful marketing features.
We understand the pressures that occur when beginning on your journey and our aim is to help with that. Many of our competitors offer marketing tools at a cost, regardless of your experience. This means you have to spend before you begin to earn. However, PUSH will always offer tools at no cost. If you later choose to upgrade, this will only cost you $5 per month. That's a fraction of what many platforms charge. We're interested in seeing people grow and offering tools without charging is the best way to do this. Aside from cost, we're forever expanding our features.
Our ideas have grown since we first began. We take feedback on board and are always looking for ways we can improve the experience for users. Starting with a few features, we have since adapted our products. We've improved our current features such as Smart Links, while also adding new ones like Competitions. The tools offered are there, so you can market yourself affectively. You can upgrade and downgrade at any time you like. You're not tied into a contract. So, if you want to give Competitions a go but aren't yet sure you'll stick with it – you should try it.
Boost your audience with Reward Links
Reward Links are a way of you giving people a reason to interact with your content. They're saying, you'll be rewarded if you help me out. So, everyone's a winner. People are far more inclined to follow your Instagram if they also benefit from it. Think about it, if someone asked you to follow them, you might think why should I? However, if they're telling you that you'd gain something from it, you probably wouldn't hesitate. It makes people feel rewarded for completing simple tasks.
You can decide to make tasks compulsory if you want. So, if you're dying to hit 1,000 followers on Instagram – make following you there non-optional. Think about your current audience. What platforms do they use to interact with you the most? Are these the ones you want to grow further? What social accounts are you lacking interaction on? Perhaps you want to make these expand. Remember, social platforms know when you've paid for followers. It could leave you in a situation where your account is blocked for suspicious activity.
The same goes for spamming users to encourage them to follow. It's both annoying and breaking the rules of the platforms. Therefore, you're likely to see your account placed under a ban. You then won't be able to post or engage in any conversations on that platform until your ban is lifted. Allowing that to happen will damage your growth because you're not able to be present. So, just don't do it. Instead, encourage people to follow you by giving them reasons as to why they should. They'll get access to something they'd otherwise have never seen.
Updated with new pricing tier on 14th September 2023. No other information has been altered.