Here at PUSH we're always trying to expand and give our users even more variety with marketing tools. We've added another new feature to our Premium subscription accounts. This time, you can create your very own competitions that are free to enter!
The competition above is an example, showing you how you could use this feature. It isn't a live competition, hence the end date.
We've added another new exciting Premium feature! Our Premium subscription just got even better. Now, you can create your very own competitions. Ask your fans to enter and share the comp with people they know. The more it's shared, the wider your name reaches. It's a great way of growing your audience. People typically enter all free competitions they come across. By creating one yourself, you are likely to attract new people. You get full control over how it's run too. We don't get involved in your competitions, so it's completely your choice when it ends. What prize would you give to the winner?
Please note this is a Premium feature, and you will need to upgrade your account to access it.
Who can access competitions?
Our competitions can be created by anyone using a PUSH account on a Premium subscription. If you're currently on our free version, you will need to upgrade your account to be able to start making them. However, anyone with a Premium account should now see the option to add a competition. It will now appear in your sidebar where you're also able to see our other marketing tools; Smart Links, Pre-saves and Reward Links.
If you want to give competitions a go, and you're on our free account, it's simple to upgrade. Head to your dashboard within your PUSH.fm account. From there you will see the upgrade option. Simply follow the steps outlined. You can upgrade either using your bank card, or pay via PayPal. You can downgrade at any point, it's a monthly payment, so it means you don't need to commit to something you want to try out. Our Premium account is just $5 per month and with this you have access to extra features.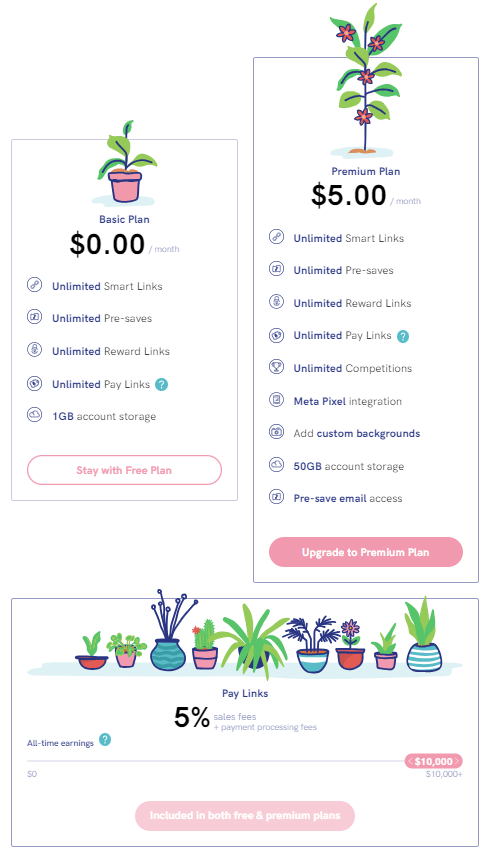 Your audience
As for who can access the competitions you've created – anyone can! Once you're set up and ready to go, you can start sharing your link. Anyone can enter your competition. They don't need to have a PUSH account to take part. Unlike some competitions sites, PUSH don't require your audience to create an account to join in. So, it keeps things simpler for you. You're able to share your link far and wide, and anyone entering doesn't have to sign up for an extra service.
Competitions can be entered multiple times. For example, if someone has both Instagram and Facebook and your competition requires people to follow you on a social media platform – they can use both of their accounts to enter. The same goes if someone has multiple Instagram accounts. They're able to enter as many times as they're able to follow your account. The more accounts they have following you, the more entries they'll gain. This is a win-win. Everyone entering has a better chance of winning if they enter via multiple accounts. Also, you as the competition host are able to grow quicker this way.
How to create a competition
Creating your first competition is super easy. You get to call the shots and decide how it runs and how long for. With our Premium subscription you can add as many competitions as you like. This might encourage people to keep entering, because if they didn't win one, they might still be able to enter and win another. It's a great way to keep drawing people in. If you're looking to grow your accounts, this is a brilliant way to do it. Bring your audience's attention back to you by sending out freebies. It's up to you to arrange the prize reaching your winner, so you really could offer whatever you like. As long as you can follow through with what you've stated, why not go wild with it?
Basic Details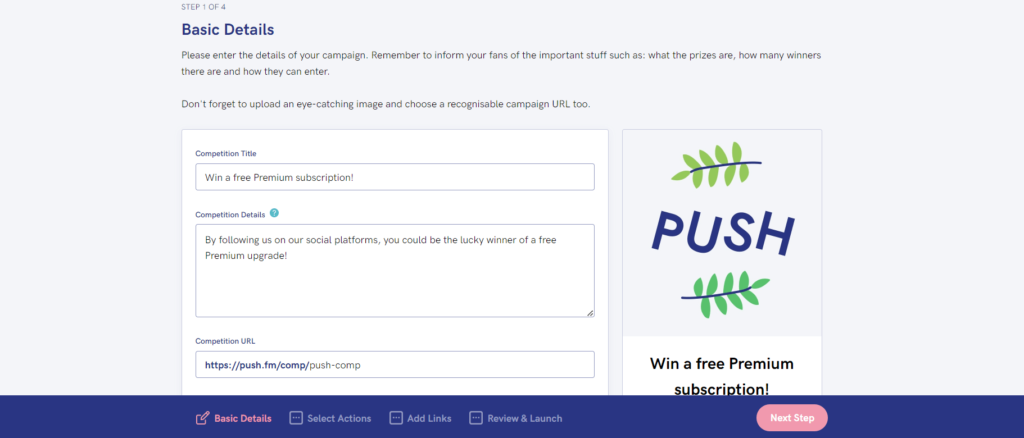 So, you've upgraded your account and want to get started. First head to the taskbar on the left-hand side of your dashboard. You'll see the pink plus icon, which you'll need to click on. Select Competition to start creating. This will bring you to the page you can see on the left.
You'll be required to enter your Competition Title, and give the details of how it will work. It's similar to a description. Let your audience know what they could win. Change your URL name. You could name it after your business/brand etc, or maybe you want to give the competition a name of its own.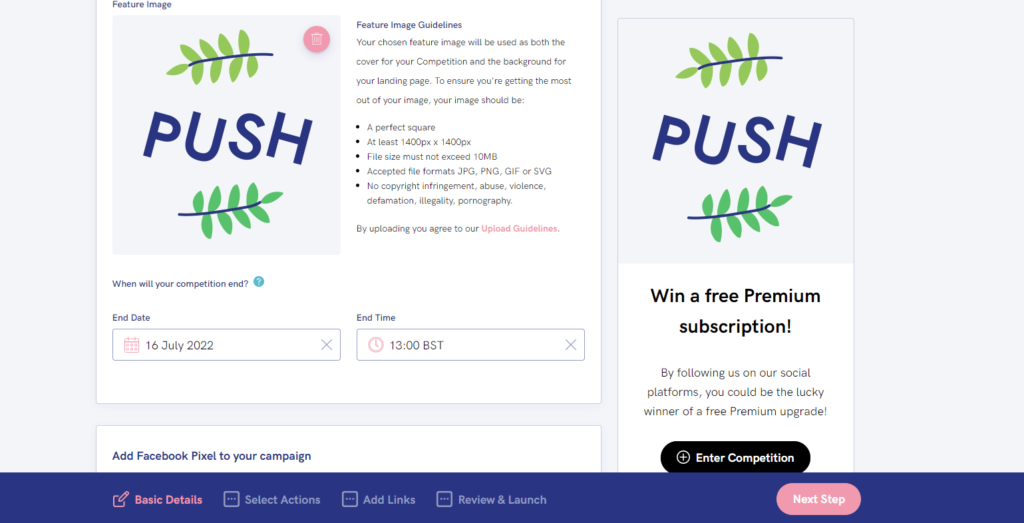 You'll need to pick an image for your competition. This is important as the background of your landing page will be a blurred version of this. So, if your artwork is bright and vibrant, your background will be too. Pick something that either represents the prize, or you as a creator. It will speak for the competition and be the first thing people see.
Choose your end date and time. It's important to think about this one carefully. When do you want it to end? How long do you want people to have to enter? The link will be live as soon as you publish it, so you don't need to consider a buffering time. People can enter from the minute you launch it.
PUSH Tip: As you will have upgraded your account to access Competitions, you will also be able to use the Premium feature Facebook Pixel.
Select Actions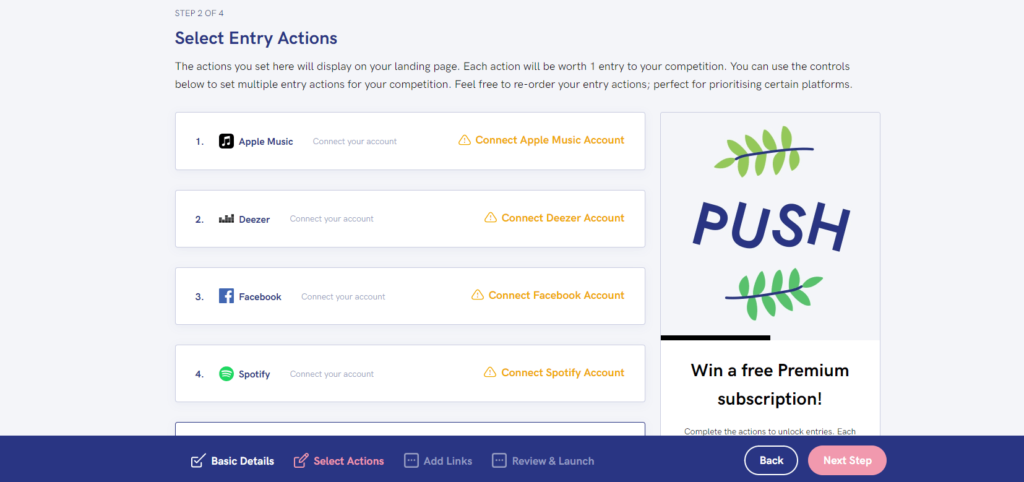 Next, is the part where you get to add your actions. This is when you decide what you want people to complete in order to enter the competition. We have so many options to choose from. If you're a music artist, you might decide to add in your streaming profiles. This will help you grow followers on Spotify, Deezer and Apple Music.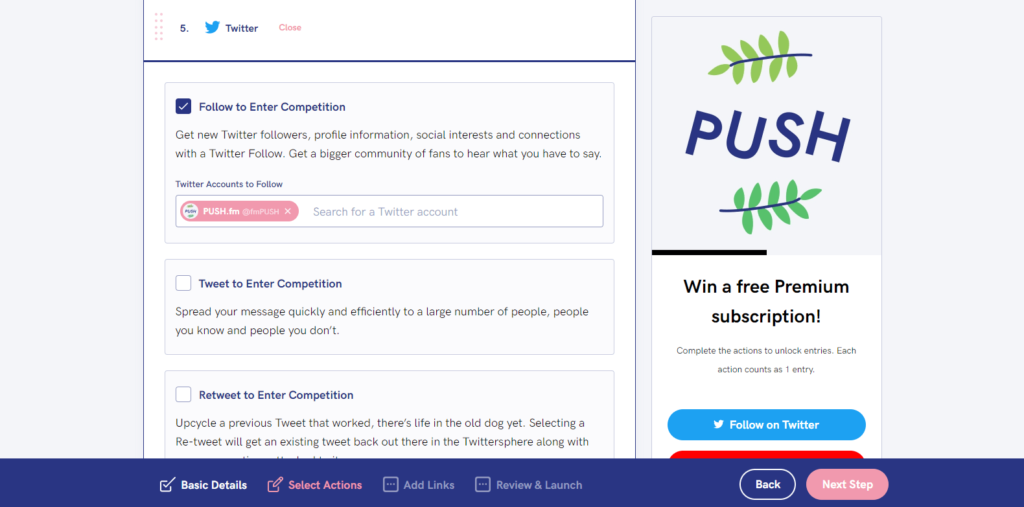 You'll notice the platforms all have different options. This again gives you more choice when it comes to creating your competition. As you can see, we selected Twitter.
Underneath this are the options to follow you on the platform in order to enter. For this, you'll need to input the account you want them to follow. Please be aware however, due to Twitter's rules, you cannot force someone to follow your account. They will be directed to do so, but cannot be made to complete the task.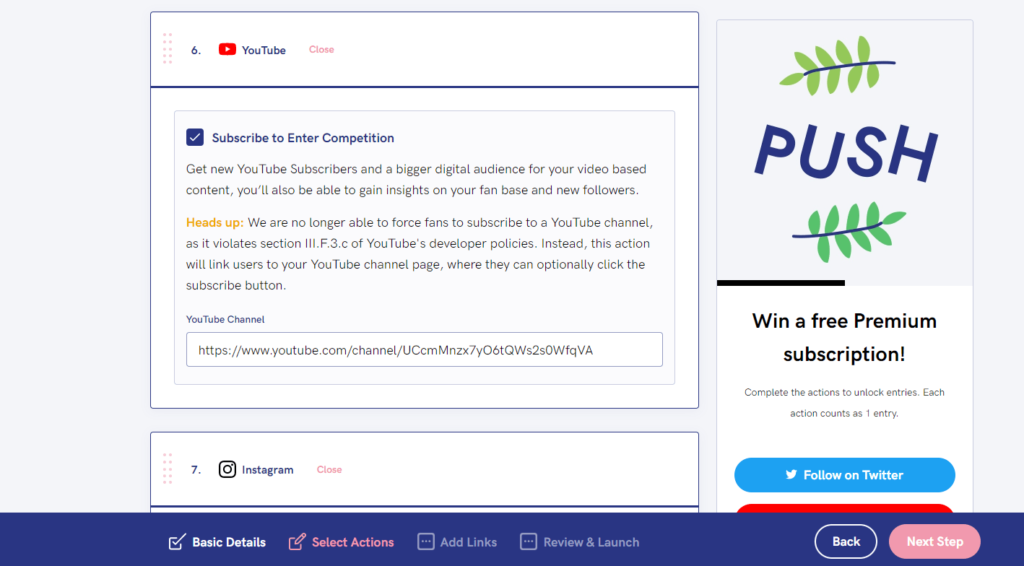 We've chosen to add in our YouTube account. This is a fantastic option for any streamers, or YouTubers. You could have this as the only option. Meaning, anyone entering should be subscribing to your channel.

Please note, we cannot force anyone to subscribe to your channel due to YouTube's policies. They will be directed to your account and can click subscribe, however we cannot make them complete the action.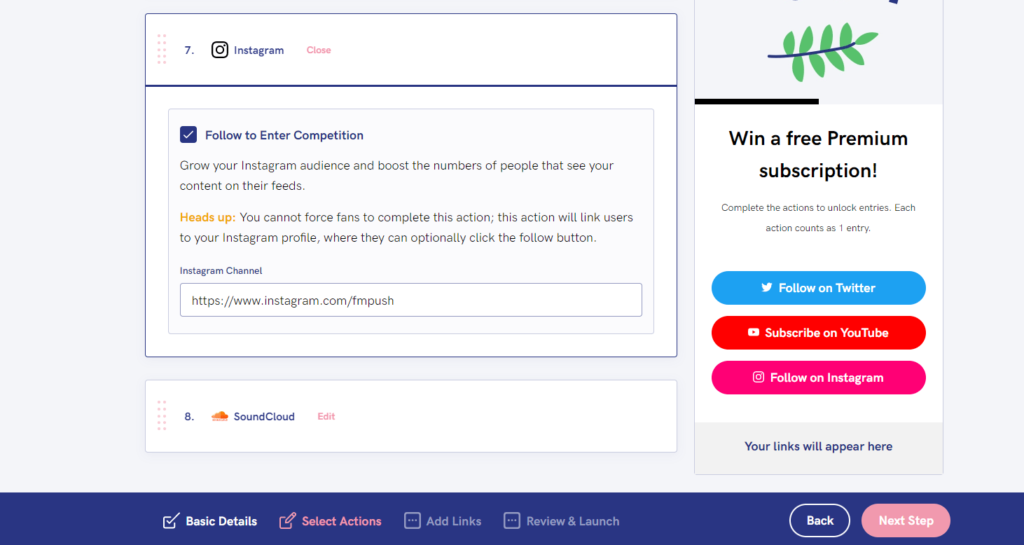 Our final selection was Instagram. We added this to encourage anyone entering our competition to follow us on the platform. This is another one that unfortunately we cannot force anyone to complete the action.
However, if they click on the call-to-action button, they will be redirected to the app. Therefore, they're likely to follow through and complete the action.
Add Links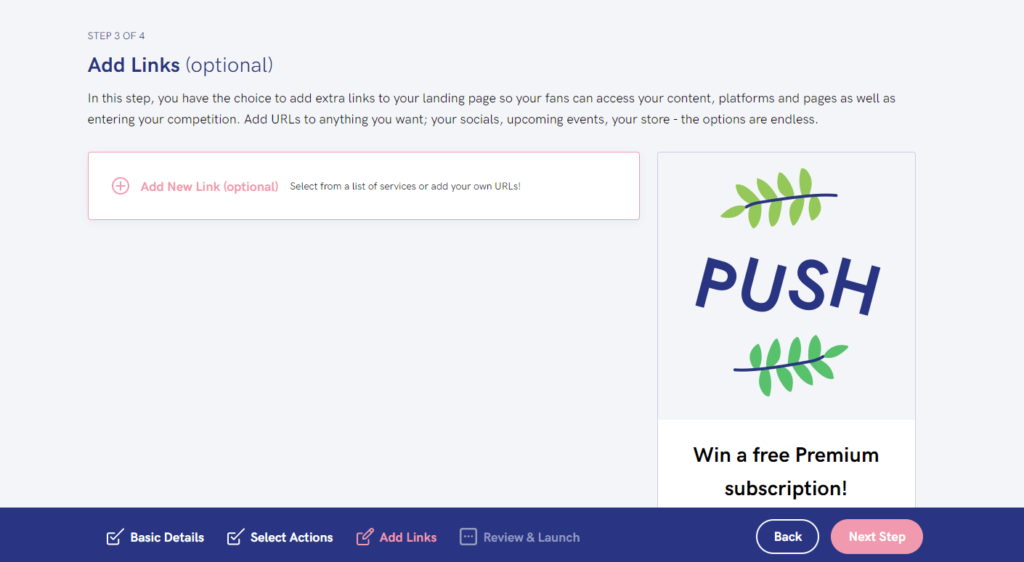 The final section before launching your competition, is Add Links. This is optional. You can include any extra links you want to be featured. For example, we might choose to add our blog link or our website link. These are interactive, people clicking on your web link will be directed there. However, they won't count as an entry. They'll appear underneath your competition button.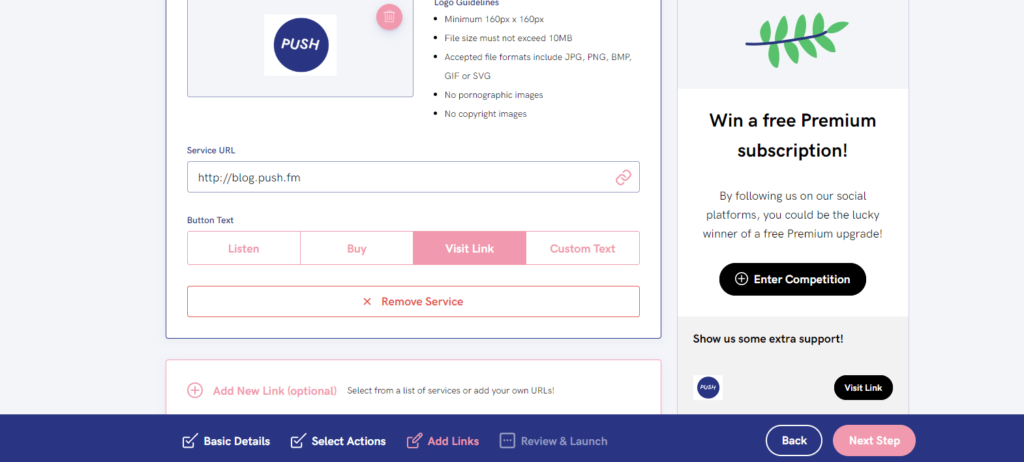 They're a place to show your work, or advertise any other websites you want your audience to possibly visit. Anyone entering your competition will first see a button to enter, then they'll be presented with their options on what they can do to enter. Throughout this process, your extra links will appear at the bottom.
From here, you're ready to launch! Remember, your link will become active immediately, so make sure you check everything looks right before publishing it. Of course, you can edit details once they're live, but it's important to get into the habit of checking it thoroughly.
When the competition closes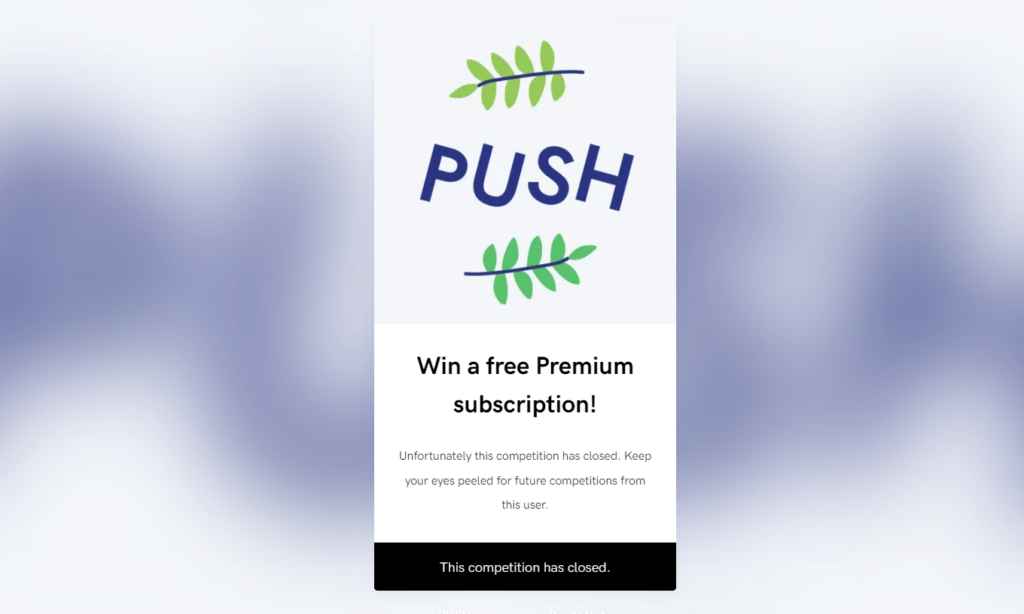 When your competition comes to an end, you'll be met with the view on the left. This shows no one can enter your competition any more. You will see this screen at the time you set your competition to end. It simply explains to your audience that they can no longer take part in this one.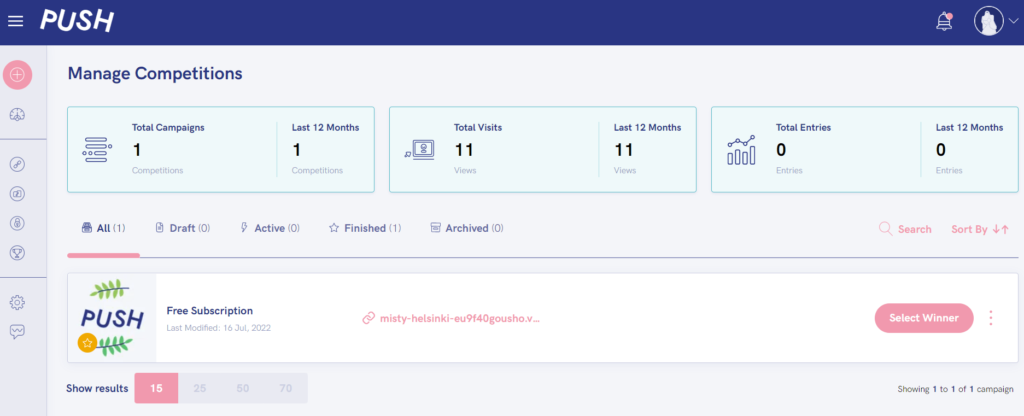 Within your PUSH account, you'll be able to see any closed competitions. This is where you select your winner. Clicking the pink button that says Select Winner will automatically download a CSV file.
The file will show all your entries, including duplicate entries. From here, you could use a random generator to select your winner. Now it's up to you! You'll need to contact your winner and arrange for their prize to reach them.
Remember people can enter your competitions more than once, if they have more than one account to enter from.
Important things to note
If you've got this far then you're ready to make your own competition. As we said previously, it is a straight-forward process to create a competition. We've tried to make it as streamlined as possible to avoid any confusion. It is a very similar process to creating yourself a Reward Link. So, if you've ever made a Reward Link before, you'll find this easy. There are a few things to note though when creating a competition. Such as how to contact the winner and what happens when your competition ends.
We'll break down the important points down below
We do not email the winners of your competition. This is your responsibility. PUSH provide the marketing tools to allow you to create a competition. The rest is up to you.

People can enter multiple times.

Your extra links at the bottom of your landing page will still appear once your competition has ended.

When your competition has ended, you will be emailed instructions on how to select your winner.

You'll need to download a CSV file to see all entries before selecting a winner. Advice on how to do this will be featured in the competition ending email.

Duplicate names will appear when someone has entered more than once.

We do not host the prize. You will need to arrange this being delivered to the winner yourself.

You will need to upgrade to a Premium account. Then you can create unlimited competitions.

Updated with new pricing tier on 14th September 2023. No other information has been altered.