A Pre-save is a hook to gain the interest of your fans before your release has even reached stores. It helps drive the excitement for both you and them. Use your Pre-save time wisely, and secure even more listeners before your track is released.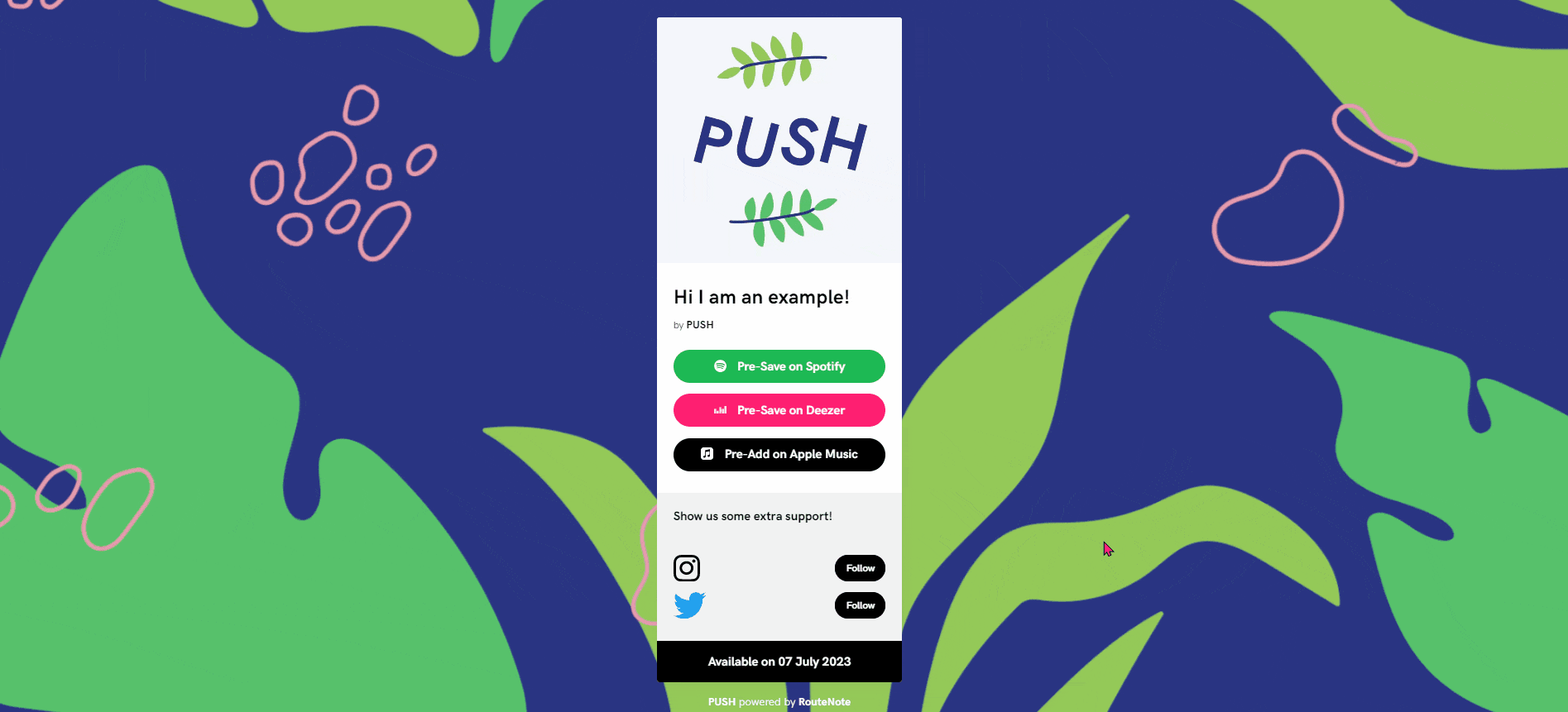 If you're a musician or music producer, you know that promoting your music is crucial to its success. One effective way to do this is by setting up a Pre-save campaign, which allows fans to save your music to their preferred streaming platform before it's even released. In this guide, we'll walk you through the steps to set up a successful Pre-save campaign for your music. Where to begin, and how to drive an engagement to your track.
Landing pages must be engaging
The first step in setting up a successful Pre-save campaign is to create an eye-catching landing page. This page should include information about your upcoming release, such as the title, release date, and album art. It should also include a call-to-action for fans to Pre-save your music on their preferred streaming platform. Make sure the page is visually appealing and easy to navigate, and consider offering exclusive content or incentives for fans who Pre-save your music.
Think, if you're not captured when clicking on a link, why would you interact? Does your Pre-save represent you successfully? What will your fans gain from it? All of these things should be running through your head during the creation process, so you can make your Pre-save as exciting as possible. Perhaps add a sense of personal touch to your link, this could be by adding a description explaining what your track is about, or what inspired you.
Include multiple stores in your Pre-save
Remember, just because you may be a Deezer fan, doesn't mean all your fans are. This means, adding only Deezer to your Pre-save will actually do more harm than good. Fans will head to your link, see they cannot access a platform that works for them, and then possibly click off the link completely. This could leave them thinking you'll never include the likes of Spotify or Apple Music and therefore, they'll never check your Pre-saves out again.

Whereas, using all three stores that allow Pre-saves; Spotify, Apple Music and Deezer opens your music up to more fans. You're including three major stores, and this will appeal to far more listeners than only including one. Also, if your music is already on those stores, then why wouldn't you include them? Some artists think that gatekeeping things like Pre-saves to just one store can help drive their streams within that store, but unfortunately it's more likely to damage your chances of gaining listeners.
Plan in advance
The earlier you start to plan, the more success you'll find you have with your Pre-save. This is because, the more time you leave, the more chance you'll have to fix any potential errors, and ensure your Pre-save looks perfect. You'll also have time to promote your track, and ensure you're hitting as many platforms as possible. There's not much point releasing a Pre-save link for a track that's due to hit stores days later.
You need to give enough time for your fans to see your Pre-save and act on it. Your statistics will show through your PUSH account how successful your Pre-save link has been, and it won't show much success through your statistics if you haven't given it enough time to work its magic. Think before even distributing your release – when do you want it to go live, and when do you want to set up your Pre-save? If you work backwards from finish to start, you'll give yourself enough time.
Promote, promote, promote
If you don't promote your Pre-save, how do you expect anyone to find it, or use it? Having it within your bio is helpful, but only if people are clicking on your profile and noticing it. You need to be posting your Pre-save link everywhere. Literally, everywhere. If you're on Twitter, tweet it. If you're on Instagram, add it to your stories, bio and talk about it within your posts. You get the idea, every social media platform you're on will have its own way of promoting.
Again, it's important you plan early as we've touched on. This is because, you need enough time to promote your Pre-save. If you don't allow enough time to share your link over and over again, you run the risk of not enough people seeing it. Remember, you don't only want your current fans to save your track, you also want new potential fans to come and save your music, and potentially stick around.
Your Pre-save should be just as important as any other tool within your marketing plan. Remember, marketing is crucial if you want your music to do well. Even huge household names promote their music, and this is because, the earlier you start, the more chance you have of growing your audience. That, is what all artists want – to have people listening to their music. So, prepare early and get your track heard!