It's important to promote your new release ahead of its launch. The more attention you can round up prior to release day, the more streams and shares your music will get. Pre-saves allow your audience to be prepared ahead of your launch. There are multiple companies that offer these services, some free and some at a cost.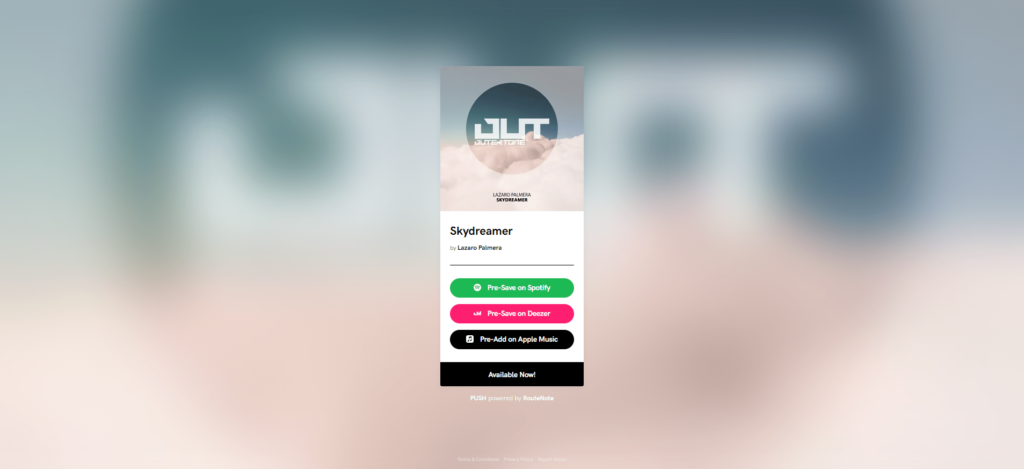 PUSH.fm offer both a free and premium service. Both offer the same level of quality. They are partnered with the distribution company RouteNote, so artists can follow the entire process from start to finish easily. They offer Content Unlocks, Pre-saves and Fan Links. You don't need to be using RouteNote to create links through PUSH.
Pros
Free service – no catch, a completely free service with plenty of features.

Premium service – only £4.99 a month and offers users unlimited links and actions.

Custom URL – choose your own URL for your release, so your fans can find it easily.

Quick and easy – really simple to set up a Pre-save, no hassle.

Analytics – in depth analytics allowing you to track your release progress.
Cons
Limited actions on the free plan – only 1 Pre-save on the free plan.

The background image cannot be edited – it will be based upon your selected artwork.
Feature.fm also offer a free version as well as a premium service. They have an option for artists and then a separate one for businesses. This could be a marketing brand that require a Smart Link service. They advertise themselves as a marketing tool service.
Pros
Premium service – allows you to collect emails to build up a mailing list.

Data – offers analytics and statistics.

Multiple pricing options – different paid plans.
Cons
Premium cost – premium plans start at $17/per month.

Annual bill – website states they bill annually which is a large cost at once.

Limited stores on free plan – Spotify only on a free Pre-save.

Statistics – only 7 days worth on free plan.
Linkfire is a digital links service, offering Pre-saves, Smart Links and Rewards Links. They offer different pricing plans for both creatives and businesses. The Creator services are intended for independent artists, whereas their Team plan is designed for labels.
Pros
Customise links – personalise your URL to help fans discover you.

Statistics – click-through rate and bounce rate broken down.

Access to webinars – you can learn more about how to use the site.
Cons
No free plan – all plans cost.

Limited starter plan – Pre-saves aren't available on the $10 plan.

Data is minimal – on the $10 plan you can't access many insights. It's very basic.
A Pre-save link provider. They specialise in creating links ahead of your release day. Multiple payment options are available, so each user can find something to suit them. Each user can pay either monthly or annually depending on how they want to split it.
Pros
Emails – release day emails sent out.

All plans include reports – each pricing point has statistics and data.

Spotify, Apple and Deezer – all 3 stores available on each plan.
Cons
No FAQ page – the link doesn't work, seems like it has been removed.

Only paid plans – no free option.

Just Pre-saves – you would need to pay another service for Smart Links etc.

Unlimited on corporate plan only – Pre-saves only unlimited on €100/month plan.
Each artist or label is at a different stage within their career. Meaning, everyone has different wants or needs from a service. While one service might work for someone, it might not be effective for another person. That's why we have compiled our findings of pros and cons on different Pre-save services. Some have more advantages than others. It seems some platforms might only cater to well established artists or businesses and there is limited availability for people who are new to this. We would recommend trying services out that offer a trial period so you can see what you'll get before you sign up fully.