Instagram has come a long way since it was first created. Once just a simple photo sharing platform, it now offers a safe space for businesses and consumers to come together. Sharing videos, photos and even shopping features, so you can buy directly through the app. Many things remain the same between a personal and creative account, however there are also many differences.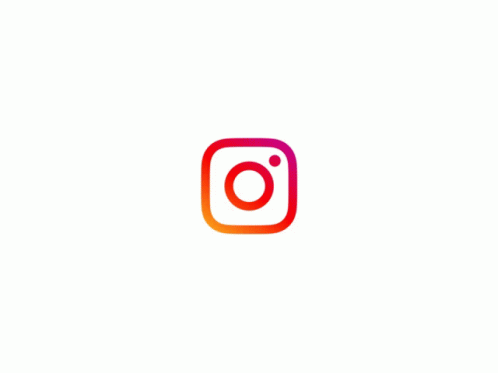 What is a business account on Instagram?
A business account allows the account holder to view in-depth statistics and analytics. This gives them the opportunity to track engagement and user visits. They can see live interactions which enables them to improve on previous performance. These features aren't available on a personal account as they're designed for brands and creatives to understand their customers better.
Insights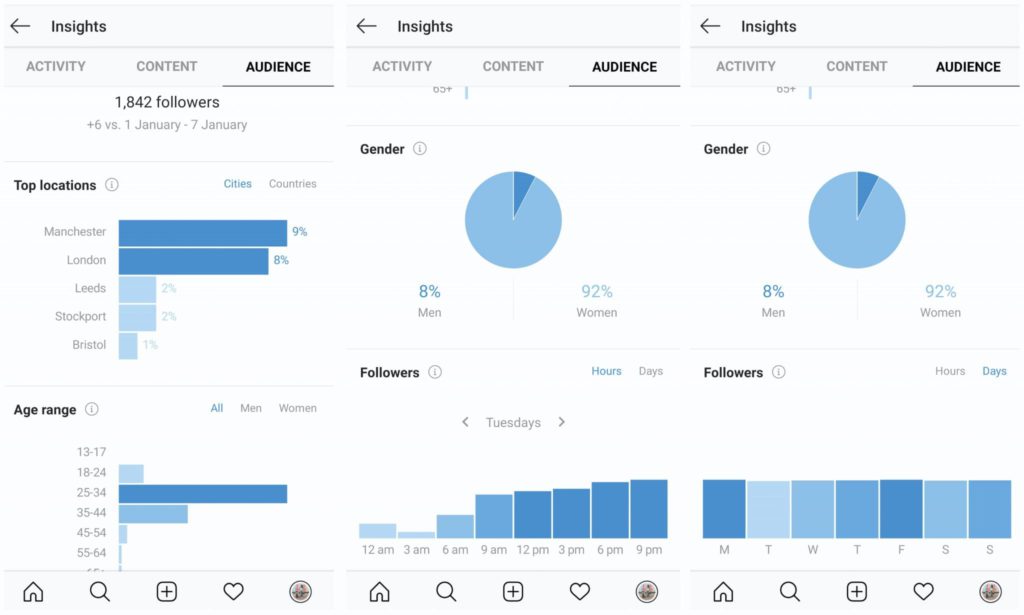 Business accounts need to be able to manage their insights. It allows the account holders to see their user's age range, the times their followers are most interactive and the genders of their followers. This is really useful information because it allows you to plan your posts to fit the right criteria. You can ensure your posts go live at a time when most of your followers are active. It also allows you to know your target audience. Depending on your business, you might change things up if your audience are in the 40+ category compared to if they're in their early 20s.
Boost posts
Accounts that fall into a business criteria are able to boost their posts. These are paid promotions, and they vary on price ranges. The account holder will choose how long they want the promotion to last and what their budget is. This will then become an advert across accounts that Instagram believe will be interested in that particular business. It will target their followers audiences and could boost your account.
You can keep track of your budgets within your insights. This way you can see how much you're spending and what you're gaining from it. If perhaps you notice it's not getting you anywhere, you can change it. Try a different audience to aim your ads at or maybe increase your budget, so you'll get even more exposure.
Contact information
A professional account allows you to add your contact information. There's a section called Public Business Information where you can list your phone number, email address and physical address. Anything that might be relevant to your consumers. It makes it easy for your customers to find exactly what they need quickly. Perhaps they want to know if you're available in their area, they can look at your address and see for themselves. You'll notice some business accounts state in their bio that you cannot purchase through DMs, this is why they then provide their contact information.
Your inboxes can be categorised to keep everything neat and organised. This way you can filter through messages to respond to the most important ones first. A business account allows you to include quick responses. These are auto-generated messages that relate to the questions you commonly get asked. That way you can send a response at the click of a button to your clients.
Shopping options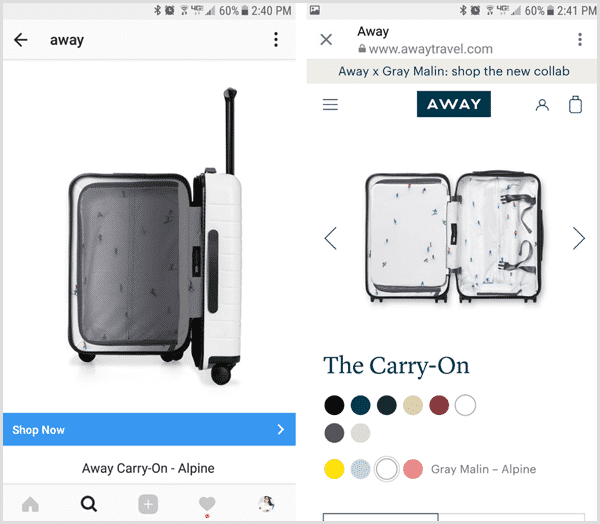 Business accounts are able to include shoppable posts within their profile. Have you ever been on a brand's Instagram page and noticed that the photo is tagged with a direct link to their product? That's a shoppable link. It's quick and easy and takes the consumer straight to the items they want to purchase. It acts as a way of boosting sales because your audience don't have to search your website for the item. They can simply see an image they like and go straight to purchasing it.
Swipe up links
Instagram stories can include links for viewers to swipe up to access. This again could be for your brand. You might add a story of someone wearing or using your products and include a swipe up link. Then, if your audience view your story and decide they want to purchase the item, they can swipe up on your story. This option is only available for accounts over 10k followers. So, if your business is relatively new, you'll have to work on growing your following first.
Differences between business and creator accounts
The creator account is a mix between a personal account and a business account. It holds a lot of the same features of a business account, but it isn't as developed. A creator account is designed for more blog style Instagram pages. Someone who is not selling a product or their services, but instead is aiming to share their work on a professional level. Influencers, artists, musicians, photographers, the list continues. If you aren't selling items which require a store, you might be better off with a creator account.
They're both set up in the same way, rather than selecting business as your account type, you'd select creator and vice versa. Here's how you upgrade your account:
Head to Instagram and log into the account you want to upgrade
On your profile, go to the Menu button in the top right corner
Select Settings
Click Account
Hit Switch to Professional Account
Select Business or Creator depending on which your account fits into
Connect your Facebook Business Page (optional)
Click Done
It's that easy. You should see your account change straight away. You'll then start collecting statistics and data for you to review.
Personal or business?
So, we've been over what a business account can offer you. We've also explained the differences between a creator and a business Instagram account. Which is for you? Well, if you're just someone who wants to upload pictures of their pets, friends and family, then you'll want to keep it personal. You don't really need to see insights because growing your account isn't as important. With a personal account, it tends to be for people who actually know you (in real life), it's a place to share your daily life and interact with your friends.
If you've got nothing to sell and don't have a trade you want to promote, then stick to a personal profile. You still get the options of having it private or public. It's completely your choice. However, I find there are plenty more private accounts on personal profiles. This is simply because they're usually an account shared with those you know. You won't have a limit on followers or how many people you can follow, so don't think you need to upgrade to access more accounts.
We'd recommend a business account to any brands or companies with something to sell. If you have a product and a website you want to promote, turn your account into a business one. This way you'll gain so much more attention through your Instagram because you're making it easy for potential consumers. Once you've upgraded your account, make sure you're paying attention to your insights. They'll tell you everything you need to know about growing your profile and therefore gaining more custom.
The great thing with Instagram is it's flexible. If you want to change it back, do it. You aren't stuck with one account type forever. There's no need to delete your Instagram and start again. Just simply change your account back to a personal one if you decide a business one isn't for you. However, keep in mind, you then won't be able to sell your products or promote your contact information easily.