Social commerce is the process of selling products through social platforms. The purchases come directly from social media, rather than a consumer being directed elsewhere. This has risen in popularity in the past year, and it seems it will continue to rise.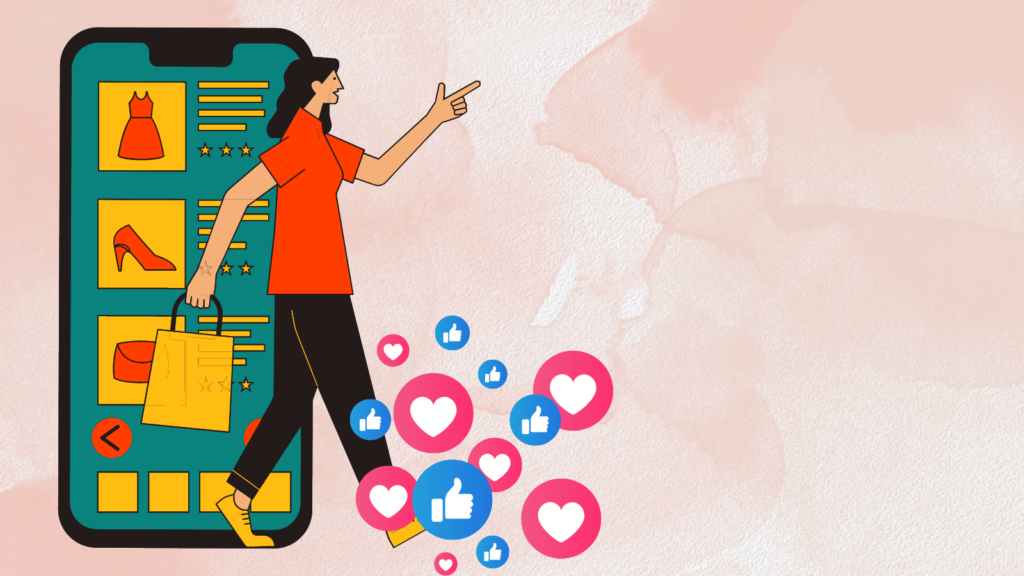 Social media has become part of our daily lives. If we're not posting, we're scrolling, liking and sharing. It's not only a way to share our lives with those we love, but also a major connection tool. People are able to connect with loved ones no matter what the distance between them. Despite arguments against social platforms and the backlash many have received, overall it's a brilliant tool. It seems as social media use has risen, so have the features within.
Ecommerce options have been on the rise in recent years. Now many platforms have methods of buying products directly from the site. Without the need to be redirected elsewhere. This makes the process much easier for the consumer because it means they can browse and shop in one place. Seeing an item on someone they follow, and then being directed straight to purchase the product makes the overall shopping experience easier.
Here are some statistics on the rise of social media and social commerce
90.4% of US millennials use social media every month. – Millennials are the most frequent social media users, with 90.4% saying they use social media at least once a month.
According to online purchase statistics, 87% of online shoppers use social media while making shopping decisions. – Even if they haven't yet bought anything directly through social media, 87% of online buyers say they use social media to decide what to purchase.
More than 50% of young people in the US buy clothes they see on social media. – A 2019 survey revealed that 55.2% of Gen-Z youths (aged 14–24) and 50.6% of millennials (aged 25–34) had recently bought clothes they first saw on social media.
52% of customers worldwide say social media has influenced their shopping decisions. – Social media has the biggest influence in Indonesia, where 83% of shoppers say they've made purchasing choices based on what they read on platforms they use. The top five also includes India (76%), Egypt (75%), Turkey (69%), and China (68%).
It's worth businesses setting up social commerce
Since 500 million online consumers have said they have been swayed to buy something through their use of social media, it seems a better time than ever to get on board and start selling. If you're a brand selling physical products, you definitely should be selling through social platforms. You can connect modelled images of your content to direct links to purchase. There, your audience see the items on real people and can then buy directly.
People are more likely to buy products they've seen on real people. Why? Because they get an idea of what it may look like on them. They're able to see the way the material falls, or the structure of the item. It really benefits sales. So, why not start selling through the images you post? Surely, you're cutting out the middle man? By 2024, the US social commerce market is set to reach $84.2 billion. If you start now, you can be involved in these statistics.
It seems more businesses are wanting to sell through social media too. After all, the statistics don't lie. They speak for the social commerce world. 12% of ecommerce companies now plan to sell through social platforms directly. Completely removing the element of being redirected elsewhere can encourage your audience to buy. We've all found ourselves being redirected, the process being slow, and we just decide to click out of it all together. It's a way that businesses lose sales.
However, if people are able to buy from the likes of Instagram or TikTok, then people may be more likely to complete their purchase. With this being said, 20% of companies have said they have no interest in heading towards social commerce. It's surprising with the amount of custom it could bring in, but perhaps they are thinking about extra costs and work involved with this process. What do you think? Should companies be moving with the times and setting up their own social commerce. Or, are online websites still just as valued, meaning businesses don't need to make these changes?