Create yourself a completely free link promoting your E-commerce platform. PUSH.fm offers multiple types of Smart Links for no cost. We have templates covering a wide variety of creative avenues. If you're an online store, and you're looking to promote your website and/or your social media accounts, you need to create an E-commerce Link.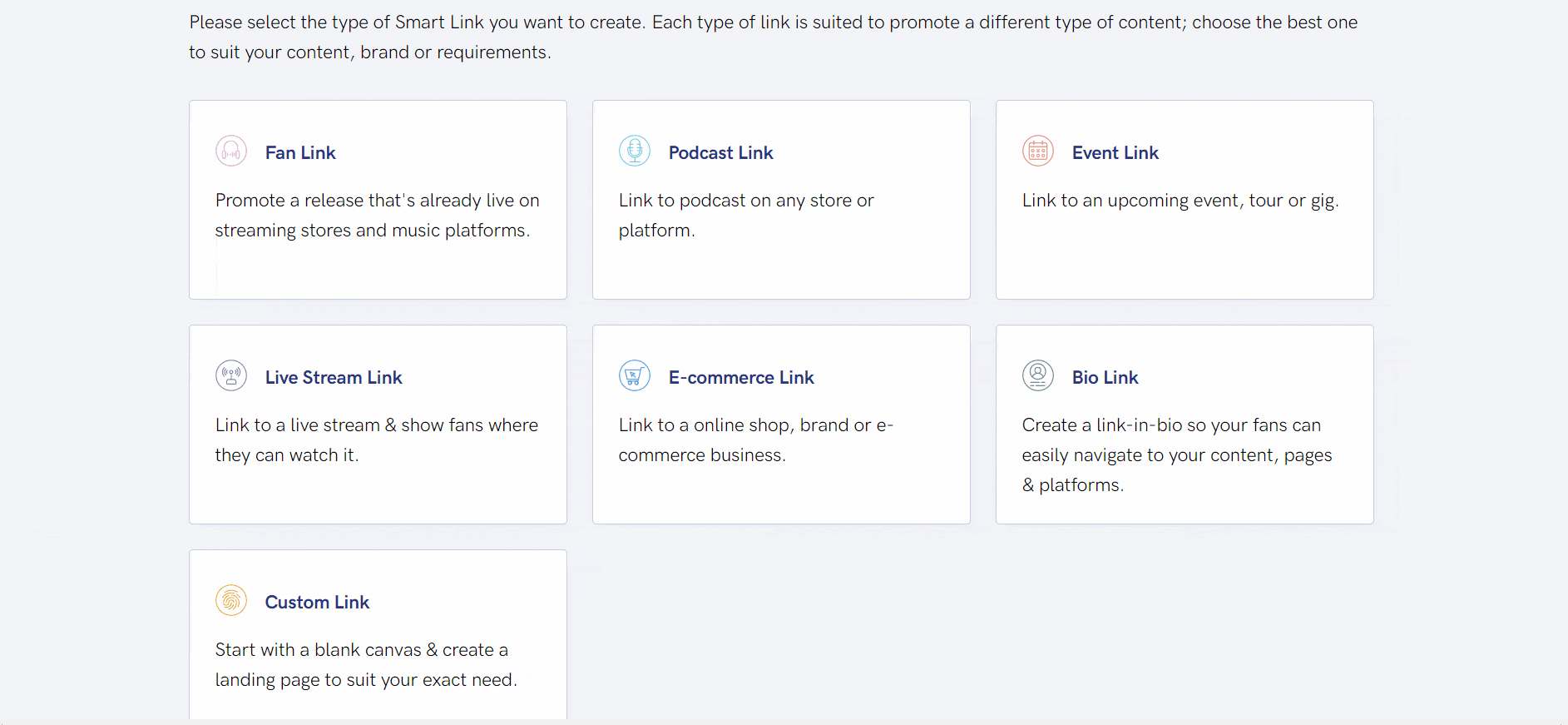 The future is online
The future of shopping really does seem to be online. You can get almost anything you can imagine via the internet. No longer do you need to worry about sizing, colours etc not being in stock, because online there are thousands of options to suit everyone. With the superfast delivery times these days, it's no wonder people have opted for this method. It's all about convenience. While some small stores will always do well as physical stores, but the majority will perform better online.
With this being said, PUSH.fm understands the importance of standing out online. You need to be able to promote yourself strongly. Otherwise, you'll fall behind while your competitors race ahead. This is why we have ensured our Smart Links can be customised to suit you. You have so many options and different ways to personalise them. Think of a unique URL, name your link after your business or brand. Change up store logos and add your own. You can add as many links under one URL as needed. So, you never have to worry about running out of space.
The online market will continue to grow, so you need to grow with it. Get your social media accounts up to scratch and make sure you stand out from the crowd. Think about your USP and why people should buy from you. Create yourself a consumer journey to understand your target audience better. Unfortunately, it's not going to stop here. The internet shopping world will continue to expand so make sure you're going with it. This could be the perfect opportunity to get your name out there. A Smart Link will help you do just that. You can use one URL to house all your relevant links. That way, your customers will find your marketing and website all under one place.
Creating an E-commerce Link through PUSH
You need to be on social media in order to sell yourself and your brand. There's no room for businesses that aren't connected to social platforms when they're looking to sell online. However, when you have links to share on social media, you're limited to just one link per bio. This is why you need to create a Smart Link. Essentially it's a way of getting round the rules fairly. You can place your Smart Link into your social media bio and from there your followers can access all links supplied under one roof. It makes it easier for you because you're not trying to send out multiple links when requested. Also, it makes it easier for your followers because they can find everything they need themselves.
Here's how you can create yourself an E-commerce Link through PUSH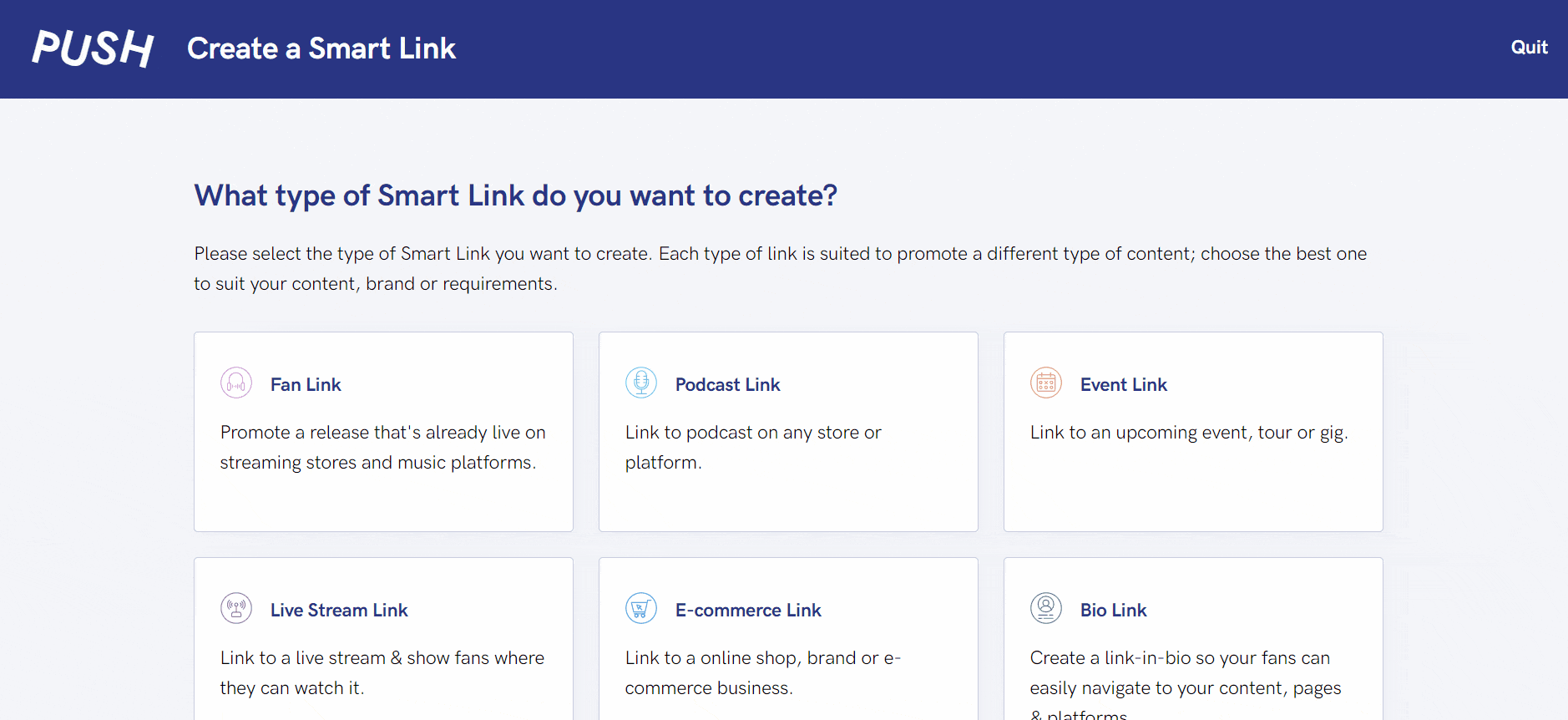 Start off by heading to your PUSH.fm account. If you don't already have one, it's completely free to sign up!
Next head to the pink plus symbol in the top left-hand corner and select create Smart Link. You'll then see the template options that are displayed here. Pick E-commerce.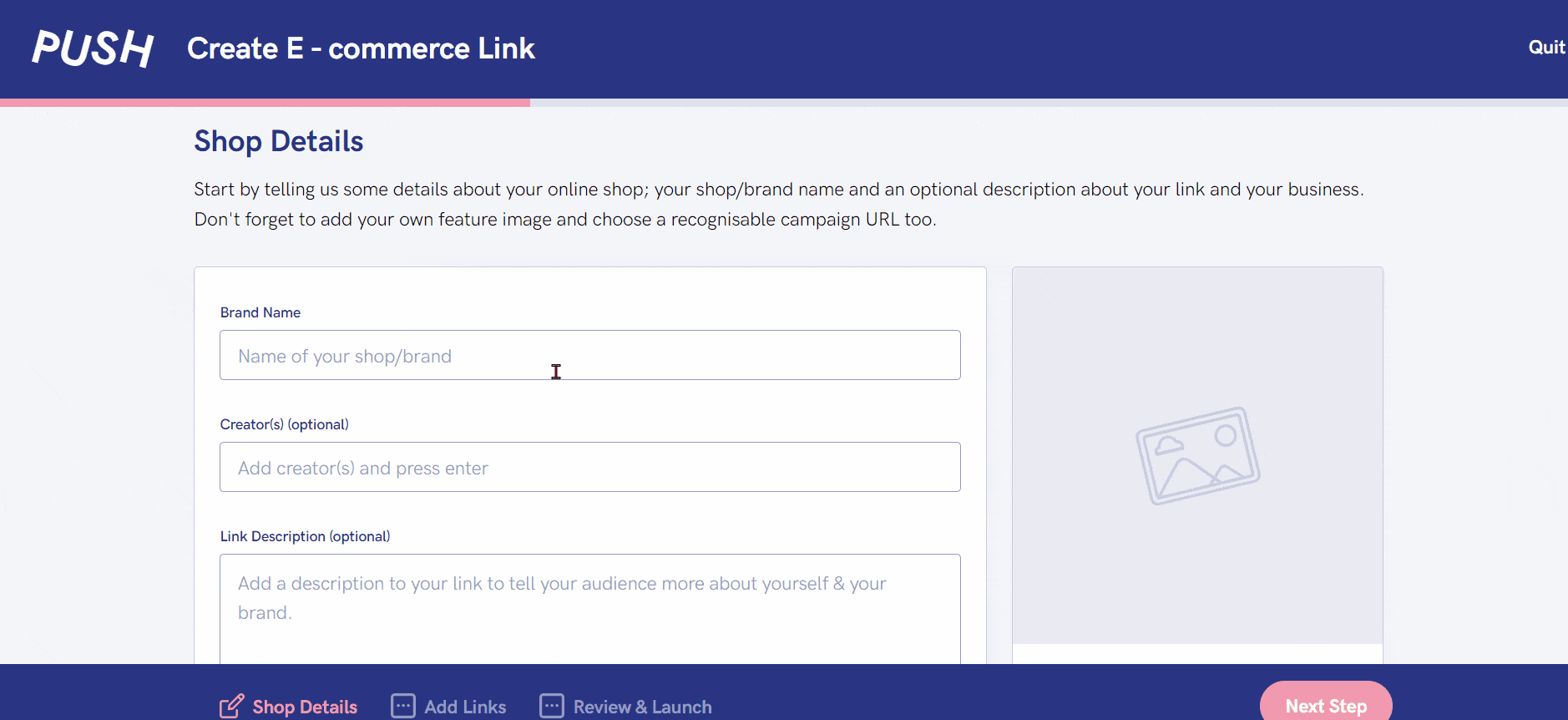 On the first page, it's time to get creative. You'll need to put in the name of your brand or business. Next you'll need to add your name. This part is optional, so it's completely up to you. If your business name is the same as your store title, there's probably no need to input both.
After this, it's time to add a little description. Again this part is optional. You might decide it takes up too much room. You're able to see the mock-up on the right-hand side, so you can choose whether it looks better with or without a description.
Then you'll need to change your URL. Make it something catchy. Ideally you'd pick your brand name because this makes it easier for people to remember your link. Finally, add yourself an image.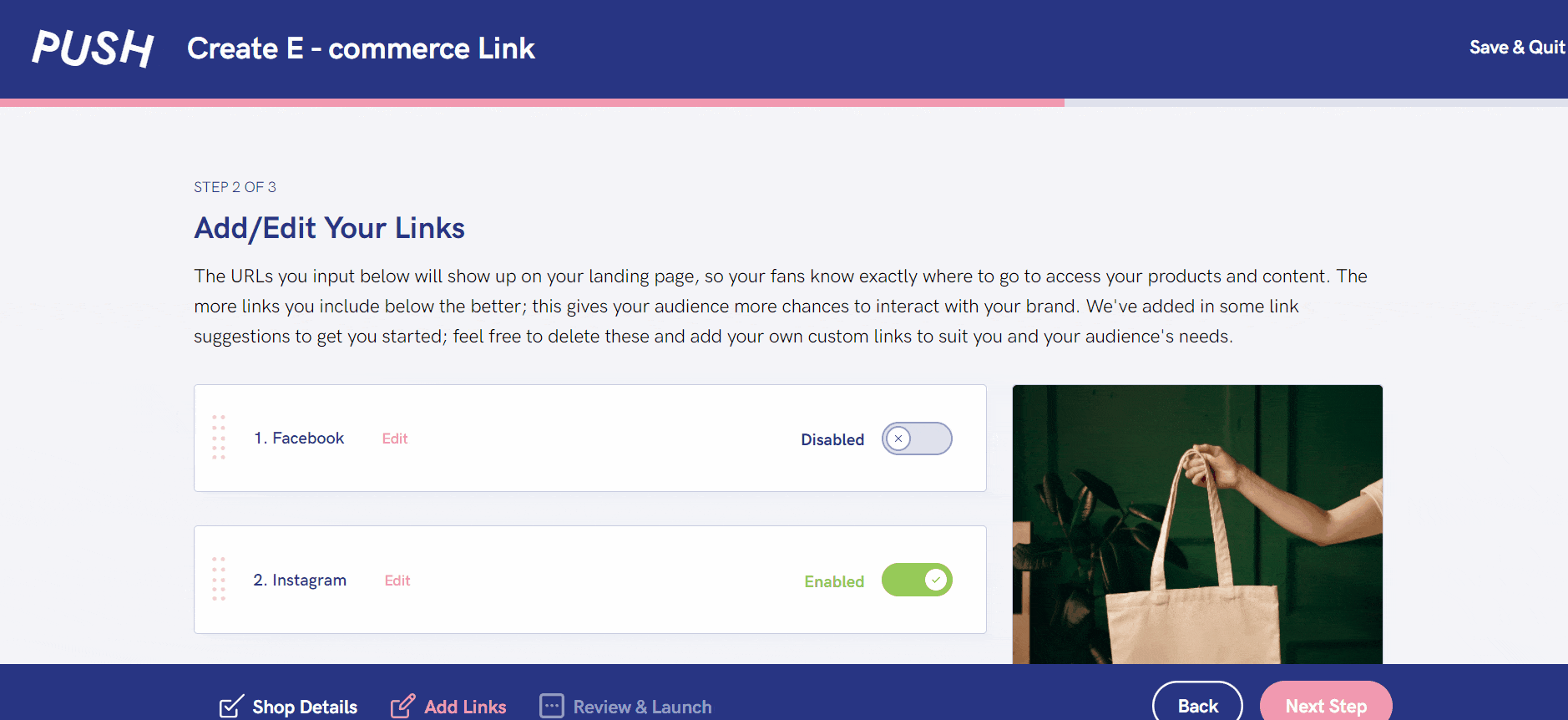 Next you'll need to add your links. These can be social media links, store links to sites like Etsy, or you can even add your own. So, if you have your own website built, add your store link.
It's super easy to flick the toggle between off and on when it comes to stores. You can have as many or as few as you like. Design your link around your preferences.
Once you've followed these steps, you'll head to the final page where you can double-check your E-commerce Link and then publish it. It will go live straight away. Then it's time to update your social media accounts and put your link into your bios. Share the link everywhere you can to reach more people. Even ask your followers to share it with their followers. PUSH.fm is completely free, and you can make as many links as you require. We don't have a limit on our Smart Links.