More now then ever, people are ingesting content on the go on their mobiles. Because of this it's essential that you use mobile-friendly marketing tools that look just as beautiful on mobiles as they do on desktops.
It's super important that you can access digital marketing tools that are guaranteed to look their best, no matter what devices your fans are using.
Here at PUSH, all of our digital tools are mobile friendly and look amazing no matter what device they're viewed on.
There are many reasons to use mobile-friendly digital marketing tools;

Aesthetics
No one wants to see a untidy, unorganised and horribly laid-out page. Keep your brand looking professional, eye-catching and easy to ingest with our mobile-friendly campaigns, such as Fan Links, Pre-saves & Content Unlocks.


All of our campaigns can be completely customised to suit your needs and your aesthetics – all of which will translate perfectly on desktop, tablet or mobile!

Practicality
If the tools you're using aren't optimised for a variety of different devices, there's a risk that your fans won't be able to access your content easily. Or, even worse, there's a higher risk that they won't bother clicking on your content in the first place.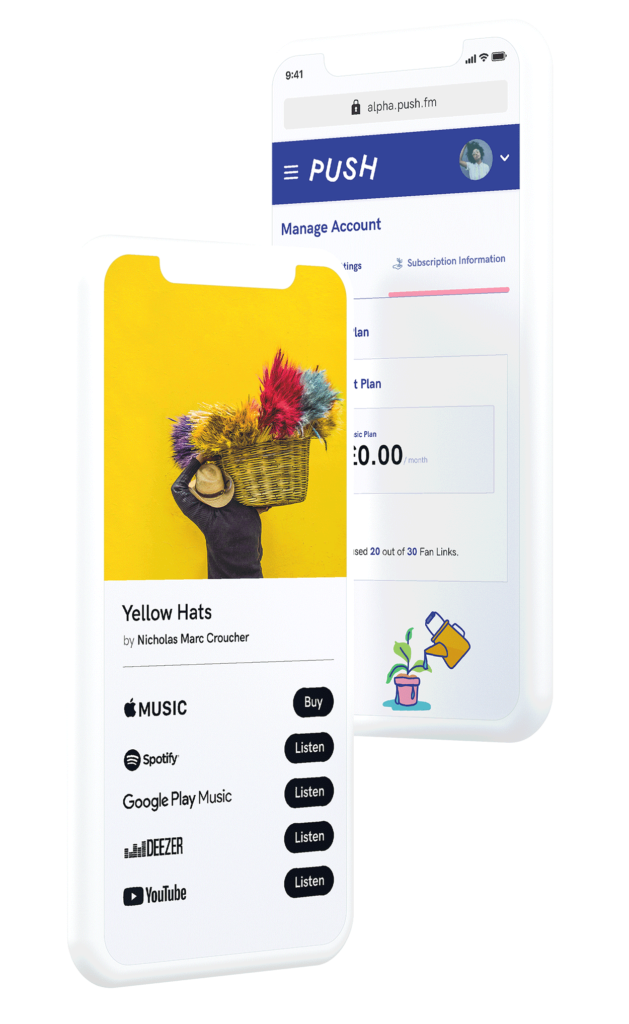 Your Audience
By making sure your campaigns can be access on multiple different types of devices, you're appealing to your whole audience.
If you use marketing tools that are only suited for desktop, they'll be inaccessible to your fan base who use mobile devices or tablets. By using tools that are accessible to all, your promotional efforts won't be wasted and your whole fanbase will be happy.
If you want to get started making beautiful, mobile-friendly campaigns for free, simply head on over to PUSH.fm.
We currently offer 3 different digital marketing tools:

Fan Links
Fan links are micro-websites that you can use to bundle multiple links up into one! They consist of a personalised URL which when clicked, takes you to a landing page full of URLs to any platforms, sites or content you want. They can be used by absolutely anyone to promote absolutely any type of content.
Learn what they are and how to make them.

Pre-saves
Pre-saves are exclusively a music marketing tool, and are the digital version of a pre-order. Musicians and labels can use pre-saves to allow their fans to save their upcoming music ahead of release day. When it goes live it'll automatically appear in their library ready to be streamed, saved and shared.
Learn why they're so useful and how to make a Pre-save campaign.

Content Unlocks
Content Unlocks, also known as social unlocks, allow you to trade social and musical interactions for exclusive, unlockable content.
Get your fans to completely certain actions, such as subscribes, listens or re-tweets in exchange for either:
– A downloadable file like a song, picture or trailer.
A secret message such as a discount code or secret link.
Learn how they work and how to make them.
---
Found this article helpful?
Let us know in the comments or share it with your friends!