Fan Links are a newly found necessity when it comes to marketing your music, but they only work if they meet you and your fans' needs. PUSH's Fan Links can be tailored so you can choose exactly how you want to present your content to the world.
Within PUSH.fm's repertoire of tools are Fan Links (also referred to as Smart Links). These are sharable, trackable and easily-customisable landing pages that contain all the links you want to share with your fans in one place. Albeit a simple feature, being able to customise your Fan Link is a necessity. It can embody your motive and brand aesthetic whilst showcasing a multitude of links to a variety of platforms, services and content.
Using PUSH, you can:
---

📸
Upload custom imagery
Catch your fans' attention with a custom image. It could be the artwork of a new release, a recent photoshoot, or even a loopable GIF!
To make the most of your Fan Link, make sure your image is:
Professional looking.
A good size; images must be at least1400px x 1400px.
Good quality – PUSH accepts files up to 10mb.
In keeping with your brand's aesthetic and vibe.
Eye catching – this will increase fan engagement.
---
🌻
Personalise metadata
You can edit your release title and artist(s) to your heart's content, or, if it doesn't suit your content, you can customise your title and choose to put your author/creator name instead.
Further personalise by tailoring the end of your Fan Link URL so it's recognisable to you fans when being shared within your network.
PUSH even allows you to input your own custom metadata for music releases; metadata is key for search engine optimisation so make sure it's as extensive as it can be so it has the best chance of being found on search engines.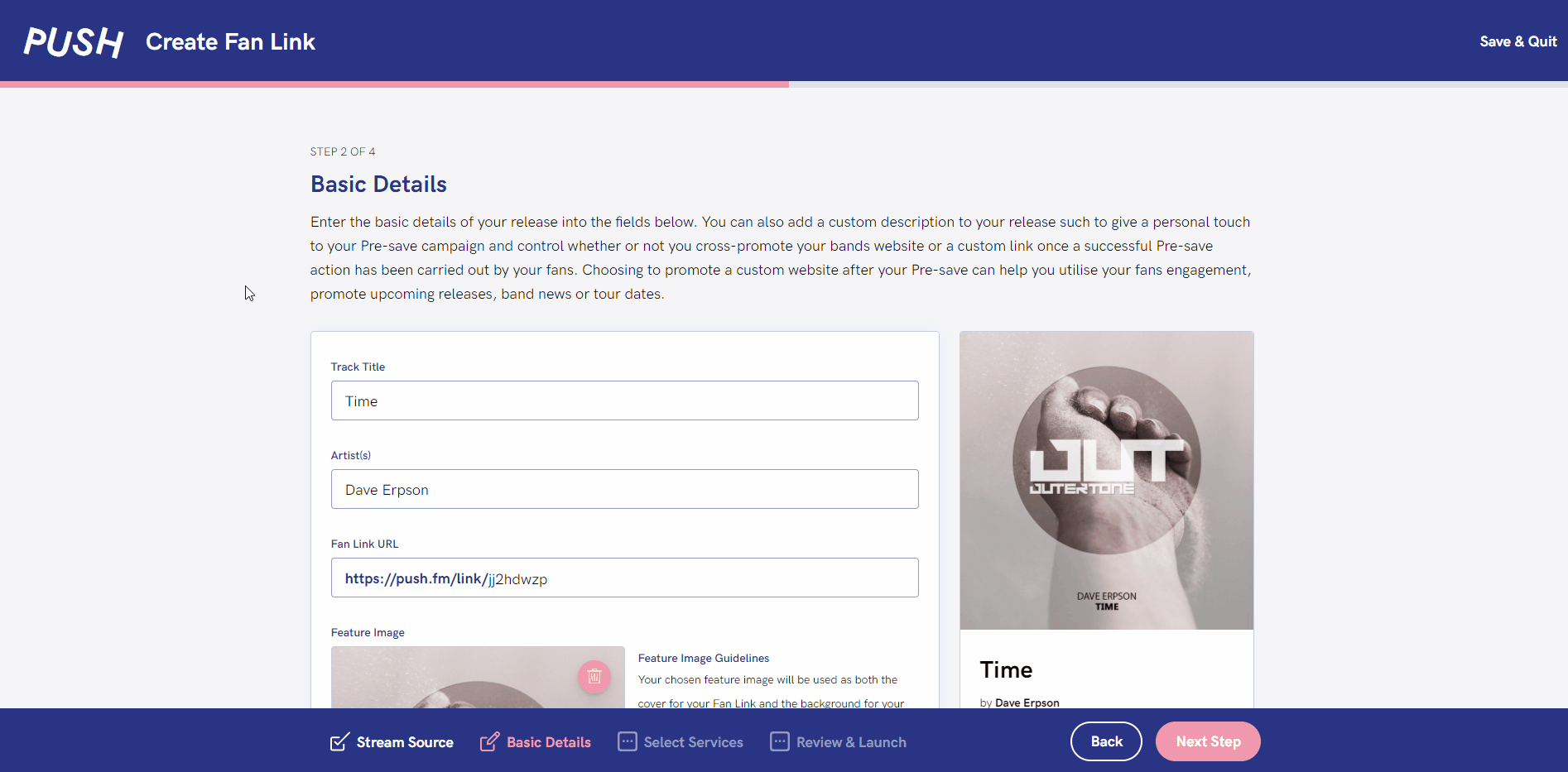 ---
✂
Edit & add links
When you enter a link to a music release, PUSH will automatically pick up as much information and as many music platforms (that your release appears on) as it can. These pre-loaded links can be edited if they don't function or look as you want:
Choose your own button text if it doesn't reflect the action you want your fans to take
Replace the platform logo with your own, or with one that looks more aesthetically pleasing.
Choose to remove auto-loaded platforms entirely if they don't suit your needs.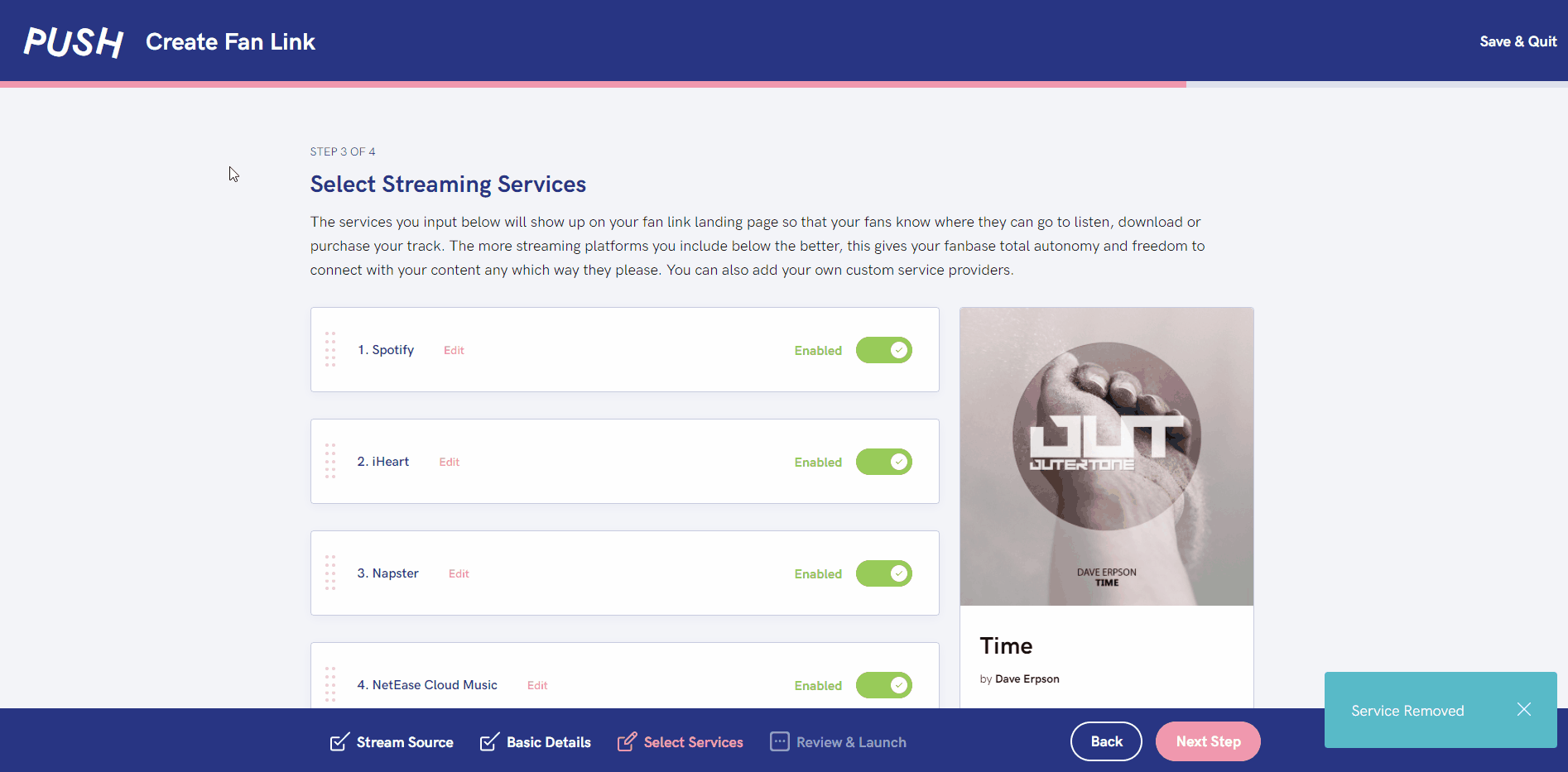 ---
➕
Add your own links
Wanting to add a service or platform but can't see it in the dropdown menu? Just add your own! You can add any link you want by entering the URL, adding your own logo of choice, naming the link and choosing what text to put in the action button.
The ability to pick and choose means a different types of creators can mould their links to suit their fans. Creator-specific link ideas include:
🎸 Musicians
Releases on streaming stores
Music videos
Social media
Tour announcements
Merch drops
Behind-the-scenes videos
Gig tickets
Radio features
📹 Streamers
Social media
Streaming channels
YouTube channels
Affiliate links
Collaborations
Reaction videos
Competitions
🎧 Podcasters
Websites
'Listen' links
'Subscribe' links
Interviews
Social media
Interviews
Guest appearances
🏷 Labels
Social media
Label channels
New releases
Newsletter sign-up
Label website
Submission links
Merchandise
---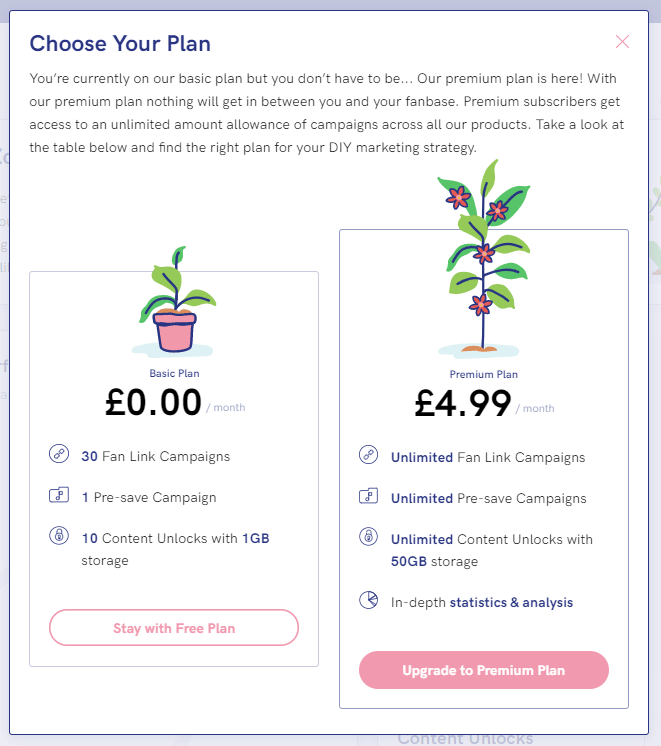 🌼 No matter what kind of creator you are, what content you want to push, and how best your audience engages with your content, you can make a Fan Link to work for you.
PUSH users can make up to 30 active Fan Links totally free of charge, and if you're finding yourself running out you can upgrade to our premium plan and get unlimited Fan Links and a handful of other generous perks.