TikTok have found a new partnership with both Spotify, Apple Music and Amazon Music. Users will see an Add to music app button allowing them to save music directly from TikTok to one of the music streaming platforms.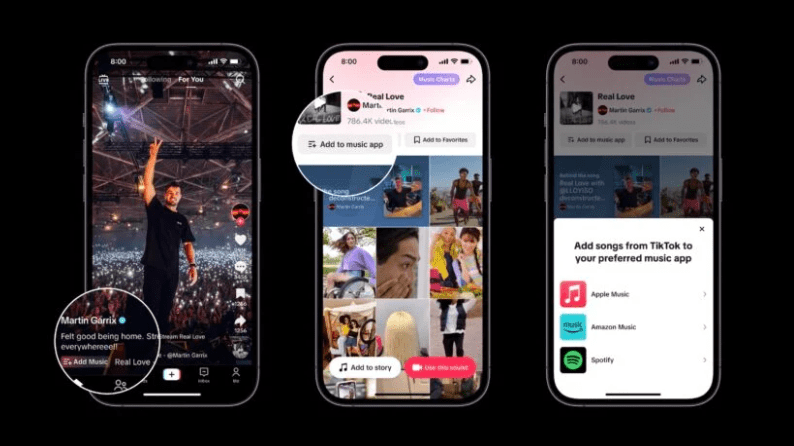 TikTok have struck a deal with both Spotify, Apple Music, and Amazon Music which now sees the viral video platform in a partnership with the music streaming stores. A new feature called Add to music app has launched, and it allows TikTok users to save a song they find on the video app. The saved song will go directly into their music library on their preferred store.
It's a new way of expanding independent artists audiences, as well as finding new music for those who love to listen. At the minute, the partnership is only for those who use either Spotify, Apple Music or Amazon Music. Other music stores haven't been mentioned at this current time. It's unlikely we'll see a partnership with YouTube Music.
YouTube isn't featured on TikTok's Add to music app button
YouTube are TikTok's biggest rivals and therefore, we cannot see the video/music platform willingly agree to work with TikTok. Both UK and US users will see this feature rolled out over the next few weeks. While it has been officially launched, it will not hit the platform at once for all users in these regions. TikTok will also be testing the feature in other markets shortly.
Ole Obermann who is the Global Head of Music Business Development for TikTok has said that the new feature offers "a direct link between discovery on TikTok and consumption on a music streaming service". It will be beneficial for all parties. Allowing users to discover snippets of songs and hear the full version with just a few clicks.
What does this mean for TikTok's own music platform, TikTok Music? It became available to those within Australia, Singapore, Mexico, Brazil and Indonesia this year. The app is said to include a large range of music streaming features. Connecting the main app with this new idea. Users can even sync their two accounts together.
Well, TikTok Music will still continue to be promoted in the regions it's currently available in. However, in both the US and the UK where this cannot be accessed, it's said that the Add to music app feature is the next best thing. Allowing it to be used as a direct link between the video and music lifestyle. It's a brilliant partnership that will benefit so many users.