For some time now we've all been awaiting TikTok's new music platform. It's finally being released, but so far only in two markets – Indonesia and Brazil.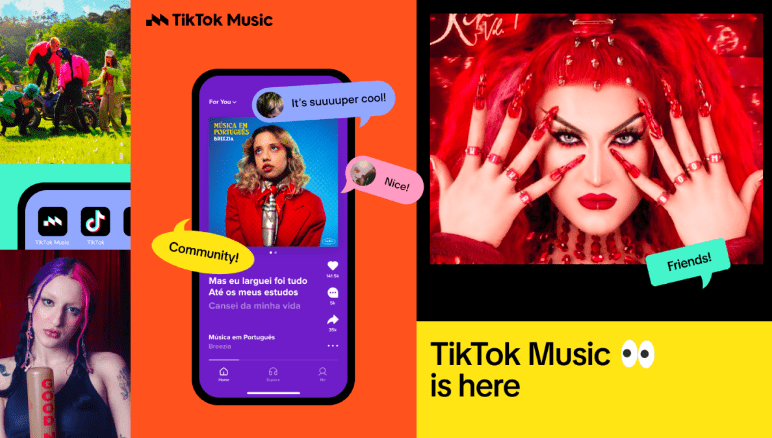 Mentioned some time ago, TikTok's music platform. However, up until now, it was very much a case of will it or will it not happen. It's finally here though! Now, there is a brand-new platform called TikTok Music. Only those in Brazil and Indonesia will be able to access it though.
However, this doesn't come as too much of a shock because Resso which is a music service owned by ByteDance who also own TikTok, are popular in these countries. Therefore, it makes sense to launch their own music platform.
Resso will be closing its service in September. All those who are currently on the platform are being encouraged to switch over to TikTok Music before then. Essentially, TikTok Music will be a rebranded and updated version of Resso.
TikTok Music to replace Resso
It might therefore, feel familiar to those who currently use the music platform. It will be a subscription only service though. TikTok Music will not offer any free content, despite their video platform being completely free.
There will be a large catalogue of music for streaming and downloading to listen offline. Users will be able to use the platform on both mobile and desktop devices. In this way, it is very similar to other music streaming stores.
In Brazil TikTok Music will cost R$16.9 which is equivalent to $3.49 per month. Whereas, in Indonesia iOS users will be charged 49,000 rupiah ($3.25) a month, and Android users pay 44,900 a month for the first year.
After this, both iOS and Android users will equally be charged, then 49,000 per month. It is interesting that iOS users will be charged more than Android for the first year. However, in both countries TikTok Music will cost less than Spotify.
For those in Brazil TikTok Music will set them back for R$3 less than Spotify and in Indonesia those on iOS will be charged 5,990 less a month than they would for Spotify. This could prove interesting competition for the rival music platform.
TikTok Music features
TikTok Music will include swipe-down music discovery feeds. Users will be able to post comments under tracks and create collaborative playlists with their friends. There will be real-time lyrics available and users will be able to search for songs using their lyrics.
There will even be a feature called Song Catch which is very similar to that of Shazam. Using TikTok Music you will be able to import your playlists from other music streaming stores such as; Spotify, Apple Music and Amazon Music.
Syncing TikTok Music with the current TikTok app will be possible. This will allow users to enjoy their favourite songs across both platforms. There will also be a discovery option within the music app which will suggest viral songs from the video platform.
Despite companies like Sony pulling their music from Resso, it seems they're on board with the new app. As well as Sony, you'll see major labels such as Universal Music and Warner Music becoming part of the new idea.
Unlike Threads and Instagram, those on TikTok Music will not automatically follow those who they follow on the video app. They are not designed to sync up in such a way. It will be its own kind of platform, despite having many feature in common.
It will be interesting to see if it hits other markets any time soon. However, it may take some time due to copyright laws they have to obeyed by. Every country has different requirements. Perhaps more countries will see this rolled out over the next few years.