Did you know, there's a fun and creative way of sharing your favourite playlists? Whether they're made up of your songs, or just songs by your top artists – you can share entire playlists through our Fan Link feature!
Ok, so, if you're new here, hi we're PUSH.fm, and we offer some seriously cool marketing tools for content creators and all musicians out there. If you're not new, and you know who we are then you'll know we offer the best tools around (we're also super modest clearly). But, did you know you can use our Fan Link tool to promote entire playlists?
A Fan Link, briefly, is a digital housing system for various URLs. They're a place to store your music streaming links, alongside your social media profiles. With them being customisable, you can really express your artistic creativity by matching them to your branding. They're free to create and with PUSH, you can make unlimited links.
What many people don't realise however, is that you can create a Fan Link without being a music artist yourself.
Playlists within Fan Links
You don't need to add just one song link within a Fan Link. When creating a Fan Link, you'll be asked to input a streaming store URL into our auto-lookup tool. Our auto-lookup tool will then scan the internet and find all other stores that contain your track(s). It will save you the hassle of inputting every URL yourself.
However, you don't need to restrict yourself to one song. You can in fact input an entire playlist link into the auto-lookup tool. This will bring up any other places that contain this playlist. If you're a music artist, and you have created the same playlist on multiple streaming stores, you will be able to share each link in one URL.
Also, if you're not a music artist, but are a huge fan of a certain artist, you can create a playlist in just one streaming store and display that within your Fan Link. You don't need to have various streaming platforms available to create your own Fan Link. They're simply a tool to promote your work easily and professionally.
How to add a playlist to a Fan Link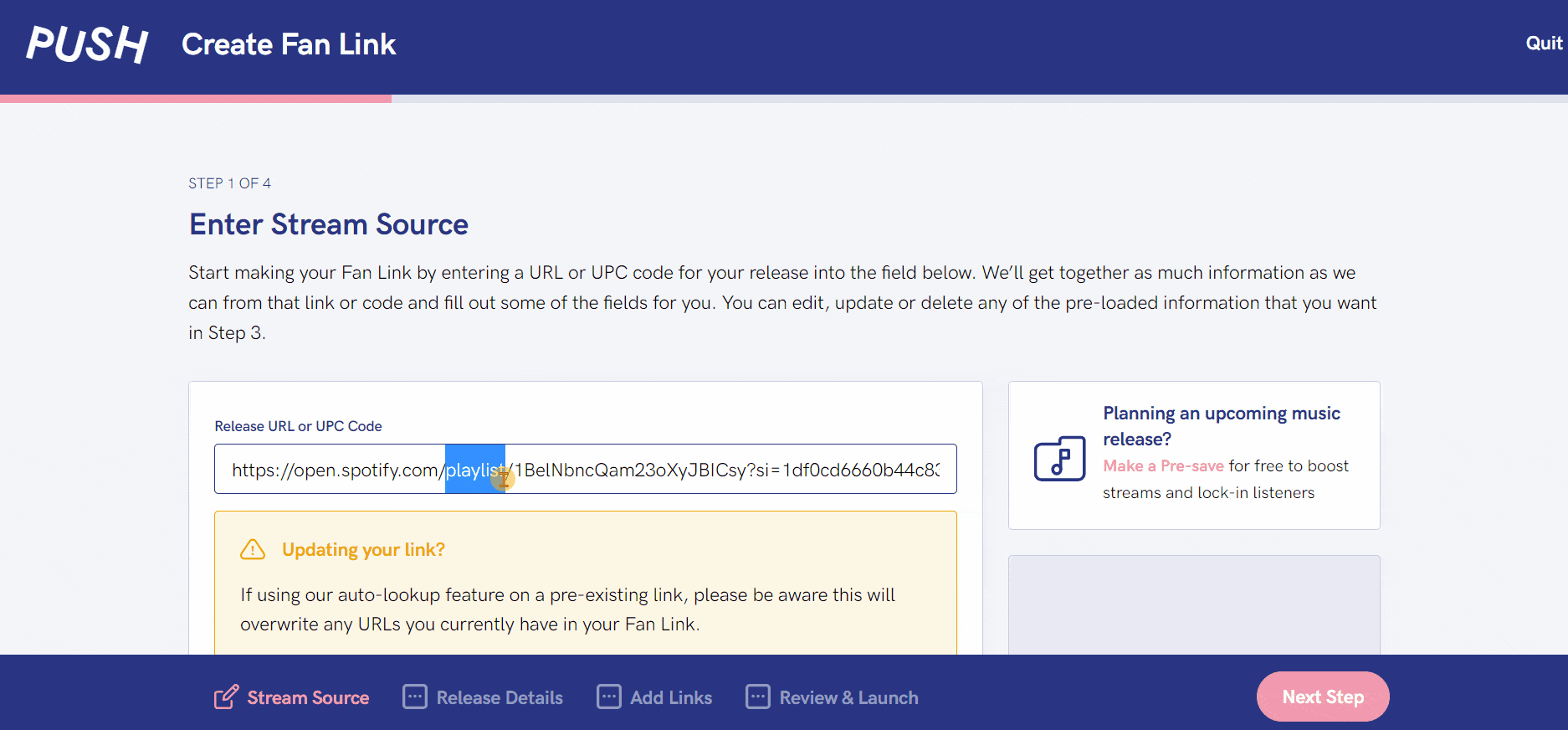 All you need to do is create a Fan Link in the same way you normally would. Simply input your URL into the auto-lookup tool. From there, you will need to input the playlist metadata though. This is something that is usually picked up by the auto-lookup, but it cannot find information for playlists because there are multiple songs and/or artists.
You'll therefore need to input your playlist name, a description if you wish and an artist name. From there, you can head over to the links tab and decide which streaming platforms you want to include. If you want to add in your social media accounts, now is the time to do that. Any extra links will be added here. Then, simply review your link and launch it!
The best bit about adding playlists to Fan Links is, you're able to put your own spin on everything. It's a playlist created by you, within a landing page customised by you. It is a link all about your favourite content, whether that belongs to you or not. You can share it easily by putting it into your social media bios and across your social posts.