A Fan Link allows you to place multiple streaming store links under one URL. Making it easier for you to share your music and your fans to listen on their preferring streaming platform.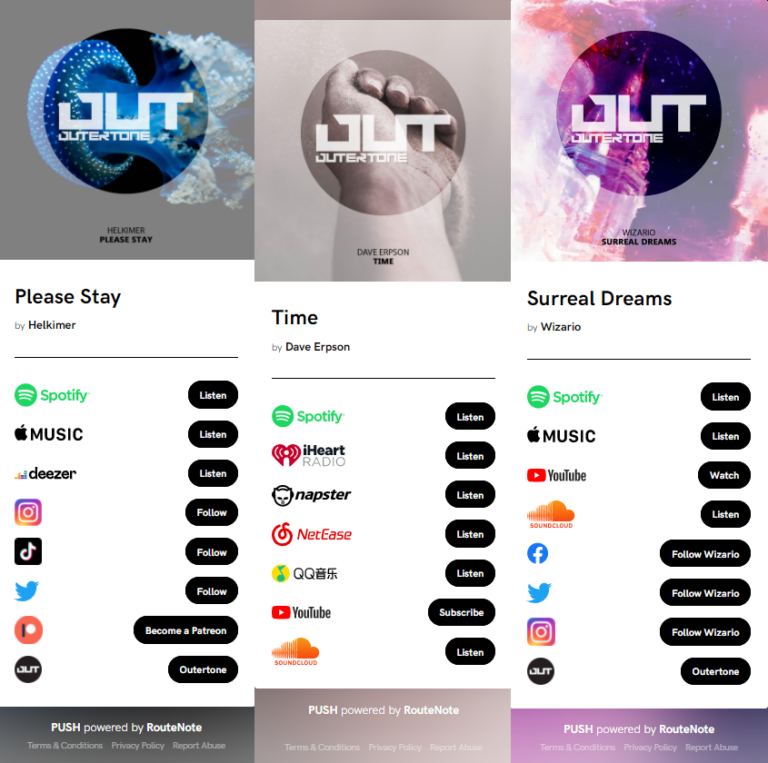 How many PUSH related songs do you think we can find to use in our Fan Link examples?
A Fan Link is a free digital housing platform for your music links. As an independent artist you already have a lot to juggle. Creating a Fan Link will allow you to place all streaming store links under one customised URL. Meaning you can share one link much further. Your fans can locate their preferred store at the click of a button without having to search for it.
Create a free Fan Link
Using PUSH.fm you can create yourself a free Fan Link to promote your new tracks. A Fan Link is a type of Smart Link. These allow you to hold multiple links under one URL. The URL can be customised to suit you. For example, if we were creating a Fan Link for Push the Button shown above, we might have our link as https://push.fm/fl/push-the-button as this would show a potential audience exactly what they can expect to find when clicking on the link.
Of course, in this example we have just stuck with the generic auto generated link because we don't want to potentially steal a URL someone might use. You can name your link any way you like. If you want to include your artist name, you can. Or, if you want a completely random URL, stick with the one generated automatically.
Personalise your Fan Links
Not only can you edit your URL, but you can also add your own artwork. Our auto-lookup tool will automatically select the artwork you have used within your music. However, you can change this if you want a different image used within your Fan Link. You can add a description if you want to give some background to your tracks.
It might be you want your fans to know what inspired the sounds. Or, perhaps you want to just say thanks to anyone clicking your link. Another great feature available through PUSH, is the choice of store icons. Some artists have a very distinctive look to their work. They might want to match the logos to their aesthetic. If this is the case, you can remove the store logos (again auto generated) and add your own versions for the stores.
Adding stores to Fan Links
How are stores added? Do you manually add each one? No! You'll be asked to add one store link when first setting up your Fan Link. From here our auto-lookup tool will do the searching for you. It will find all stores where your music is located and place them into the links page within the set-up process.
Please check these are correct before publishing your Fan Link as sometimes technology can fail us and unfortunately the auto-lookup isn't always correct. This tool however saves so much time. You can decide which stores are included within your Fan Link, so despite the auto-lookup tool finding multiple links, you can switch stores on and off.
Add your social media accounts to your Fan Links
As Smart Links are designed to hold everything under one URL, you can also add social media links to your Fan Link. Within the store section of your link, you'll be able to add various stores. When it comes to social media platforms, these are already suggested stores. Simply click on the store and add in your direct link to include it in your Fan Link.
However, you can add any website, or platform. Even those not already on our platform can easily be added. You just need to add the link in the same way as any other and include the store name. Along with this you will need to add a store logo.
A Fan Link allows you to personalise your music links. They can represent you as an artist. This is why it's important you edit and customise them into a way that suits you best. These can be edited at any time, so if you eventually switch up your vibe or style, your links can easily be updated too.
As they're completely free through PUSH, they make the perfect marketing tool. It means any artist can create one for their music and there are no restrictions on who can use them. All you need to do is sign up to PUSH.fm and start creating. Give them a go for yourself, they change the game when it comes to social media. No longer are you restricted to one link per bio. Instead, you have a loophole.