Creating a Pre-save before your music goes live is one of the best promotional tools you can have. They allow you to drive attention to your release before it hits the stores. On release day, you'll see a quicker turnaround of engagement.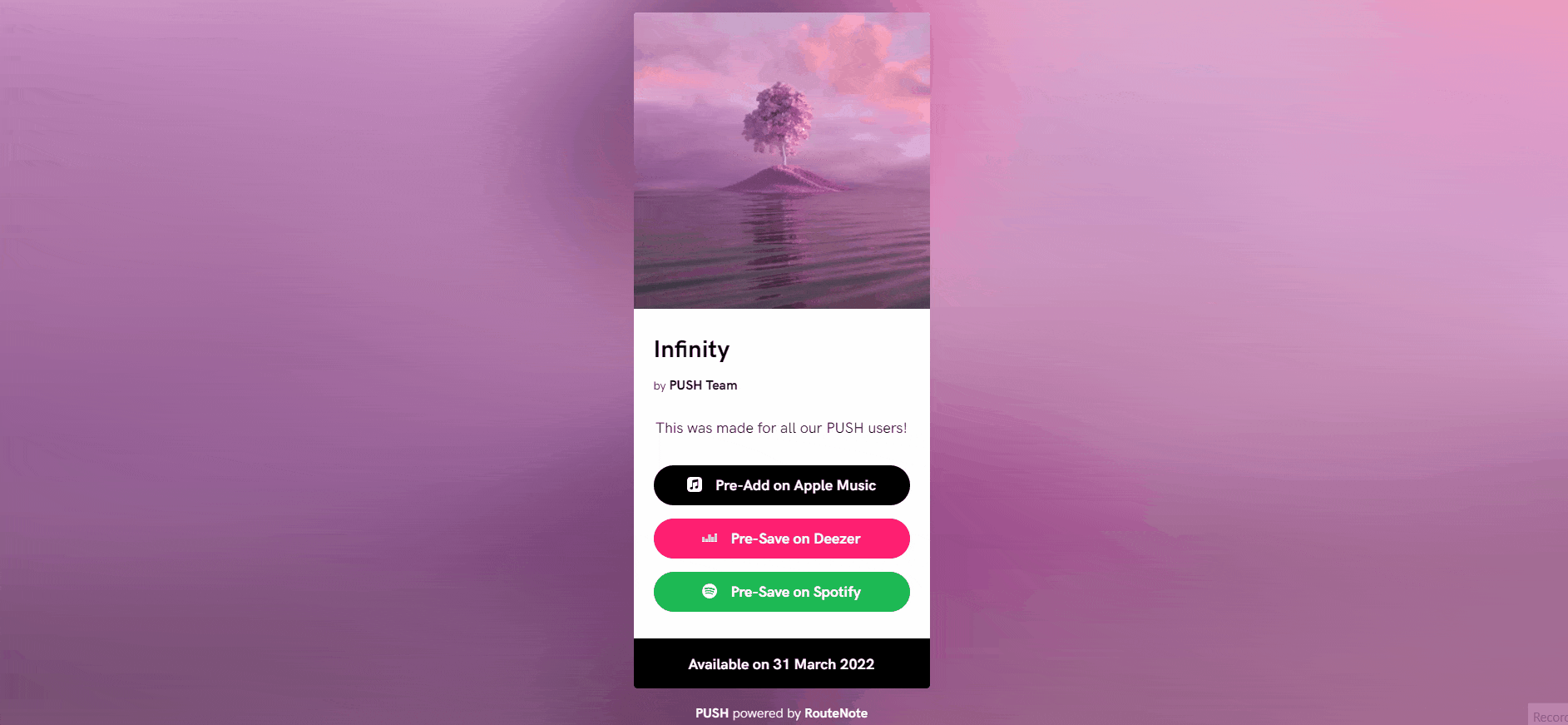 Pre-saves are used by artists to draw attention and excitement ahead of their music release date. Once you've created a Pre-save, you can share this with all your fans and followers, asking them to share the link too. They'll be able to save your link on either Spotify, Deezer or Apple Music, depending on their preference. After Pre-saving, the music will automatically be placed into their library on the day it goes live.
This cuts out time for them as they don't have to search for the music when it's released. It also means you don't have to worry about no one accessing your song on release day. You can essentially guarantee streams this way. It also helps boost your chances of being added into one of Spotify's editorial playlists. Pre-saves can be customised to suit you as an artist. They help encourage your fans to interact with your music.
PUSH.fm Pre-saves
PUSH.fm offers Pre-saves for every artist at no cost. You can sign up to PUSH for free and instantly access our Pre-save creation tool. You'll have unlimited link options, so there's no need to stop creating. In fact, we'd advise you to make a Pre-save for every release ahead of time, rather than just the odd one here and there. You don't need to pay for services with PUSH. Our aim is to make promotional tools that are available for every artist. We understand how difficult it can be stating out in the music industry, which is why we want to ensure everyone has the same opportunities.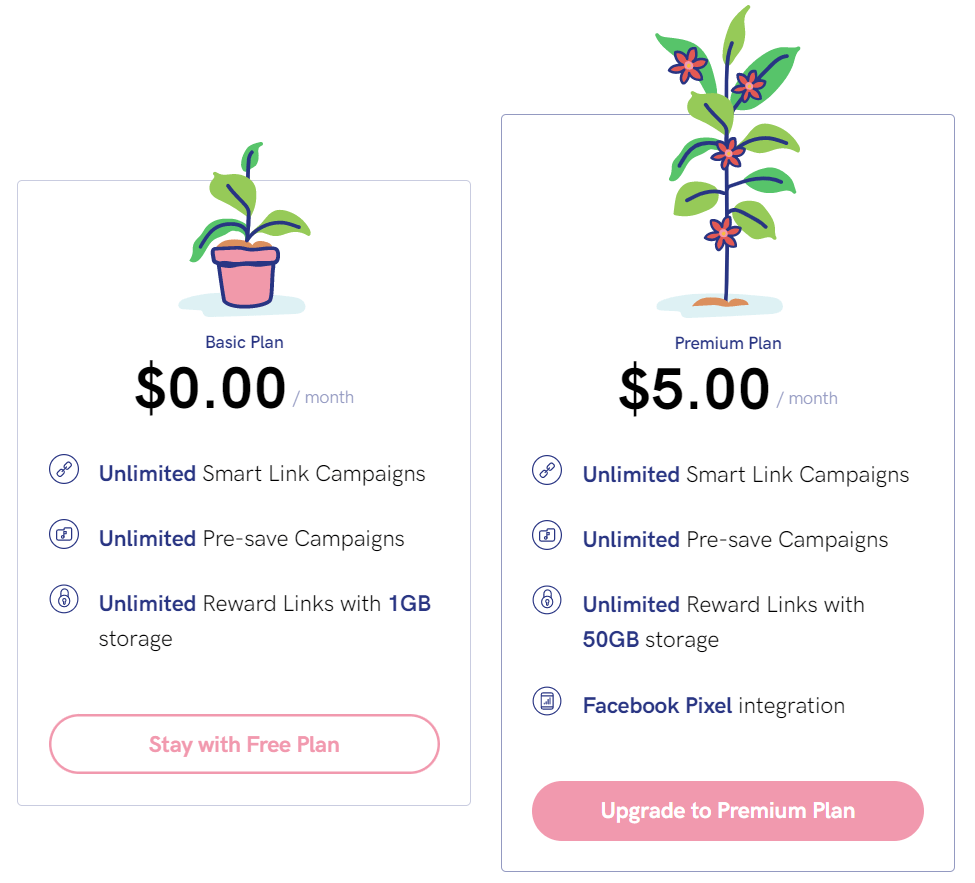 With PUSH, you can create Pre-save links for Apple Music, Spotify and Deezer. The reason you cannot create these links for other stores through us is simply because other stores do not offer Pre-saving options. We have made sure we include every music store that allows Pre-saves. All you need to do is place one of your URLs into our auto-lookup tool, and we'll source your other links. To get access to your URL, you will need to reach out to your distributor and ask them for your links. Once you have acquired these, you're ready to set up a Pre-save.
Customisation options
You have control over how your Pre-save looks. Add your own artwork. This doesn't have to be the same artwork as your release cover. Sometimes it makes sense to choose the same artwork, otherwise your fans might get confused when you're promoting your release elsewhere. However, the choice is yours. Possibly our favourite new feature we have added to our Pre-saves and one of the main reasons we feel we stand out from our competitors is because we now give all users the option to have a Fan Link automatically created once their Pre-save campaign has come to an end.
Now with PUSH, you have the option to have us create you a Fan Link. This is something you can later go in and edit if you want to customise it further. Our tools will use your release details and create a Fan Link based off where your music is available and how it appears within stores. We'll use your release artwork and all the metadata that is attached to your track(s). All you need to do is click one button within the Pre-save creation process and the rest will be done for you. Then, if anyone tries accessing your Pre-save link once your music is live, they'll be directed to your Fan Link by a call-to-action button.
Promo.ly Pre-saves
Promo.ly started off as a record label. Once it took off they decided it was in their best interests to branch out into other opportunities to accompany this. This is where their ideas surrounding music tools came to be. They offer Pre-saves, Podcast promotion and marketing tools. They wanted to have something that could save all contacts they had collected through becoming a record label and turn this tool into something they could sell.
Just like PUSH you can house multiple brands or artists under one account. You don't require multiple accounts for each person unlike competitors. This makes it easy to manage because everything is in one place, and you can compare how certain campaigns are performing against others. The main issue we found with their Pre-save campaigns is that you can only add Spotify. Most artists will choose to release their music to Spotify, however it becomes quite limiting if your fans are only able to select this store for Pre-saving your music.
Limited options
It could be that your fans simply don't have a Spotify account, they may prefer other streaming stores. Suddenly they are then limited and aren't able to save your music ahead of time. It will cause you to lose out on hundreds of possible Pre-saves, which in turn will mean you will miss out on potential streams. We can't quite understand why a company that specialises in working with labels and multiple artists wouldn't offer more options when it comes to their Pre-save tool.
They also have no free options which again limits who can use their tools. Beginner artists often don't have the funds to be paying out for multiple services. So, they will likely have to choose between Pre-saves or other aspects of the industry. Their basic option is priced at £15 per month. Which, if you're making money through your music doesn't seem too steep, but compared to their competition it is heavily priced. You get the option of having a 7-day trial which they state no credit card is required. This is a great try before you buy option. However, within 7 days you can't tell just how well your Pre-saves will perform.