PUSH.fm is a service which provides artists and creatives with access to the tools they need to market themselves. Whether you're a musician, brand or influencer, you can use PUSH's links to help promote yourself and your service. Smart Links, Reward Links and Pre-saves are currently the features we offer with our service.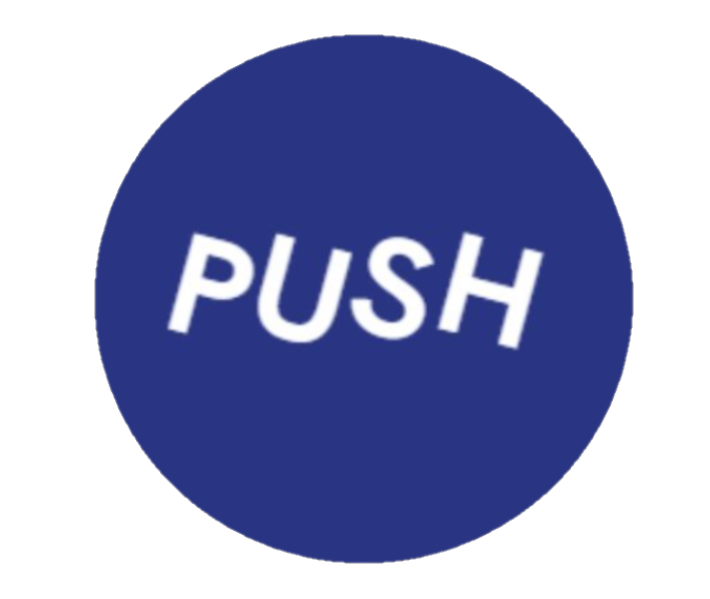 What is PUSH.fm?
PUSH.fm is an online platform where creatives can make various links to help market their music online. The world has gone digital, and we're here to help support with that. We offer various tools that mean you can promote yourself and what services you offer without the stress that can come with it. Our products are as follows:
Smart Links
These are digital housing systems for multiple links. Perhaps you're a music artist, and you want to place all of your store links under one URL. You could create a Smart Link through PUSH that will allow you to manage them all from one place. Then, your fans can easily find their preferred streaming store. They'll all head to the same URL and from there they can click on the relevant link to their favourite store. It's a great tool to have because it cuts down the promotional time for you and also cuts out any time your fans would have spent on finding your release in store. Instead, they can spend more time listening to your tracks.
You don't need to be a musician to use a Smart Link, however. Any creative or brand can use one. Perhaps you're an influencer who wants to link all of their social media accounts in one place. Then anyone accessing your account on one platform can see which others you are also available on. You can use this tool for events too. Maybe you want to add your website into a link along with a link to purchase tickets. Whatever you want to add to your URL is completely up to you.
Your links can be personalised. The URL name is your choice, along with your bio and artwork. You even get to decide which logos to use. Either stick with the original store logos or customise them and add your own to suit your branding. PUSH.fm's Smart Links are designed to be tailored to you and how you want to promote yourself as an artist. You can create as many as you like and even archive ones you no longer need in case you want to make them live again at a later point.
Reward Links
Reward Links are a digital way to (you guessed it) reward your fans. They will be presented with a set of tasks to complete. How many they have to complete is your choice as the creator. They're a great way of growing your accounts because you can make some tasks compulsory. Perhaps you want to grow your YouTube subscribers, you could then create a Reward Link and specify they must subscribe to your YouTube channel to access the reward. Then alongside this you might also require them to complete at least one other task. This one could be optional.
Maybe you want to include your social media links and get your fans to follow you on at least one of your platforms in order to access the hidden data? It could be that you really want to grow your Spotify, so you request for them to follow you on there. You get to decide how many tasks they must complete in order to receive the reward. It's a good idea not to go too heavy because that can be off-putting. Especially if they then get to the reward, and it doesn't live up to the amount of tasks they have had to complete.
Once they have completed these tasks they will get to access the reward. This could be anything you want to share with your fans. Perhaps you might include a link to a hidden video from behind the scenes that they wouldn't be able to find anywhere else. It could be that you have a secret design or track that no one has heard yet, and you might share that as a downloadable file they can keep. Or, you might want to provide a hidden discount code to your merchandise. Everyone's then a winner because you earn from their purchases, and they get products for less. Reward Links are a brilliant way of both a creator and their fanbase gaining something.
Pre-saves
A Pre-save acts as a pre-order once did within the world of music. Whereas previously you would have pre-ordered a CD or vinyl ahead of its launch day. Now, you can Pre-save a track or album to your preferred music streaming store. On release day this music will automatically be placed into your library, so you won't need to search for it. It can be a great system for fans because they know the music will be available on release day, and they don't have to go looking for it.
They're great to help promote your upcoming music across all social media outlets. They encourage people to stream your tracks when they hit the stores, and they're far more likely to remember if they have been reminded regularly through your marketing. Also, having as many fans as you can Pre-save your music increases your chances of making it to store playlists. Spotify in particular have editorial playlists, and they are always looking for new upcoming artists to add to them. Getting featured on a playlist made by Spotify increases your chances of having your music heard rapidly, you've got to be in it to win it.
Spotify, Deezer and Apple Music are the three stores that you can Pre-save music on. Other stores don't offer this option. However, with that being said these three are typically the most popular stores. It is likely your fanbase will have access to at least one of these options. If they do, it is really important to encourage them to save your release ahead of time. It could help increase your listeners by a huge amount by the time your music is live within stores.
How much does it cost?
PUSH.fm has two different plans you can choose from. You can opt in and out of these plans at any time as you are not tied into a contract. It's important to note you can also switch between the two plans without any repercussions. The choice is completely yours as to what you feel your content needs at that current time. Both plans offer the same quality of product. Unlike some competitors we have no intention of ever making our customer services a premium feature. PUSH want to see all artists and creators succeed no matter what the industry, budget or background. That's why we have worked hard to ensure our free plan is as strong as we believe it is.
Free plan
This is completely free. No hidden catches and no untold agendas. We have no intentions of starting you off on a plan to then limit your access and cause you to upgrade. Some companies may work this way but at PUSH we have every creators best intentions at heart. That is why our free plan is completely that. You'll have access to unlimited Smart Links, Reward Links and Content Unlocks. As much as you can or want to create, up to a 1GB limit. You will be able to customise and edit your links in the same way as premium users and have access to the same customer service support.
Premium plan
This is our only upgraded plan. It sits at $5 per month which we have found to be extremely competitive compared to other platforms. With this you get all the same great features as the free version, but your storage gets updated to 50GB. Meaning you can create a lot more links without being restricted by a smaller storage limit. You will also be able to access more in depth data and statistics than users on the free plan. This means you can effectively assess your links and their performance. On top of this, you will have access to Facebook Pixel which is a feature that only premium users will be able to use.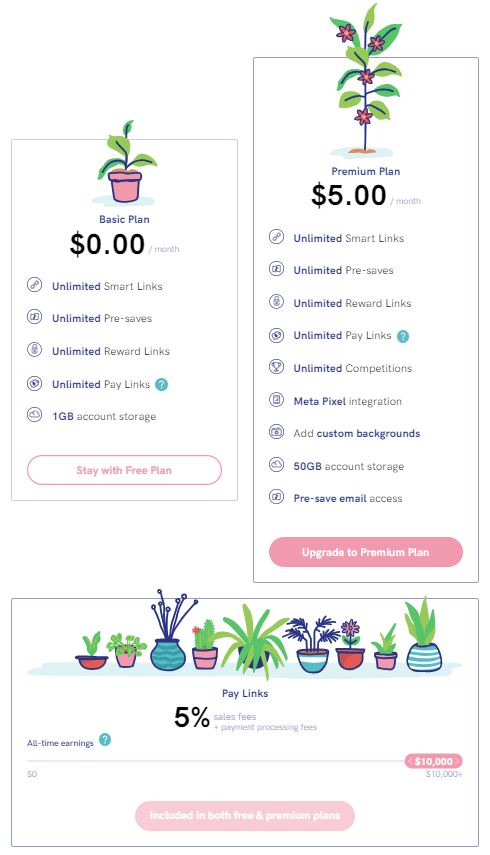 Updated with new pricing tier on 14th September 2023. No other information has been altered.