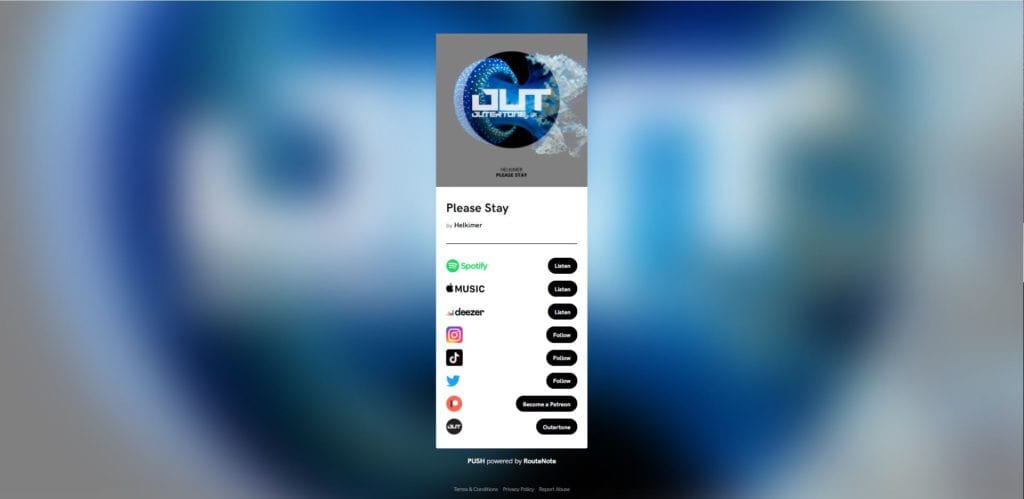 Smart links are hugely useful marketing tools for musicians and labels, however can become costly. Which sites charge you for basic tools and which give you a wealth of features for free?
PUSH is a relatively new site and has partnered up with music distribution company, RouteNote. They currently offer 3 tools: Fan Links (their version of smart links) , Pre-saves and Content Unlocks, with more to come. These 3 tools are available for both RouteNote users and non-RouteNote artists to use, for free.
Pros
🎨 Complete customisation of your landing page – add your own metadata, images and any links you want completely free.
🔗 Choose your own PUSH.fm URL.
💸 Generous free plan – create up to 30 active Fan Links at one time.
📊 Extensive analytics – see in-depth data about how your fans have interacted with your link.
Cons
❌Background image not customisable – this is automatically based on your main image.
💰 Unlimited numbers of Fan Links require a premium plan – £4.99/mo.
---
Linkfire started in 2014 and offers a range of digital music marketing tools, such as smart links and Pre-save campaigns. However, their powerful offering comes at a cost with their cheapest plan set at $10/mo. Custom domains and logos are unavailable on this plan, and destinations are limited in comparison with other sites.
Pros
🍽 Offers unlimited smart links in their Starter plan ($10/mo).
📝Ability to customise Linkfire URL included in Starter plan.
🧿 Insights into fan interaction included in Starter plan.
Cons
👗 Possibility to add custom links such as your website only included in Pro plan ($25/mo).
🙈 No free option – plans start at ($10/month).
↩ No ability to re-order links unless on Pro plan.
---
Linktree revolves around smart links; they offer landing pages that contain any links of your choice and are perfect for Instagram bios. However, their free plan only allows you to create one landing page and customisation options are limited unless you sign up to their PRO plan ($6/mo).
Pros
🖇 There's no limit to the number of links you can include on your landing page.
💸 Make 1 landing page without paying a penny.
🧽 Clean interface – the site is easy to navigate and links are easy to setup.
Cons
📊 Their free model only offers very basic insights which don't include breakdowns.
🎨 Free model offers very limited customisation in the form of pre-designed themes.
👆 Social links only available to PRO users ($6/mo).
---
SmartURL offers a variety of URL and link based features that suit a wide variety of applications. The best suited to musicians and labels is the Pivot option; a landing page which can be customized with links to any retail or streaming providers. SmartURL offers a free option however it it offers little customisation and very basics stats.
Pros
🙈 Pivot smart URL automatically hides any retailers that are unavailable in a specific country or on specific devices.
📷 Basic customisation included in free plan – ability to add logo and change colour scheme.
▶ Option to include song preview in landing page.
Cons
💰 Very costly paid plans – Pro plan ($49/mo) and Premium plan $249/mo).
📝 URL customisation isn't included in free plan.
🧹 Arguably busy and unclear visuals.
⛳ You can only add links to listed platforms or socials.
---
Songwhip focuses it's efforts on their only offering; music links. Their links are optimised for every device and operating system, and also route visitors to specific storefronts depending on their location. Songwhip offers a free plan but it's offers relatively limited ability to customise and no option to add your own custom links. They have recently began offering a Pro plan costing $6/mo.
Pros
💸 Offers smart links for no cost on their free plan.
🧼 Clean and tidy interface and link layout.
💅 Slick and professional looking landing pages.
Cons
🎨 Customisation only available on Pro plan ($6/mo).
🖼 No option to change images on free plan.
⌨ No option to change/add own metadata.
🖱 Can't add links to socials or your own custom URLs.
---
Whatever your requirements and budget, there are smart links to suit every artist and label's needs. Spend some time looking through the sites we've mentioned in this article and get to work building yourself some links.