PUSH.fm offer tools completely free to every content creator and artist. It might sound too good to be true, but trust us, it's free with no catch. We believe every artist should have the tools to be able to promote themselves without having to break the bank.
What is PUSH.fm?
PUSH.fm is a platform that offers artists and creatives the tools they need to promote their work. We offer a range of different features that can help you grow and expand depending on your goals. They take away the pressure of promoting yourself and your new launches away and make things much easier. You can create links for any project you're working on and share these with your followers and fans. It's an easy way to keep everyone updated with your work and saves you a lot of time when it comes to sharing content.
What tools does PUSH.fm offer?
Fan Links
PUSH.fm offer 3 different tools that you can customise to suit you as a creative. We have Fan Links which are known elsewhere as Smart Links. These are a digital housing platform for all of your links. Perhaps you're a music artist, and you have various store links that you want to collect and put under one URL. This makes things easier for your fans because they head to one link and from there can see every store they can access your content within. It means they can find their preferred store link without having to search the platform itself. This also means you don't have to share and promote multiple links because it's under one roof.
Another avenue is perhaps you're an events company, and you want to have one URL that stores links to different events or services you offer. It might contain your social media links along with a place for people to purchase tickets or see your website. A fashion brand might want to use a Fan Link to show their Instagram, YouTube and clothing store. They might share different methods of promotion within their links. You really can use Fan Links for anything you want to promote. The best part about PUSH.fm is, you can have an unlimited amount of these links, so you don't need to restrict yourself. PUSH.fm allow you to customise your URL, so it's personalised to you. Maybe you want to include your brand or artist name within your link URL.
Use our automatic lookup feature if you're an artist, and it should be able to find your release links within seconds. However, sometimes like all technology this may not work, but fear not, you can still manually insert your store links into our system. Pick your own logos if the generic store logos aren't interesting enough or if they don't match your vibe. Change the writing to say what you want on the store buttons. You might simply want to label them the store names, or perhaps you want to go down the route of stream here or listen here. Add in your own artwork as your cover photo and make sure you write a little bio explaining what this Fan Link is all about. PUSH.fm really believe in you being able to customise links to your own liking.
Pre-saves
Have you ever saved a release from an artist before it's gone live? Or, maybe you used to pre-order CDs back when physical copies were all the rage? This is the same process. Your fans can save your music ahead of time and on release day, it will automatically be placed into their library. Meaning they don't need to go searching for it because it will be right there. This helps boost you as an artist because the more saves you get, the more people interested in your music. You can promote your release ahead of time and concentrate on getting people to save it before it goes live. That way you know you're guaranteed streams when it becomes available.
Content Unlocks
This is a way of giving back to your fans whilst also gaining yourself. You get to offer people a secret digital file if they interact with your content in different ways. You'll be able to set different options, and they have to complete a minimum set by you. Perhaps you want to grow your YouTube account, so you specify they must subscribe to you there and also follow your social media accounts, at least one. Or, maybe you want them to follow you on Spotify and also grow your Instagram, so these two are a must. It's your choice how many tasks you set for them to complete. You could have optional ones, such as complete any two of the following and then list things like following your social media or streaming platform accounts.
Remember that people won't want to have too many must do options because they may not have an Apple Music account or a Spotify profile. So, to get the most out of it, make sure you're fair. This is why we suggest saying to your fans they must complete any of the following. That way they can interact with you in ways they're actually able to. Once they have completed these challenges, they then get the reward. This is a digital reward of some kind. It could be a link to a behind the scenes video, or maybe you want to give them a discount code to your merchandise which will increase sales for you also. You could decide to share a secret download of a track you have never released. It's your decision what you offer your fans as a reward.
Competitions
Competitions are exactly what they suggest – you can create your own competition! These are a premium feature, but they're certainly worth it. They allow you to grow your audience massively. By creating a competition, you're encouraging people to engage with your content or business. If they decide to enter then they're even further invested into your brand. You could create a competition every time you have a new launch. Perhaps the prize could be winning the product you've recently released. Everyone's a winner because you get to set the requirements and your audience could potentially win a prize.
You can request what they must complete in order to enter your contest. Then at the end, when it's finished, you pick a winner. We will email you with information on how best to select your winner, however you are responsible for sending the prize to them. So, consider this when deciding what they could win. It keeps your audience engaged and happy because they feel rewarded for following your journey. In the grand scheme of things, it won't cost you must because if it's a physical product, you've probably already accounted for the cost. However, it could completely change the way your audience interact with you because they feel rewarded.
How much does PUSH.fm cost?
It's completely free. We know that sounds like a catch or impossible. However, PUSH.fm have the goal to supply every creative with the tools they need to promote themselves efficiently. That's why we're forever adding features and upgrading areas of our products because we really want all of our users to get the best experience possible. There is an option to upgrade to a subscription service. However, don't think this is mandatory to get the level of service you deserve. We offer everyone the same level of help, advice and support, no matter whether you choose the free plan or the premium one. Below you will see our pricing tiers and how they work.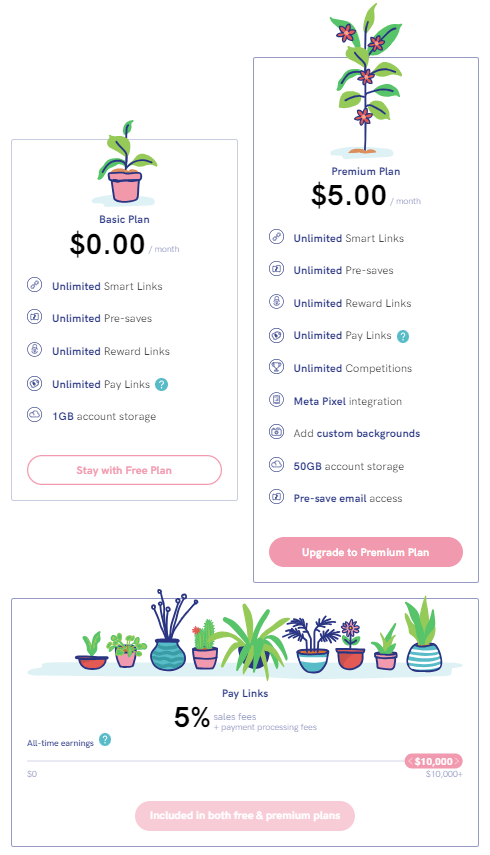 As you can see, there are no hidden catches. The premium offer does include more storage which is where people may choose to upgrade. Everything remains the same with the free plan however, you do have less space on our site, so it might be that eventually you want to upgrade. It's important to note that you can upgrade and downgrade at any time, it's completely your choice. Both offer unlimited links, so you can create as many as you like, depending on how many projects you want to run. Compared to our competitors we offer a much greater value for money on our paid service.
PUSH Tip: You might want to check out the following
This has been updated as of the 14th September 2023 to include the new pricing tiers. No other information has been changed.