InVideo is an online platform which allows creators, businesses and brands to make promotional videos for free. With a wide variety of templates and formatting options, anyone can create their ideal video in minutes.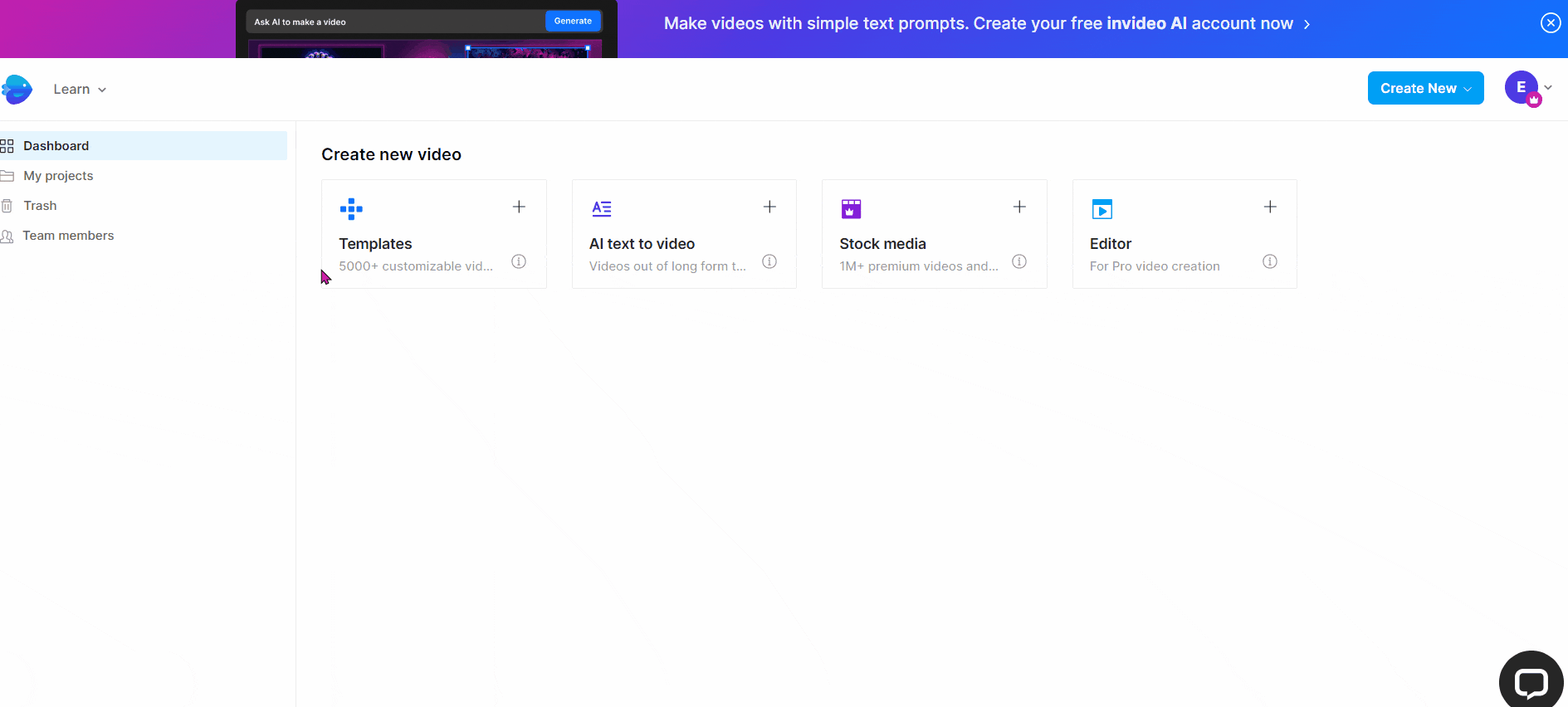 What is InVideo?
Who can benefit from it?
Is InVideo free?
How does it work?
What is InVideo?
InVideo is an online platform which allows users to create unique, professional videos within minutes. It holds a huge library of templates, which enables the user to adapt them to fit within their niche. Whatever you're looking to create, you can do so with their in-depth tools.
From various text layouts, to overlays, stock video and music. There's so much option which allows you to create something different every time. You can upload your logo, and include any of your promotional material, making the video represent your brand.
Whether you're looking to create fun and exciting Instagram Reels, or a video showcasing your latest products. Once you've created your video, you can export them and start uploading. With different template options you won't be stuck for ideas.
Who can benefit from it?
Anyone! That's the short answer. If you're looking to create video content then you'll benefit from trying out InVideo. It's user-friendly, so you don't have to spend hours figuring out how it works. For us, we logged in and started creating immediately.
Content creators looking to design new Reels will find the huge selection of inspiration helpful. It can be difficult finding new ideas and starting with nothing. However, choosing a template allows you to customise the video as you go.
Brands and businesses are possibly the biggest groups which will benefit from using InVideo. It makes the job of advertising pain-free. Plus, your work is always stored, so you can use the same template again and again, only changing the bits you need to.
Is InVideo free?
InVideo is a platform that offers both free and Premium subscriptions. Those who are on the free account can make unique videos and access a wide variety of template options. However, there are limits on the free account as they cannot access as much as a paid subscription.
In order to export your videos once you've created them, you will need to upgrade your account. There are two upgrade options; Business and Unlimited. The Business model is $15 per month and offers 60 HD video exports per month.
The Unlimited model is $30 per month and has no limit on the amount of HD video exports you can do. This would be ideal for agencies who work with multiple brands at one time. Whereas for a normal business, 60 exports per month is plenty.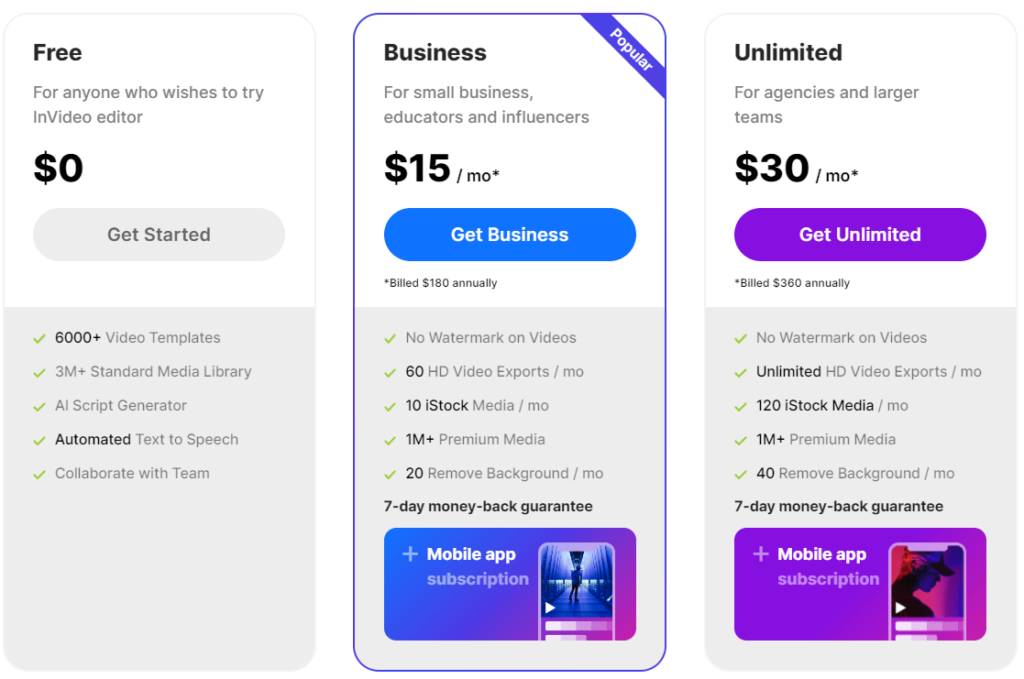 It largely depends on your output. If you're creating hundreds of videos and this is your only method of promotional material, then you might want to upgrade to their best option. However, we'd always recommend trying the free version and progressing from there.
InVideo bill each user annually, so you will only pay once per year. If you're a brand who regularly makes video content, you'll likely find you've essentially made your money back in no time. There's a trial period, so if you're not happy with the service, you can be refunded.
It's important to trial everything within the first 7 days, so you know whether you're happy or not before that period has ended. With InVideo offering various formatting options, you won't need multiple platforms for different social media accounts.
How does it work?
First, you'll need to sign up to InVideo. From there, you can choose your preferred subscription and InVideo will ask what you will typically use the site for. This is to get an idea of your output, and it might help with the suggestions you're presented.
Once you're registered, you can start creating. You can make videos from scratch, but this might be more difficult unless you have a clear idea in mind. However, you can head straight to their template options and select something that suits you.
Along their toolbar on the left-hand side, you will be able to narrow-down the choices. For example if you're a sports brand wanting to create an advert, you will be able to see video ideas that best suit your niche. You can even choose your format.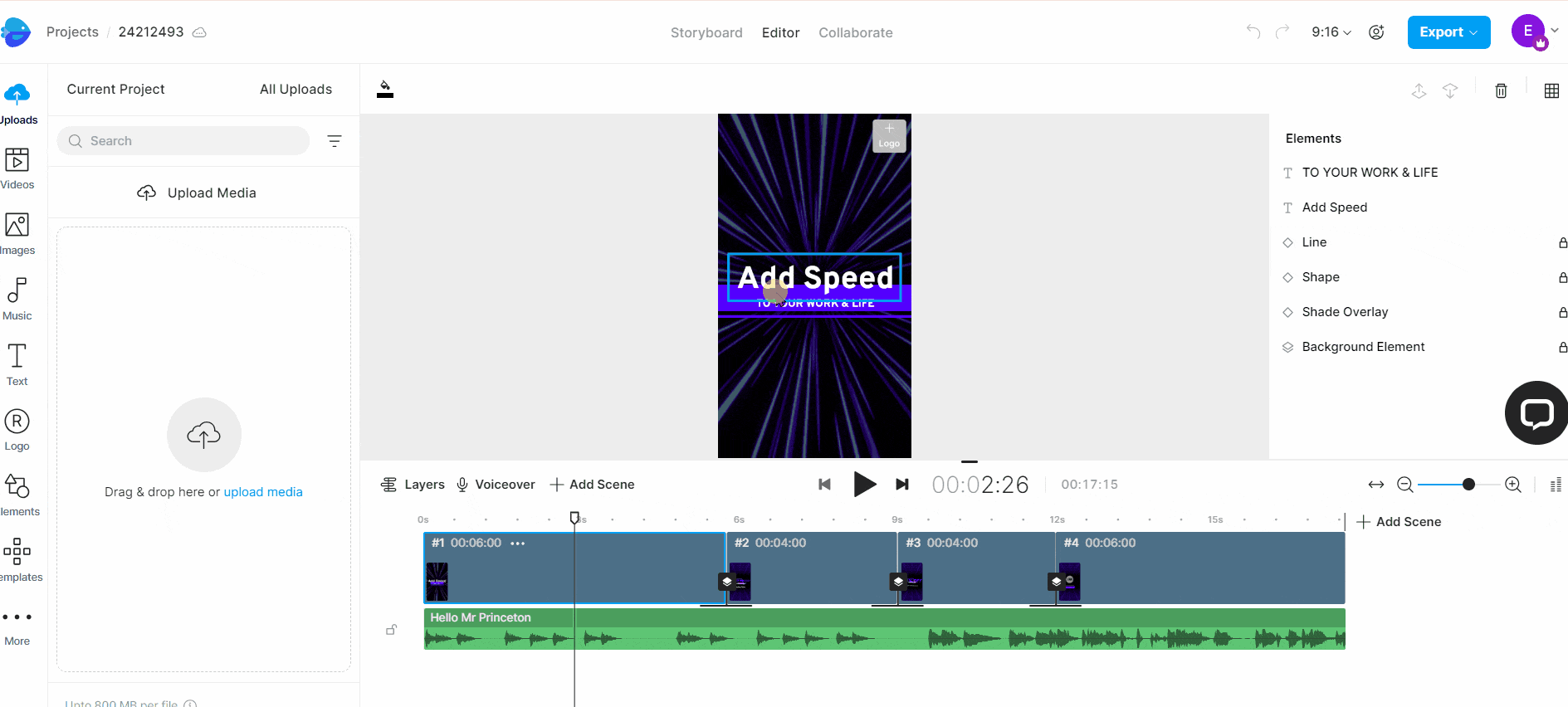 Those looking to create Reels will be able to select 9:16 and InVideo will show you template options that are made to this specification. You'll almost be able to envision how your end result will therefore look. Giving you a good indication of if it's right for you.
Then it's time to customise the video. Choose your font, the text you want to add, the colours of your writing. Add in your logo, images, video clips and anything else you want including. You can make it as different to the template, or as similar as you like. That's the beauty of it.
Add music to your video. There again will be options for you to select from. Music helps add to any promotional video. When you're happy with your video, you can export it, if you have upgraded your account. It will then be ready to post straight away!
We'd recommend giving InVideo a go. We've tried multiple video making platforms, and we've found this to be a great value for money compared to some of its competitors. Try it for yourself and see if it can help you cut down the time you spend on creating videos.