All brands and businesses need a logo. Whether you're new to the scene, or you're looking for a logo revamp, DesignEvo is for you! Create exciting logos that represent your business, at absolutely no cost!
DesignEvo is a logo making platform, allowing you to design and download high quality images to use within your company. Have you ever wondered how so many companies decide on a design or logo that suits them? There are so many platforms claiming you can create great products through them. While this may be true, many of them are both expensive and confusing. With DesignEvo everything is kept simple. It's easy to use, and you can always find what you're looking for.
Let's take a look at DesignEvo
What is DesignEvo?
DesignEvo is an online logo maker. Offering a wide variety of templates and design features to ensure you create a logo that represents your business. It's both user friendly and well designed. Meaning, you won't struggle to get started. No need for in-depth tutorials and how to's, because it's super easy to figure out!
With 29M+ users and 10M+ logo downloads, it's safe to say DesignEvo are worth checking out. You can completely customise the logo designs, or simply create your own from scratch. Take some time to consider what you want your logo to say. How do you want your audience to view your logo? Remember, this is the main element representing your company – so, it's important you get it right.
What can DesignEvo offer you?
You'll find over 10,000 templates to choose from. Simply pick your favourite, or browse through the categories and find the industry your business belongs to. This will help inspire how you want your logo to appear. There are so many to choose from that there's something for everyone. You can take a look at the most popular templates, and favourite the ones you want to come back to.
By viewing the most popular options, you can get an idea of what other people have been using. If you want to take inspiration from these but not have the same as others, there's an option to choose similar logos to the one selected. Perhaps you've found one you love, but it's not quite right – instead, browse others that are similar!
Once you've found a template that works for you, it's yours to customise. Change the font, text, background, colour scheme and even add in shapes or icons. You can make a completely unique logo in just minutes. If your company has its own colour scheme set, you can add in your own colour codes. This way, you'll ensure the exact shades of your choice.
When it comes to finishing and downloading your design, you'll be sent high resolution copies of your logo. This will allow you to go ahead and get your logon printed if you require business cards, leaflets, or flyers. It also means when you upload your logo to your website and marketing campaigns, it will be the highest quality possible.
How to use DesignEvo
First, head on over to their website and sign up for an account. You'll need to add your email address and a password, or connect your Google account. From here, you'll receive an email to confirm your account. Follow the link within, and you'll be good to go! It only takes a couple of minutes to get started, and then you can create your designs.
Once your account is set up, you can either choose from thousands of templates, or create your own logo. Within the template section you will find multiple categories which relate to a whole variety of industries. These can be used to inspire and spark logo ideas. Take a look at the most popular ones too, so you can get an idea of what other people are loving.
Choosing your logo template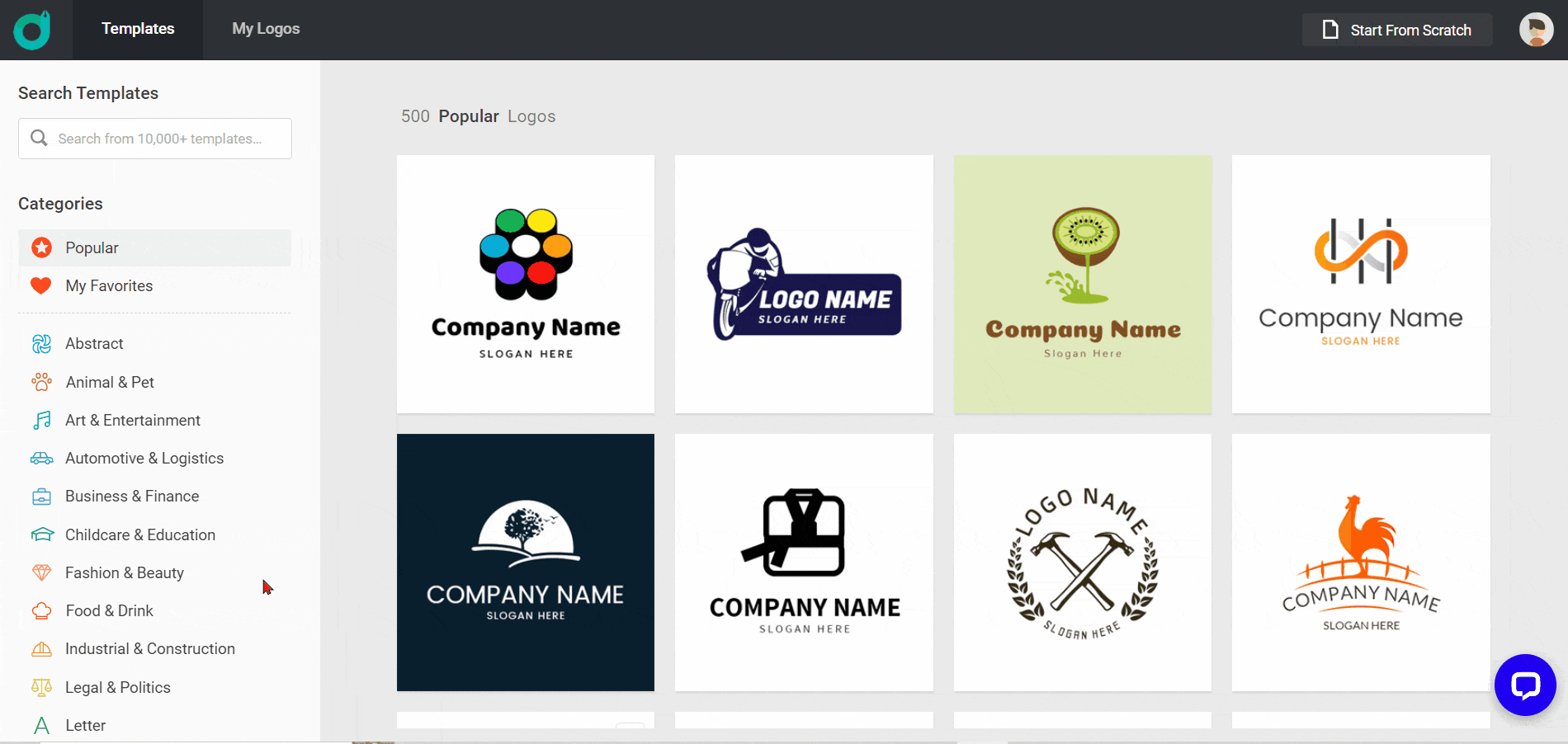 In the GIF above, you'll see we have selected Arts & Entertainment for the category. From there we scrolled down and found a design we liked. Once you have found one that fits your business, hover over it and select Customise. Or, if you like it, but it isn't quite right, choose Similar, and you'll be shown others like it.
Now you have your chosen template, you can start editing it to suit your brand. Change your logo name, and add in a slogan. We went with the slogan on our website for our designs as this is what speaks for PUSH. You can change the colours to match. We have our own brand colour scheme, so our colour choices will be based upon our colour palette.
Designing your logo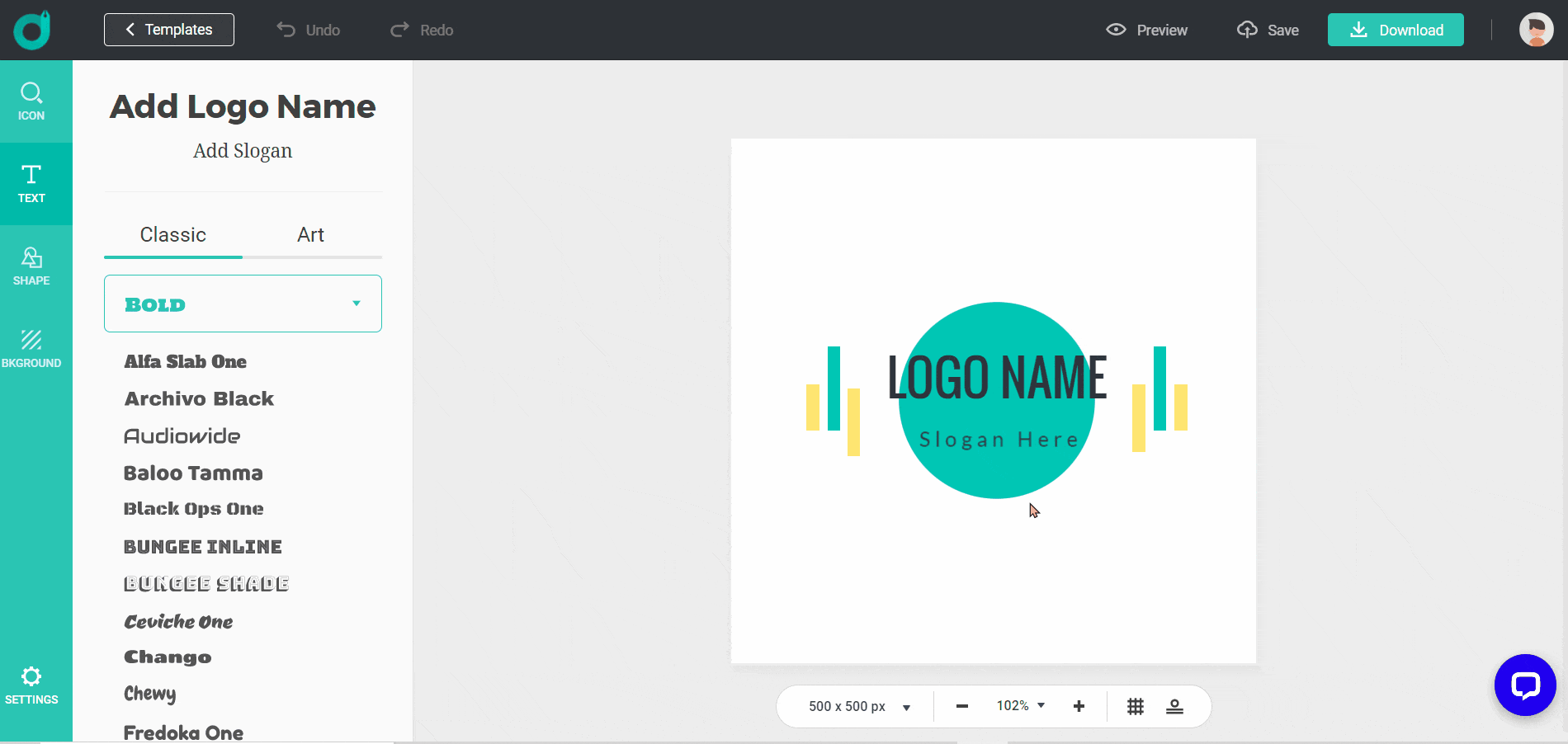 As you can see in the above GIF, you can edit all elements of the logo. Personalise the logo. Add in any icons, or extra text. You can move objects around, so they're exactly where you want them. Also add in shapes if you need them. This will allow you to create something completely unique. Then, either change your background or make it transparent.
Take some time to make your logo perfect, there are so many different variations you could create for one business. Once you've decided your logo is good to go, you can save it. To do this, simply press download in the top right-hand corner. You will then be able to decide which version of your logo you wish to download. There is a completely free option if you wish to use this.
How much does DesignEvo cost?
DesignEvo can be completely free. There are multiple options you have, so it can suit every budget. If you're looking to try it out without any commitments then you can download a free copy of your logo. However, with their free version you are required to give company credit. Therefore, while your logo is your own, it is also still connected to DesignEvo.
Instead, you can pay for your logo. This way, you'll ensure the highest quality images and no credit is required. You'll also be able to include a transparent background. Your images will be ready for print. Whereas with the free version they won't be. This may not matter if you only need them for online purposes, however. Below you can see a preview of DesignEvo's pricing.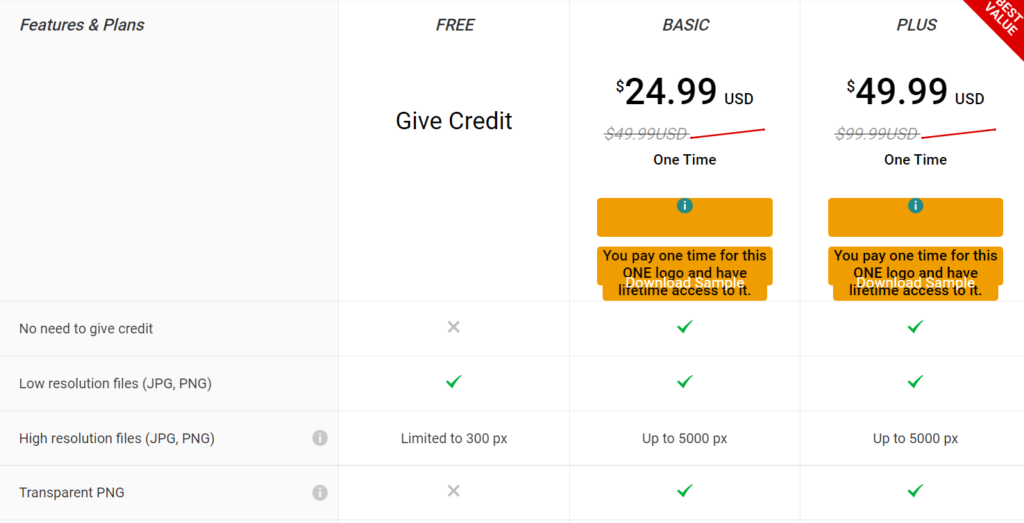 As we suggest with all products and services – try before you buy! The great thing about DesignEvo is, you only pay once you have already created the product. So, if you decide to stick with the free version, you can do this. Equally, if you design your logo and then want the higher quality version, you can simply pay for it at the end.
There is no regular fee and no requirements to enter your credit card details. Here at PUSH we love it when companies offer free products to all creators and businesses. We pride ourselves in offering free marketing tools to anyone who needs them. So, it's great when we come across a company who also offer this. This is why we're happy to recommend DesignEvo!