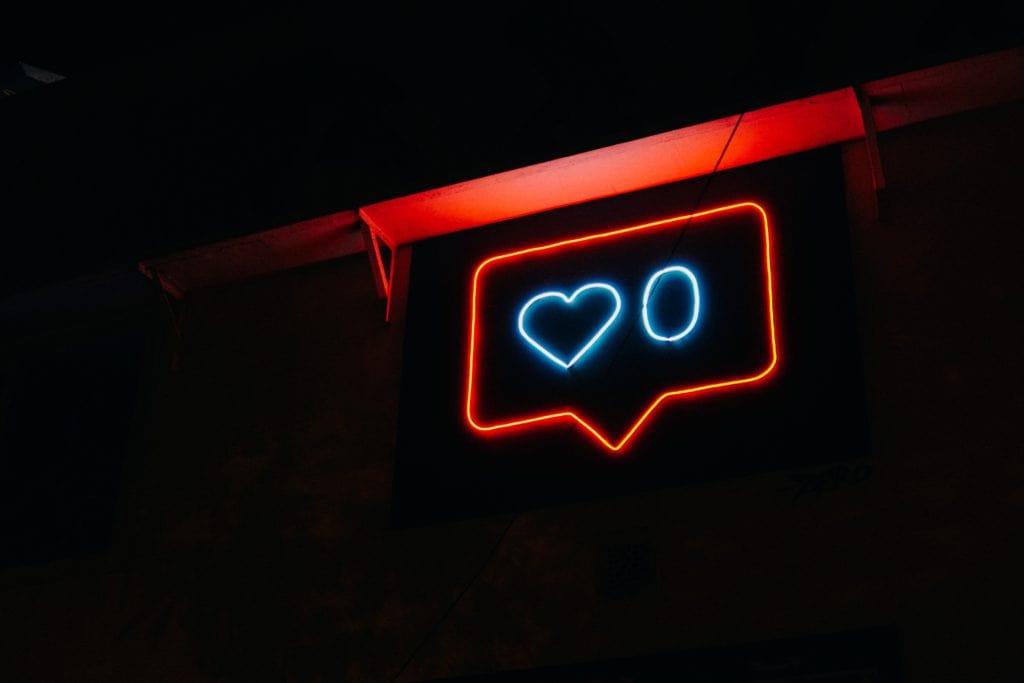 Getting your fans to interact with your social media and content is a tricky nut to crack. How can you get your audience to engage organically whilst still staying true to your brand ethos?
1.
Visuals
Visuals are making the biggest impact on socials right now. This is because social media users love images, and algorithms are becoming increasingly preferential to posts with visuals in. So much so that posts with relevant images in get 94% more views than content without.
So even if you're wanting to post an announcement, or share some news – turn it into an image/video, or share the post with a relevant photo or artwork. Our favourite example of this is Four Tet's announcement of his upcoming album 'Sixteen Oceans'. They turned a typically text-based announcement into a visual image that stayed in line with their artist aesthetic.
2. Encourage conversations
One of the best ways to promote engagement is to initiate conversations and get your fans talking to you. Asking questions to your fans is great at:
🤝 Forming lasting relationships – your audience will feel more connected to your brand and content.
📣 Sparking discussion – the more comments and interaction you get, the better your posts will perform in platforms' algorithms.
👂 Gathering feedback – asking your audience how they feel about a certain product or piece helps you gather customer and fan feedback and makes your audience feel like their voice matters to your brand or business.
3.
Give back
It's all well expecting your fans to engage with your content, but it's important to give back to your fans and audience:
💌 Share other creator's content – this gives you content to post about and supports your fellow creatives/brands.
🖋 Respond to comments – make your fans feel listened to and help develop those conversations!
👨🏻‍🤝‍👨🏻 Keep it relevant – keep the content you share from other brands relevant. It will be very obvious when your friend has asked you to share their business which has nothing to do with your brand.
4. Add #hashtags
Hashtags can make a big difference. They aid brand discovery, introduce your posts in social trends, and they aid post engagement. New audiences searching for specific hashtags are likely to come across your post and interact with it.

Although remember to always keep your hashtags relevant and don't overuse them. Adding too many hashtags can be detrimental to your reach and fan engagement
5. Know your audience
Make sure you have a solid grasp on exactly who your audience is. This is super important as it heavily influences:
📌 Where you post – which social platforms does your audience use? Audiences with interests in lifestyle, fashion and beauty are much less likely to use Twitter compared to Instagram.
🕐 When you post – when are your audience most active on socials? Where does your audience live? Posting at the most popular time in your country doesn't benefit you if your audience are halfway across the globe in a different time zone.
❓ What you post – what types of content do your audience interact with best? Analyse previous posts or look at your competitors' posts to find out what's performed best in the past.
🤷‍♀️ How you post – brand voice is very important as it sets the tone for your business, creates uniformity across your socials and lets your audience know what your brand is about.
6. Create polls and surveys
Polls and surveys are a sure-fire way of getting your audience interacting with your content. It could be you create a poll asking your fans what they think of an upcoming product launch, or a survey that helps inform a potential rebrand for your business. You can also use the results of these polls and surveys to make a post about, just like RouteNote has done: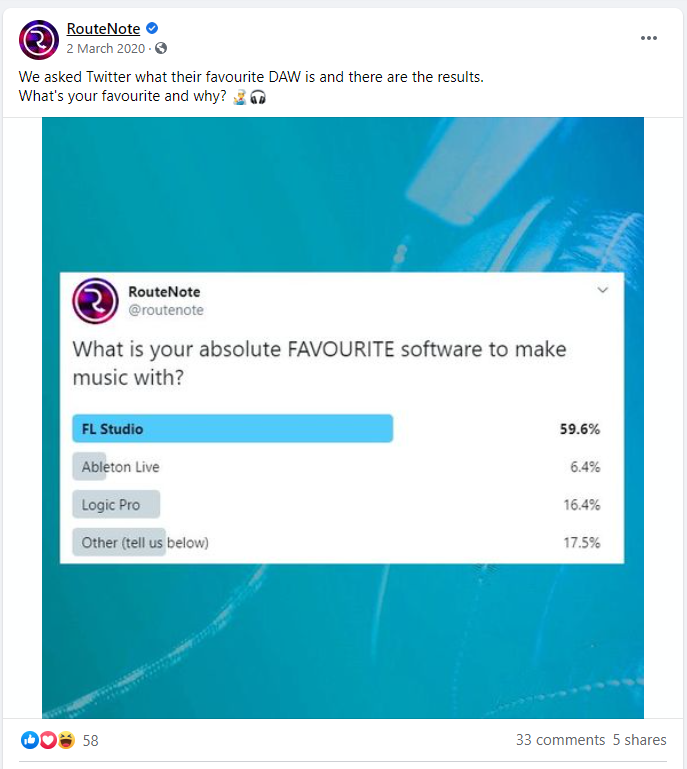 7. Use stories
Stories are fantastic for providing your audience with regular insights into your brand and what goes on behind closed doors. This helps form relationships with your fans as they are given a glimpse into how you act and what you're like as a brand.
Instagram offers incredibly useful widgets that you can add into your stories which are great at encouraging interaction, such as 'Ask A Question' or the reaction slider.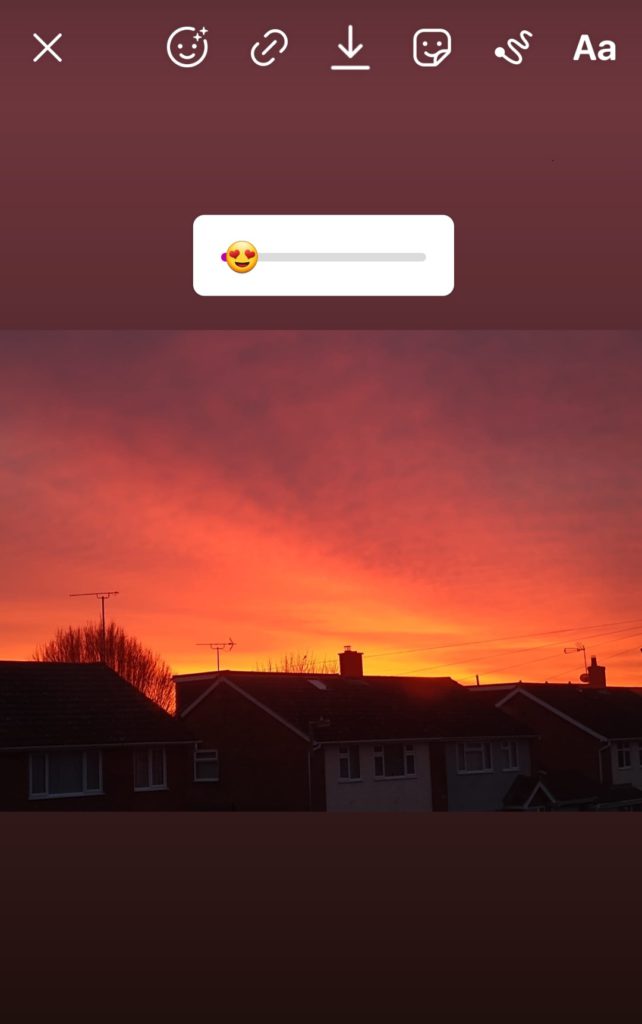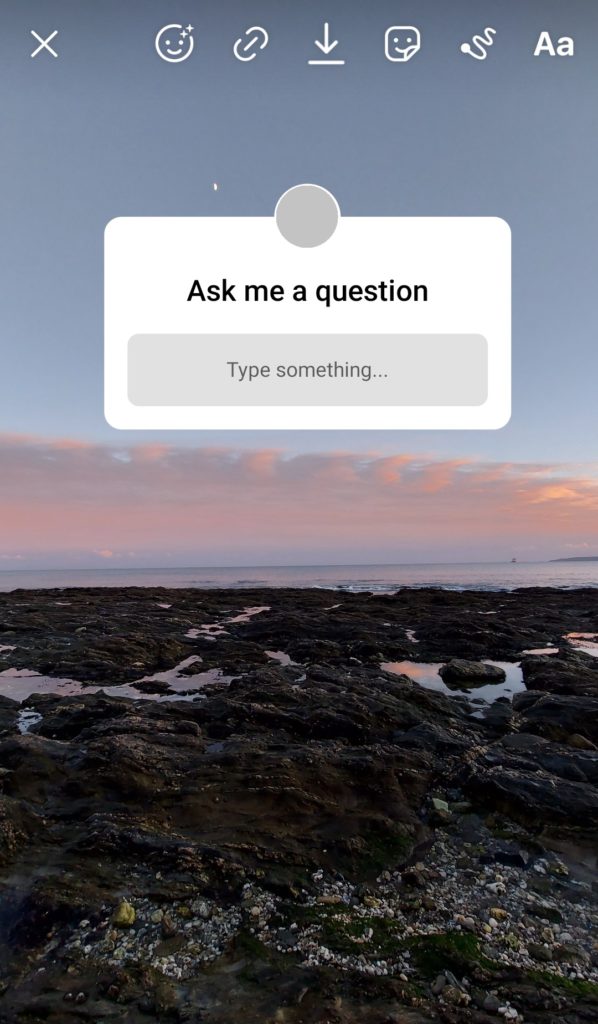 8. Post frequently
Algorithms like pages to post frequently; it's less likely your posts will be shown to a wide audience if you're only posting once a month. Posting regularly is essential to keeping your social media pages up to date and fresh with new content.
9. Use analytics
Analytical tools can be your best marketing friend. They're invaluable for seeing how past posts have performed; what's worked and what's not. Use analytical tools to see how your fans have interacted with your content such as Google Analytics, Spotify for Artists or Facebook Analytics. By analysing how your content is digested, you can plan and post the best material for your fan base.
10. Be human
It's important to keep your brand tone and language personable. People like knowing there's a person on the other end of brand's page rather than a pile of automatically generated content. Keeping it warm and friendly will help your audience relate to your content and brand, and keep them coming back.
---
So there you have it, 10 tips to start driving engagement in your social media posts. Unfortunately there's no one-size-fits-all or guaranteed way of making lasting relationships with your audience so it's important to try out different approaches on social media. You'll be growing your following and building lasting brand relationships before you know it.