Adding a feature to allow your clients to see your availability could save yourself and your customers so much time. You can easily add a booking system into any Smart Link which can be placed in your Instagram bio. Keep all your resources in one place!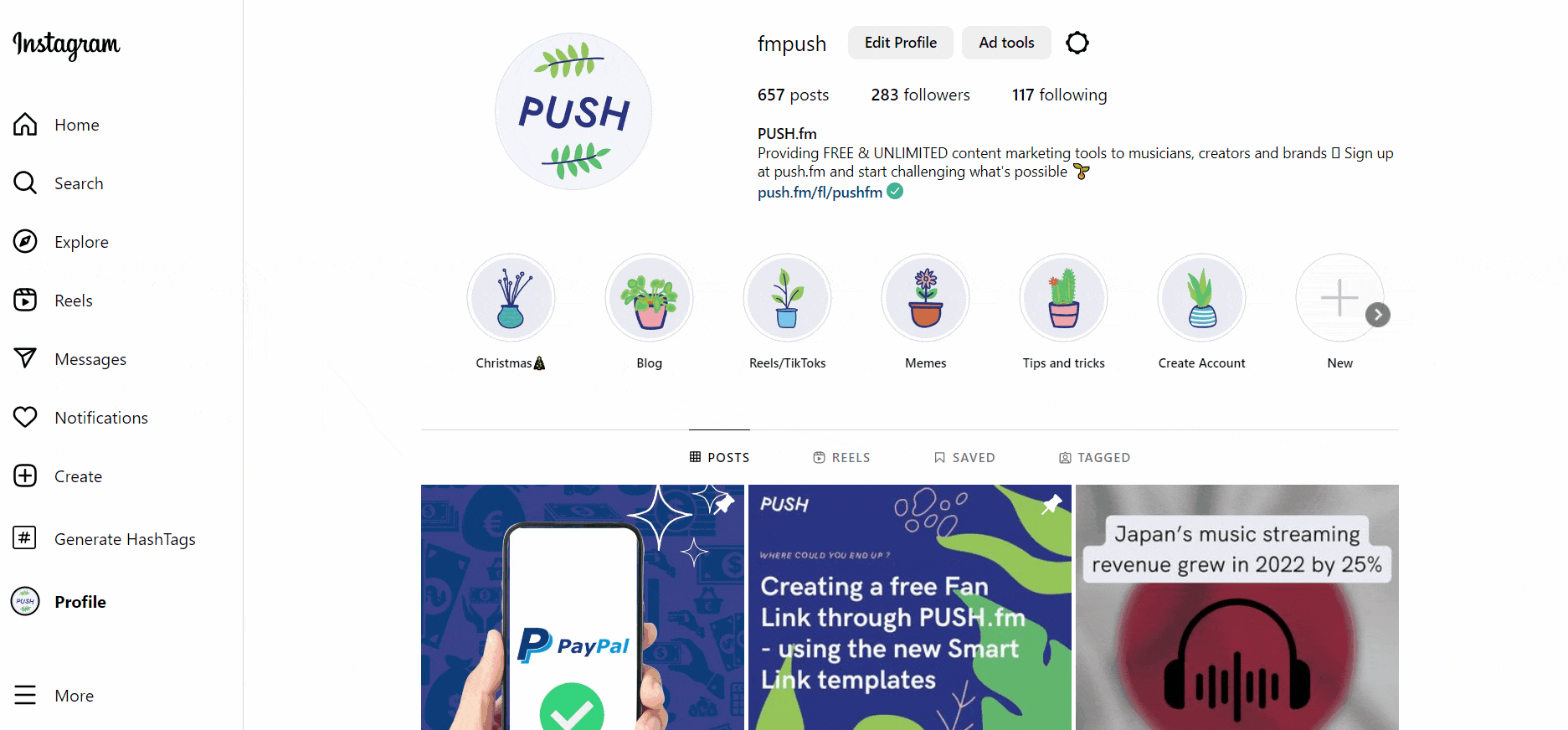 Booking appointments through Instagram has helped cut out the middle-man and free up time for both the client and the business. It allows customers to see your availability. Allowing them to choose a time that suits you both. This saves the back and forth that can occur when trying to book an appointment.
It acts as transparency too, your clients can see the days and times you have free. If you change your opening hours, or days, this will be reflected within your online booking system. There are so many systems out there that take the pressure off you. Thousands of companies use them on a daily basis.
All your client base have to do is head to your booking system and request the time that suits them. This will then be reserved for them providing they input their details, pay a deposit or fulfil any other requirements you might set as a business. You can input your booking link into your bio on Instagram.
Add a booking URL to your Bio Link
However, an even better option is to create yourself a Bio Link with your booking URL inside. A Bio Link is one URL that contains multiple URLs inside. You can customise it, so it represents your business and all clients know what to expect when clicking on it. It's a personalised landing page that combines all your important resources in one place.

You're able to add all social media links, any website URLs, terms and conditions, contact information and booking details in one place. Anyone who visits your Bio Link will be able to access all of these URLs easily. It means your clients will always be able to find the information they need. If they need to know your pricing, they can follow a link to your pricing page.
If they want to see examples of your work, perhaps they'll follow a link to your social media accounts where you share photos or videos of this. Having everything in one URL means your customers will be able to find what they're looking for. Making it easier for them, and you. As a business, you're then not overwhelmed with questions.
How to add an appointment booking system to your Instagram profile
So first, you'll need to create yourself a PUSH.fm account. We offer completely free marketing tools to help any business, brand, or creative. One being, Bio Links. These are designed with your social media accounts in mind. They can contain any URLs that you need to share with your clients. If you haven't already, create yourself a free account.
Head to your PUSH.fm dashboard.
Click the pink Create New Link icon in the top-left corner.
Choose Smart Link from the drop-down options.
Select Bio Link from the Smart Link templates.
Input all relevant data, including a link title, feature image and customise your URL name.
Write a brief description for your customers to see.
Add in all social media, website and any other links relevant to your company.
Include the link to your booking system within these links.
Rearrange your links by importance and change the store logos if you wish.
Check your Bio Link looks how you want it to, and publish it!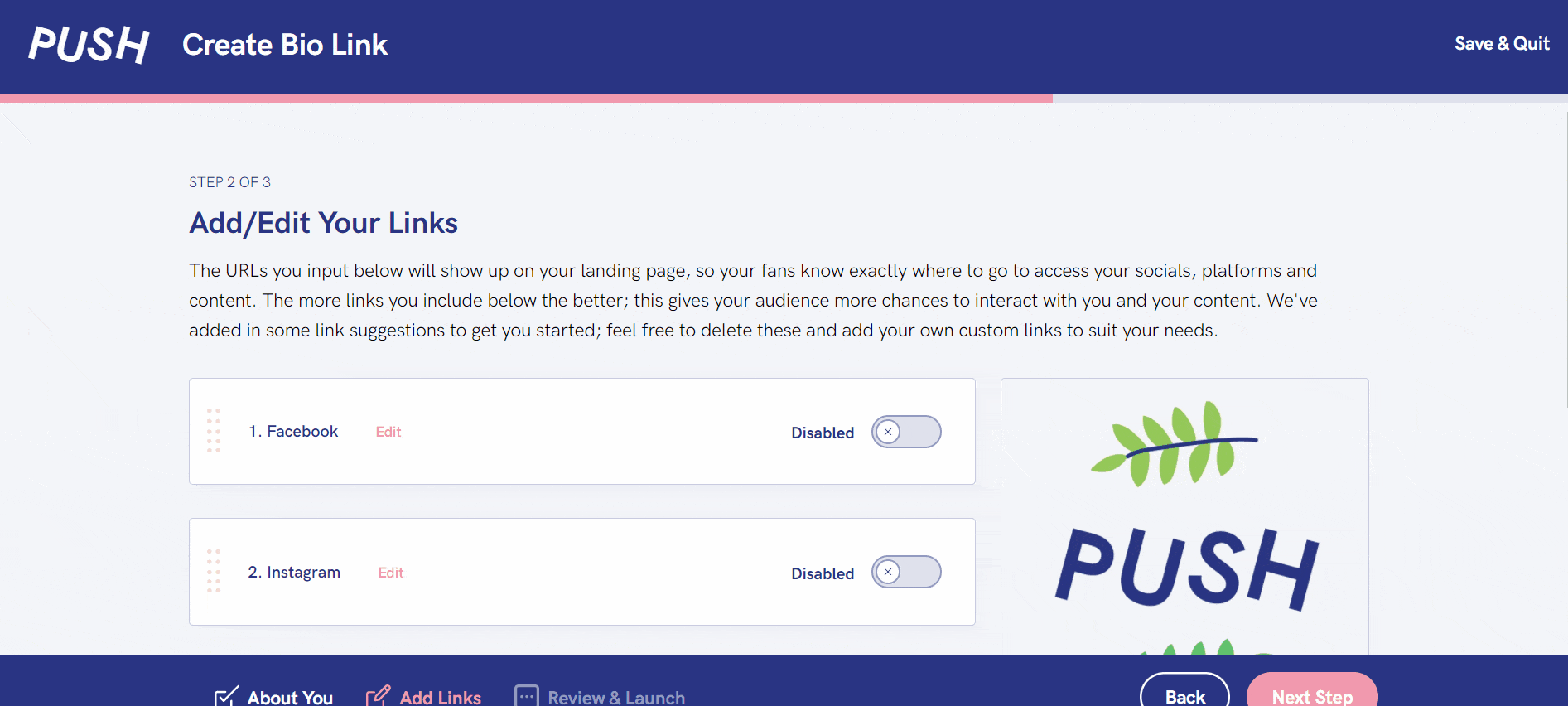 Once you have your appointments set up on a booking system, you can add the relevant link to your Bio Link. There are many platforms you can use for your appointment calendar. A few being; Fresha, SimplyBook.me and Calendly. Set your company up on there by inputting your working hours and times. When someone books through there, it will display as unavailable for other customers.
You can input any of these links into your Bio Link. Anyone viewing your Instagram page will then see your personalised URL. They can head to this link and find your other social accounts, websites, previous work and of course a booking link. The best part about inputting an appointment URL into your Bio Link is, you can place this Bio Link on any platform, or any email.
Share your Bio Link everywhere you can. If you're marketing your business, share your link! It is arguably one of the most powerful marketing tools you can have as a brand or business because it combines everything you want to share in one customised location that's easy to reach and even easier to share! If you haven't already made your own, what are you waiting for?