Following lockdown after lockdown where the world seemed to stand still, music lovers are demanding live shows more than ever. Spotify have noticed the increase in interest and are jumping in. They've got themselves involved with the sale of concert tickets.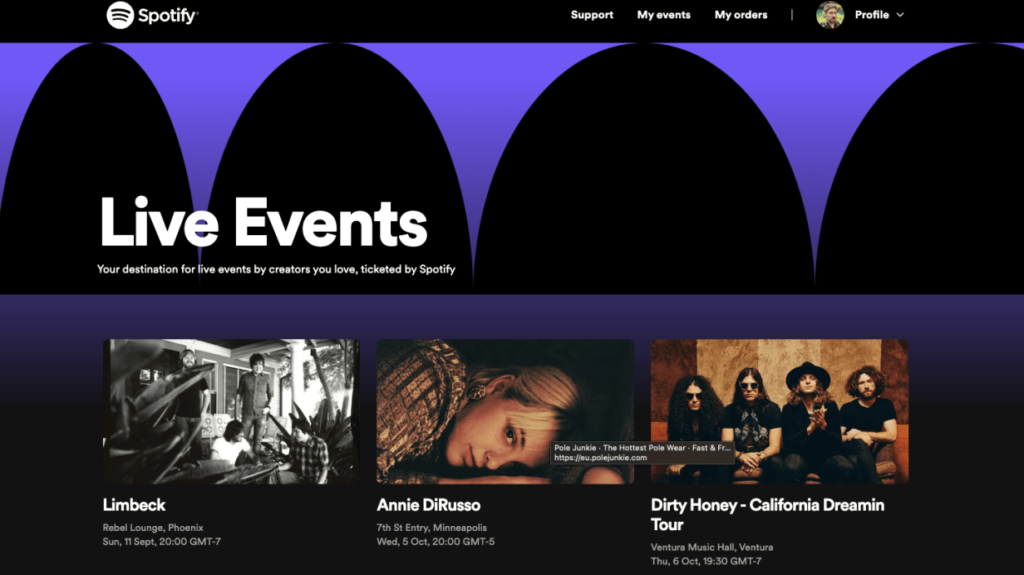 During lockdowns music all turned to the internet. It didn't have any other option. Artists weren't able to perform live, and their fans weren't able to attend events. Due to this, live music was non existent. While we all became more reliant on streaming platforms, live music was certainly missed. After all, it's a completely different experience. One which cannot be recreated online.
Spotify has 433 million monthly active users currently, so they'd certainly have an audience. Currently, they're in the testing stages of selling tickets directly to fans through their new website. It seems we might be heading towards a year of live music being at its prime. With restrictions being lifted, there's nothing stopping artists from performing to a crowd of people.
In order to be able to purchase concert tickets, fans will need to have their own Spotify account. So, by the streaming platform creating this new feature, it's really expanding their current one. You can register for a free account though, you don't need to be paying for Premium in order to purchase tickets. Several artists are listed Annie DiRusso, Crows, Dirty Honey, Four Years Strong, Limbeck Osees and Tokimonsta.
As they move forward, it's likely more artists shows will be added. However, for now, it really is the beginning stage. Spotify have said they may not continue with this avenue. If it doesn't work, they'll simply scrap the idea it seems. The platform already have a Live Events section which supports sales through various ticket platforms. But, with live shows becoming popular again, it seems they want their own part in this process.
"At Spotify, we routinely test new products and ideas to improve our user experience"

Spotify spokesperson
Currently, Spotify are not in control of ticket availability. This is because they're hosting for third party platforms. Instead of being in charge of ticket sales themselves, right not they're acting as hosts for companies such as Ticketmaster. The value of the tickets also aren't decided by Spotify. They have no role to play in the tickets or events themselves. Their part is simply to provide an extra platform for fans to purchase through.
Moving forward it will be interesting to see how their trial plays out. Will they decide they want to launch a ticket site? Or, will they find it's easier to stick to their current role of being a host for ticket companies? Spotify certainly aren't intimidated by a challenge. After all, they've recently partnered with FC Barcelona and taken over Heardle. So, if they think it's worthwhile, we'll definitely be seeing Spotify set up their ticket sales properly soon enough.