Nobody would have expected Spotify and FC Barcelona to team up and create a partnership. However, when you think about it, it's not a crazy idea. In fact, it makes a lot of sense. They're both expressive outlets, music and football. Both are everywhere, so why not? Hopefully this will give you the boost you needed to branch outside your zone for partnerships.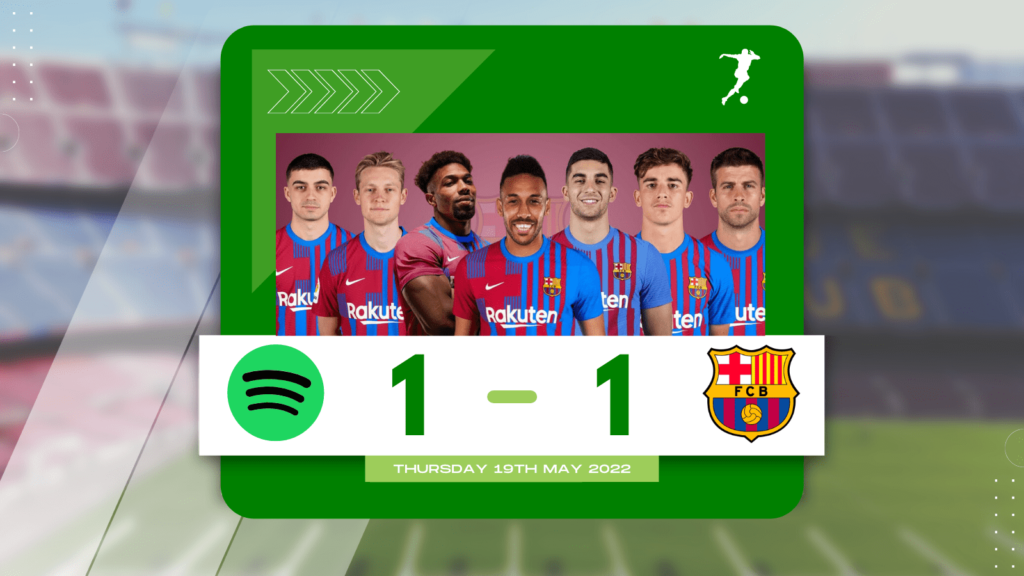 It's been rumoured for some time, but finally Spotify have announced the upcoming partnership with FC Barcelona. It will become official in July 2022. Spotify are going to become the Main Partner for the Club. So, they'll appear on the football team's kits. Not only that, but Spotify will become the Official Streaming Partner. The streaming store have been growing more and more throughout the past few years, and with this partnership they might just overthrow any competition that might have been catching up.
Spotify will appear on both the men's and women's teams shirts for the 2022-2023 season. They plan to work together on the design, so it can be a space to celebrate artists from across the world. It's a lovely idea that they intend to bring different careers and hobbies together through one design. The current Camp Nou stadium will be renamed Spotify Camp Nou, so both partners are really taking this collaboration seriously. The world of music and football will be brought together. Many fans of one will cross over into the other, so it could be the perfect pairing.
Why have Spotify and FC Barcelona partnered?
When you first hear about the partnership, it might sound odd. However, it really does make sense. Most, if not all football fans will listen to music. Whether they're a music fanatic, or they just listen to it on their commutes – they'll be listening in some form. Streaming platforms are the place to hear new music in 2022. Whether you believe vinyl should be in power, or you love the convenience that comes with music streaming, you cannot deny the need for it. People listen to music in their free time. They also play and watch sports such as football in their spare time. Both partners have a huge fanbase. Also, you've got to consider, football clubs have had a whole heap of bizarre sponsors over the years…
Spotify's aim is to connect fans with artists of all genres, across the globe. Barcelona's fans will be thousands of the ones listening to these tracks each and every day. There's a huge cross-over. Football clubs often aim to reach all fans. Often putting things into action to ensure disadvantaged fans can still have access to clubs and share the passion they have for the sport. Spotify on the other hand offer free accounts, meaning you don't have to spend out to listen to the artists you love. Both, have their audience at the centre of their actions. This is where their morals seem to align.
"The vision for the partnership is to create a new platform to help artists interact with Barcelona's global community of fans. "

Spotify
How and why did this partnership happen?
The aim of both is to bring the two worlds together. Giving a stage to both players and artists across the world. This could be fantastic for artists. It offers them a form of promotion they wouldn't otherwise get. Spotify have never taken on something so huge before. This is their first partnership of this size. However, that's how growth works, you can't stay where you started forever. The amount of visitors FC Barcelona see each year could really impact the life of Spotify artists. Also, it allows football fans to discover a wider range of genres and artists.
Spotify said "We also love that FC Barcelona is committed to equality and supporting and cultivating diverse talent." Their aim is to break down any barriers they may meet. It's important when partnering with someone new to have the same outlook and goals. Of course, you might not agree on everything, but as long as the foundations are there, you'll do fine. This is why we always encourage creators to branch out of their niche. You're not going to grow if you're only targeting partners who are of a similar level and within the same industry. If it works, it doesn't matter how different your avenues may seem.
What can music fans and FC Barcelona fans expect to see?
The two are working together to agree on access to in-stadium elements. Spotify want to amplify artists talent. This could be using their speaker systems to play selected tracks and playlists throughout half-time etc. Perhaps Spotify could create interviews with artists that are played on their TV's for audiences to watch during match waiting times. T-shirts are currently being thought of. Both Spotify and FC Barcelona will have a say in how they look. This could be one of their best-selling shirts yet. The logo is cool and modern. It's not like football fans will be walking around in a t-shirt advertising Tinder (Manchester City, we're looking at you)
The music platform has said "more fans engaging with our platform means more opportunities for creators to live off of their art" – the more people using the platform to listen to music means more money and therefore more revenue for artists. They'll be helping the artists to grow. We hope that they help all artists grow, and not just the ones already at the top. The smaller artists are faced with more and more costs, and it presents great difficulty to progress through the stages of their career. Hopefully more artists will be able to make the jump from hobby to career as the platform moves forward with this partnership.