Spotify have released their earnings for the second quarter of 2022. Being able to access their financial earnings enables artists to have a more transparent view of the music industry.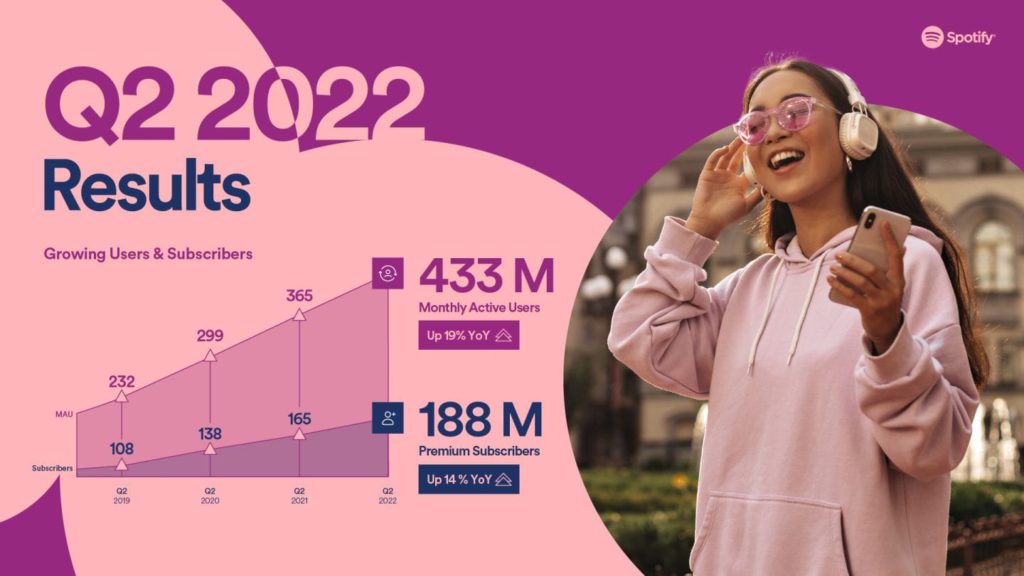 MAU and Subscribers
In the second quarter (Q2) Spotify have seen a huge increase in both monthly active users (MAU) and Premium Subscribers. Monthly active users are the amount of users on the platform regularly within a month. This benefits both the platform and artists themselves.
The more Spotify grow, the larger the chance of artists being discovered. New listeners and deeper insights. For the Record is a win-win. With Spotify's recent partnership, it isn't surprising they have grown.
We expect to see another spike due to Spotify taking over Heardle. The popular music game might lead even more listeners towards the streaming platform. Spotify exploring various avenues lately will certainly set them apart from other streaming stores.
MAU have hit 433 million. This has risen by 19% YoY (year on year). It will be interesting to see how their recent partnerships will impact this further. We might not see the full extent until next year. However, it's certain Spotify will continue to rise. They're doing all the right things.
Premium Subscribers have also risen. They now sit at 188 million, which has increased by 14% YoY. Again, this is something we'd expect to see rise again due to their recent expansions. More and more people are opting to remove adverts and pay for their subscription.
Empowering Creators & Connecting Fans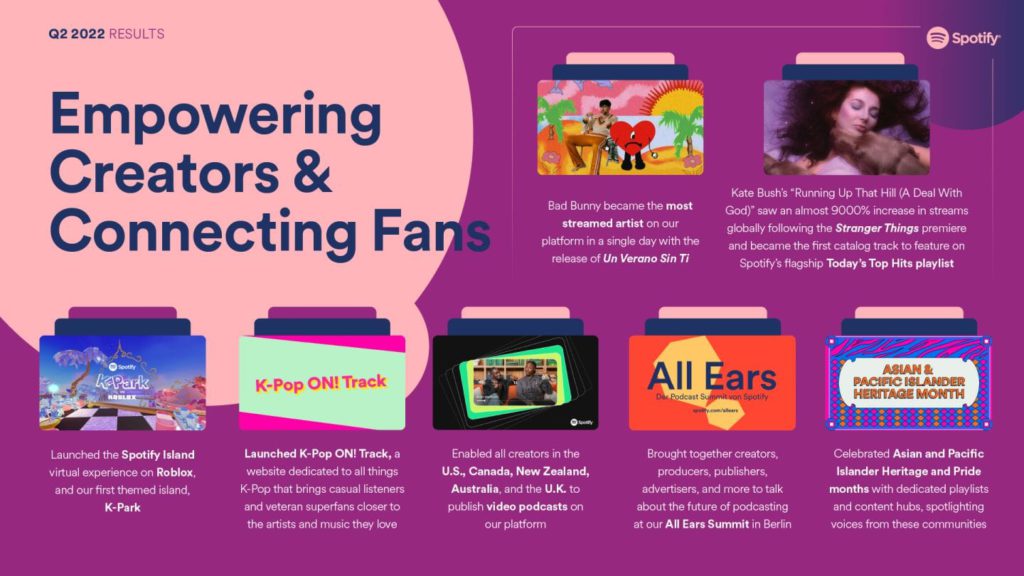 Spotify have released information about what's performing well on the platform currently. For example, Bad Bunny became the most streamed artist. While Kate Bush made a comeback with the rise in popularity of her song Running Up That Hill. The popularity came from the recent series of Stranger Things.
The platform launched Spotify Island which is a virtual experience run through Roblox. This is yet another way of the store reaching out to various audiences. Video Podcasts have been introduced to various countries. This gives creators the chance to try out new formats and media.
Various user experiences have been built on. Spotify continue to update their platform so users and creators are getting the best experience possible. Adding their updates into an easy-to-read article allows artists to feel involved. Transparency is appreciated within the music industry.