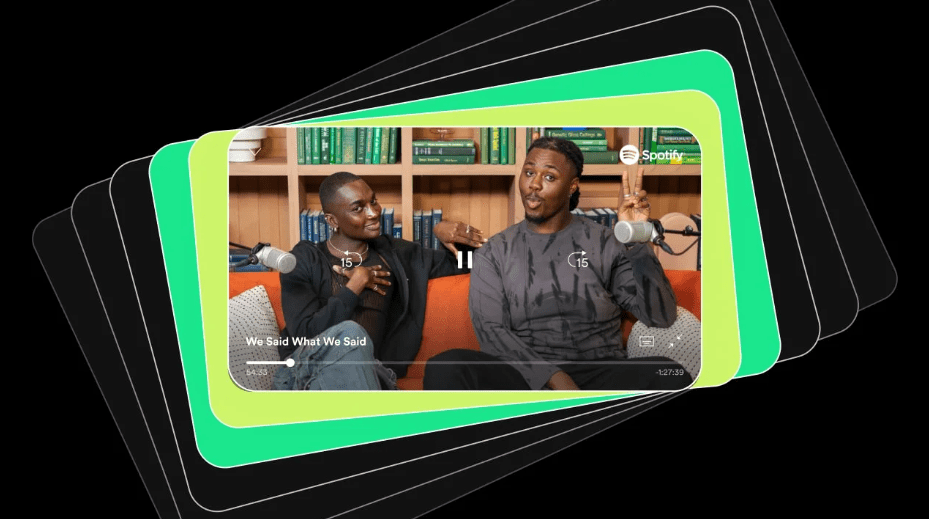 Spotify video podcasts are now in six new countries
Spotify has expanded its video podcast availability to six new countries. Now, that's a total of 12 countries that can access this visual feature. Podcast creators in these locations are able to add a visual element to their audio sessions. Using Anchor, Spotify enabled the use of video in; US, UK, Ireland, Canada, Australia and New Zealand – this however has now been expanded again. Now, the following countries can also access this – Germany, France, Italy, Brazil and Mexico.
On the company's For the Record blog, they stated "These are markets with especially strong podcast creator communities that have shown a healthy appetite for new ways to create and experience podcasts." It means creators that typically make visual content can now utilise the platform in the most effective way for them. Creatives uploading to platforms such as YouTube and Shorts can post to Spotify in a similar manner. Instead of the typical route of creating YouTube videos and then taking the audio to post a normal Podcast to Spotify.
Rooster Teeth hosted a panel
It's come to light in a recent panel from Rooster Teeth, that younger listeners don't see a difference between video and just audio. By this it suggests they don't see a need for one over another. However, as a whole, the majority of podcast listeners do prefer having video over just the audio alone. This is why YouTube has and always will be such a popular platform. Allowing your audience to put a face to the voice is important for many. They'll feel they can connect with you more. It allows them to understand how you're feeling through your body language.
The video option within Spotify first appeared on the popular podcast The Joe Rogan Experience. This was rolled out last year within the US first. Then it expanded in April this year. Allowing more and more individuals to create and watch. Spotify aren't yet sure whether they'll expand it again or not. They already cover many video heavy countries. It's unsure how much further it will go. However, since acquiring Anchor in 2019 they certainly have all the resources they need to continue with the expansion.