Linktree offer a Premium plan which costs £11.50 per month, equivalent to $14.63. However, with PUSH.fm, you'll only ever pay $5 per month for the Premium option. Create and customise unlimited Smart Links for a fraction of the cost.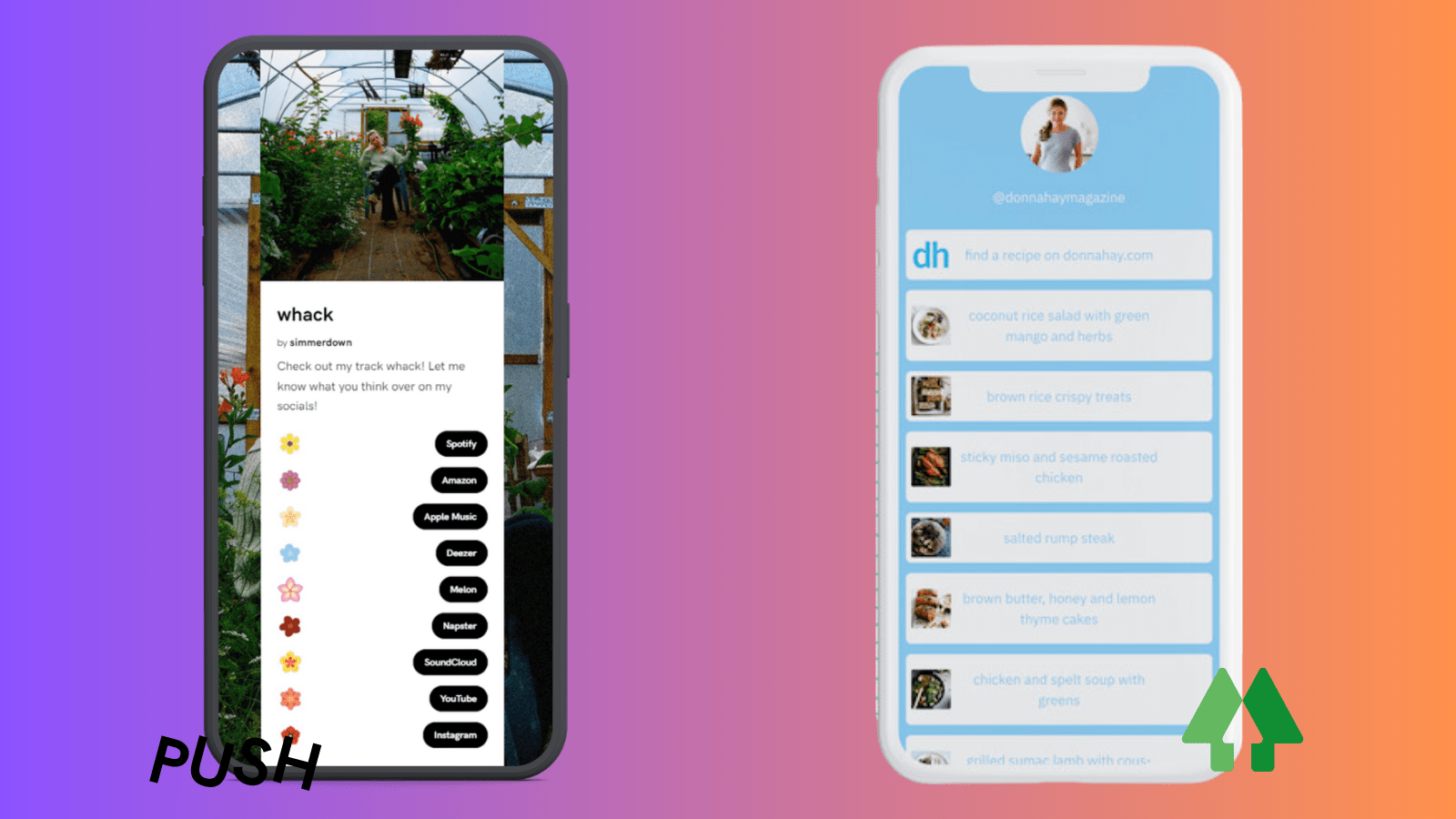 Linktree is an online platform that allows users to create Smart Links. These links can be customised to represent each individual creating them. While Linktree offers template options, these are only for design aesthetics. They don't offer templates depending on the link type. To fully be able to explore their features, you'll need to upgrade your account.
PUSH.fm are an online digital marketing company. Offering free tools for all independent artists, brands and businesses. Smart Link templates can be selected, making it easier for a music artist to create their personalised link vs an event's planner creating one for their promotion. To access every feature offered, you will need to upgrade.
Linktree or PUSH.fm?
Let's break down the good and the bad of both Linktree and PUSH.fm. Both are online companies offering marketing tools. The main differences between the two are, PUSH.fm is largely used by independent musicians, and creators with specific events or products to promote. Linktree on the only hand, only really promote Bio Links.
Again, both Smart Link providers offer customisation features, but with Linktree you will need to upgrade to have any form of control over your link. With PUSH.fm, you can customise your link whether you upgrade or not. Upgrading with PUSH only costs $5 per month, and this will get you Custom Backgrounds and Competition links.
If you're not interested in either of these tools, then you can continue with the free plan with no encouragement to upgrade. Linktree however, offer multiple upgrading options. They almost gate keep some of their best tools. This encourages users to upgrade, because they've invested so much time into creating their link, they need it to work.
Pricing tiers
As mentioned, Linktree offer various upgrade options, whereas with PUSH, you either have the free account or a Premium account. There is no in-between. Linktree does offer some fair pricing before it gets to its Premium option, but you have to study their breakdown to see exactly what you're getting. Let's take a look below:
Linktree pricing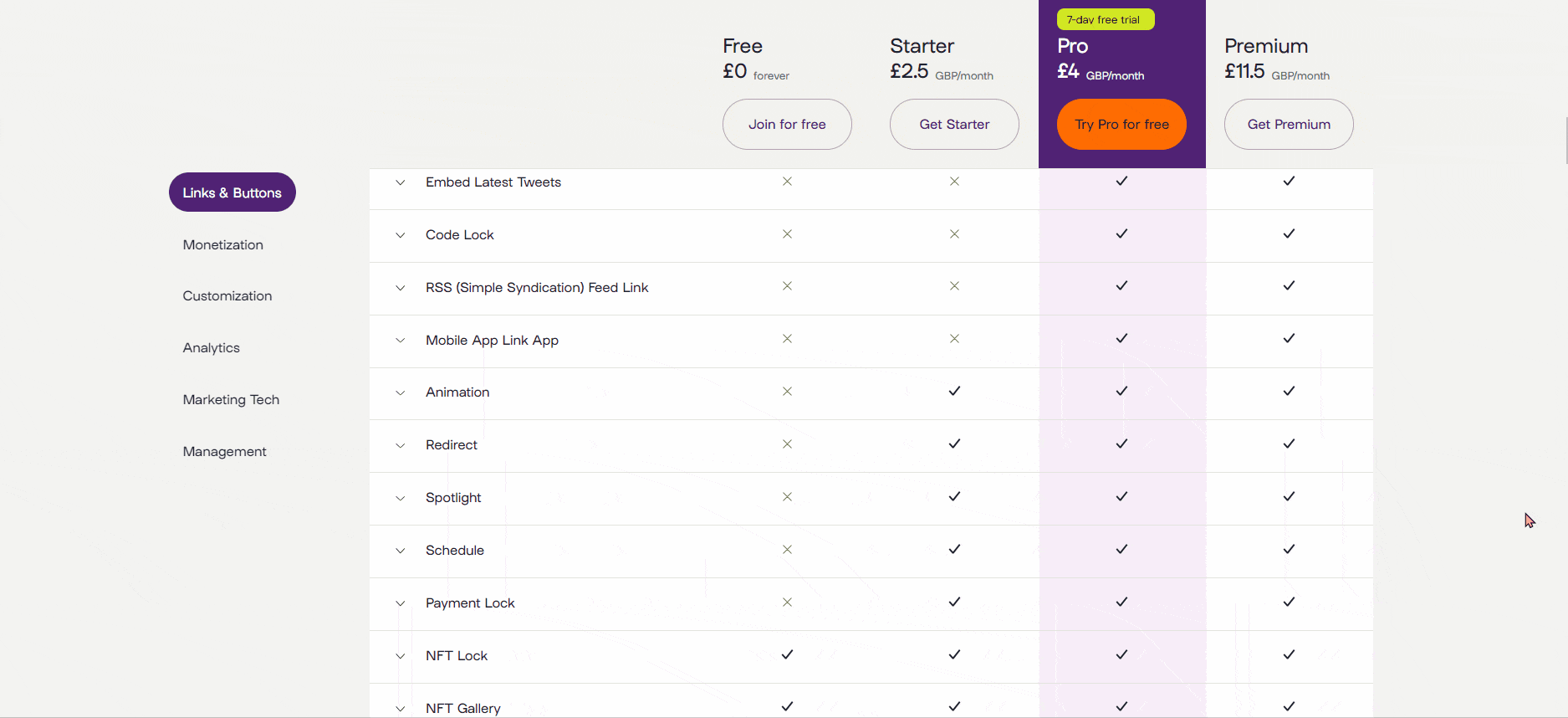 As you can see from the GIF above, Linktree's pricing breakdown is quite intense. There are so many features broken down that it's hard to really see which tier has what. You can't just upgrade your account to access all features. Instead, you need to look down the list to see if the features you're looking for are on the tier you're looking to upgrade to.
There are a lot of upgrade options, but to access all features, you'll need to upgrade to the Premium account. This will cost £11.50 each month. Their most basic plan doesn't offer a lot of customisation features. Also with their lower prices plans, you'll need to wait longer for a response from their customer service team.
PUSH.fm pricing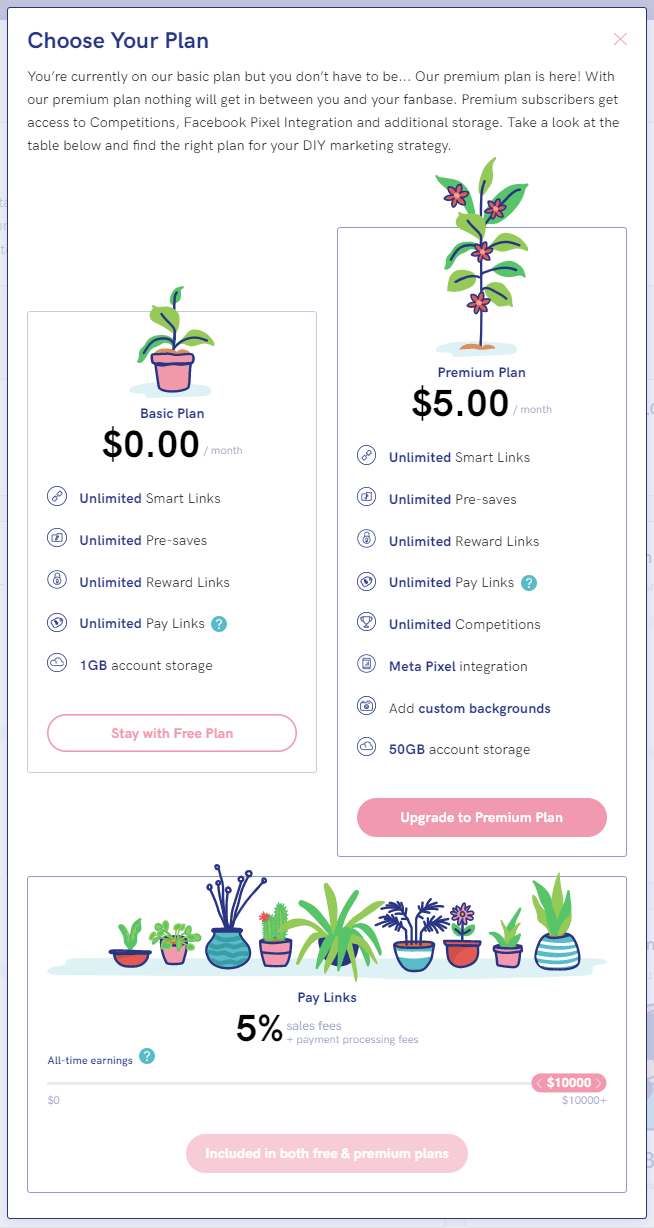 As you can see above, the PUSH.fm pricing options are a lot simpler. You can use the free version which offers unlimited Smart Links, as well as other marketing tools. Or, you can upgrade to access extra features. This upgrade is just $5 per month and allows you more storage, as well as the use of Competitions and Custom Backgrounds.
If you're looking for the extra customisation features, or extra storage space, you can upgrade for a lesser cost than Linktree offer. PUSH free accounts however, still receive the same level of customer support as those with a Premium account do. There is no gatekeeping tools or offering a huge incentive to upgrade.
Which Smart Link provider should you choose?
Ok, so obviously we're biased, but we feel we offer the same, if not a higher quality of tool kit that Linktree offer. However, our prices are overall cheaper. With PUSH, you can customise your links easily, so there is no pressure to upgrade. If you want to access the extra features however, you can easily do this.
With a Premium cost that won't break the bank, and no contracts to be tied to, we feel PUSH is the better option. You'll receive an excellent level of care. When looking into Linktree, there are often complaints to be had by customers. This could be down to the lack of response from their customer care, or just their products not working as they should.
This isn't an issue at PUSH because we will reply within minutes of seeing your email if we can. We don't add a waiting period. If we see you've contacted, we will reply. We're forever taking user suggestions on board as we want the platform to be the best it can for you. We're far more than a link in bio company offering other free marketing tools.