You could be selling out arenas before you know it, just like popular music artist Francisca Valenzuela. Creating an Event Link is free and could be the promotional, marketing tool you need to ensure your tour tickets sell!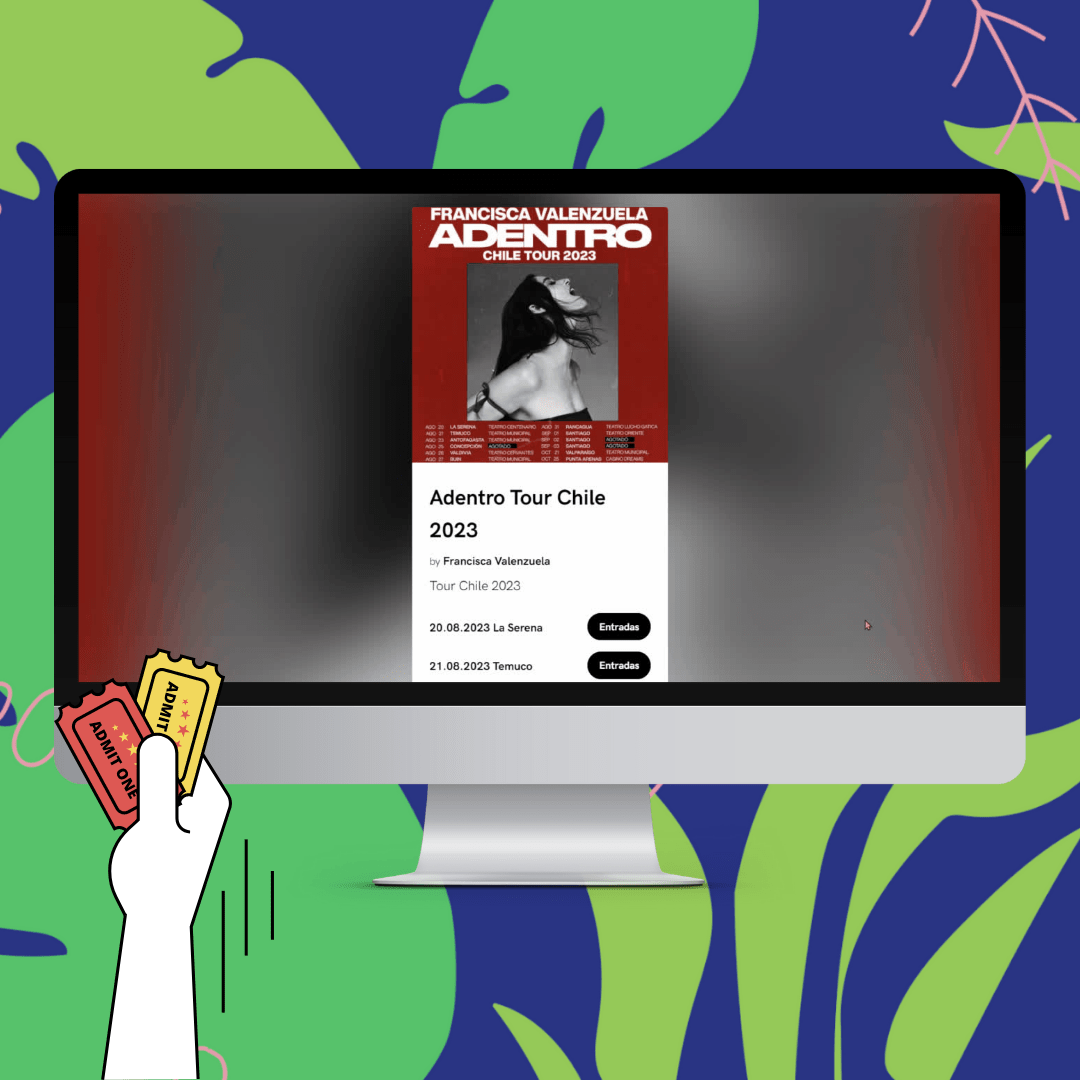 If you're looking to sell out an event you're organising, you should be using an Event Link. Why? Well, Event Links keep everything in one place. Your audience can find your social media accounts, listen to your music, see previous tour pictures and videos and most importantly buy tour tickets all in one place. Keeping things simple but effective.
You can direct them to all of your promotional material, from one URL. It's convenient for you because you're not spending time sharing multiple links. Also, it's useful for your audience as they can find everything they need. Having all your marketing under one roof helps sell your event. If someone comes across your socials, and loves your work, maybe they'll buy a ticket.
Francisca Valenzuela
Francisca Valenzuela is a singer, born in San Francisco, US. Her parents are Chilean-born scientists called Pablo Valenzuela Valdés and Bernardita Méndez Velasco. She is one of five children and the only female child within her immediate family. Despite being born in San Francisco, Francisca moved to and attended school in Oakland, California.
She found her passion for music from a young age and by the age of 7 was partaking in music lessons. By 10 she was playing the acoustic guitar and studying classical piano. Later on, once she reached 12 her family moved to Santiago as this is where the majority of her extended family lived. This allowed her to attend Saint George's College, an incredible private school.
Due to her heritage she is fluent in both English and Spanish so as she continued to expand with her musical talents, she began composing across both languages. She began creating lyrics through poetry. Finding a passion for writing, her parents passed her work to a friend working at Stanford University, which set her on an incredible path for the future.
She was able to have her work published. As she expanded her passion for music and turned it into a career, she would share this poetry on tours. Everything she now performs has been created by her. From the lyrics, to the composition and instruments played – it's all come from her own mind and talents. This has allowed her to have a fantastic career so far.
Tour Event Link
Francisca has created her own tour link which has every date she is performing as its own link within her URL. This is a really useful way of creating an Event Link because it means any of her fans can find the date that suits them and be taken directly to the ticket purchasing site. All you need to do is click on the link in her bio and scroll until you find your date.
This takes the stress and pressure off fans. Whenever it comes to purchasing tour tickets, especially for artists of Francisca's size, it can be extremely overwhelming. Fans have to find a verified ticket seller, then find the relevant date, then try to find the best seats possible. If there aren't any good tickets on that merchant, they have to try another.
Whereas, creating an Event Link with every date provides your fans with a trustworthy merchant from the start. They don't have to search multiple websites. What's available through your link is it. It takes any hassle away and makes the process streamlined. Francisca has cleverly created two Event Links. One for her Mexico tour and one for her Chile tour.
How can you use an Event Link?
As Francisca has displayed, you can add every tour date as an individual link on your landing page. Or, perhaps you are offering tickets across various merchants. If that's the case, why not add links to each site, for example; Ticketmaster, Gigs and tours, Eventbrite etc. This way, your fans can click on the website that suits them best, or they can try each one for the best seats.
Within your Event Link, why not include your social media accounts, and links to your music on YouTube? This will allow anyone who isn't yet familiar with your content to have a listen and perhaps decide to come and see you perform. Anyone not following you on social media can now easily do this. Your landing page is essentially a mini website, cutting out the hassle.
Event Links are just for musicians either, you can use them for any event you have to offer. If you're selling tickets to an equestrian event, or an outdoor cinema show – you can use our free marketing tools to create an Event Link. Whatever event you're hosting, if it requires tickets, you'll want to create an Event Link.
Keep everything in one place and make it easier to market yourself and your gigs. We offer a whole array of marketing tools for you to explore. Have a look at Francisca's Instagram account. There you'll see how she clearly displays her links within her bio. Try one for yourself ahead of your next event and see just how much easier it makes promotion!