If you have an event coming up, you likely have a lot of information to collect. You might need to let everyone know where they can buy tickets, what's happening at the even and even some social media links. Creating an Even Link through PUSH.fm will allow you to keep these links all under one URL.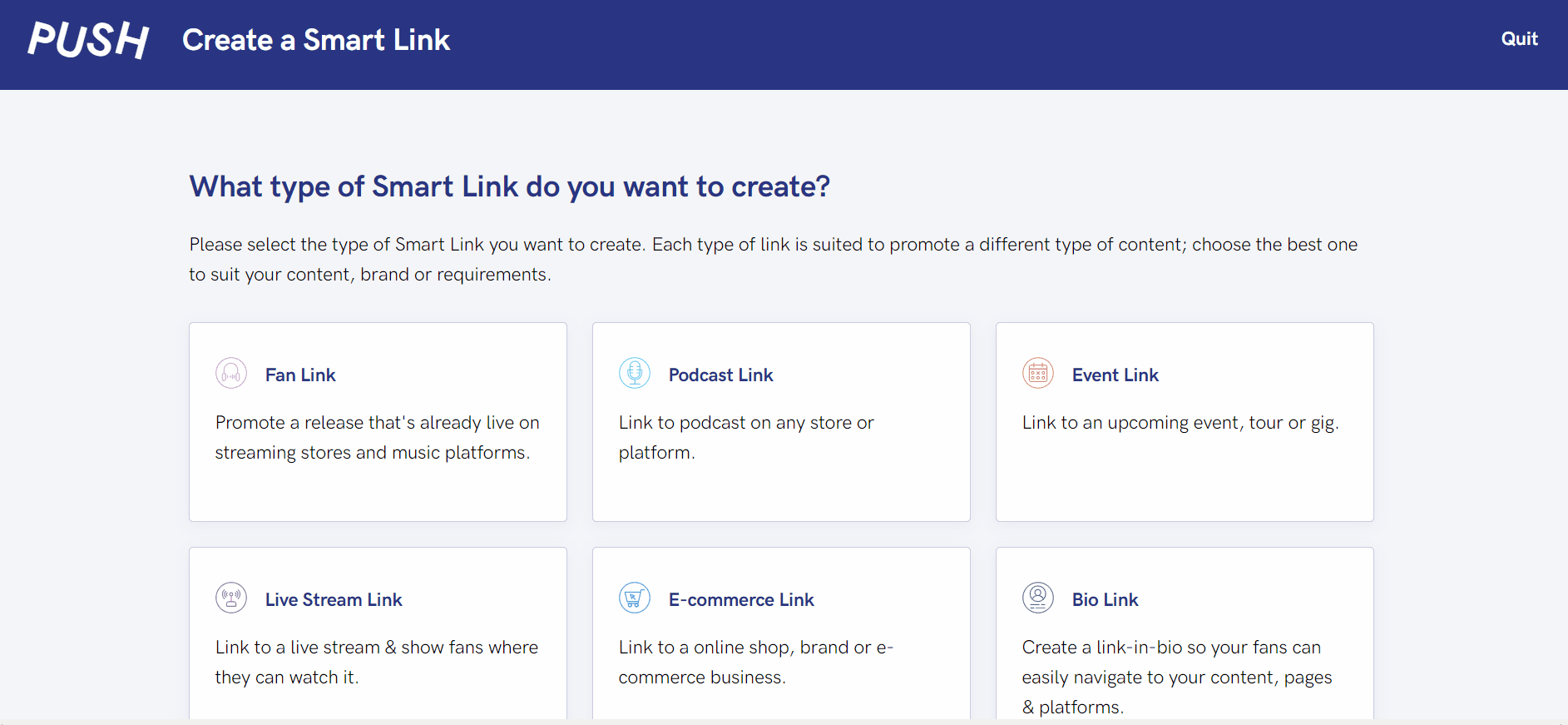 Creating an event takes a lot of work. You need to market for the event, otherwise how will anyone know what to expect, or even that the event is taking place? You'll also need to let everyone know where they can buy tickets. How much a ticket costs. Any terms and conditions about the event. If you've hosted other previously, you might want to include your social media accounts, so they can see images from previous times. All of this will help drives sales. No one is going to attend an event they know nothing about. So, it is important you provide potential customers with all the information you can. Putting it all under one customised URL will save you a lot of time and will ensure all the relevant information is easily available.
How do you create an Event Link?
You'll first need to create an account with PUSH.fm. Once that is set up and ready to go, you will need to head to the toolbar on the left-hand side. There you'll see a pink plus symbol. Click on this and head to the Smart Link option. From there, you'll be taken to our Smart Link templates, select the one that says Event Link.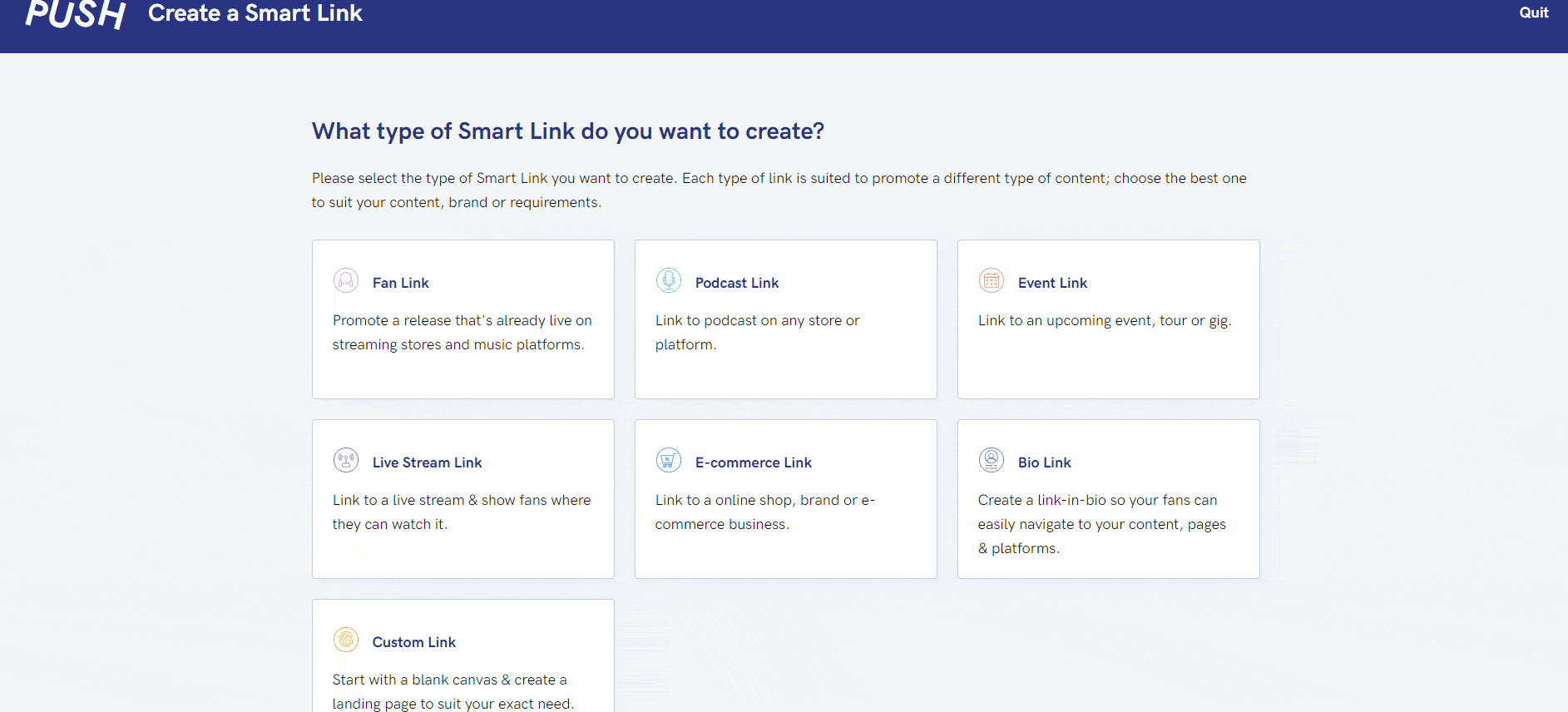 From here, you'll need to add your event title. This should be exactly what you're branding your event as. Don't call it something similar. Make sure it is the same name that you're planning to promote. This will be the first thing anyone clicking on your Event Link will see. You can add in the organisers if you want to. This part is optional, so you don't have to add anyone in. However, if you're working with various companies to organise an event, it might be a good idea to include their names here. You'll have the option to add an event description. Again, this is optional. However, we would advise you to consider adding a description. It will tell your potential customers exactly what they need to know. It's your chance to sell your event and secure sales.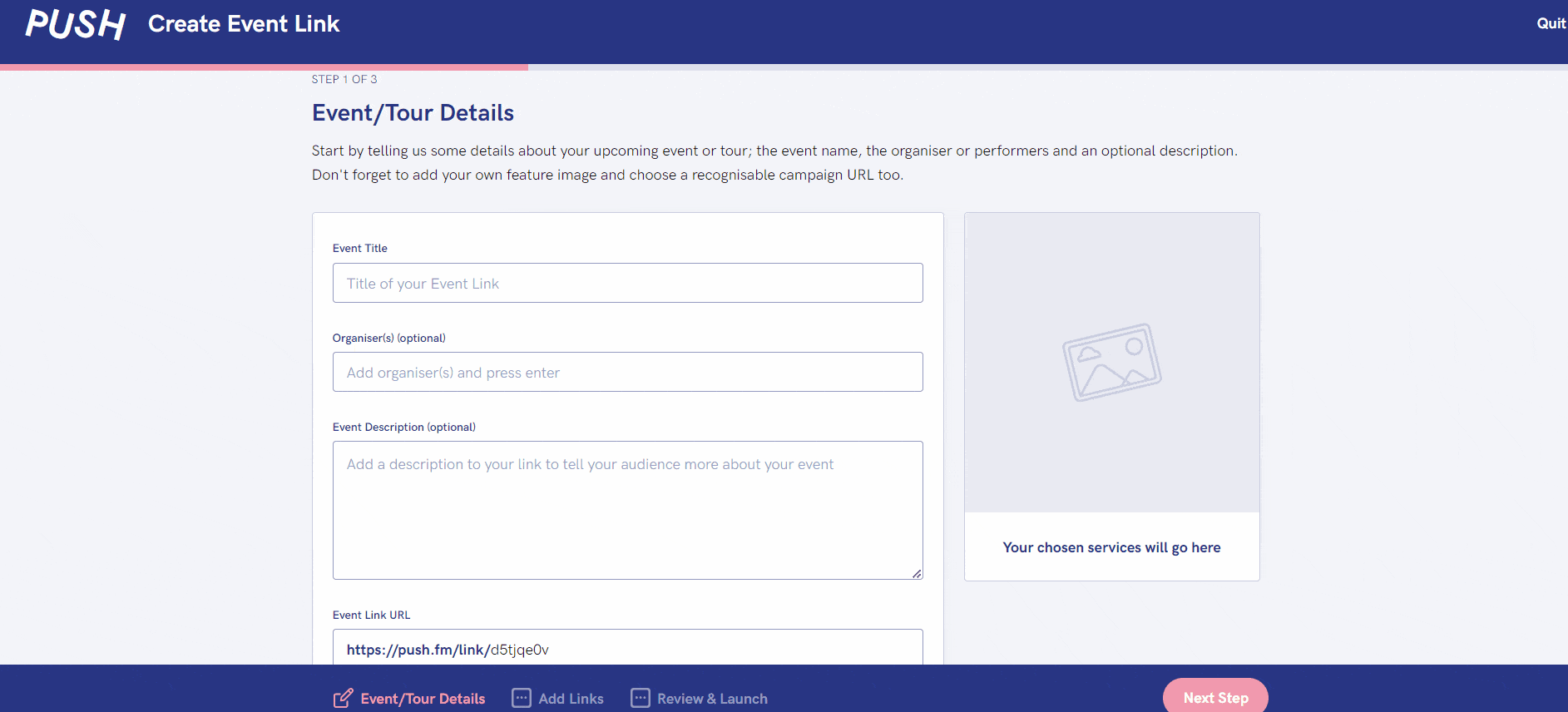 You will need to add a photo to your Event Link. This could be a logo or a picture from a previous event. Perhaps you're organising a tour for an artist. If that's the case, why not use a photo of them performing live, or artwork from a recent photoshoot. Think about your image choice, so you know anyone coming to your Event Link will be drawn in by the best possible photo. You can customise your URL at this stage too. We'd recommend naming it after your event. This way, your link stands out from any others. It makes it obvious exactly what it's for.
Once you've completed the first page, you can head to the second page where you will add your links. It's up to you how many places you make tickets available on and which platforms you choose. You need at least one link, but can add as many as you like. Add your own URL if you want to include your website. You can see we have done this in our example below. Edit the text if you want to personalise your link even further. Once you're happy with your link, head to the final page to review it. You'll need to add a campaign name which only you will be able to see. This will help you tell your Smart Links apart when you have multiple running. If you're happy with how it looks, hit that launch button!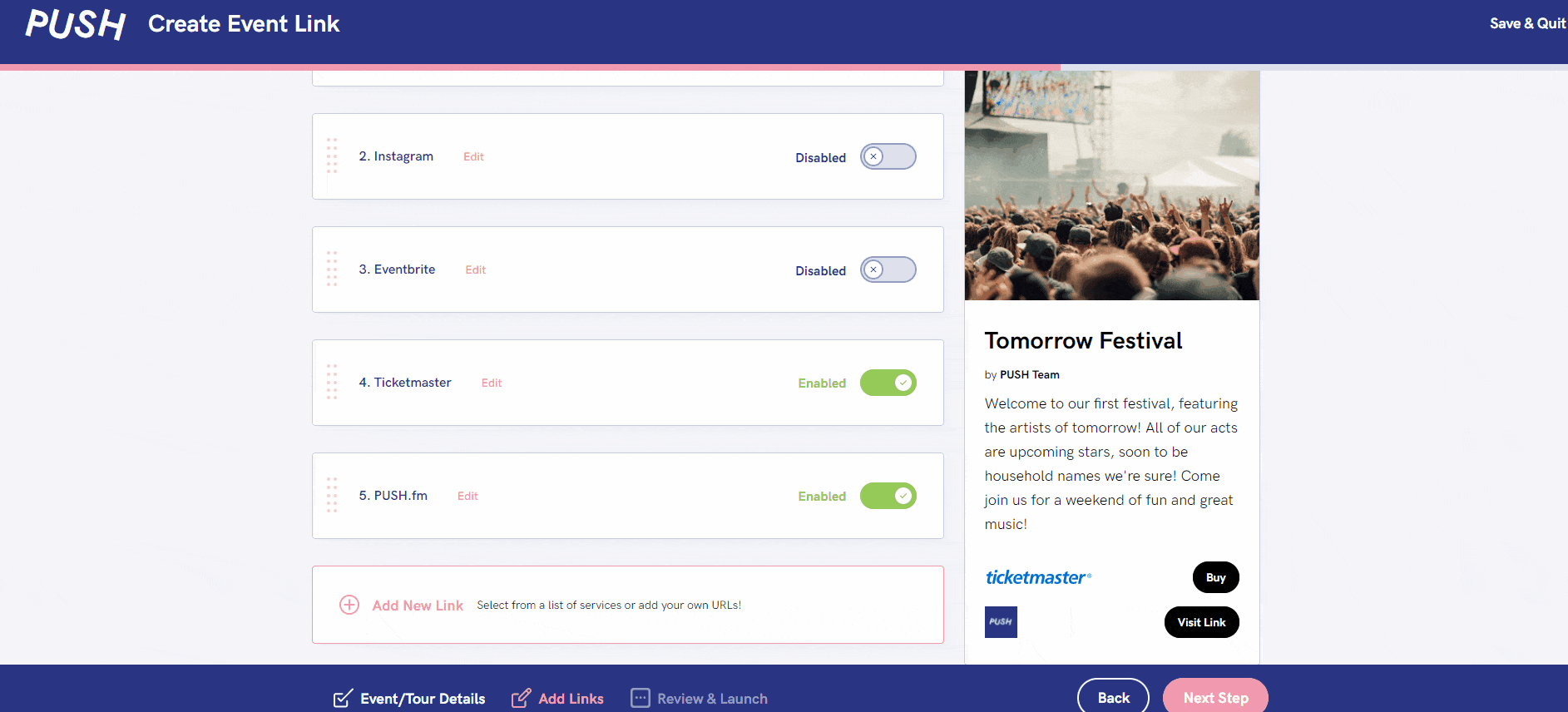 Event Links with PUSH.fm
Through PUSH.fm you can access unlimited Event Links for free. There is no catch. If you go with our free campaign you will be able to create as many links as you like. The storage limit is 1GB. If you decide you need more space, you can upgrade your account for just $5 a month. There are no rules on which links you can use. You could create links for each template we provide. Or, even just create multiple from one template. The choice is yours. Each link will have its own coloured tag, so it will be easy to tell them apart within your Smart Links section of your account.
If you're creating an event you should consider making yourself an Event Link. This will help you keep track of your different URLs. Also, you'll be able to promote yourself and your event easily to potential customers. Everything in one place helps both you and your clients. They can access all the information they need from just one link. It's likely creating your own Event Link could even boost sales.