If you're creating a podcast, you want people to listen to it, right? How do you plan to promote it though? Unfortunately social media platforms such as Instagram only allow one link per bio. This can cause difficulties if you have more than one platform you upload podcasts to. Did you know, using PUSH.fm you can create a Podcast Link for free?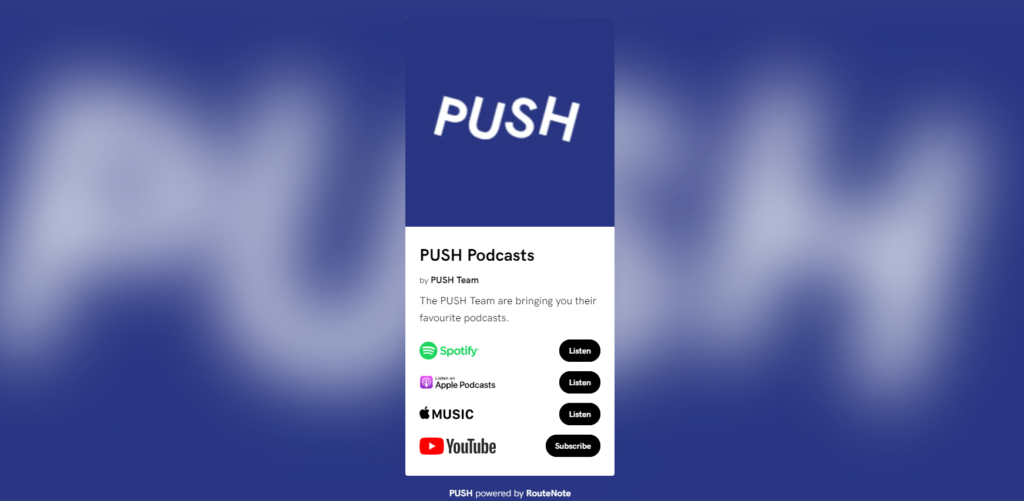 Podcasts are becoming everyone's new favourite thing. It's like the good old days of cassette tapes. Stories you can take on the go. There's so many, they're constantly growing in popularity. Many of your favourite comedians, YouTubers, writers, and content creators will have found themselves setting up podcasts. It's another way of getting their content out there. People can listen while on the move. You can't always watch a YouTube video on the go. If you're driving or on your commute, it's not possible to watch a video. However, many YouTubers have found a way around this, by turning their videos into podcasts.
How do you create a Podcast Link?
First you'll need to head to PUSH.fm, if you don't already have an account, then sign up. It's free! Then head over to the pink plus symbol on your toolbar. You'll see the option to create a Smart Link. From here, simply select Podcast Link and follow through the process step by step. You can see below the overview of your Podcast Link creation process.
Then the rest is up to you. You'll need to enter a source link on the first page. This is where our auto-lookup tool works its magic. It will locate all store links where your podcast is available. These will be displayed later on in the process. From here, you'll then go on to adding your podcast title. This is usually automatically drawn from your podcast URLs. However, if you want to change it, you can do so. Keep in mind that this is the title your fans will see, so make sure it represents your podcast well.
You'll also need to add the artist name if this hasn't been picked up automatically. Let everyone know who the podcast is by. Add yourself a description if you'd like. This will explain to people what your podcast is about and why they should listen. It's a great way of adding some personality to your links before anyone has the chance to try them out. If you want to use a different image to the artwork that is connected to your podcast. Simply delete the original artwork by pressing the pink delete icon. From here you will be able to add your own image and personalise it to you.
Next, is the adding links stage. As you can see they should have all been picked up by our lookup tool. However, you don't have to include every link within your Podcast Link if you don't want to. The choice is yours, and you can remove any stores that you don't want displayed. Equally, this is your chance to add various other links we may have missed. For example, you might want to include your social media accounts. Anywhere that you want your fans to be able to find you should be included here. After you've checked and checked again, you're ready to launch!
Check out the process below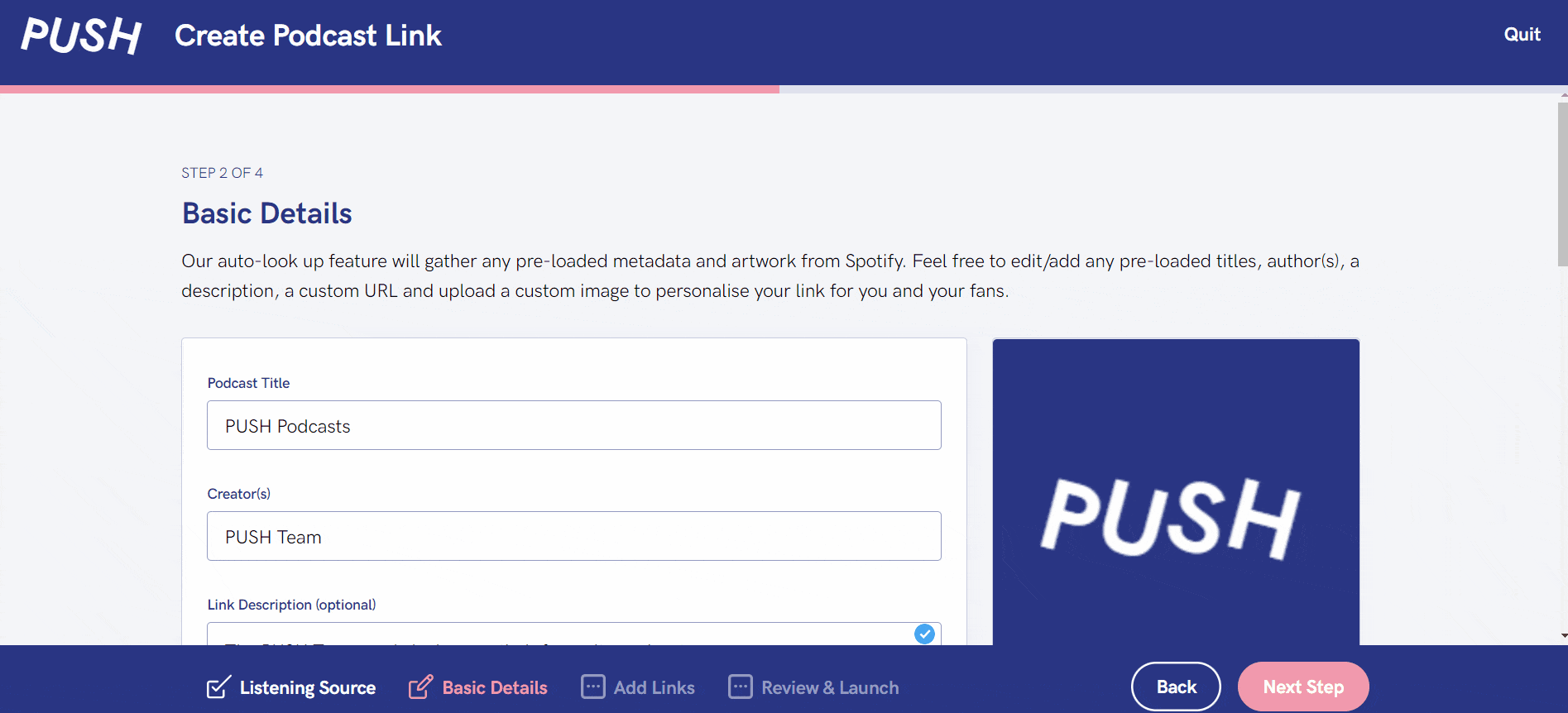 Podcast Links with PUSH.fm
With PUSH, you can access unlimited Podcast Links for free. Absolutely no cost or catch. Our aim is to provide creators, businesses and brands with the tools they need to succeed and promote their content. This is why we have ensured our features can be accessed by anyone. You can create as many links as you require. There is no rule set on which Smart Links you can use. The easy way to tell them apart is through their tags. When you have created a certain type of link, a tag will be added to it. This way you can easily see which link belongs to which category while looking at your Smart Link folder.
Anyone who has set themselves up with a podcast service should consider creating a Podcast Link. You may only distribute to one store, but it's likely you will still have other platforms you want your audience to find you on. For example, you might want to add your social media accounts into your URL. That way everyone interested in your podcasts can then check out other aspects of your life. It's a great idea for those of you who create both podcasts and YouTube videos at the same time.