A Smart Link can open up new doors for any creative, or business. They allow you to compile multiple URLs in one easy to reach customised link. Share your creativity and compose a brand image that speaks for you. Keep reading to find out how to create your very own!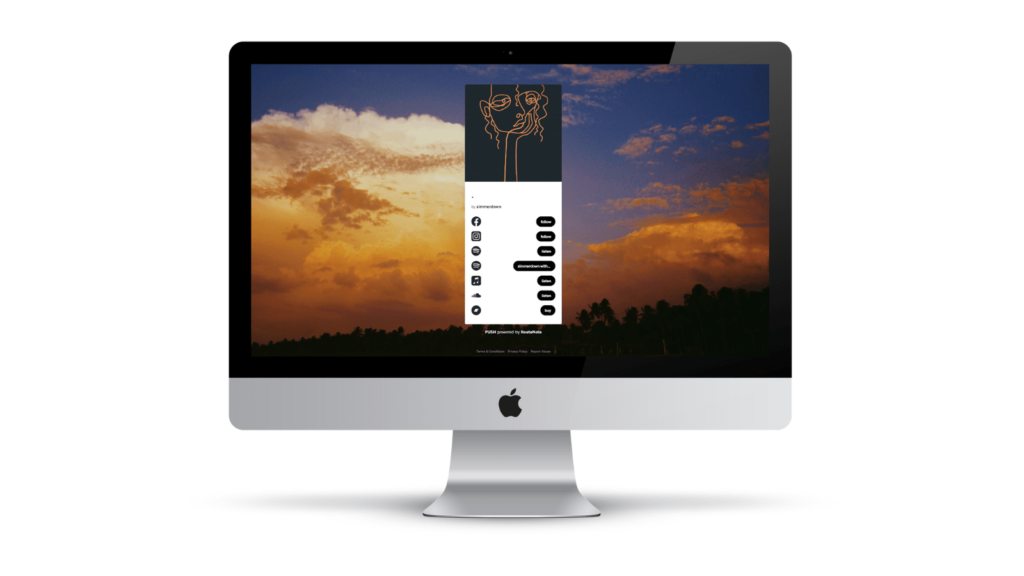 Are you trying to create a Smart Link but don't know how? Don't worry – this comprehensive guide will walk you through the steps of setting up your own customised Smart Link in just a few minutes. With easy-to-follow instructions, you'll be able to quickly and efficiently create a robust, powerful link that gives your business, or brand a competitive edge. With PUSH, we have a range of templates, so you can create a Smart Link that works effectively for you.
Choose your link variations and content destination
Before you can create your Smart Link, you need to decide what content destination it should lead people to. Do you want them to be directed to different pages on your website, or do you have specific landing pages for certain audiences?
Your Smart Link can contain as many URLs as you require, so you can add in all relevant information. Whether that's various links to different pages within your site, or various channels such as social platforms promoting your content.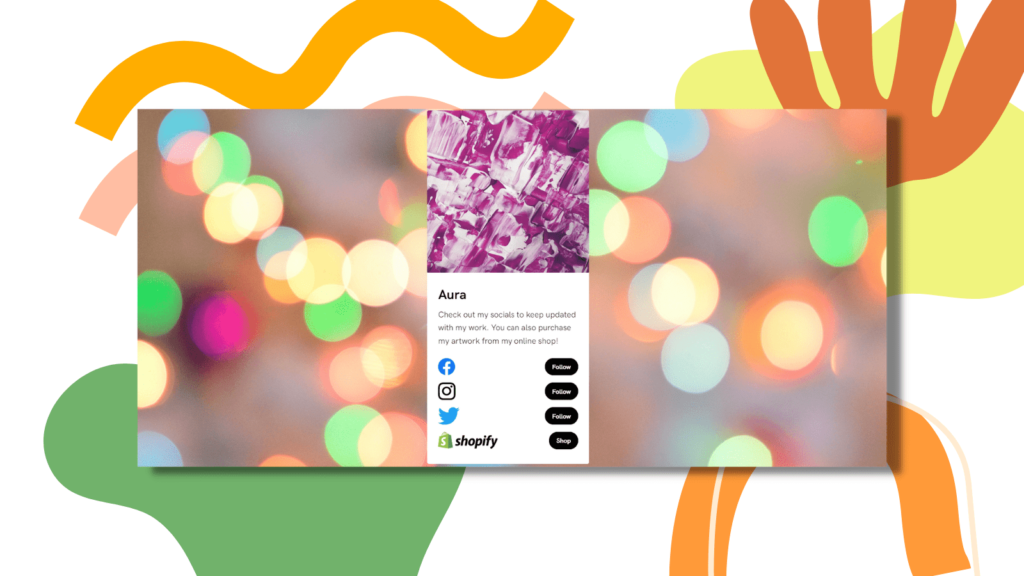 Your Smart Link can be updated at any stage. So, if you want to add in extra URLs, or information within your links changes, you can easily rectify this. Your URL will be customised to you – you're able to name it after your brand, or content you're promoting. Every link within it will have a relevant destination.
Consider what you want this link to include. It will largely depend on what you're promoting. If you're promoting a new track with a Fan Link, you won't want links to all your other music. However, if you're a brand, you might want links to everything relevant to the company.
Smart Link templates
At PUSH, we have 7 different template options to choose from, so you can find something that works best for your brand. The template options you can access are; Fan Link, Podcast Link, Event Link, Live Stream Link, E-commerce Link, Bio Link and Custom Link.
These allow you to make unique links based upon the industry you're in. If none of the templates suit you, we'd recommend making a Custom Link. This will allow you to make a complete unique link with no requirements. You can start from scratch.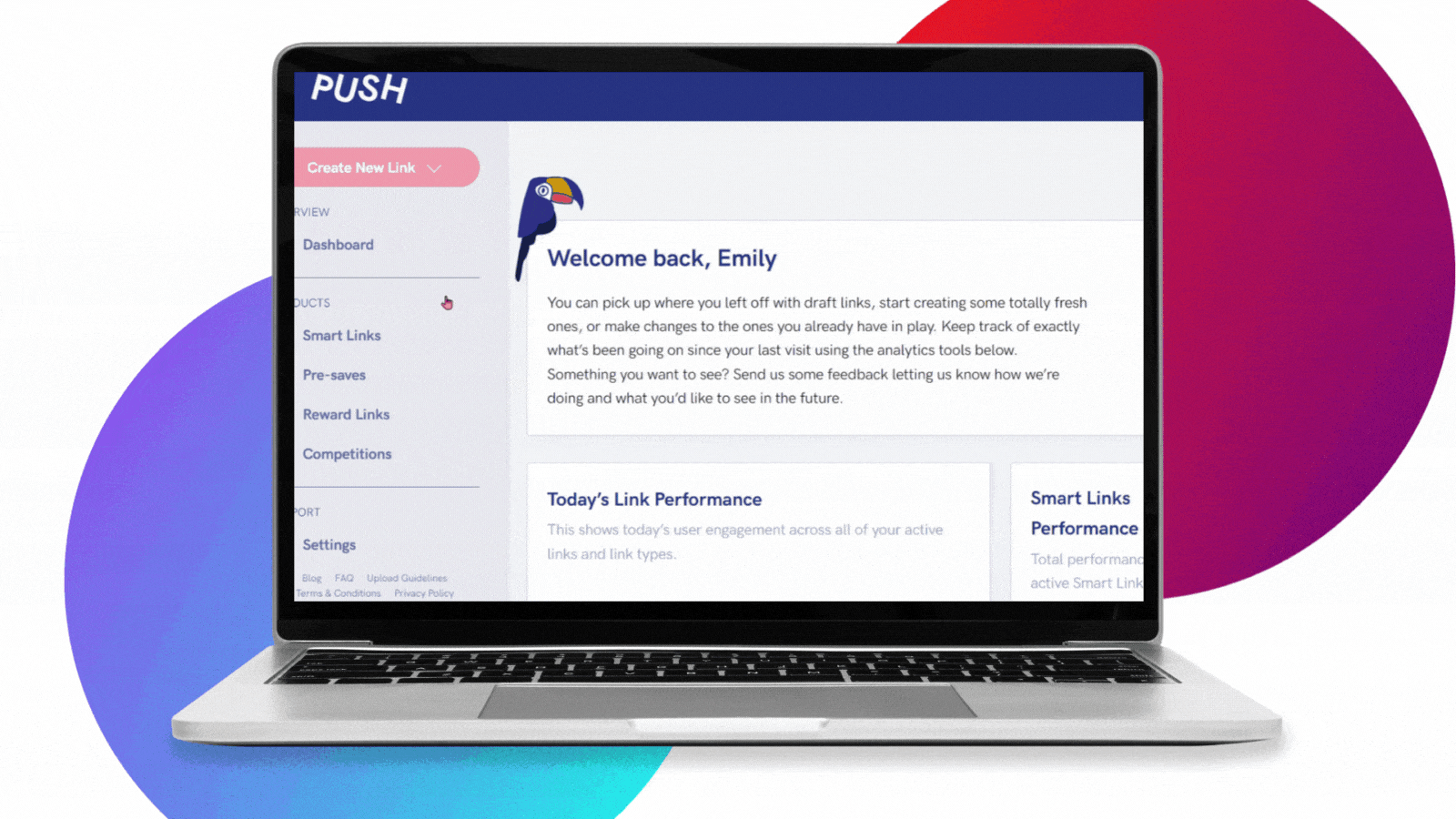 Each template option offers you different features. So, if you're a music artist, you'll want to choose a Fan Link. This will allow you to include your track details, with links to your streaming platform URLs. You'll also be able to add in your social media links, so people can follow you outside your music and show you extra support.
If you're someone who's big on social media, you'll want to look into creating a Bio Link. This is a place to compile all your social accounts under one roof. Social media platforms only allow one link per bio, so this is a way you can keep multiple under one URL. Your followers can head to your Bio Link and from there find all relevant information.
Whatever your area or niche, PUSH will have a Smart Link template that suits you. The best part is, they're completely free to create. All you need to do is sign up, and you can get started. Below, we'll show you a walk-through of the creation process. This will show you exactly how to create your own Smart Link and all the areas you can customise.

How to create a free Smart Link
Once you've signed up to PUSH, you'll be able to access our features. One of course being, Smart Links. The creation process is simple, and we'll walk you through it. First, you need to go to the pink icon in the top left corner that says Create New Link. From here, you'll need to select Smart Link from the drop down menu.
Then you'll be taken to the template screen as you can see previously in this article. You'll need to select the template that best suits your brand or business. Depending on your selection will depend on what components you'll need to input into your link. For example, creating a Fan Link will require at least one streaming store link.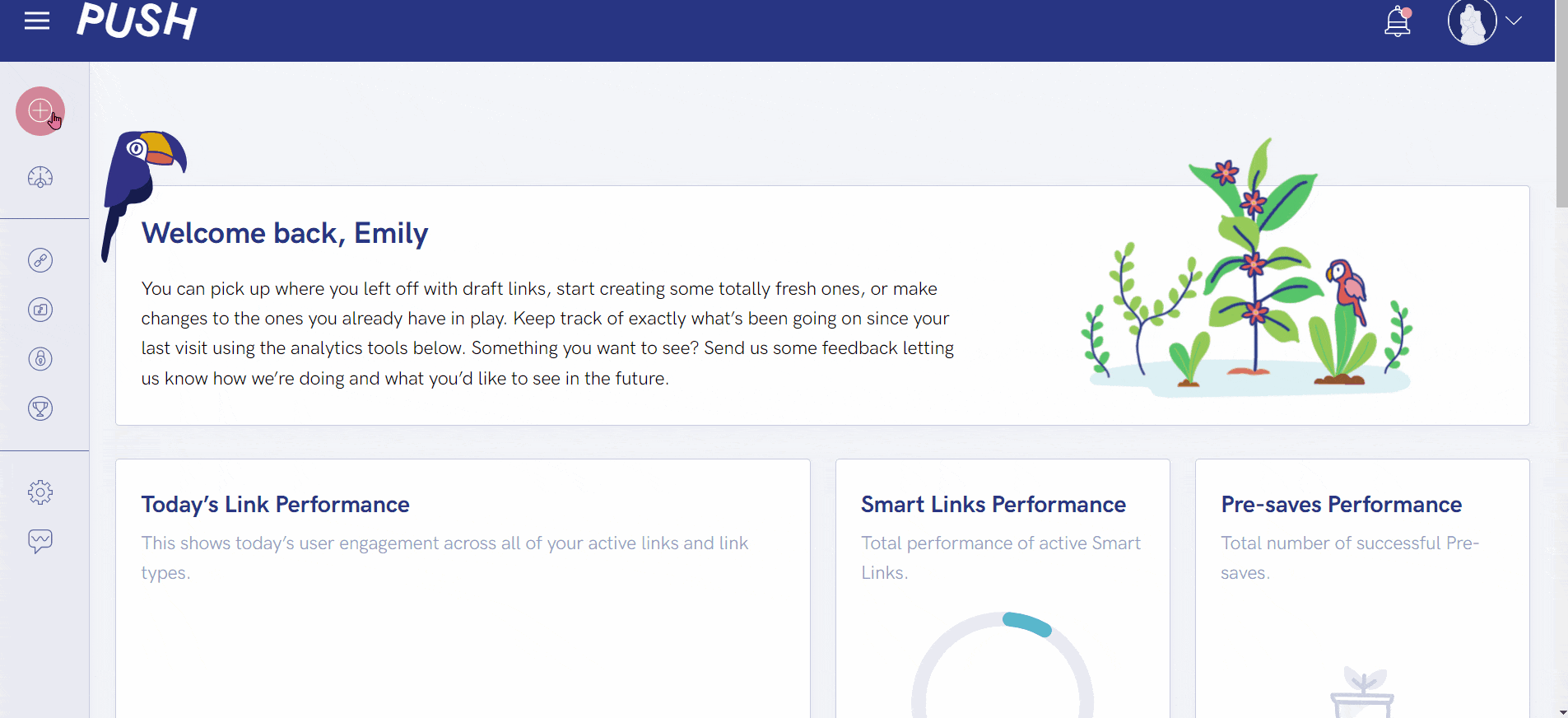 Above you can see a quick walk-through of the process. Once selecting your Smart Link of choice, you'll then need to input the information required for that link. In the example above, we have created a Bio Link. These are powerful social media tools. We have inputted our link name, the author of the link and a description.
We've then added in a cover image, this will be the first thing people see when heading to your Smart Link. In our version we have added our own Custom Background too, but this is a Premium feature, so you can only add this if you have upgraded your PUSH account. If not, your background image will be an enlarged, blurred version of your featured image.
We have also given our Smart Link a custom URL. This allows your audience to know it's your link straight away before clicking on it. Next we added in our links. As it's a Bio Link we went for social channels. But, you can also add your own custom links here too. Simply add a new link and input the relevant details.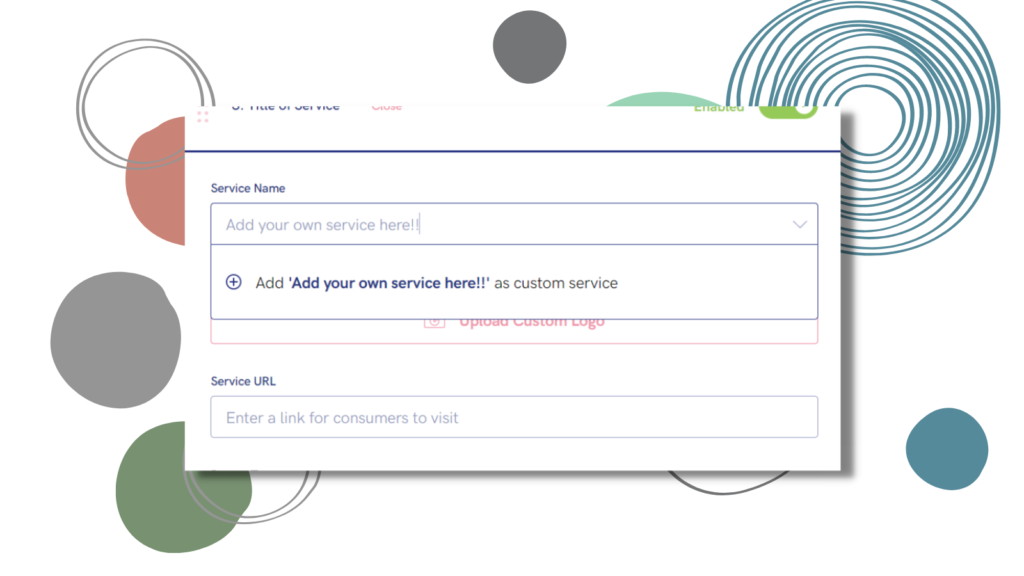 If it's to a well known site, the logo may be stored within our system which will automatically pick this up for you. However, if it's a personal website, then you will need to add in your own logo. All logos can be changed too. You can customise all of them to make them your own. Simply remove the logo by pressing on the delete button and then upload your own.
Once all your links are in place, you're good to launch! We always add a link title, so we can easily tell the difference between them all on our PUSH account. Your link will be live the second you launch it, so make sure you double-check your Smart Link is correct before hitting that button. It really is as simple as that. Now, you have a shiny Smart Link you can start sharing!