Content Unlocks are a great way of rewarding your fans, while also being rewarded yourself. It's up to you what actions they need to complete to unlock the secret content. You set the rules and everyone's a winner. Now there's a new feature, so things just got even more exciting!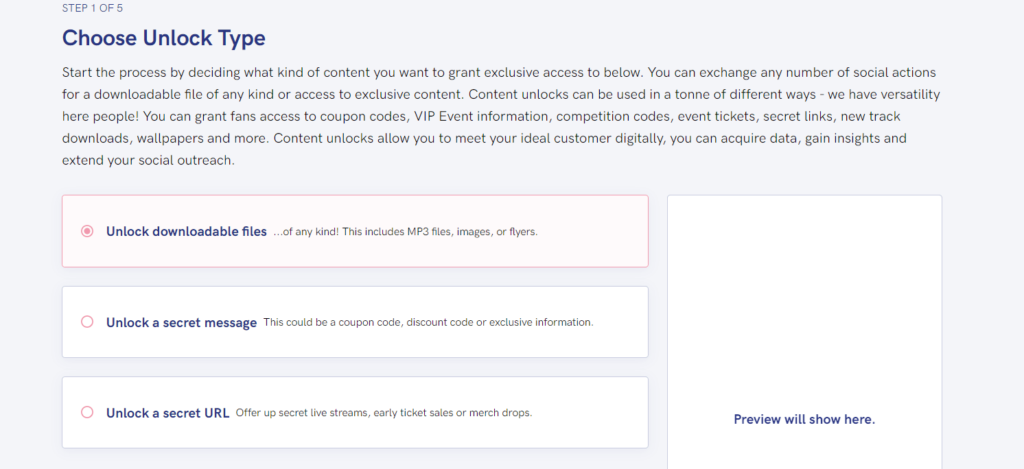 What is a Content Unlock?
A Content Unlock is a super cool feature that allows your fans to access hidden content that isn't available elsewhere. In order to gain the digital file, they must complete a number of actions which are set by you. You may decide you want them to follow two of your social media accounts and also one of your streaming artist pages. Alternatively you might choose to have them subscribe to your YouTube channel. It's completely your decision. You also have the choice of how many actions they must complete to access the hidden content.
We have written so many blog articles all about the different ways Content Unlocks can help you, make sure you check them out. Here's a few of our previous ones:
What new feature can I access?
We're always looking for new ways to push your work further. We have added a new option to your Content Unlock choices. You can now add a secret URL. This could be a link to anything you want. You still have the option to include downloadable files or secret messages, but now you can add something a little different. It might be that you want to add a link to a secret music video or behind the scenes from the making of your music. The choice is completely yours.
As you can see in the images above, when creating a Content Unlock, you simply choose the 'Add Secret URL' option. It will take you to a screen where you place the URL of your choice and then head to the next page. Then comes the fun part. You can customise your URL, so it can say anything you like. In the image above we have shown you an example of this. There's the option to add a description, title and a featured image. You can really make the Content Unlocks your own. Personalise them to you as an artist. After all, branding is everything.
We want to give you all the resources we can to boost your music promotion. This is why we are always looking for new features to add that change things up slightly. A Content Unlock is a great way to gain organic traffic to your new release. Fans will be excited to complete the tasks to see what the reward is at the end. It's completely flexible to you as an artist, you can decide the tasks they need to complete. Most importantly, it doesn't have to cost you anything to try it out, so why not?