To create a Pre-save through Toneden, you need to upgrade to their Basic plan which costs $50/month. For that price, you only get access to Apple Music and Spotify. PUSH.fm offers free Pre-saves, and includes Deezer.
What is Toneden?
Toneden describe themselves as "a friendly social marketing platform that gives you the power to reach and sell to the people who matter." They offer a variety of tools such as; Fan Links, Pre-saves, and ad links. While they market themselves as a place to help creators grow, they do come at a cost. Very few of their tools are free.
They make promises across their website. Suggesting those using them will be able to grow and go viral. It implies that by signing up and paying for their subscription fees, you'll be able to take any business to the next level. Although there's little to suggest small brands can benefit from the service. It's expensive for a start.
Toneden were recently bought out by Eventbrite and during this time it seems they've had a shift of priorities. No longer are they a platform that heavily brands itself to musicians, helping them promote their latest tracks. Instead, it seems they promote themselves as overall marketing tools, but their main focus is money.
How much does Toneden cost?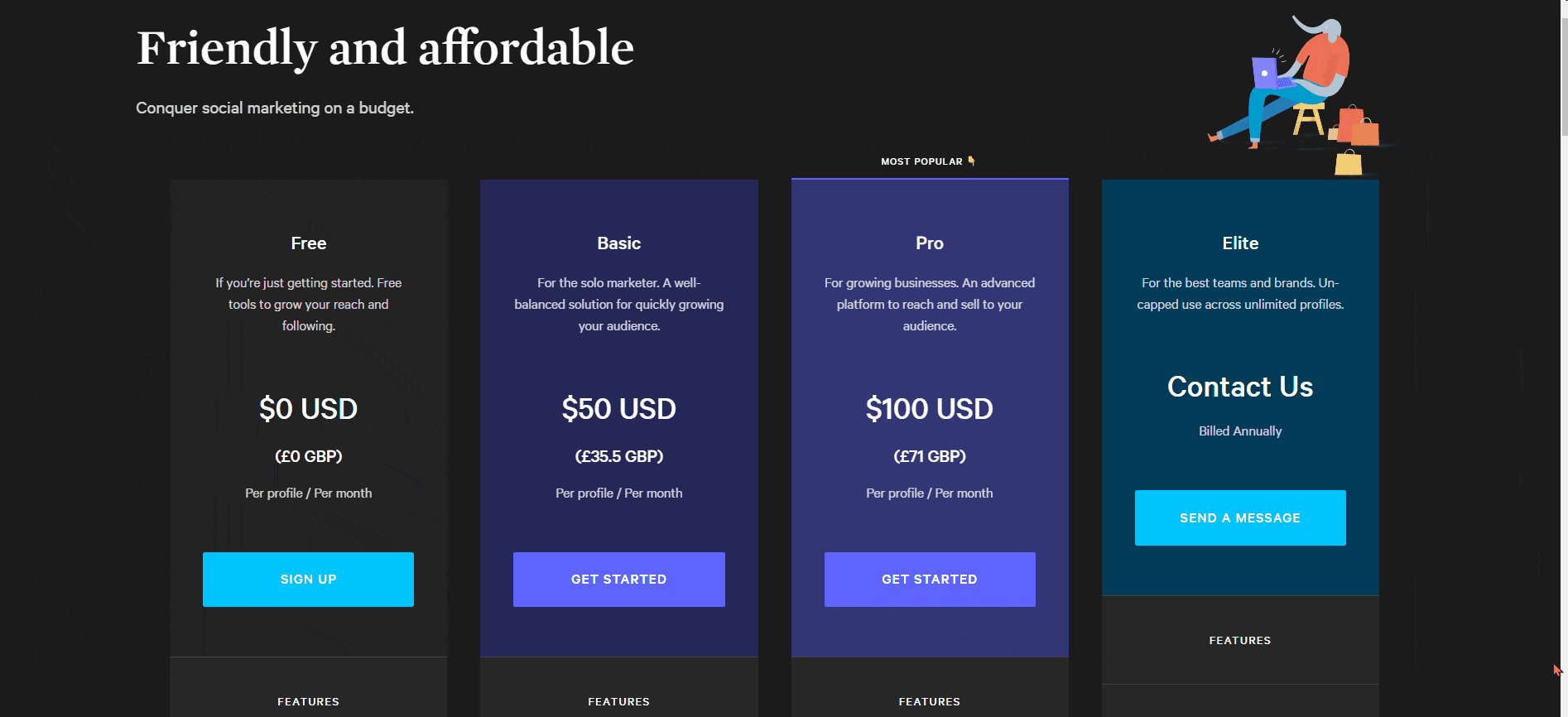 You can see their pricing tiers above. They have a free account, however this is quite limited in tools. To access more of their features, you'll have to upgrade to their Basic plan. A Basic plan that costs $50 each month. This is the only way you can access their Pre-save feature. If you're looking to secure listeners ahead of your release date, you will need to upgrade.
A Pre-save is a vital tool for any music artist, which is interesting as Toneden know this more than anyone. Their whole target audience has long been musicians. However, when they were bought out, this was altered to try and fit more content creators under their umbrella. You'd think a music savvy company would have musician's best interests in mind.
However, this isn't the case. Instead, they have money on their mind. They know music artists rely on Pre-saves ahead of release day. They're used to guarantee streams and make the lives of fans easier by having the track saved to their library on the day of release. But, Toneden are gatekeeping this product, and not for a small price.
We're not convinced their service is worth $50 per month. If you want to upgrade to their Pro subscription which offers even more options, you'll be set back $100 each month. These prices just aren't affordable for any small creator. So, we're unsure how they can market themselves at beginner creators.
What streaming stores are included in Toneden's Pre-saves?
When creating a Pre-save through Toneden, you can only add Apple Music and Spotify. They market their Pre-saves by explaining once your music has hit streaming platforms you can use their lookup tool and find links to your release across each store. However, this doesn't allow your fans to save your music ahead of time.
Well, they can, but only on two stores. Typically, Pre-save providers will allow access to Deezer as well as Apple Music and Spotify. These are the three stores that allow pre-saving options. Here at PUSH, we offer all three options on our free account. With Toneden, you have to pay $50 for less access to stores.
It all seems like a money earner for Toneden. If they wanted to, they could include Deezer. They could also include all three platforms on their free plan. After all, they're earning money in plenty of other ways, especially since joining Eventbrite. But, unfortunately, they're not giving anything for free which is a shame as many musicians will miss out.
PUSH.fm – a free Toneden alternative with more features
PUSH.fm is completely free. We offer Pre-saves for any musician who requires one. All you need to do is input your streaming links which you will receive from your distributor and our system will do the rest. Your Pre-save can be customised to best represent you and your artist branding. None of this will cost you.
You can even click an option to have your Pre-save become a Fan Link on release day. Saving you yet another task. Of course, you can then go in and edit your Fan Link at a later stage if you want to change some metadata around. It takes the pressure off you. You can create a Pre-save knowing that is the only marketing link you have to make.
As mentioned our Pre-saves are a free tool. You can include Apple Music, Spotify and Deezer. Once you add your links, your fans will be able to save your track to their library. They'll give their permission for the stores to act on their behalf on release day. All they need to do is stream your music. A Pre-save even increases your chances of being added to playlists.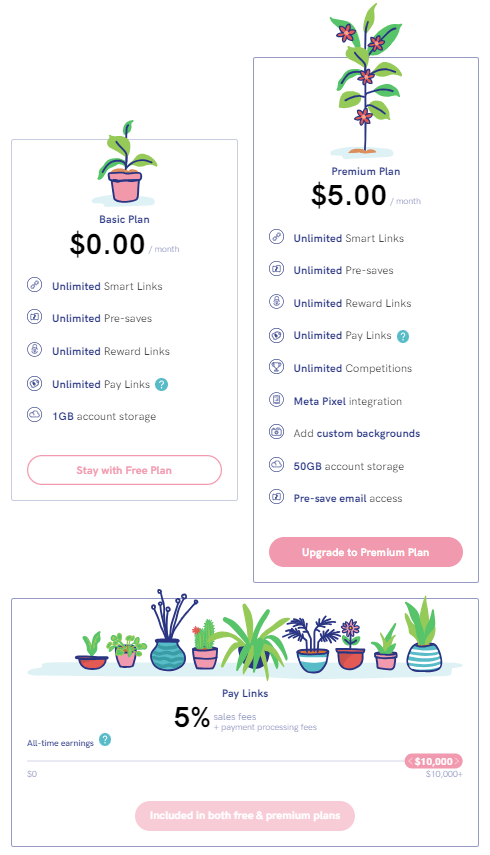 As you can see, we do offer a Premium plan, but this is just $5 a month rather than Toneden's $50 charge. Our Premium plan does offer extra perks such as access to our Competitions feature and Facebook Pixel – allowing you to track your audience's movement across your Smart Links. However, our Pre-save is the same for both our free and Premium users.
There is no demand to upgrade your account. Our tools are designed with beginner creators and musicians in mind. Therefore, we don't apply pressure to upgrade, nor do we gate keep our products. We want everyone to have access to marketing their work. If you haven't already, we'd recommend switching to us!