This year's Spotify Wrapped is out. Spotify users can access their statistics showing them things like their top artists of the year, and even what their music personality is. But, what artists won top spot overall? Which podcasts are the most listened to? We have all the results!
If you're a Spotify user, you've likely already checked out your Spotify Wrapped results for 2022. It's the time of year Spotify users can't wait for. They're able to access their statistics for the past year. Showing them things like; their top artists, amount of minutes they've spent listening to music, their top podcasts and even what their music personality is.
However, what are the results for Spotify as a whole? Do your top artists make the cut? Are you part of the reasons certain artists have made it to the top? Every stream counts after all. With more than 456M listeners worldwide, artists have a better chance than ever to get their music heard. In fact, all artists were even given the chance to say thanks to their fans this year. Spotify asked artists to submit a short video thanking their listeners.
Keep reading to see who claimed the top spot
UK Spotify Wrapped results 2022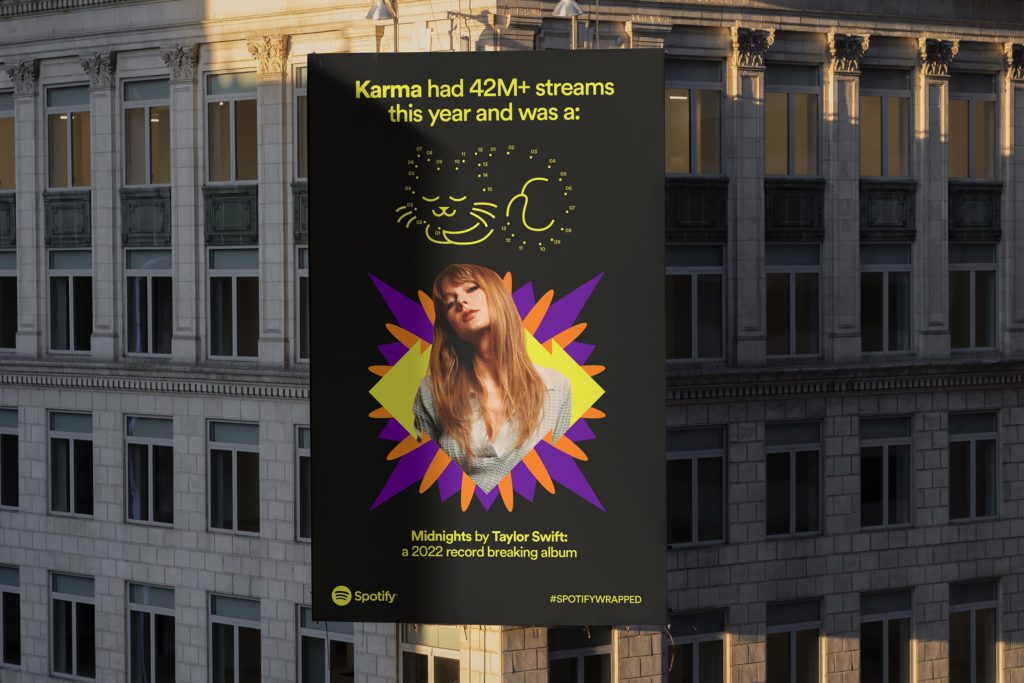 UK top artist
The top artist for the UK in 2022, is Taylor Swift. After the release of her album Midnights, she quickly gained even more attraction than previously. With multiple songs of hers becoming huge across the TikTok platform. Although her new album was only released in October, she saw 805m streams within the UK alone. Her marketing was strong which probably helped massively. Within the lead up to the release of her album, Spotify billboards appeared around the world – providing hints to song lyrics.
Top 5 artists in the UK
After Taylor Swift, who comes next? It seems within the UK, the other 4 top artists are in fact British. Following Taylor Swift, comes Ed Sheeran. Then Harry Styles, Dave, Arctic Monkeys and D-Block Europe. It seems rap music is far more popular within the UK than previously thought. Both Dave and D-Block Europe appearing in the top 5, shows the UK are enjoying the rap scene.
Top song in the UK
Despite Taylor Swift being the top artist, she didn't win top spot for her songs. The number one song within the UK in 2022, is As It Was by Harry Styles. He came within the top three for artists, however, it is surprising that the two artists above him didn't manage to steal the top song. Harry Styles track came close to 97M streams within the UK alone in 2022. Coming in the top five however was Kate Bush's song Running Up That Hill (A Deal With God) which became extremely popular thanks to the latest season of Stranger Things.
Top 10 artists in the UK
Top 10 songs in the UK
Top albums in the UK
Global Spotify Wrapped results 2022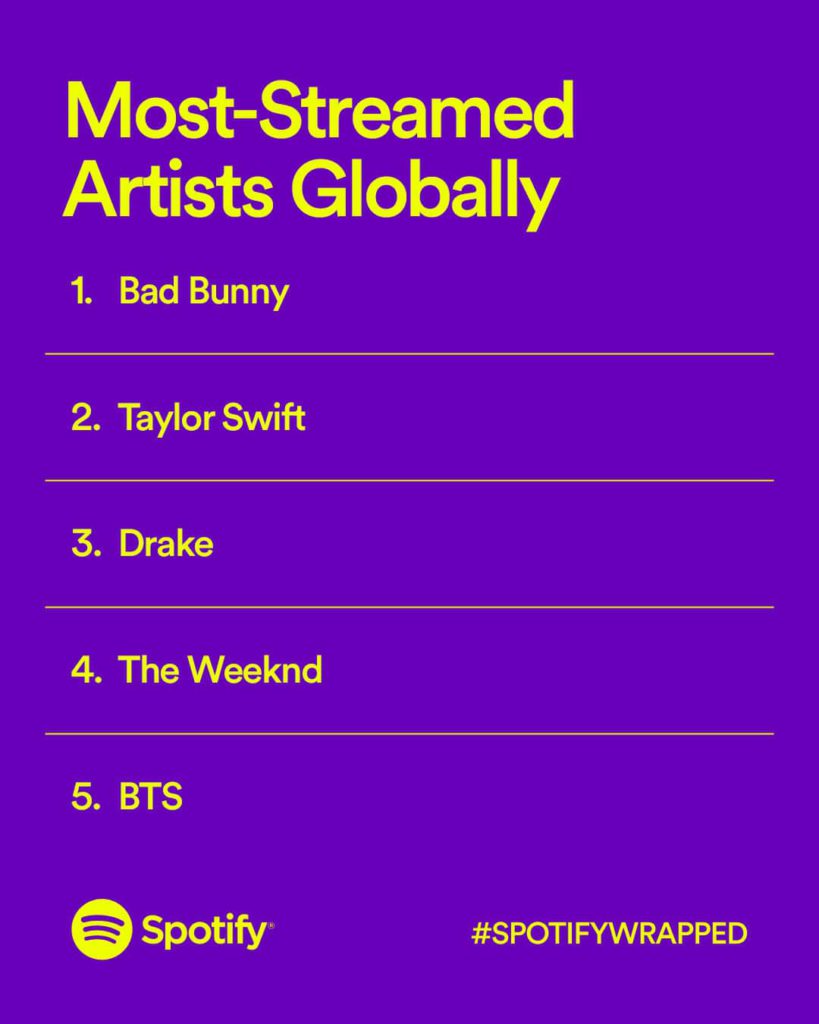 Top global artist
For the third year in a row, Bad Bunny won the crown for the top artist worldwide. Puerto Rican rapper has seen success after success as the years go on. He won the top spot again this year by gaining more than 18 billion streams. It will be interesting to see how long he continues to rise to the top. Will anyone ever be able to overthrow him? Bad Bunny has an iconic red heart logo. Due to his success, Spotify have changed their green heart icon to a red one.
Top global songs
Not only did he win the top spot in the UK, but also worldwide. Harry Styles has taken over the streaming market. His song As It Was, is the most streamed song globally within 2022. It has 1.6bn streams. Following this is Heatwaves by Glass Animals. Despite this being second place, the difference between this and Harry Styles track is quite something. Heatwaves was streamed 1.1bn times throughout the year.
Top global albums
Bad Bunny and Harry Styles made it to the top of the list. With Bad Bunny being followed by Harry Styles. Then came Olivia Rodrigo and Doja Cat. Olivia Rodigo gained her position thanks to her album SOUR that performed really well. Doja Cat then came in fifth place with the album Planet Her. It's nice to see a balance between male and female artists topping the charts.
Top 10 artists globally
Top UK artists globally
Top songs globally
Top albums globally
Spotify Wrapped 2022 top podcasts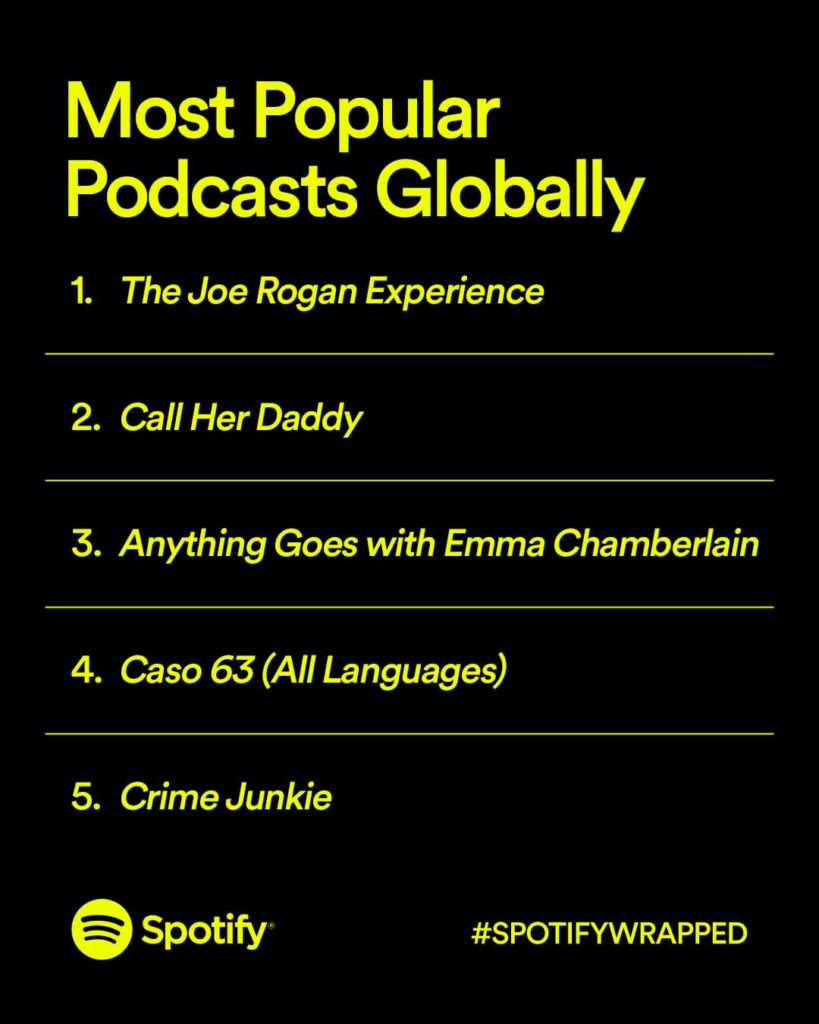 Top podcast globally
Podcasts continue to rise in popularity. They're an easy listen. Acting as a great way to hear stories or get updates while you're on the go. Not everyone has the time to sit down and read a book or a news source, so being able to access podcasts for free is extremely useful. Sitting at the top spot both in the UK and globally is The Joe Rogan Experience. It also claimed the same position last year. Let's see how long it keeps it up.
Top podcasts UK
Comedy shows seem to be the most popular within the UK. The Joe Rogan Experience won both the UK and the rest of the world over with the humour presented within. Following on from this within the UK is The Diary of a CEO with Steven Bartlett. Then Off Menu comes next. Within the top ten are multiple humour based podcasts. Parenting Hell (#7), Sh**ged Married Annoyed (#8), JaackMaate's Happy Hour (#9) and Saving Grace (#10) are some of the other winners.
Top podcasts globally
The top podcast worldwide is The Joe Rogan Experience. Coming next is Call Her Daddy, followed by Anything Goes with Emma Chamberlain. Two of these podcasts in the top three spots, are by females. Could this suggest that females are typically more likely to listen to podcasts over men?
Most popular podcasts within the UK
Most popular podcasts globally
Did your top artists or podcasts make the cut? How did your Spotify Wrapped results differ from those above? It's interesting to see how many people have at least one of the top performing artists in their list. After all, they're the most popular for a reason. Are you in any of the top performers top listeners? What percentage of your time is spent listening to their tracks? Are you a top fan?