Your fans aren't going to interact with your content if your Fan Link is uninteresting. You need to engage them quickly, so they want to come back. Creating a Fan Link is free, and a very useful marketing tool. Keep reading to find out how to make them engaging!
Fan Links are an important feature for all artists. Independent, newly discovered, and artists that are experienced. They store all your music links under one easily accessible link. Combine your streaming platforms with your social media accounts and allow your fans to access all sides of your career. Having engaging Fan Links can boost your audience.
Your fans are your driving force. As an artist you wouldn't be doing what you do without your fans. They're the ones who encourage you and make your work go further. Therefore, you need to ensure your Fan Links are inviting. Consider their wants and needs over your own. The goal is to have fans click on your website, socials or streaming platforms.
Fans follow you across various social media platforms and also your streaming accounts. They'll be the first to see your posts and updates. Getting them to follow you is one of the first steps, and is the reason Fan Links are so valuable. When creating your links, you need to think, why would people invest their time in me? What does your Fan Link say about you?
How to make your Fan Link engaging
Before you start creating your Fan Link, you need to consider what it is you want from it. The likelihood is, you want to grow your audience. To do this, you need to think about who your target audience is and what they might like to see. You can then mould your link around this target consumer. When it comes to creating your Fan Link you'll have them in mind.
Some things to consider before making a Fan Link
Create a fan page for your brand or business
Having at least one fan page could do you the world of good as an artist. It's somewhere your fans can come together to appreciate your work. It is a place where you can share updates, photos, videos and your Fan Links with your audience directly. This makes it a nicer experience for your fanbase. They have fellow members who have something in common with them – you!
It gives a sense of community which all fans appreciate. Also, you don't have to share news or updates to various locations. Instead, you can head to your fan page(s) and share it to everyone at once. Fan pages are typically on social media platforms rather than a website. This is because almost everyone is on social media these days.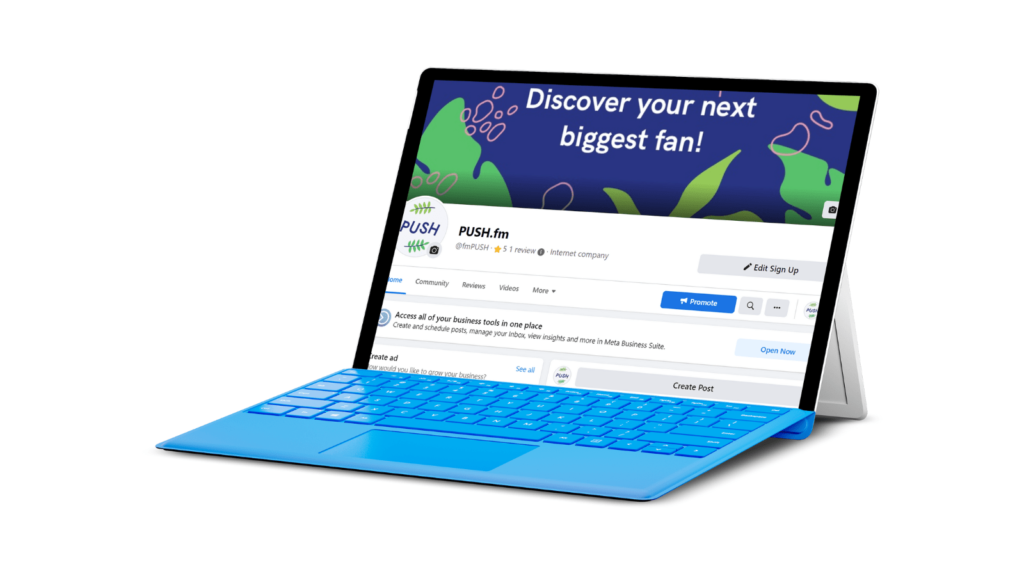 You could expand across multiple avenues, or just keep your fan page to one platform. For example, many artists will have a fan page on Facebook because it's a stable platform that has been used for pages for many years. This doesn't mean they don't have an Instagram or Twitter etc, but these other platforms might be an artist account rather than a fan page.
Fan pages bring people together. On a platform like Facebook, they're able to comment, share and have discussions on your page. This means they essentially have a hub for your music. If you don't already have a fan page, we'd advise setting one up and then adding the link to your Fan Link. It's then easy for everyone to access.
Change store logos to custom ones
When you create a Fan Link with PUSH, you can change your store logos. What does this mean? Well, when adding links such as Instagram, Facebook, Spotify etc, our system will include the store's logo within the call-to-action button. These can be altered however to make them personal to you. Customising store logos is super quick and easy to do!
If you're an artist who has a particular style or image to you, why not make your store logos fit around that? It adds more of your personality to your Fan Links. Create yourself some icons. These can be done in a variety of platforms, both online and computer software. If you're an artist with a particular branding image, it's likely you already have platforms which you create your templates on.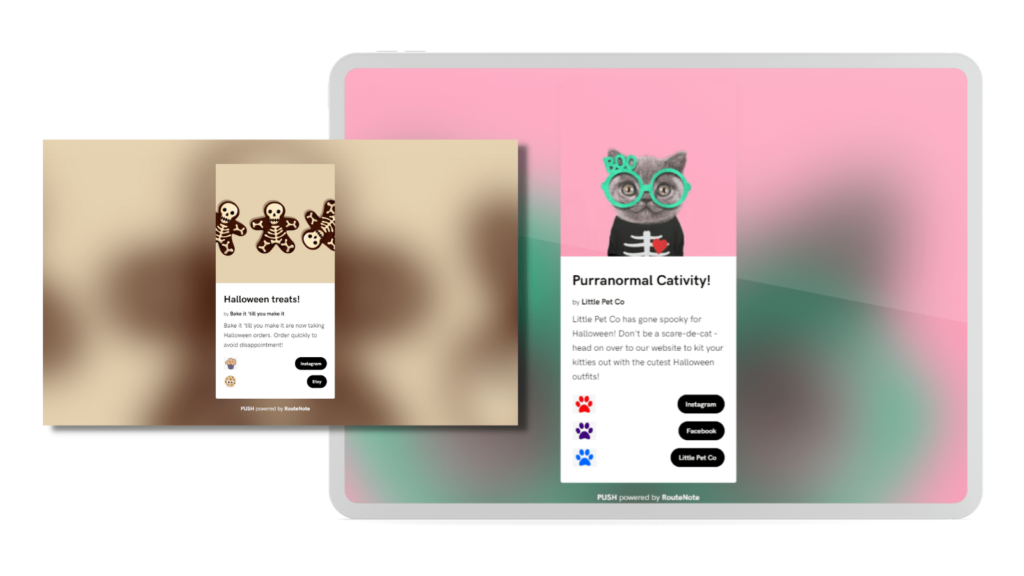 Take a look at the examples above from our Halloween links. These include custom logos which have been designed to fit the company. On the left-hand side, there's a sweet treats company. Their logos are sweet treat related, one being a muffin and the other a cookie. The links are for Instagram and Etsy. Instead of using the brands logos, they've instead written their name on the buttons.
You can still clearly tell which link is which because instead of having the CTA buttons written with things such as follow or buy, you instead have the names of the platforms. This is why PUSH is a great choice for creating Fan Links because you can completely mix up the game and make your link your own. Both examples from our Halloween links show this.
On the right, you'll notice we used paw prints for the pet company. This is a fun and exciting way of drawing your fans in. They're cute and interesting. Plus, they perfectly match the rest of the design. Seeing this rather than the generic store logos shows your link is unique. It puts your stamp on your Fan Link. You could do this for all stores.
Artist artwork makes a difference
Showing who you are as an artist is important. Your fans are heading to your Fan Link because they're interested in you. They enjoy your music, so they likely want to learn more about you. Your artwork can really make or break your Fan Link. It's the first thing your audience will see, and it's a key factor. It is the main focal point of your links.

As soon as someone clicks on your Fan Link, they're presented with your artwork. It isn't only your main image, but also, your background image. Within PUSH Fan Links, your artwork is blown up and blurred to create a background for your link. Therefore, your background colours will depend on your artwork chosen.
Choosing dark colours could work if your artist image is dark. However, if you want something bright and inviting, perhaps steer away from black and white images. Otherwise, your background will be dark too. Your artwork selection is more important than you'd initially think. When creating a Fan Link however, you can always see a preview along the side.
Add a description to your Fan Links
It's optional, but we'd recommend adding a description into your Fan Links. When your audience click on your links, they'll get a little message from you. It makes each link far more engaging. You're reeling them in. Let them know why they're there, and why you appreciate them taking the time to check your content out.
Descriptions act as a place for you to send your fans a message. It could be about anything. Obviously it makes sense to relate it back to your music, but you could do this in many ways. Perhaps you want to thank your fans for taking the time to look at your content, or listen to your tracks. You might want to tell them about your journey so far.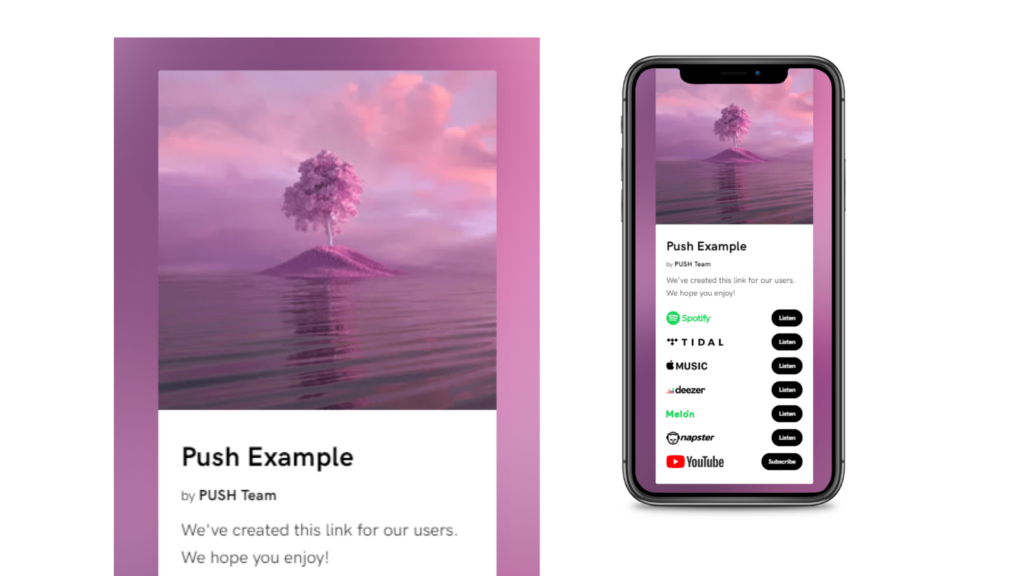 If there are any great obstacles you've overcome as an artist, or times you wanted to give up – did your fans inspire you to carry on? If so, tell them! Your fans are there because they appreciate you, they enjoy your work. Give them a little boost back by thanking them for how they've helped you along the way.
Or, let them know about your latest release. What inspired you to create it? What do the lyrics mean? As a fan, they will love to know a little more about the track(s). It's always interesting finding out the meaning behind lyrics. Lyrics are often up for interpretation, but maybe you could let your fans know what you meant by them. How did you feel when writing it? Was it about a happy time in your life or not?
Overall, the main thing is your Fan Links work for you. Your fans are heading there because they want to learn more about you, follow you on your socials or listen to your music. Make the experience an engaging one. You'll likely find you have more interest from a wider audience if you make your Fan Link interesting. Don't be afraid to change it up. With PUSH, not only are Fan Links free to create, but they can be updated any time you like.