When it comes to the new year approaching, everyone starts thinking of ways they can improve and change from the previous year. We all sort of enter a mad frenzy trying to figure out what we can commit to. Typically, these resolutions end as fast as they started. They don't tend to be things we actually stick to. However, we've got an idea for you ahead of 2022…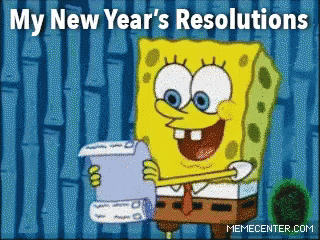 So, here's our suggestion to you on how to make a resolution you'll stick to. Try making PUSH part of your plan for 2022. Are you an artist, a designer, events company or any type of creative? If so, PUSH could really help you get off to the best start in the New Year. We offer a completely free service that could change the way you promote yourself and your work. It sounds too good to be true, we know. However, it certainly is real, and you can see below feedback from just one of our users!
We really love sharing the feedback we receive at PUSH, because it lets us know we're doing something right. Every single one of our users is massively valued by us, and we try our best to resolve any issues they might have immediately. That's why it's great to hear what we do is appreciated by many of our users. So, if you've got this far, you're probably wondering how we can make your life easier in 2022 aren't you? Well buckle your seatbelt because we're about to go for a ride…
Smart Links
So what are they? How can they help you? What's the cost? Sure, you probably have all these questions, but we're here to break it all down and make the process as simple possible. A Smart Link, also known sometimes as a Fan Link is a digital house for all of your links. That might sound a little confusing, but it's really simple we promise. So, if you're a music artist, and you have links to your one track on several stores, you can use a Smart Link to store all of them. That way one of your fans heads to your Smart Link and sees all the streaming platforms that your music is on. They can then select their preferred store and will be taken there to listen to your sound.
Easy right? Say you're planning an event. You might use a Smart Link to store information like a link to purchase tickets, a link to your social media accounts where you're promoting the event and maybe even a website link, so people can find out more about you. Basically if you have multiple links you need to be stored in one handy and easy to reach place, you'll love the idea of a Smart Link. Once trying one out you'll never know how you lived without it. It makes promotion so much easier. All you need to share is one URL.
When it comes to platforms like Instagram, you're only allowed to place one URL into your bio. That means you can't share all of your links in one place. Unless of course, you use a Smart Link. Game changer, isn't it? Pop your Smart Link into your Instagram bio and anyone that heads to your profile will be able to click on it and see every link you have to offer. It's a brilliant place for businesses to share their work. You could pop links to various products, maybe you have a blog or other social media profiles you want them to see? Everything can go under one umbrella essentially.
What do they cost?
They're completely free! Yes, it sounds impossible but trust us, it really is. We have 2 different pricing tiers. A free one and our premium one. You don't have to spend anything to work with us at PUSH. There's no catch, we don't own any rights to your links. It's all completely yours. Our aim is to make things more accessible for independent artists and creatives. We're partnered with our friends over at RouteNote, so we know just how tough it can be when starting out in the world of arts.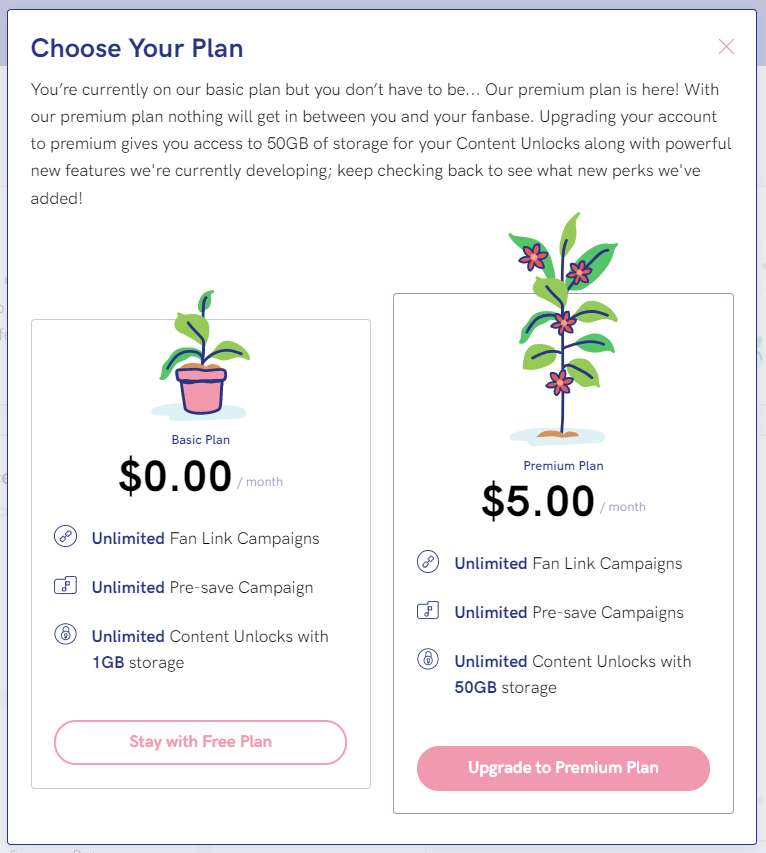 Above you'll see our 2 different options. With our free plan, you'll get access to unlimited Smart Links! And that's not the end of it; you can make unlimited Pre-saves & Content Unlocks too. Free users get 1GB of storage to use with their Content Unlocks, meaning you can be generous with your rewards.
Even our free version comes at a very low cost compared to our competitors. For just $5 a month you can go premium. If you've tried our free plan and realised you simply need more space to use with your Content Unlocks, you've got the option to upgrade and have all the space you require for a minimal cost. The choice is always yours, we don't expect anyone to upgrade which is why we have tried to be really generous with our free option.
Pre-saves
Next up we have Pre-saves which help promote your tracks ahead of their launch day. As an independent artist or someone new to the music scene, it can be difficult to balance everything. Planning and preparing for your tracks to go live can mean that promotion falls short. You might struggle to find time for everything. However, Pre-saves can be a huge help in these situations. A Pre-save works by getting your fans to save your music ahead of release day. Then, on the day it goes live, it will automatically be placed into their library.
It's a win-win. Your music gets guaranteed streams on the day of its launch. Not only that, but your fans don't have the pressure of finding your track on release day. It's the perfect solution for everyone involved. Again you can focus your time on sharing this one link. Once it's gone live, you can switch across to a Smart Link. Encourage your fans to play your track by preparing for it to be launched.
How much will it cost?
Again, it's completely free. With our free plan you can get unlimited Pre-saves, meaning there's nothing getting in the way of you and your upcoming release. Create as many as you want; perfect for labels that are juggling upcoming releases by multiple artists.
A Pre-save can increase your listeners because your song will automatically be placed into their library when it launches. Even without thinking about it, they'll listen to it if they throw their library onto shuffle. Everyones then a winner.
Content Unlock
Last, but by no means least, we have Content Unlocks. These are a really fun one. For a set amount of actions, your fans get a reward. Why not start the New Year on a high for everyone? You get to decide what they have to complete. Again with Content Unlocks they can be used by any type of creative. You don't need to fit into any type of category. The idea is, people will be able to download or access a digital file or link from you. Something secret that they can't get elsewhere.
This might be a discount code to your website if you're a business. You might let people buy your products for a reduced price which will encourage everyone to interact with your Content Unlock. Everyone loves a bargain so what better way to draw people in? You'll find new consumers interact with this type of Content Unlock. They might have been eyeing up your products for a while but were unable to afford to purchase them. Knocking a percentage off the overall cost will likely encourage them to finally buy from you.
Something for everyone
What about musicians? Well, you might add a secret behind the scenes video at the end of your Content Unlock. Maybe instead you'll add a never heard before track that you weren't going to release, but you've decided to in the form of a Content Unlock. PUSH can help you make this happen, and it's a really easy process. Don't worry though, your fans aren't the only ones to benefit. If they want to earn the reward they must complete the steps you've set them. These can be as many or as little as you like. The choice is yours (that seems to be a repeating theme here at PUSH).
So, what actions will you get them to complete? Well, if you're a musician you might want them to follow you on at least one streaming platform. You might also want them to follow your social media accounts to keep on top of what you're up to. How many you get them to complete is your decision. It might be complete at least 3 of these, but you can choose whichever one's type of deal. Or, instead it might be, you must subscribe to my YouTube, but you can pick any other action to complete as well. You'll select how many they do, however, we would advise you not to go too far because adding 10 actions they have to complete will put people off.
Does it cost?
No, it doesn't. Again you can use PUSH to access free Content Unlocks. You'll be able to create unlimited campaigns for no cost at all. That's endless different campaigns where you could potentially grow your following or consumers for free.
Each downloadable file you offer as part of a Content Unlock will count towards your storage allowance. If you find yourself running out of storage space, you can upgrade to our premium plan to unlock a generous 50GB of storage. Great, right?
We believe that's why our users have positive things to say about PUSH, because we try to give you the maximum we can for no cost. Try a Content Unlock for yourself, and you'll see just how beneficial they can be. Like we mentioned, any type of creative or business can use them. So, even if a Pre-save isn't something you'll be able to gain from, a Content Unlock could be.
Money gets tight within the New Year, so these are products that won't break the bank. What brilliant resolutions to take on, right? Something that's free and can actually make you money. The gift that keeps on giving. Treats aren't just for Christmas it seems. We're here all year round. Why not take some time out in January to focus on building up links that could boost your audience for the rest of the year? Sounds like a winner to us!