YouTube have made the decision to remove the dislike button from public view. You will still be able to like or dislike a video on YouTube, however you will not be able to see how many dislikes a video has received any more. The creator can still access this information within YouTube Studio.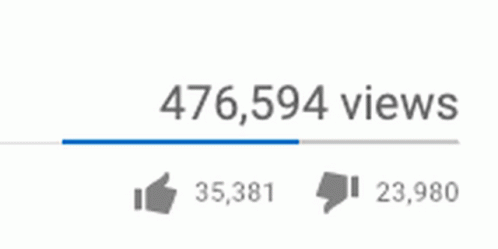 Down with the thumbs down
YouTube have decided to scrap the dislike button from public view. Moving with the times and focusing on improving social platforms YouTube have decided it's no longer appropriate to display the number of dislikes on a video. We all know the internet can be cruel. Despite countless movements for people across the web to be kind, the internet is always going to be a place for negativity to spread. Don't get me wrong, there is a lot of love produced through the web and this doesn't go unnoticed. However, the internet can be a toxic place at times.
With a huge push on taking a break from social media and platforms being encouraged to make their space safer for their users, it's about time YouTube got on board with this. YouTube have stated they want to promote respectful interactions between users and content creators. They want to encourage people from all types of backgrounds to create and share within their platform. You shouldn't require a huge following to share through the video site and this is something they want to promote.
There have been many occasions where people set out to sabotage a content creator's work. People will dislike it and encourage others to just to drive their dislike count. This damages the algorithm and can massively affect the creatives channel. YouTube have stated that since the trial of removing the dislike count, they have already seen a huge decline in people pressing the button. I completely agree, sometimes things are posted to the site that could be offensive and reacting to that with a dislike it's completely fair. However, we all know there are some users on the platform that are out to ruin things.
YouTube have their say
Creators can still view how many dislikes their content has received by heading to the YouTube Studio and checking their statistics. They no longer want people to judge a dislike count to then decide whether to watch a video or not. As mentioned previously, if someone is sabotaging a particular video then this would seriously affect user's decisions on watching the content. So, removing the dislike count, removes that opportunity. What's your opinion on this? Do you think it's a step in the right direction or do you believe that the dislike button should remain as normal?